Goddess Provisions Box Review February 2022
Goddess Provisions is a monthly subscription box that helps light up your soul and nourish your inner goddess to grow your spiritual practice. They kindly sent us this box for review.
Goddess Provisions was created as a way to share tools found to help connect with your divine feminine and grow your spiritual practice. They know we all share in the "busy-ness" of life, but believe in the importance of taking the time to manifest journal, meditate, frolick around in nature, pet kittens, practice yoga, have reiki healing sessions, do tarot card readings, drink green juice, write out the things we're grateful for, check the astrology forecast and charge our crystals under the full moon. If you enjoy these simple pleasures too, they know you're going to feel like their monthly box was curated just for you by a true soul sister.
Each month you'll receive a thoughtfully curated box that contains 5-7 FULL SIZE products including items like crystals, aromatherapy, superfoods, apothecary beauty & spiritual tools. All items will be 100% vegan and cruelty-free because they cherish our furry friends. They consciously package each curation in kraft paper boxes made from 100% recycled materials that are printed on with plant-based inks. Also, for every box and boutique item sold, they plant a tree!
Subscription Details
There are 4 subscription options for Goddess Provisions:
$33/month for month-to-month
$99 or $33/month for 3 month pre-pay
$178 or $29.66/month for 6 month pre-pay
$333 or $27.75/month for 12 month pre-pay
Shipping to United States is free, Canadian shipping is $15, and International shipping is $25. First time subscribers will be shipped to by the 20th of the month. Ongoing subscribers boxes ship during the first week of each new month.
February Box Details (Total Value $XX)
The February Goddess Provisions box theme is "Digital Detox" and is all about stepping away from the screens for some self introspection and real-time connection with others. The tools included are unique and fun ways to help you do just that.
Here's a look at what's in this month's box:
Box Insert
I love this box's insert! Every month they have new cover art created by their resident artist (@creativewannabe_ on Instagram) to match the theme and it's always so beautiful. The inside of the insert contains product information, uses and value along with coupon codes from many of the creators. Opposite from the product information information about fun products in their online boutique. Overall it's just so nice to look at and the cover art could totally be framed!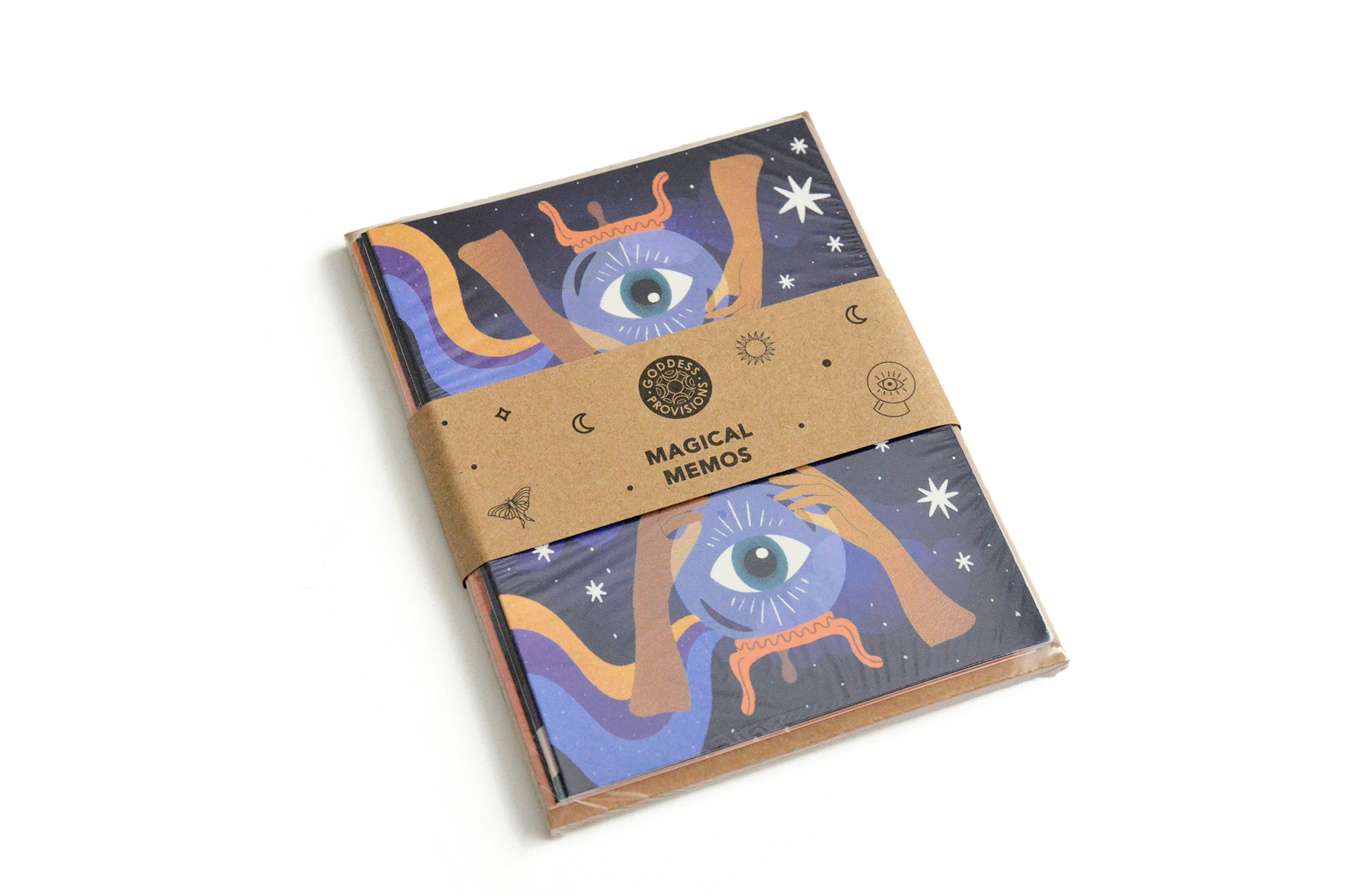 Magical Memos Greeting Cards ($12)
"Take a moment to relax and write a beautiful message to someone you adore. Comes with four mystical cards and envelopes."
What lovely greeting cards that pair perfectly with the included wax seal. I like how each card has a different mystical image, though that makes them harder to part with! But, I like sending letters so these will definitely be used.
Wax Seal Set ($15)
"A set of gold & purple wax candles with a Lunar Insight Stamp to seal your letters. To use, light the candle & drip wax over envelope. Wait 5-6 seconds & place stamp onto wax for at least 6 seconds. Remove gently."
This is such a fun item! I've always thought wax seals looked so fancy and chic, while also making the letter look important and thoughtful. I've wanted to have one and now I do! I really like the imprint image of the crescent moon with an eye and the wax colors of purple and gold are fun and very on brand for the box.
My Retreat Journal ($22)
"Embark on a self-guided journey of creating your own retreat and embracing stillness. This journal is packed with just the right guidance, inspiration and journal prompts you'll need to go deep and make lasting improvements."
I really like this item a lot! Not only is the cover image so lovely and the size just right for carrying with you, the inside content is just perfect. I was kind of expecting just a whole bunch of blank pages or maybe the same simple idea starter on each page, but this has different prompts on every page. It starts with a section on how to create a retreat and their purpose, how to plan a retreat and how to plan what you want to get out of it, followed by the journaling section for reflections. Immediately it's got me wanting to plan and go on a retreat of my own!
Goodio Wild Blueberry Chocolate ($7.20)
"A delectable combination of wild blueberries and cacao in a vegan, gluten-free, and soy-free chocolate bar."
This chocolate sounds so delicious! Wild blueberries feel very forest-y and therefore make me think of being outdoors in nature in a peaceful, healing setting. I'm sure this chocolate is healing too of course, doesn't chocolate fix everything?? Anyway, this would be great for taking along on a retreat travel, or just for enjoying as a calming treat in the evening. I appreciate that it's made with only simple, organic ingredients and has no refined sugar.
Chiky Botanica Forest Bathe Evergreen Mist ($32)
"Escape to the forest with this refreshing mist containing organic essential oils of a coniferous forest, cinnamon and orange."
I've always wanted to try a forest bathing spray so I was excited to find this item in the box. It really fits the theme too as I imagine a perfect retreat setting would be a quiet cabin in the middle of the forest. The spray smells wonderful, really crisp, earthy and a hint of sweet spice. The scent really does feel grounding and takes me right to a place of calm.
Red Tiger's Eye ($4)
"Connect to your root chakra and welcome balance into your life with this calming and centering stone."
This is a pretty stone with it's layered look and iridescent red look. I've never head of red tiger's eye and definitely didn't have it in my collection so I'm glad to add it now. It's grounding and centering properties are great for times of self-reflection.
Saged: Spiritual Tools For Your Mystical Life ($12.99)
"Explore daily rituals and meditations, live classes, affirmations, and more with a free month of Saged Premium."
This app sounds really interesting and worth looking into. It looks like there is some content you can access without subscribing, but much of it is under the subscription. I like that they're offering a month to check it out though as the practices look like they could be helpful.
Goddess Provisions Box Review February 2022 – Final Thoughts
I always really enjoy Goddess Provisions, but I think this month I love it even just a bit more than I normally do. This is such a fun theme, and super creative too. I feel like everything is ready to be packed into a bag and tossed over your shoulder on the way out the door to your personal self-reflective retreat. The journal of course as the cornerstone for planning, the chocolate for an indulgent and nature inspired treat, the forest bathe spray for a grounding and transporting aroma, the stone for centering and focus, the notecards to connect with others on your travels, and of course the wax seal to make the letters official. I just love this theme so much and and going to take all the cues it offers and try to step away from screens a bit for some serious self-reflection this month.
The Botanic Gal – http://www.botanicgal.com