Goddess Provisions Box Review – June 2023
Goddess Provisions is a monthly subscription box that helps light up your soul and nourish your inner goddess to grow your spiritual practice. They kindly sent us this box for review.
Goddess Provisions was created as a way to share tools found to help connect with your divine feminine and grow your spiritual practice. They know we all share in the "busy-ness" of life, but believe in the importance of taking the time to manifest journal, meditate, frolick around in nature, pet kittens, practice yoga, have reiki healing sessions, do tarot card readings, drink green juice, write out the things we're grateful for, check the astrology forecast and charge our crystals under the full moon. If you enjoy these simple pleasures too, they know you're going to feel like their monthly box was curated just for you by a true soul sister.
Each month you'll receive a thoughtfully curated box that contains 5-7 FULL SIZE products including items like crystals, aromatherapy, superfoods, apothecary beauty & spiritual tools. All items will be 100% vegan and cruelty-free because they cherish our furry friends. They consciously package each curation in kraft paper boxes made from 100% recycled materials that are printed on with plant-based inks. Also, for every box and boutique item sold, they plant a tree!
Subscription Details
There are 4 subscription options for this box:
$33/month for month-to-month
$99 or $33/month for 3 month pre-pay
$178 or $29.66/month for 6 month pre-pay
$333 or $27.75/month for 12 month pre-pay
Shipping to United States is free, Canadian shipping is $15, and International shipping is $25. First time subscribers will be shipped to by the 20th of the month. Ongoing subscribers boxes ship during the first week of each new month.
June Box Details (Total Value $104)
The June box theme is "Protection" which seems like the perfect theme for the summer months with the rapid export of energy and excitement that the season brings. These tools should help protect that positive spirit and joy, repelling any negative energies that might try and come affect all your fun plans.
Here's a look at what's in this month's box:
Box Insert
I love this box's insert! Every month they have new cover art created by their resident artist (@bestwiishes) to match the theme and it's always so beautiful. The inside of the insert contains product information, uses and value along with coupon codes from many of the creators. Opposite from the product information is further information on how to used the included products. Overall it's just so nice to look at and the cover art could totally be framed!
October Occult Protection Anointing Oil ($18)
"Use this juniper branch, fir, and cedar infused oil in rituals to protect against negative energy. For candle anointing, choose a color associated with your intention and rub the oil downwards on the candle. For amulets, crystals, or other objects, place a drop of oil on your fingers and rub on for added protection."
This oil smells just so good! I love the use ideas provided above, not any that I would have thought of myself. I really was just going to use it as like a body oil since I like the smell so much, but I will definitely add it to the included crystals and any other objects that would be fitting for sure.
Mystic Moons Luxurious Textile ($44)
"Wear or place this versatile piece anywhere to add a pop of color and added protection-use it as a shawl, table runner, wall decor, altar cloth-the possibilities are endless with this magical piece."
This cloth is really beautiful, and it's really large too! So large I couldn't fit it in all in the pic! It's got a creative design with pretty coloring and with it's large size has plenty of uses. It's not actually my favorite textile I've received from this box though, mostly because I just don't have anywhere to put something this large, so I don't know if I'll use it or not. But I love the idea of it!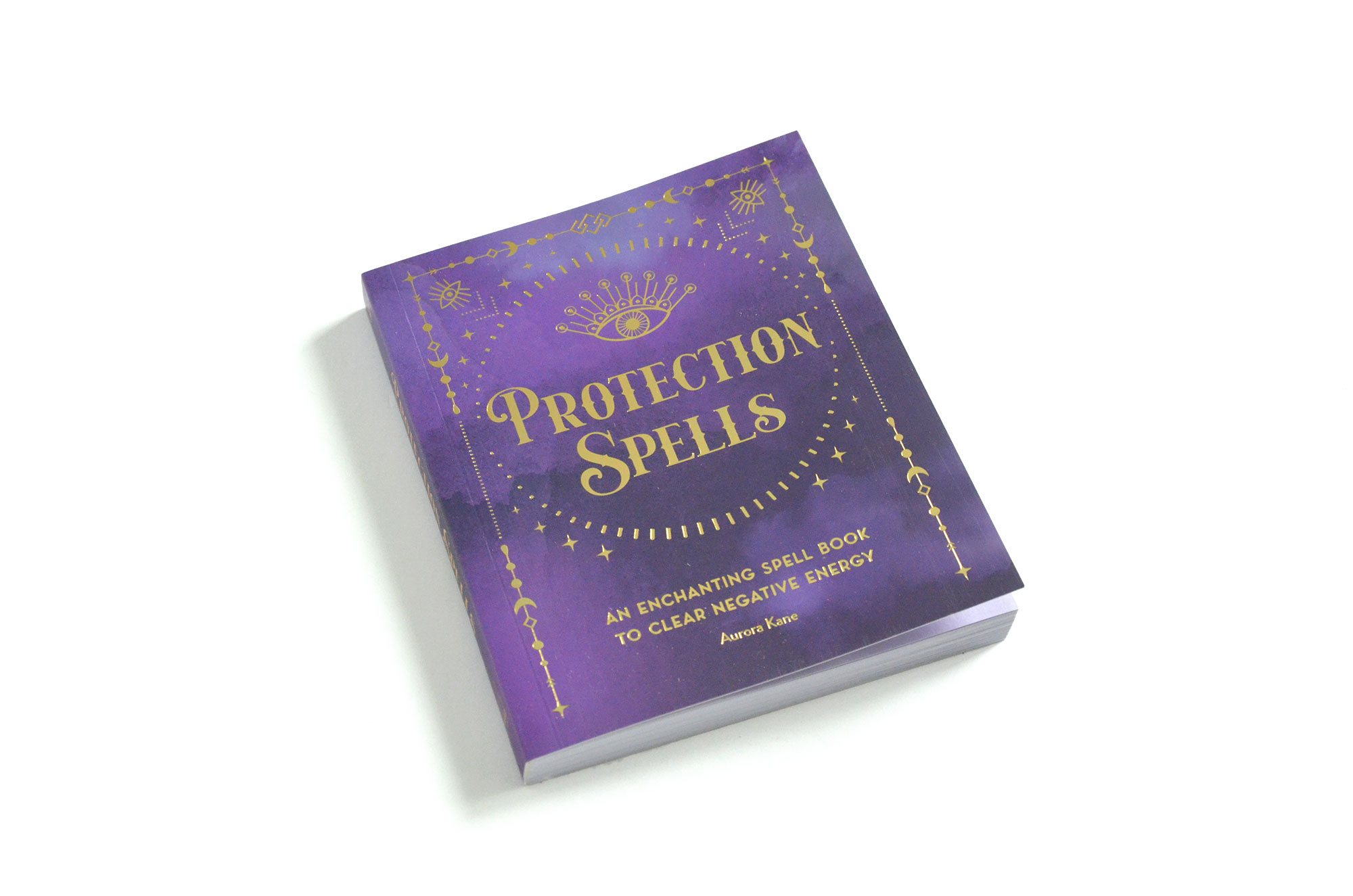 Protection Spells By Aurora Kane (Quarto Books) ($13)
"Carry this petite yet potent book with you at all times. Filled with spells, charms, rituals, and potions by a seasoned practitioner, use it to shield yourself and those you love from harm. Discover spells to protect your home, ward off unwanted visitors, banish danger and illness, and unlock your inner power and mystic energy to achieve what you desire most."
What a fun little book! I love the idea of protection spells and appreciate having this book to pair with the other tools in this month's box. It's super convenient so that I don't have to go looking for any spells to try out, they are all just right here!
Amulet Of Protection ($19)
"Harness the power of magic and symbolism by carrying this amulet to create a glowing aura of protection around you, fending off bad vibes and negative energy. Feel surrounded by positive, loving vibrations and an invisible shield of spiritual energy, giving you a sense of peace and strength."
This seems like something I should pop in my pocket or purse to keep with me at all times! With it's cute key design it could really be added to a keychain too. I like that it comes with a bit of description and instruction on how best to use it.
White Howlite ($5)
"Promote calmness, patience, and stress relief while enhancing communication, self-awareness, and emotional expression by utilizing the spiritual properties of White Howlite."
A stone that brings calming is always a good one to have in a collection, really a good one to carry around daily too. I like the opaque white color of it and will definitely up it's properties by adding some of that anointing oil. I'm not sure I had this one in my collection yet, but appreciate having it now for sure.
Phantom Zebra Calcite ($5)
"Create a positive and balanced atmosphere by using this crystal to clear negative and chaotic energies, amplify positive energy, and to cleanse spaces, creating a balance of energy and emotion."
A stone that cleanses your space and brings balance pairs perfectly with the calming properties of the White Howlite stone above. Both qualities seem like they're needed before feeling total peace and calm, so this one can only enhance the properties that one brings and make them the perfect pair.
Final Thoughts
I like this month's Goddess Provisions box for it's overall feeling of protective energy! I always say this, but this box really does a great job of coming up with creative and useful themes. I feel like summer can be a busy time of giving and sometimes overextending, so I appreciate anything that inspires conserving and protecting your energy as a reminder to not give it all away. The anointing oil and spells book are the top items to me, but if I had a use for the textile I'm sure that would be included on the list too. It would sure make for an eye catching altar cloth. Overall this box has reminded me to be sure to take the summer days slow this season since they are sweet and fleeing, just like my energy that should be protected!
The Botanic Gal – http://www.botanicgal.com