Goddess Provisions Box Review May 2021
Goddess Provisions is a monthly subscription box that helps light up your soul and nourish your inner goddess to grow your spiritual practice. They kindly sent us this box for review.
Goddess Provisions was created as a way to share tools found to help connect with your divine feminine and grow your spiritual practice. They know we all share in the "busy-ness" of life, but believe in the importance of taking the time to manifest journal, meditate, frolick around in nature, pet kittens, practice yoga, have reiki healing sessions, do tarot card readings, drink green juice, write out the things we're grateful for, check the astrology forecast and charge our crystals under the full moon. If you enjoy these simple pleasures too, they know you're going to feel like their monthly box was curated just for you by a true soul sister.
Each month you'll receive a thoughtfully curated box that contains 5-7 FULL SIZE products including items like crystals, aromatherapy, superfoods, apothecary beauty & spiritual tools. All items will be 100% vegan and cruelty-free because they cherish our furry friends. They consciously package each curation in kraft paper boxes made from 100% recycled materials that are printed on with plant-based inks. Also, for every box and boutique item sold, they plant a tree!
Subscription Details
There are 4 subscription options for Goddess Provisions:
$33/month for month-to-month
$99 or $33/month for 3 month pre-pay
$178 or $29.66/month for 6 month pre-pay
$333 or $27.75/month for 12 month pre-pay
Shipping to United States is free, Canadian shipping is $15, and International shipping is $25. First time subscribers will be shipped to by the 20th of the month. Ongoing subscribers boxes ship during the first week of each new month.
May Box Details (Total Value $153)
The May box theme is "Earth Magic" and the monthly mantra that supports it is: "I root down to rise up." Totally feeling the need to get grounded right now and a reminder to look toward Mother Nature is just what I need so this month's box is perfect!
Here's a look at what's in this month's Goddess Provisions box:
Box Insert
I love this box's insert! Every month they have a different artist create the cover art to match the theme and it's always so beautiful. This month's cover design is by @findingthelittlethings_ and is perfectly mystical as usual and I love the earthy plant touches too. The inside of the insert contains product information, uses and value along with coupon codes from many of the creators. Opposite from the product information is the monthly mantra designed with more art by another talented artist – @prettyininkpress. Overall it's just so nice to look at and the cover art could totally be framed!
Fabric Plant Pot Holder ($22)
"Dress up your plant babies with this reversible cover that features the earthen beauty of foliage & crystals. Use it with a 5″ pot & saucer."
This is a fun product! It's a easy way to dress up a drab plant pot, or cover up one you no longer like. It's nice that it's reversible so you can choose if you like the crystal print or just a neutral tan color. It should match any kind of decor. Now I've got to get some more plants to use this!
Cosmic Flora Socks ($11)
"Frolic in nature with these magical mesh socks. Open to Gaia's guidance, and the flora & fauna will accompany you as you walk along your spiritual path."
These socks are super fun! I'm not going to lie and say I'm ultra-trendy, so I'm not sure if I can pull the sheer sock trend off, but these are just so cute I might try! I love the purple and green color theme and the crystal and plant designs are so pretty.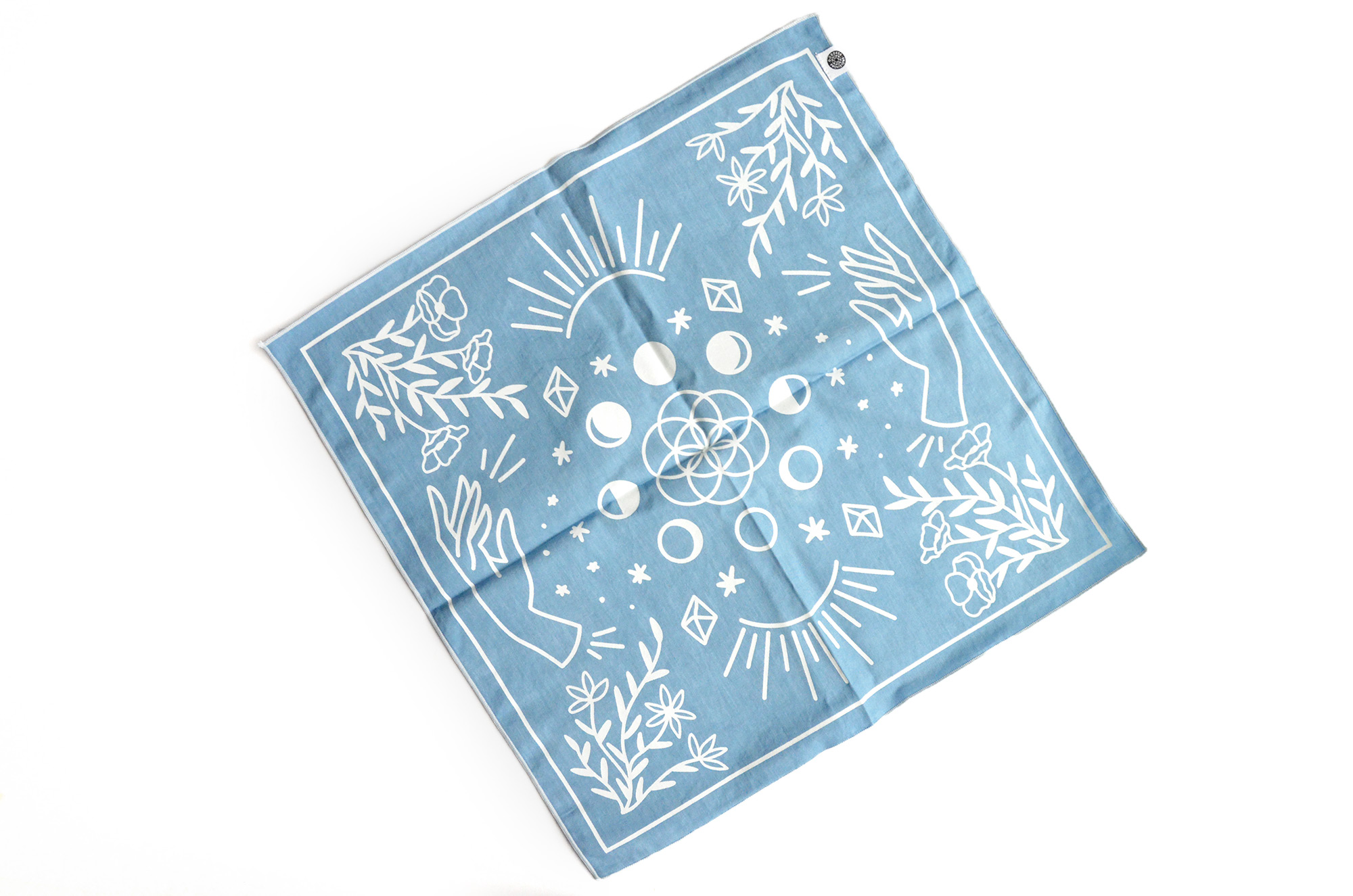 Access Our Eyes Indigo Altar Cloth ($25)
"Enrich your sacred space with this nature-loving altarpiece. It was handmade in Bali with earth magic using 100% organic plant-dyed fabric and crystal-infused Selenite ink."
I love this altar cloth! It's probably one of my faves that I've received. The blue color is just so soothing and beautiful and the design is so pretty too. I love that it's sustainably made and uses eco-friendly materials. Can't wait to create an altar in our new home to add this to!
Insight Editions Gratitude Candle ($15)
"Feel your senses & heart fill with happiness as you burn this hand-poured soy & coco wax candle. It's scented with gardenia flower essential oil & topped with a rose quartz crystal."
This candle smells so lovely! Very floral, but warm and soothing, not sharp and crisp. I like that it's intended to evoke gratitude and would be perfect for burning during a gratitude practice or even just during a relaxing bath. The rose quartz is a perfect addition to remind you to love and be grateful for yourself and others too.
Gemstone Organics Earth Magic Roll-On ($20)
"Embody Earth-energy when you apply this botanical blend of lemon, blood orange & lavender essential oils that's charged with the magic of moss agate & apatite crystals."
I love essential oil roll-ons and this one is no exception! It not only looks so beautiful with the blue and green crystals floating inside, but it smells so amazing too – uplifting citrus is grounded with cooling lavender for a stress-relieving and harmonizing blend. I'll be using this one a lot!
LastObject LastSwab ($12)
"Show Mama Gaia your love by replacing single-use cotton swabs with this cute reusable option. Its plant-based carrying case makes it perfect for your travels & outdoor adventures."
This product is so cool! I actually have one already but it's not bad to have a backup for another purse or bag. I won't say it totally replaces the cotton version, but it is super handy and definitely cuts down on waste. It's fitting to include an earth-friendly product like this in this month's Earth Magic box.
Unakite Stone ($4)
"Work with this balancing stone to feel grounded in nature's nurturance while releasing all that's inhibiting your spiritual growth. Packaged in a compostable baggie."
Awesome! A stone I don't have in my collection yet! This stone is a grounding stone that helps with vision, balance and growth. All such perfect attributes to connect with and align to Mother Earth. This seems like a good one to have on hand at all times. Also, I love the green and pink colors it's made of- so pretty and earthy!
Digital Bonus: Stone ($44)
"Discover 5 earth-based rituals and 8 flower essences that'll help you connect with Mama Gaia & your own innate magic as a child of the Earth."
I always love the digital bonus materials they include with each box. They always enhance the theme so well and provide awesome tools to further knowledge and learning. I'm super intrigued by the 8 flower essences and their uses that are in this months readings. Can't wait to check it all out and connect even more to Mother Earth!
Goddess Provisions Box Review May 2021 – Final Thoughts
I love anything that is earth-loving and reminds you to connect back to nature so this month's Goddess Provisions box is so wonderful! The collection is super fun, useful, thoughtful and maybe even a little perfectly impractical (looking at you mesh socks!). I love the color vibe the items create together and I love how separately each item has great uses. The box value seems so high this month, so it's a great grouping of items for that reason and for each item's reminder to connect to the outdoors as much as you can. Looking forward to putting it all to use!
The Botanic Gal – http://www.botanicgal.com