Goddess Provisions Box Review September 2021
Goddess Provisions is a monthly subscription box that helps light up your soul and nourish your inner goddess to grow your spiritual practice. They kindly sent us this box for review.
Goddess Provisions was created as a way to share tools found to help connect with your divine feminine and grow your spiritual practice. They know we all share in the "busy-ness" of life, but believe in the importance of taking the time to manifest journal, meditate, frolick around in nature, pet kittens, practice yoga, have reiki healing sessions, do tarot card readings, drink green juice, write out the things we're grateful for, check the astrology forecast and charge our crystals under the full moon. If you enjoy these simple pleasures too, they know you're going to feel like their monthly box was curated just for you by a true soul sister.
Each month you'll receive a thoughtfully curated box that contains 5-7 FULL SIZE products including items like crystals, aromatherapy, superfoods, apothecary beauty & spiritual tools. All items will be 100% vegan and cruelty-free because they cherish our furry friends. They consciously package each curation in kraft paper boxes made from 100% recycled materials that are printed on with plant-based inks. Also, for every Goddess Provisions box and boutique item sold, they plant a tree!
Subscription Details
There are 4 subscription options for Goddess Provisions:
$33/month for month-to-month
$99 or $33/month for 3 month pre-pay
$178 or $29.66/month for 6 month pre-pay
$333 or $27.75/month for 12 month pre-pay
Shipping to United States is free, Canadian shipping is $15, and International shipping is $25. First time subscribers will be shipped to by the 20th of the month. Ongoing subscribers boxes ship during the first week of each new month.
September Box Details (Total Value $79)
The September Goddess Provisions box theme is "Cosmic Inspiration" and comes with lots of goodies that are galaxy guided. I love the connection they all have to the stars and moon. Though space can be very mysterious, there's also clarity in it as well, so these items should certainly inspire insight, grounding and peace through their use.
Here's a look at what's in this month's Goddess Provisions box:
Box Insert
I love the Goddess Provisions insert! Every month they have a different artist create the cover art to match the theme and it's always so beautiful. This month's cover design is by @merakilabbe and is so cosmically connected. A note about the art mentioned that we see the zodiac as separate signs, but really we're parts of the same whole which inspires connectedness for sure. I really like this month's art! The inside of the insert contains product information, uses and value along with coupon codes from many of the creators. Opposite from the product information is the monthly mantra designed with more art by the cover artist. Overall it's just so nice to look at and the cover art could totally be framed!
ZODIAC WALL HANGING ($22)
"Hang this cosmic decor in your sacred space and allow the astral energies of each lunar phase and zodiac constellation to excite your spirit."
A simple, yet bold wall hanging that would be perfect by an altar or in a place of peace to inspire awareness of change through the moon phases. I like the design and it's a nice size. Maybe 3 feet long or so? I'll be hanging this up for sure.
COSMIC MESSAGES JOURNAL ($15)
"Keep track of your astro insights & cosmic inspirations. The silky-soft cover & 40 dotted pages display all 12 zodiac constellations to remind you that each sign has guidance for you."
This is such a cute little journal. I really like the feel of the soft cover and the zodiac icons on the cover and inside on the pages are so cute. It's a small journal that would fit perfectly in a purse or bag for when inspiration strikes while you're on the go. Or would totally be good for clearing your thoughts before bed so you can have a calming and restful transfer to sleep.
THE QUIRKY CUP COLLECTIVE COSMIC BOOKMARK ($9.50)
"Save your spot in your new favorite book or journal with this galactic guide. Reserve your time for truth seeking instead of searching for where you left off."
I have been trying to get back into my habit of reading so this is a perfect companion for that. I'm always without a bookmark and just fold the pages to mark where I've stopped. This will be a handy and much more cute way to keep track of where I'm at. And maybe will keep me more inspired to keep on reading since it's such a relaxing practice!
THE GUT LAB COSMIC CACAO ($15)
"Enjoy an 'out of this world' mood boost each time you brew a cup of this superfood concoction that features cacao, chaga, ashwagandha, cinnamon, ginger, maca & lucuma. Sip with intention."
This sounds so tasty! It's been awhile since I've had hot chocolate and since the weather is heading toward cooler evenings this will be a nice night cap, with added health benefits. I'm so intrigued at how it will taste. The cinnamon and ginger make me think it will be extra warming and delicious. I can't wait to try it out.
COSMIC BODY VITAL SMILE TOOTH & GUM ELIXIR ($9)
"This refreshing coconut oil blend is made with peppermint, cinnamon, rosemary and clove to leave your mouth sparkling like the stars. Use it for oil pulling or as a mouthwash alternative."
This is a fun and unique item! I've previously been in an oil pulling habit but have fallen off track so this will be good to try out and help me get back to it. I like that it's already in liquid form and it smells really nice and refreshing too. Oil pulling is a great few moments to not do anything else and take a few minutes for yourself. This will definitely be a good way to start out the day!
ZODIAC ORACLE PACK ($4.50)
"Introducing our Limited Edition Goddess Provisions Trading Cards. Collect them all and share the magic with another Goddess when it feels right. Draw upon universal energies to navigate your way through mysterious skies. Intuitively pull a card and discover which zodiac sign can help with your current situation."
I love that they are sending these trading card like packs in the box recently. This is my second pack and I love the zodiac drawings. I'm a collector so anything like this is right up my alley. I can't wait to see what packs keep coming!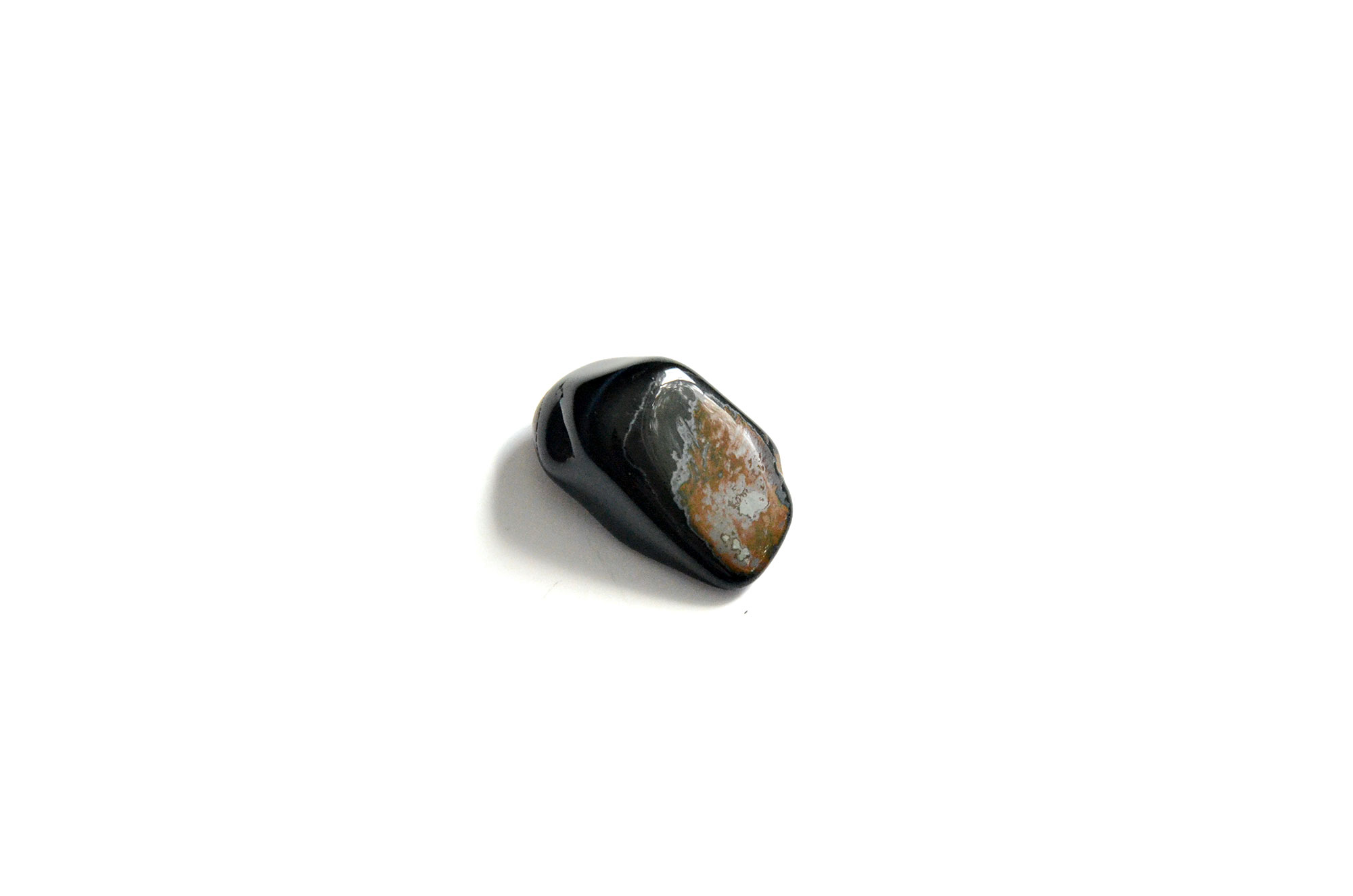 BLUE TIGER'S EYE ($4)
"Meditate with this stone to clear your mind and open to cosmic truths that are unclouded by emotion. It's calming energy will help you feel grounded, empowered & protected."
I don't have this stone in my collection yet so this is a great one to find in this month's box. I like the inspiration that it helps un-cloud your mind, like opening your thoughts to the clarity of the night sky. That's a great visual to apply when meditating with this stone.
Goddess Provisions Box Review September 2021 – Final Thoughts
I love this month's Goddess Provisions theme and collection of cosmic goods! I'm really gravitating toward the visual that the cosmics=clarity above all the chaos of life on earth and I think these items totally provide some slow down to focus on those moments of clearing your thoughts. I really like everything that was included and especially like how lovely it all looks together (I'm a sucker for color coordinating items). I can't wait to try it all out and clear my thoughts and think of the stars for a few mins here and there!
The Botanic Gal – http://www.botanicgal.com