Goddess Provisions Review February 2021
Goddess Provisions is a monthly subscription box that helps light up your soul and nourish your inner goddess to grow your spiritual practice. They kindly sent us this box for review.
Goddess Provisions was created as a way to share tools found to help connect with your divine feminine and grow your spiritual practice. They know we all share in the "busy-ness" of life, but believe in the importance of taking the time to manifest journal, meditate, frolick around in nature, pet kittens, practice yoga, have reiki healing sessions, do tarot card readings, drink green juice, write out the things we're grateful for, check the astrology forecast and charge our crystals under the full moon. If you enjoy these simple pleasures too, they know you're going to feel like their monthly box was curated just for you by a true soul sister.
Each month you'll receive a thoughtfully curated box that contains 5-7 FULL SIZE products including items like crystals, aromatherapy, superfoods, apothecary beauty & spiritual tools. All items will be 100% vegan and cruelty-free because they cherish our furry friends. They consciously package each curation in kraft paper boxes made from 100% recycled materials that are printed on with plant-based inks. Also, for every box and boutique item sold, they plant a tree!
Subscription Details
There are 4 subscription options for Goddess Provisions:
$33/month for month-to-month
$99 or $33/month for 3 month pre-pay
$178 or $29.66/month for 6 month pre-pay
$333 or $27.75/month for 12 month pre-pay
Shipping to United States is free, Canadian shipping is $15, and International shipping is $25. First time subscribers will be shipped to by the 20th of the month. Ongoing subscribers boxes ship during the first week of each new month.
February Box Details (Total Value $128)
The February Goddess Provisions box theme is "Isis Wisdom" and the monthly mantra that supports it is: "I am guided & protected by the Divine." Also, with each box purchased they made a donation to the Egyptian Food Bank & Egyptian Educate Me Foundation.
Here's a look at what's in this month's Goddess Provisions box:
Box Insert
I love this box's insert! Every month they have a different artist create the cover art to match the theme and it's always so beautiful. This month's cover design is by @tatiana_vedenkina and matches the Isis theme perfectly. The inside of the insert contains product information, uses and value along with coupon codes from many of the creators. Opposite from the product information is the monthly mantra designed with more art by the cover artist. Overall it's just so nice to look at and the cover art could totally be framed!
Alana Fairchild's Isis Oracle ($17)
"This deck contains 44-cards of divine insights from Goddess Isis. Pull a card or lay out a full spread to access guidance on how to wield your spiritual gifts of healing and magic."
This is such a beautiful oracle deck and a great tool to gain insight from. Each card has a different illustration on one side and a healing message on the other side with simple instructions on how to use included. I like the idea of card pulling to help sort through thoughts and find clarity. I'll be keeping this handy to reference for guidance.
The Qi Blue Lotus Flower Infusion ($4.50)
"Known as the Ancient Egyptian Dream Flower, this blossom was organically grown & handpicked during its fullest bloom to use in sacred ceremonies. Steep as a tea or use in a facial steam to soak up healing antioxidants."
I have eyed this product before and was so intrigued by it so this is a fun surprise! I love the idea of a full tea coming from one single flower. It's beautiful in concept and of course in it's look too. I'm sure it makes for a pretty cup of tea. I can't wait to try it out!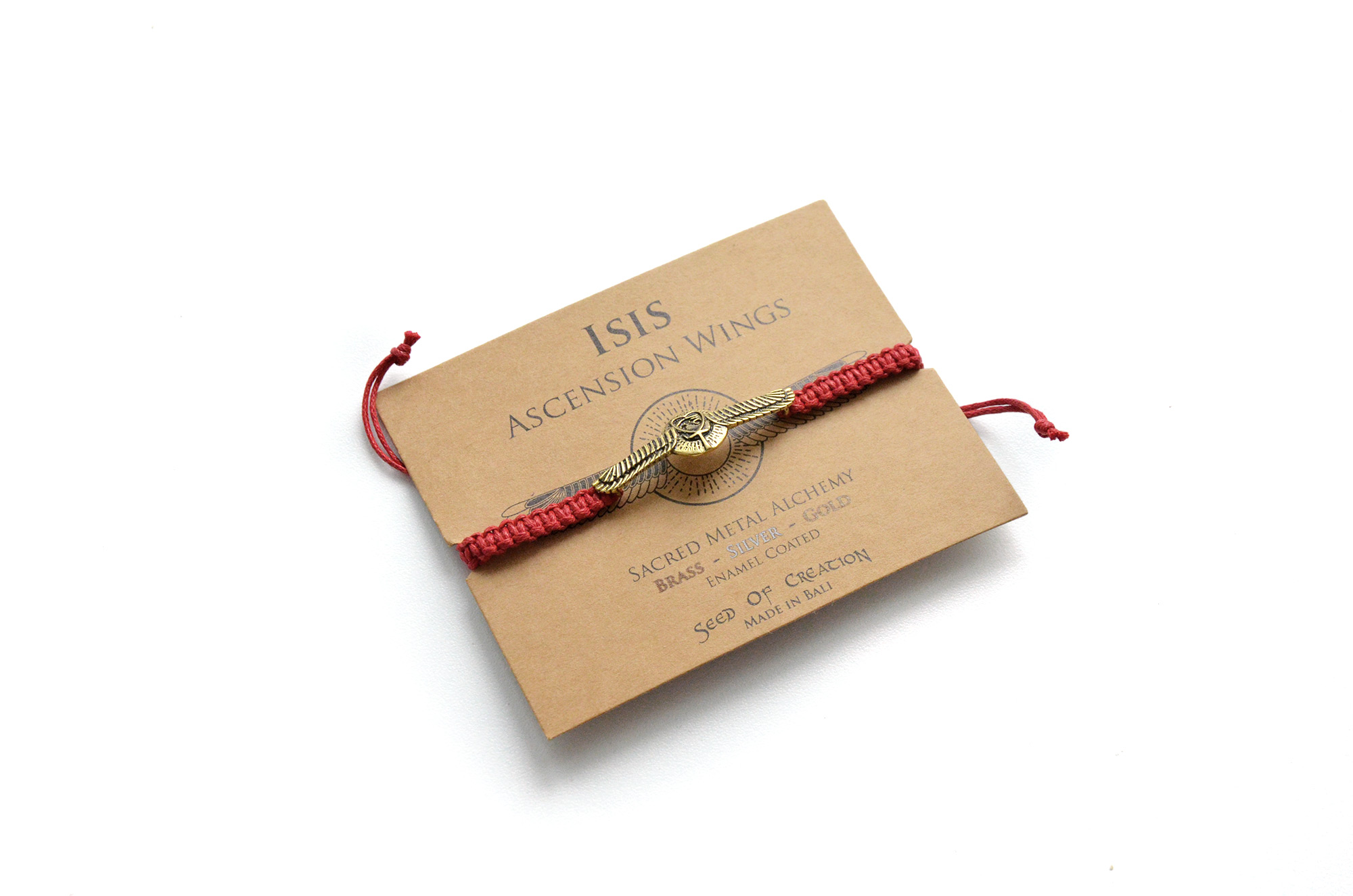 Seed Of Creation Isis Eternal Love Bracelet ($25)
"Embody the magic of sacred symbols from Ancient Egypt when you wear this bracelet. It was handmade in Bali using the lost wax casting process and metal alchemy that combines brass, silver & gold."
I love simple, yet meaningful jewelry like this bracelet. It's understated and could easily be worn daily, but comes with thoughtful symbolism that provides great reminders of protection, wisdom, love and balance while you wear it. I'm all about healing energies and reminders that they are abundant, so this bracelet is great!
Kate's Magik Isis & Rebirth Anointing Oil ($18)
"Inspired by the Egyptian goddess of death & rebirth, this sacred blend will lure you into the present moment with the enchanting scent of vanilla and Moroccan rose."
This essential oil blend smells amazing! The combo of vanilla a rose is soft, sweet and comforting – like a loving hug. It's intended to be used in an intention setting ritual to inspire rebirth, or out with the old an in with the new. I really like that and could use heaps of that kind of energy right now, so I'll be putting this to use right away.
Soapylayne Frankincense Incense Cones ($6)
"Ancient Egyptians revered frankincense resin as a gift from the womb of creation and the miracle of life. Burn this incense in the morning to invoke the energy of protection & magic."
What pretty incense cones! The red color is so vibrant and bold. They smell incredible too, a little sweet and a little tart, very bright and comforting. The energies these inspire of protection and magic are comforting too and like they mention, would be a perfect way to start the day.
Hexed Salt Pyramid Bath Bomb ($10)
"Travel to the pyramids in spirit as you soak in healing salts & the luxurious scent of Jasmine & Frankincense essential oils. As it fizzes, your bath bomb will reveal a clear quartz treasure!"
This is a fun bath bomb! I could totally go for a relaxing bath right about now so this is looking awesome. It smells really, really good and the pyramid shape is fun. I also enjoy the bonus of a crystal hiding inside. Who doesn't like surprises?!
Banded Amethyst Stone ($3.50)
"This stone is known to open the third eye chakra. Use it when practicing the healing arts to strengthen your intuition and enhance your ability to receive & interpret spiritual insights."
I love amethyst, not only for it's looks but it's healing properties too. I don't have a banded amethyst yet so this is the perfect addition to my collection.
Serpent Of Fire Ritual ($44)
"Activate your Creative Feminine Power & Divine Wisdom through an embodiment ritual with Isis expert, Achintya Devi."
I always appreciate that further reading on the subject of the theme is included each month. Often the subject is something I'm not totally familiar with on a level of how to use it for spiritual connection and healing so it's helpful to have a guide. I like that this one includes a ritual from an expert in the subject – how cool!
Goddess Provisions Review February 2021 – Final Thoughts
What an awesome theme and collection of goods this month! Lately each Goddess Provisions box that comes has introduced me to new subjects of self-discovery, including this one, and it's been so fun to learn new things and ways of healing. I love that the goddess of Isis is the goddess of magic, fertility and motherhood, and death, healing and rebirth – the word magic seems to encompass all of that and especially highlight the magic of womanhood so I love that the items in this month's box relate to that. Everything really ties back to the theme this month and I can't wait to dig in and try it all out!
The Botanic Gal – http://www.botanicgal.com