Green Kid Crafts Review September 2018
Green Kid Crafts is STEAM discovery box for kids delivered to your door monthly. With three box options, you can choose the perfect box for your child for $19.95 per month.
Junior Discovery Box 2-4y
Discovery Box 5-10+
Literary Discovery Box 2-10+
You can also upgrade your box to the Sibling Discovery Box and receive two sets of each project for $39.95 per month.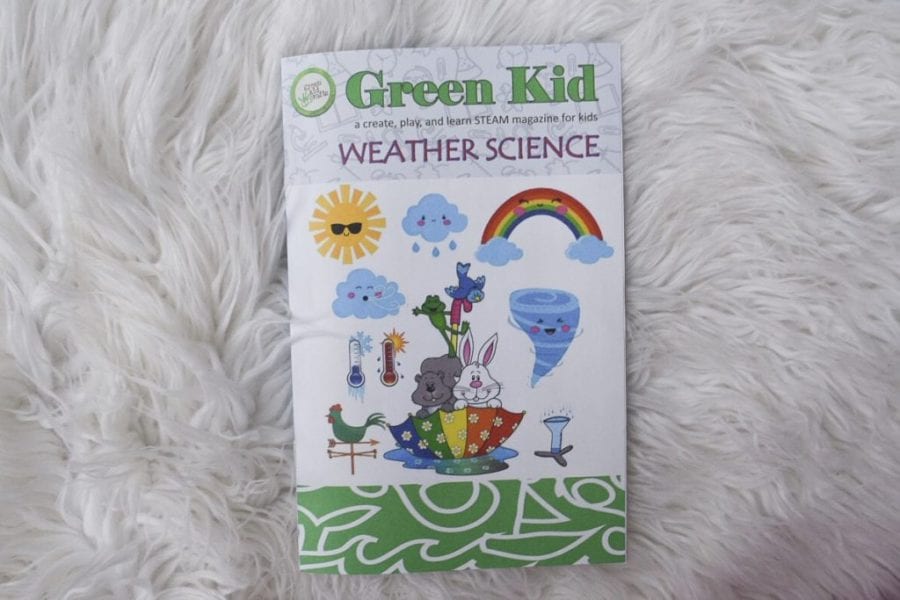 Each box includes up to 6 science and art kits packaged inside of bags made with 100% recycled materials. This month's theme is Weather Science. I was excited about the theme this month because here in Texas we have been getting a lot of rain and my kids have had a lot of questions about the weather lately. It's also the perfect theme for the season transition so your child can visualize the slow change from hot summer days to cool fall weather.
Create, play, and learn with the Green Kid magazine. Inside you will find games like finding the hidden pictures,  building a story, and a maze. There are 3 activity kits inside this month's box plus two additional projects inside the Green Kid magazine. Each activity is packaged in recycled bag which is what Green Kid Crafts is all about, using reusable and recyclable material.
Windsock
Have you ever tried to see which way the wind was blowing? Using this kit your child will be able to measure the direction and strength of the wind. They will create a windsock using fabric, sticky foam, ribbons, and a pipe cleaner. This project is easy to do and requires minimal help from an adult. Using the Beaufort Wind Scale, your child can record their observation of the wind strength and direction. As always, Green Kid Crafts includes easy step by step instructions within each kit. My kids loved making this adorable little windsock! I was able to just tell them how to assemble it and they didn't need much help from me.
Cloud Finder
Using a recycled cardstock frame, a craft stick, glue, and cloud pictures, your child will get to become a meteorologist and identify clouds using their very own cloud finder. Attaching the clouds onto the border of the frame will allow your child to compare the clouds outside to one of the photos easily. My 4 year old really liked this project! He's been very interested in knowing about "rain clouds" and pointing out fun cloud shapes.
Weather Observations
Track and record the weather conditions daily with this weather observation kit. Inside this kit your child will be able to track things like the wind, rain, clouds, and temperature which will give them a better understanding of how meteorologists determine weather patterns. This activity can be hung by your door and have you child check the weather and change it according to what they observe outside. It was very easy to set up and my kids can easily move the red arrows to the correct weather for that day.
Worm Weather by Jean Taft
My absolute favorite part about Green Kid Crafts is that they also include a book every month that is related to the monthly theme. Filled with fun rhymes and adorable illustrations, Worm Weather is a book about a rainy day and how worms come out to play. It talks about all the things you can do on a rainy day. It's the perfect book for a rainy day or even a quick bed time book for your little ones!
Green Kid Crafts Review September 2018 – Final Thoughts
Green Kid Crafts is one of my favorite children's subscription boxes because they put together educational projects for children to explore at a young age. In school, I don't remember learning this much information until I was a few grade levels in. I'm amazed by how much my 3 and 4 year old have learned from these activities. They really enjoy being able to explore Green Kid Crafts projects by themselves and I feel confident in the material they are learning within the box. With just these three easy activities, my kids have learned about different clouds, meteorology, and how the sun and time of day affect the weather. Green Kid Crafts always goes above with the additional projects found inside of their magazine and I'm sure any parent can appreciate these awesome bonus activities. Science hasn't always been my favorite subject and it is a lot of information to take in but they have curated this box to make it easier to teach your child while they have fun.
Sabrina – https://dearsarabia.com