greenUP Box Review June 2020
greenUP Box is a box on a mission of plastic rehab, they send artfully crafted sustainable goods to empower and inspire you to say #byeplastic. They kindly sent us this box for review.
The mission at greenUP Box is to make it as easy as possible for you to reduce the plastic in your life with beautiful, sustainable products and innovative solutions. They empower individuals to reduce their use of plastic so there's less plastic waste ending up on our beaches and in our oceans. They also give 3% to partner organizations that clean up the plastic that's already in our oceans.
greenUP Box is intentionally designed around 6 boxes and 6 majors areas of your life. You'll discover the best products to replace disposable plastic and start living plastic-free now. In just one year you'll be amazed at what you've accomplished, and at a fraction of the price.
Each box is valued at $70+ and contains 4-6 artfully crafted, sustainable, and eco-friendly items that are curated around a theme such as grocery shopping, the kitchen, cleaning the home, and more. Because boxes are designed around a theme, it's easier to build lasting plastic-free habits in that area of your life. Then your next box arrives and you get to redesign another area of your life without plastic.
Subscription Details
greenUP Box a bi-monthly subscription, meaning boxes ship every other month. Subscriptions ship in August, October, December, February, April, and June.
The cost of the box is $39.95 per box for a bi-monthly subscription. Shipping is 1-3 day priority. Shipping is flat rate $3 for the continental U.S. and $6 for Alaska, Hawaii, and other U.S. territories. They currently only ship to the U.S.
June Box Details
"This month's box theme is: "Summer" – Whether you're spending your summer days exploring your own backyard or the local beaches, you can turn them into plastic-free works of art. #plasticfreesummer"
Summer is my ultimate favorite season so anything that has a specific summer theme too it really catches my attention. The items included in this month's greenUP Box of course could be used year-round, but they definitely have a summer specific vibe to them that I'm really digging.
Here's a look at what's in June box ($xx total value):
SPF 30 Sunscreen by Eir NYC ($24)
"Inspired by the Mayan chocolate mask, this water-resistant and 100% reef safe formula calls on seven key ingredients, including Non-Nano Zinc for UV sun protection, to deliver a hydrating, cocoa-scented sun shield. A favorite amongst the Eir community, this is a go-to choice for beach bums, outdoor junkies, or your everyday go-getter. Apply dime-sized amount to face and blend."
I've never tried this sunscreen before, but have eyed it and have been curious about trying it out. Sunscreen is the ultimate summer necessity so this perfectly fits this month's theme too. This one is specifically created for the face and comes in this handy tin that's easy to pop in a beach bag. It's a harder cream texture in the tin, but when applied to skin it melts in and absorbs well. It doesn't seem like it would leave a ton of white cast which is great and it smells really nice and herbal-ly too.
Copper Water Bottle ($35)
"We all need a water bottle and this will be your summer 2020 go to! Research shows the Coronavirus can only live for up to four hours on copper vs. up to seven days on stainless steel. Light weight, antibacterial, and the most stylish water bottle out there, you'll never leave home without it! Water stored in a copper vessel will also become natural alkaline water. This is our favorite swap of 2020!"
I have always wanted to try one of these water bottles out so I'm really excited to find it in this months box! Not only is it just really pretty to look at, but copper is said to be anti-bacterial and help positively charge your water. In Ayurvedic principles these are said to help balance all 3 doshas in your body. Very cool! Of course, this is such a handy tool for reducing plastic waste too. I'll be bringing this one with me on the go wherever I roam to in order to keep me hydrated and save using plastic.
Kokoa Botanics Deodorant ($11)
"Kokoa was founded on the belief that natural body care encompasses both loving your body and the earth, as we are all one. High-performance, innovative natural deodorants offer all-natural support for odor-free, healthy, proven all-day protection. Moisture absorbing. No harsh chemicals. Aluminum-free. Eco-friendly. Plastic free and biodegradable. Light fresh scents."
I really like testing out natural deodorants so it's my favorite when a new one shows up in a subscription box. I love that this one has zero plastic for its packaging and is made in a cardboard tube instead. This one smells really nice and tropical and is made with all natural ingredients. It's called a "sport" deodorant so it will be interesting to see how well it holds up to the summer heat. Looking forward to trying this one out.
Organic Cotton French Net Bag ($12)
"A go-to classic in one of summer's hottest colors. Throw your deoderant, sunscreen, water bottle, body wash, and bamboo straws in this cute organic net bag and you're ready for a day at the beach or maybe just exploring your own backyard. Roll up and toss it in your purse for plastic-free shopping whenever you need."
I love this bag! Another item I've always eyed but haven't purchased before so this is a great surprise. I love the color of this one (it's one of my faves) and the usefulness is endless. I think it would make the perfect farmer's market tote (whenever we can get back to those), but in the meantime I'm sure I'll find a tone of other uses. I appreciate that it's made with organic materials so I can feel good about putting things like fresh produce inside of it.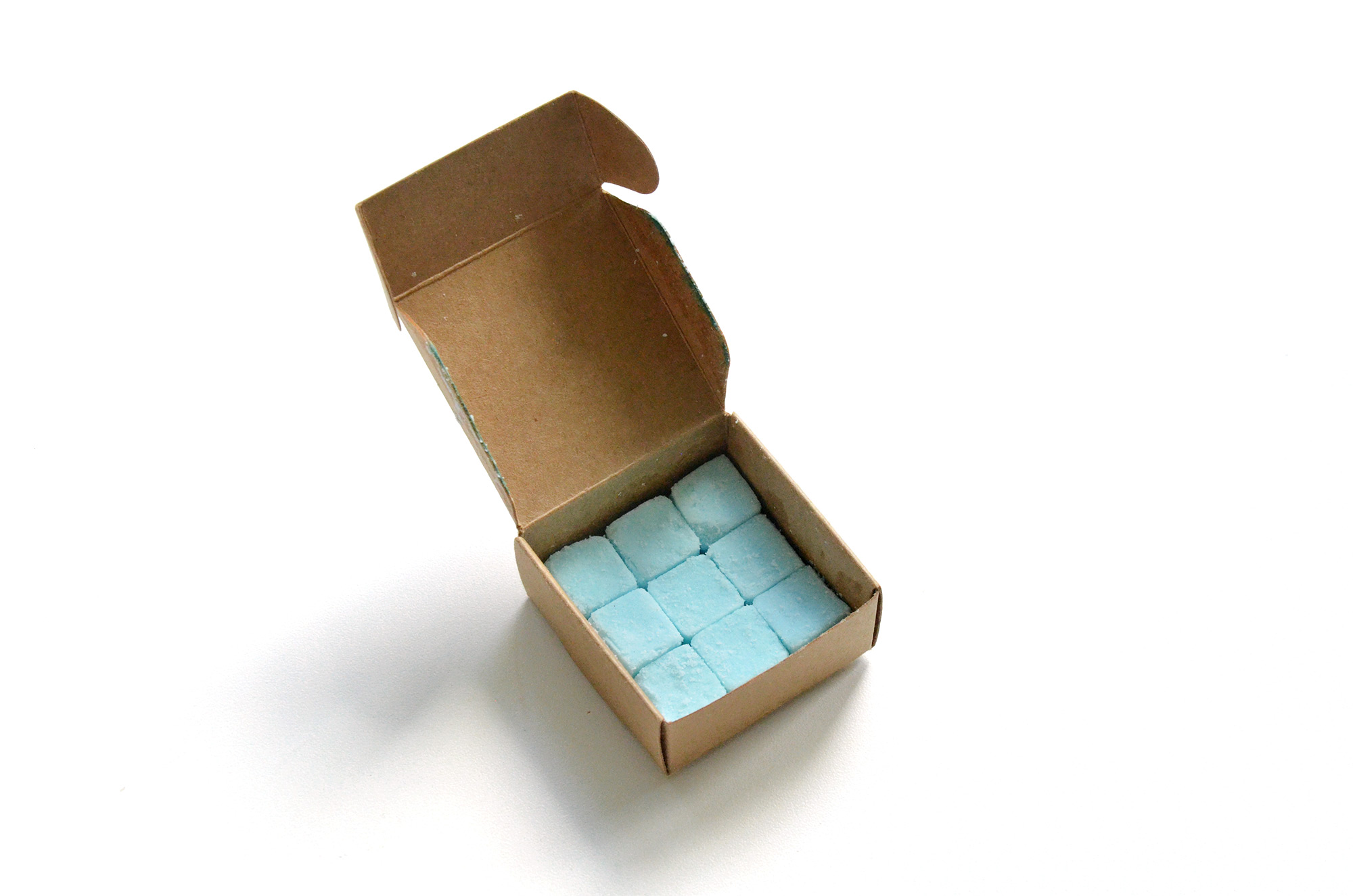 Earth Suds Body Wash Cubes ($5)
"All products made completely vegan, cruelty-free, paraben and sulfate-free, and silicone and phthalate free. Expose one tablet to water while in the shower and crush and rub product to dissolve the tablet into a liquid. Lather on body and rinse. For best results and maximizing tablet's coverage, use with a loofa or wash cloth."
This is a fun product! I've not tried something like this before. They are little waterless body wash cubes that you add water to in the shower to suds up and clean with. They are really like little tiny soap cubes but each one should last for a whole washing and will probably suds up more like a body wash that a bar soap. They smell really nice and clean and would also make a handy travel companion since they aren't made with liquid.
Bamboo Straw Set in Cotton Pouch ($10)
"8 bamboo straws with a straw cleaner and a 100% cotton canvas bag. Eco-friendly, reusable and sustainable. Bamboo is grown naturally without pesticides and is highly sustainable. These are perfect to share with friends!"
This is another perfect tool to help with reducing plastic waste. I have a handful of other re-useable straws but none that are made with bamboo so these will be fun to try out. I really appreciate that these came with a carrying case too as that's one thing that's been a downside for my other re-useable straws. Since I never got around to buying a travel case, I'd forget to bring them with me on the go. These will much handier to pop in a bag or purse for when I'm not at home.
greenUP Box Review June 2020 – Final Thoughts
This is my first time reviewing greenUP Box and I'm so impressed! If you're looking for tools to help you start a low-waste, zero-waste, or plastic-free lifestyle this box has got you covered. The items included in this month's box include barely any plastic and the packaging (if any) is fully re-useable or recyclable. Many of the items will help reduce the use of single-use plastics as well (like the water bottle, shopping bag and straws). It's obvious that the curators of the collection are thoughtful and conscious of how and what they select to send to the subscribers and I really appreciate that as a consumer. Everything included is useful and something that I didn't already have. I can't wait to see what the next month's box has in store to continue my plastic-reducing journey!
The Botanic Gal – http://www.botanicgal.com