greenUP Box Review June 2021
greenUP is a box on a mission of plastic rehab, they send artfully crafted sustainable goods to empower and inspire you to say #byeplastic. They kindly sent us this box for review.
The mission at greenUP Box is to make it as easy as possible for you to reduce the plastic in your life with beautiful, sustainable products and innovative solutions. They empower individuals to reduce their use of plastic so there's less plastic waste ending up on our beaches and in our oceans. They also give 3% to partner organizations that clean up the plastic that's already in our oceans.
greenUP Box is intentionally designed around 6 boxes and 6 majors areas of your life. You'll discover the best products to replace disposable plastic and start living plastic-free now. In just one year you'll be amazed at what you've accomplished, and at a fraction of the price.
Each box is valued at $70+ and contains 4-6 artfully crafted, sustainable, and eco-friendly items that are curated around a theme such as grocery shopping, the kitchen, cleaning the home, and more. Because boxes are designed around a theme, it's easier to build lasting plastic-free habits in that area of your life. Then your next box arrives and you get to redesign another area of your life without plastic.
Subscription Details
greenUP Box is a bi-monthly subscription, meaning boxes ship every other month. Subscriptions ship in August, October, December, February, April, and June.
The cost of the box is $39.95 per box for a bi-monthly subscription. Shipping is 1-3 day priority. Shipping is flat rate $3 for the continental U.S. and $6 for Alaska, Hawaii, and other U.S. territories. They currently only ship to the U.S.
June Box Details
The June box theme is: The Summer Box which is obviously a perfect theme for the season! I love all the fun things summer brings with it like farmer's markets, trips to the beach and just being outside soaking up the sun. Everything in this month's box has all those fun things in mind!
Here's a look at what's in this month's greenUP Box ($82.99 total value):
Kokoa Botanics Vegan Deodorant ($11.00)
"Regular deodorant containers are notoriously difficult to recycle and over 90% end up in the trash. Kokoa was founded on the belief that natural body care encompasses both loving your body and the earth, as we are all one. High performance, innovative natural deodorants offer all-natural support for odor-free, healthy, proven all-day protection. Moisture absorbing. No harsh chemicals. Aluminum-free. Eco-friendly. Plastic free and biodegradable. Light fresh scents."
I just love trying out new natural deodorants so I was happy to find this in the box. It's scented with tea tree and mint and it smells so good. It's very bright and refreshing, a clean and gender neutral scent. I love that this one is packaged in a paper tube creating so much less plastic waste.
H&J Organic Cotton French Net Bag ($16.00)
"Plastic bags start out as fossil fuels and end up as deadly waste in landfills and the ocean. A go-to classic Hav & Jord french net bag in one of summer's color trends will help! Toss in your new byta bottle, some snacks, copper straws and you're ready for a day at the beach with friends or maybe just exploring your own backyard. Roll up and toss it in your bag for plastic-free shopping whenever you need."
These bags are so handy! I've actually got another, but I don't think you can have too many as you can stash them in different places so you're always prepared with a reusable bag. I like that this one is made with organic cotton and it's a fun bright yellow color.
Byta Bottle Stainless Reusable ($31.00)
"Over 480 billion disposable bottles are produced every year! Your byta bottle in the color navagio is an effortless way to reduce plastic. We didn't know a water bottle could look this good! A double wall, vacuum sealed stainless steel bottle made to take with you wherever you go. Each byta bottle includes a screw on wooden cap with a silicone carry ring. By using a reusable bottle instead of buying plastic water bottles, you're saving an average of $266 a year!"
I love this water bottle! I'm always in need of bringing water along with me on the go and have been meaning to get another bottle for the road so this is perfect. It is such a chic design with it's minimalist silhouette and wooden cap. So not only is this super useful but looks so beautiful too. I will be using this one a lot!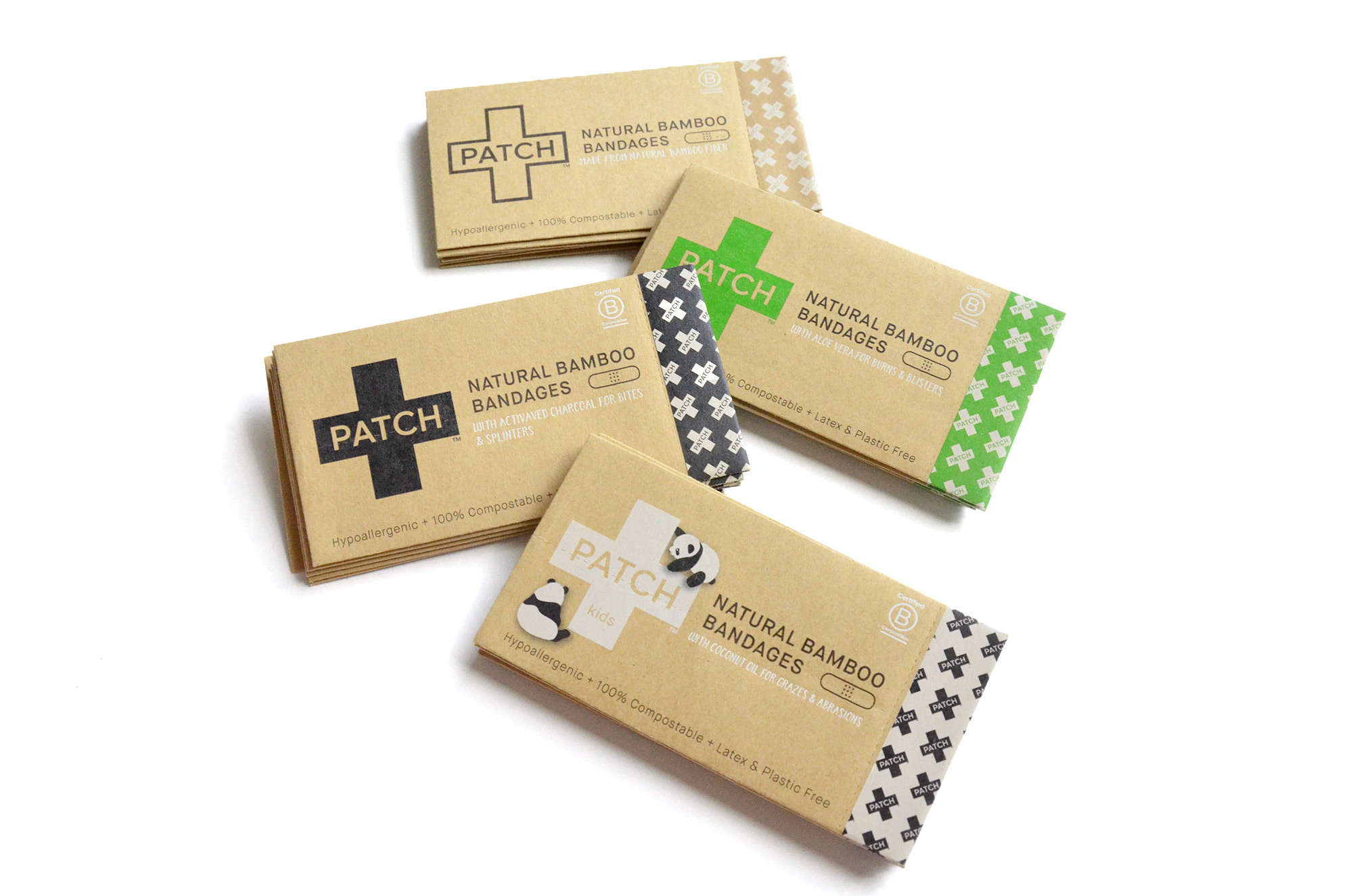 Patch Bamboo Strips ($6.99)
"Who knew?! Most bandages are made of plastic, contain animal products, and are tested on animals. Now you do! Forget disposable plastic bandages for all of your summer scrapes. Patch created a fully compostable alternative made out of sustainable bamboo. A variety of strips support different needs and all are plasticfree, vegan, cruelty-free, and 100% compostable. This is the perfect alternative!"
I love these bandages! I've previously bought the coconut oil ones for my daughter to use, but haven't yet tried the other options so I'm really glad to get a huge stash of each of them in this month's box. Shorts weather inevitably brings more scrapes and bumps so I'm sure these will come in handy this summer.
Porter Copper Stainless Straws ($18.00)
"Ugh, well you know the problem with plastic straw… Time to ditch them for good! Invite your friends for that Saturday cold brew and show them how you do #sustainablesummer with these beautifully crafted copper straws. Made from plated stainless steel, these rust-proof metal straws are an eco-friendly alternative to single-use plastic. Perfect for iced coffee, fresh juices, cocktails & more. Takes your beverage to the next level, whether on the go or at your desktop."
What pretty reusable straws! I love the rose-gold/copper color these have to them and appreciate that there are 4 in the pack with a straw cleaner. I've been craving all kinds of refreshing beverages lately so these straws will be the perfect plastic-free companion to help beat the summer heat.
greenUP Box Review June 2021 – Final Thoughts
I love summer and I love anything summer related so this box is great! I of course really appreciate the plastic-free mission greenUP Box always abides by and appreciate that they applied it to goods that pair well with my favorite season. I'm so glad to finally be getting out and about more this summer so that items like those included this month will actually be super handy and necessary. I can't wait to enjoy more outdoor activities (with the bandages in hand), farmer's markets (with the French net tote) and all the hot sunshine (with the deodorant, water bottle and fancy straws of course)!
The Botanic Gal – http://www.botanicgal.com