greenUP Box Review Winter 2022
greenUP Box is a subscription box that supports people in reducing their plastic waste. A box on a mission of plastic rehab, they send artfully crafted sustainable goods to empower and inspire you to say #byeplastic. They kindly sent us this box for review.
The mission at greenUP Box is to make it as easy as possible for you to reduce the plastic in your life with beautiful, sustainable products and innovative solutions. They empower individuals to reduce their use of plastic so there's less plastic waste ending up on our beaches and in our oceans. They also give 3% to partner organizations that clean up the plastic that's already in our oceans.
In each greenUP Box you'll discover the best products to replace disposable plastic to help you start living plastic-free now. Every box will immediately help you implement impactful changes. In just one year you'll be amazed at what you've accomplished, and at a fraction of the price.
Each box is valued at $100+ and contains 5-9 artfully crafted, sustainable, and eco-friendly items that are curated around a theme such as grocery shopping, the kitchen, cleaning the home, and more. Because boxes are designed around a theme, it's easier to build lasting plastic-free habits in that area of your life. Then your next box arrives and you get to redesign another area of your life without plastic.
Subscription Details
greenUP Box is a quarterly subscription, meaning boxes ship every three months. Subscriptions ship in September, December, March, and June. Shipping is 1-3 day priority. Shipping is free to the contiguous 48 states; $3 for Hawaii, Alaska, and the territories, and $9 to Canada. There are 3 subscription payment options:
Single Box: $64.95
Quarterly Plan: $54.95/box
Annual Plan: $49.95/box or $199.80 billed annually
Here's a look at what's in this month's greenUP Box ($110.68 total value):
David's Sustainable, Natural Toothpaste ($9.95)
"We heard you! You want plastic-free toothpaste but adjusting to toothpaste tabs hasn't been easy. Introducing David's! The metal tube is recyclable with only a tiny amount of plastic in the lid, it's 95% zero waste. We call that a win! Natural, clean ingredients, EWG verified, SLS free, made in the U.S. from U.S. ingredients."
Yay! I love this toothpaste and am happy to see it in this season's box. I usually like discovering new products through subscription boxes, but it's almost better when something you use often comes so you have a back up right for when you run out. This toothpaste has a great flavor, is refreshing and makes my teeth feel clean. Of course, it also has awesome, nearly plastic-free packaging too. I really like the key that helps you roll up the tube to squeeze every last bit of the product out too.
HIBAR Moisturizing Conditioner Bar ($13.95)
"You're about to reduce even more plastic in your bathroom! Introducing HiBAR's top selling hydration hero, salon-quality conditioner. 100% safe for colored or treated hair. No plastic. Sulfate-free, paraben-free, phthalate-free, silicone-free. Leaping Bunny certified. Curly Girl Method-friendly. Vegan. Thousands of 5-star reviews!"
I'm so glad to see this product in the box too. I think a few boxes back they sent the shampoo bar (which I have been enjoying), so I'm glad to have it's matching counterpart now too. I actually ended up buying a conditioner bar from them earlier, but it wasn't this varietal so I'm intrigued to try this one out. This is one of the best hair cleansing bar brands I've tried so I'm sure it will be great.
H&J Luxe Bamboo Hairbrush ($19.90)
"This gorgeous plastic-free bamboo brush is a high quality zero waste alternative to plastic brushes. A natural, elegant feel and functions exactly like conventional brushes. Cushion base is natural rubber. Brush pins and handle are pure bamboo. 100% biodegradable. Hand crafted where materials sourced for fewer carbon miles."
This is great! A hair brush is actually a product I've never received in a subscription box before surprisingly, and this on is a beautiful one to receive. I was recently thinking how I wanted a new brush, so it's convenient that this one showed up! How cool that it's 100% biodegradable for after it's lived it's life too? I can't wait to get to brushing!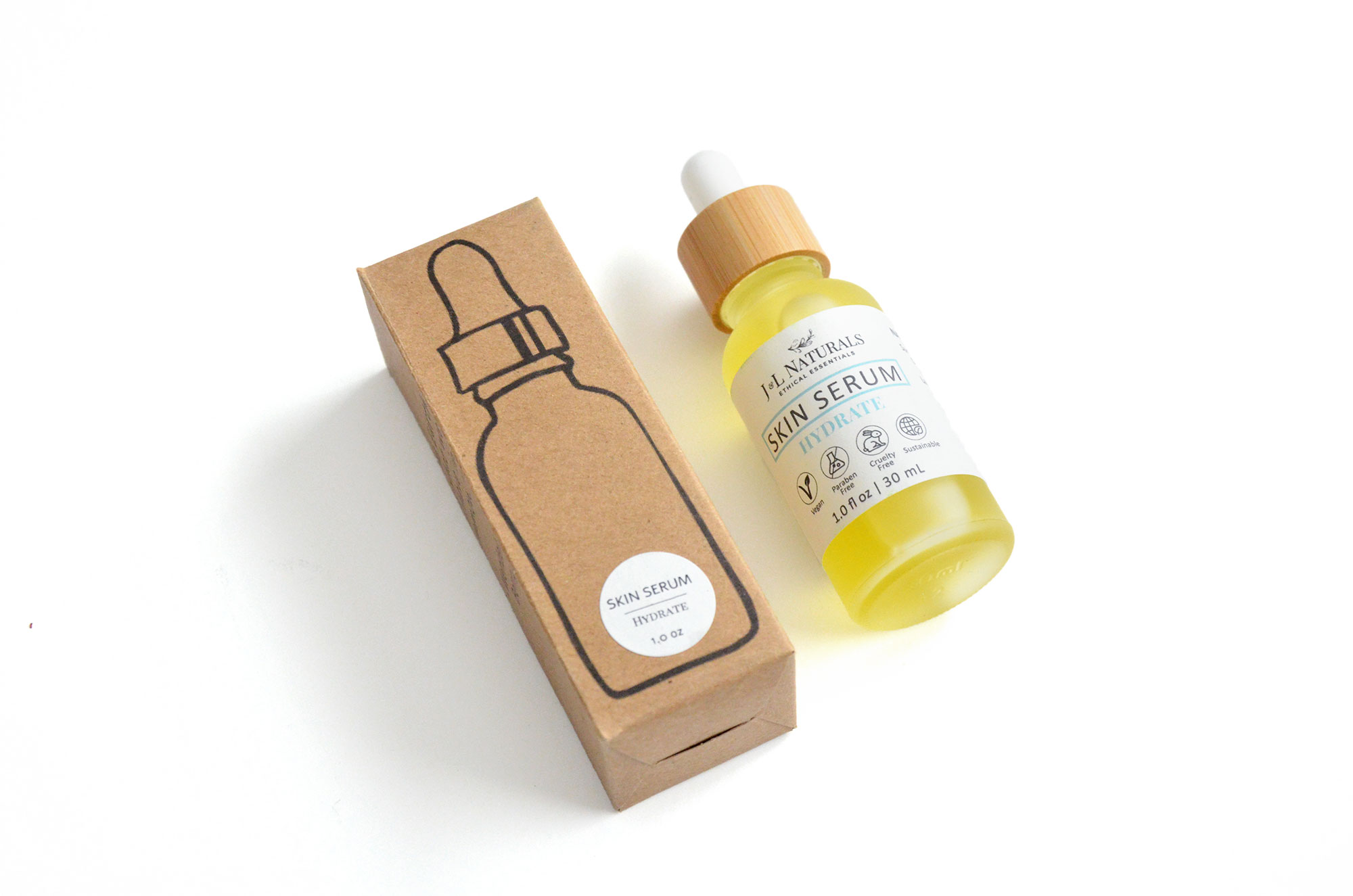 J&L Naturals Exceptional Skim Serum ($29.99)
"Finding zero waste, clean, & ethical skincare is almost impossible. Almost! Meet J&L Naturals. Gender neutral skincare. Put 3-5 drops of Skin Serum onto hand, dab fingers and gently apply to damp skin. Vegan. Sustainable. Woman-owned. Crueltyfree. Made in the U.S. Recycle yourself or send back to the J&L Recycle Program."
This is nice and light face serum in both it's texture and aroma. It smells really lovely, herbal and floral, and absorbs into skin nicely. I wasn't necessarily looking for a new face serum right now, but this one smells so nice it's enticing me to try it out. It does really sound nice for nourishing skin too with it's simple ingredient list that includes jojoba, sweet almond and sunflower oil. I'm intrigued to see if it agrees with my skin.
J&L Naturals Radiant Konjac Sponge ($7.99)
"Super gentle cleansing sponge for face or body, even for babies. Made from the root of the konjac plant. Reusable for 3 months, 100% biodegradable, and helps remove CO2 from atmosphere while growing. Submerge in warm water until expanded, soft. Gently squeeze out excess water. Use alone or with cleanser. Rinse and hang to dry."
I still have yet to try out a konjac sponge for cleansing, thought I don't know why I haven't as it seems like such a simple and gentle way to clean skin. I had no idea they came from a plant root and that makes it even more interesting to try out. This one has the added ingredient of green tea to provide gentle exfoliation and calming effects. It sounds lovely and I can't wait to actually try one out now.
MamaP Artisan Bamboo Toothbrush & Case ($14)
"Sustainable bamboo toothbrushes that give back! Each color is linked to a cause, from ocean conservation to protecting the bees. This set comes with a washable and compostable hand-printed cotton case, created by women artisans in India. 1% for the planet. 5% back to non-profits. This brush gives and gives and gives."
I love getting toothbrushes in subscription boxes since they are such useful items that you go through relatively often. I especially like this brand since with each toothbrush they give back to a different organization. The cause that my toothbrush supports is Womxn's Rights organizations – awesome! I've tried many bamboo toothbrushes, but I don't think I've tried this one yet so I'm looking forward to soon! Oh, and I also appreciate and like the travel case it comes with, super handy and love that it's plastic-free!
H&J Deluxe Bamboo Floss + Refill ($14.90)
"Hav & Jord's deluxe bamboo floss is organic, vegan, and biodegradable. It comes in a beautiful, sustainable bamboo case for easy refills. Did you know bamboo products are extra sustainable? Easily grown organically and sequesters 12 tons of carbon per hectare per year, giving bamboo a crucial role in stabilizing our planet!"
I have been meaning to get back to my regular flossing routine so this is a great reminder. Admittedly, it's been hard for me to get on the loose floss bandwagon, but this container is so cute maybe it will motivate me. I'm also intrigued by the floss itself and wonder how well it will hold up for use. Regardless, the case is great and I'm sure could hold many different refillable floss brands too.
greenUP Box Review Winter 2022 – Final Thoughts
I'm really enjoying this season's greenUP Box! It included a few things I was familiar with or have tried before like the toothpaste and conditioner bar, which is fun and useful, but it also included a few unique things like the brush and konjac sponge that I've been needing and/or wanting to try. I tend to get feelings of fresh starts whenever any green living inspired box shows up, but it's especially nice to receive one as the new year turns over to bring clean, refreshing and inspirational motivation to kick off the year right. Going green or reducing plastic waste are fantastic new year's resolutions and this box will certainly help you make that transition easier! It's definitely keeping my eco-friendly plans on track with each delivery they send!
The Botanic Gal – http://www.botanicgal.com