Howdy Baby Box Review August 2022
The Howdy Baby Box is a monthly subscription box for Mommas and Littles ages newborn to 6 years old. It features a unique selection of products for the whole family to explore together every month. They kindly sent us this box for review.
If you have littles at home, or know someone who does, this is the subscription box you will want to check out. Howdy Baby Box is easily one of our favourite boxes to receive, and I say "our" because my little guy Steven loves it just as much (if not more) than I do.
Subscription Details
Howdy Baby Box has 2 options to choose from…
Howdy Baby Box – Ages newborn to 24 months
Howdy Kids Box – Ages 2 to 6 years
You can then choose to receive one of the following….
Essential Box – $40 per box + $9 shipping
Deluxe Box – $60 per box + $9 shipping
What's included?
Essential Box:
4 – 6 premium full sized products
Includes a mix of products for both Momma and Little
Items are always tailored to your child's age and developmental stage
Deluxe Box:
7 – 10 premium full sized products
Includes a mix of products for both Momma and Little
Items are always tailored to your child's age and developmental stage
Let's have a closer look at the August Howdy Baby Box. I am reviewing the Deluxe Box….
Wanderlust Tee – Rivet Apparal Co
The journey has just begun, and the cool children's tee in this month's subscription box will remind you to enjoy it! Made of 100% ring spun cotton, this super comfy t-shirt will have your little explorer soaking up every bit of warm weather and sunshine!
I have LOVED all of the clothing items we have received in our Howdy Baby Box to date. Steven gets a ton of wear out of them:)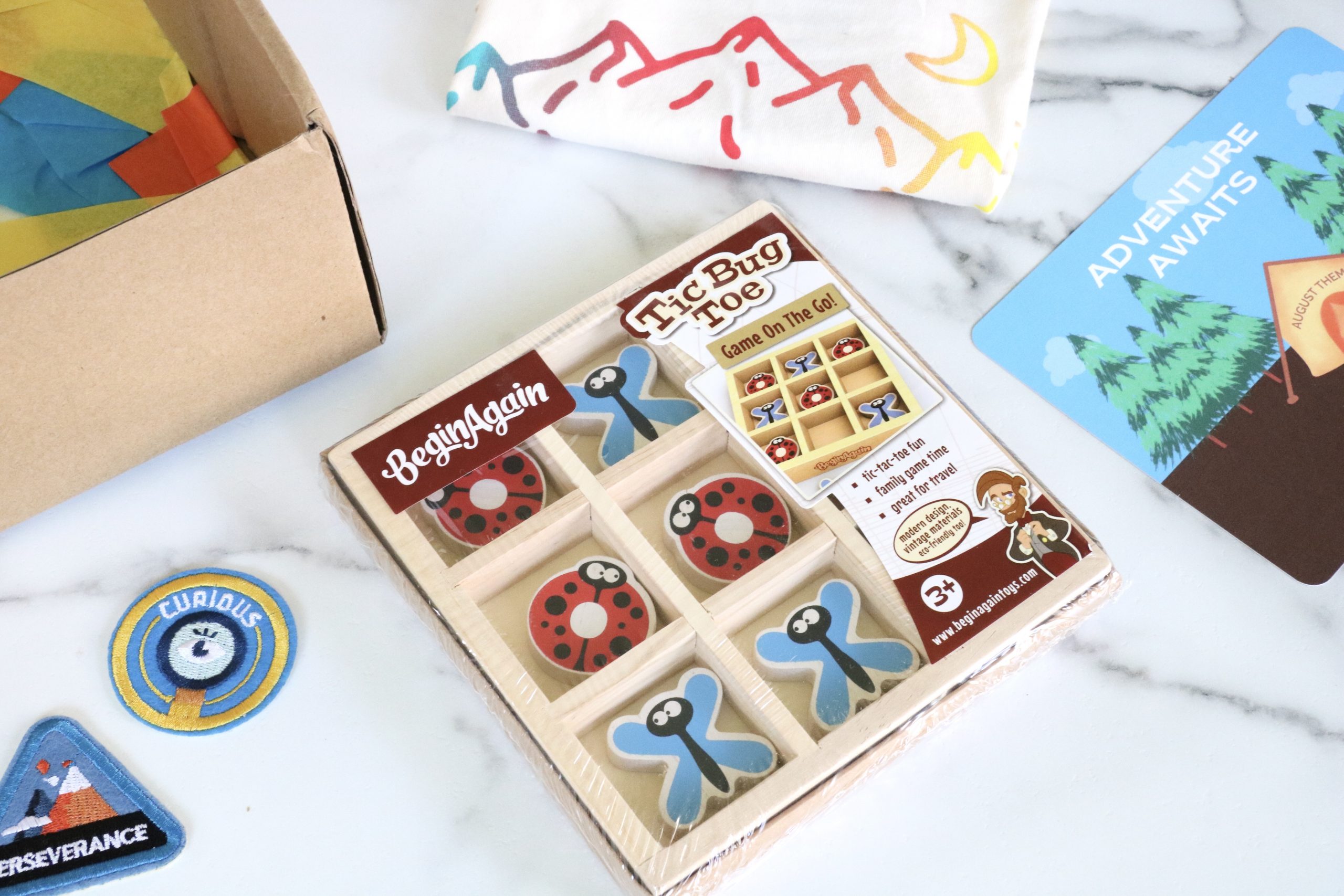 Tic Bug Toe Travel Game – Begin Again
It's ladybugs versus dragonflies in this adorable twist on the traditional tic-tac-toe game! Empty the wooden tray and take turns placing your chunky bugs in the spaces until someone lines up three in a row.
Adventure Awaits Camp Enamel Mug (For Mom) – Sweet Living Goods
Let's raise a cup of coffee (or tea) to the subtle beauty of the mountains! This stainless steel camp enamel mug holds 11 ounces of liquid, making it perfect for relaxing with a hot or cold beverage while enjoying the great outdoors.
Scavenger Hunt Cards – Little Crumbs
Fun for the whole family rain or shine! These scavenger hunt cards are a great way for the whole family to spend quality time together outdoors or on rainy days at home. Explore your backyard or see what you can spot around the house.
Happy Camper Lotion Bar – Fire Lake Soapery
This skin-loving, bug-repelling lotion bar is the ideal companion for hiking, camping, biking, or just chilling out in the great outdoors. Don't let its appearance fool you! This little bar is packed with skin-loving ingredients and works wonders on minor cuts and scrapes.
N'ice Cup – Kids Snack Cup – Carl Oscar
This handy kids snack cup is ideal for your next school lunch, park visit, or camping trip. It has two sections for different-sized snacks and a multi-cutlery tool built into the lid.
Spill Proof Clear Kids Water Bottle – Carl Oscar
Our August children's subscription box included a reusable kid's water bottle to keep the kids happy and hydrated. This clear kids water bottle holds 11.8 ounces of liquid and has a spill proof fold-out spout for easy drinking. The convenient carrying handle and contoured shape make it comfortable for kids to hold.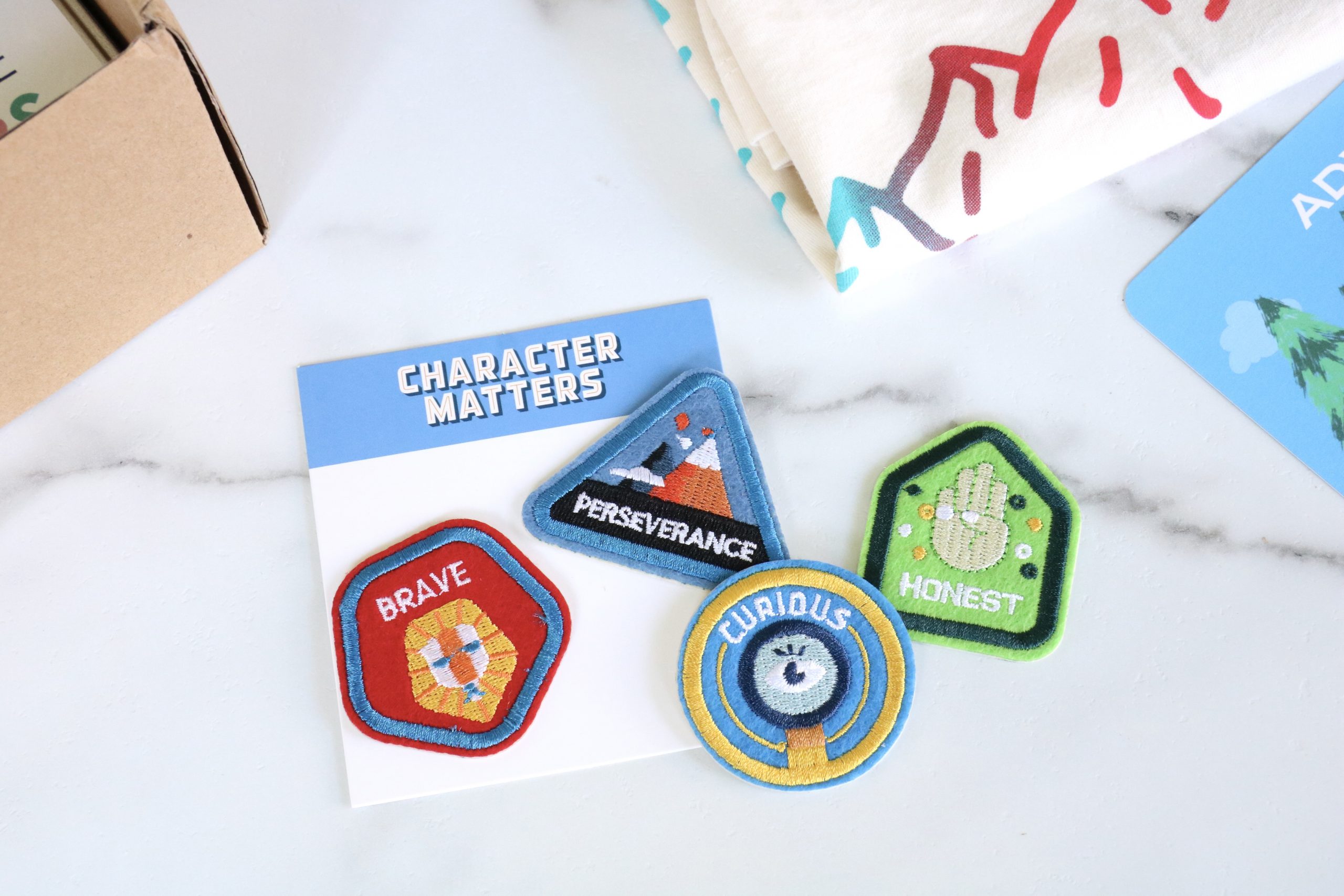 Stick On Clothing Character Patches – Boone Supply Co
Recognize your child's hard work with these iron-on character trait badges! Each of our children's subscription boxes included a set of four nature-inspired character trait stick on clothing patches: Curious, Honest, Brave, and Perseverance.
Howdy Baby Box Review August 2022 – Final Thoughts
The August Howdy Baby Box has an "Adventure Awaits" theme and it is absolutely adorable. The perfect theme for an August box as it is a great way to soak up the last little bit of Summer. They included a couple of really great items for Mom – I love the enamel mug, and the lotion bar will come in handy. I am always so impressed with the thoughtful themes and the selection of products. They really do go above and beyond, every little detail is thought of. Howdy Baby Box really is one of the cutest baby boxes on the market!
-AYOB Sarah