Howdy Baby Box Review February 2022
The Howdy Baby Box is a monthly subscription box for Mommas and Littles ages newborn to 6 years old. It features a unique selection of products for the whole family to explore together every month. They kindly sent us this box for review.
I have to tell you right away……I am absolutely, 100%, in LOVE with everything about this box so far! This is only my first time receiving Howdy Baby Box and I am unbelievably impressed. As soon as I opened the box I fell in love. The packaging is on point, the presentation is beautiful, the product cards and theme cards are professionally done, and the curation is adorable! I already know that this is going to be a new fave.
Subscription Details
Howdy Baby Box has 2 options to choose from…
Howdy Baby Box – Ages newborn to 24 months
Howdy Kids Box – Ages 2 to 6 years
You can then choose to receive one of the following….
Essential Box – $40 per box + $9 shipping
Deluxe Box – $60 per box + $9 shipping
What's included?
Essential Box:
4 – 6 premium full sized products
Includes a mix of products for both Momma and Little
Items are always tailored to your child's age and developmental stage
Deluxe Box:
7 – 10 premium full sized products
Includes a mix of products for both Momma and Little
Items are always tailored to your child's age and developmental stage
Let's have a closer look at the February Howdy Baby Box. I am reviewing the Deluxe Baby Box.
February Theme – Made With Love
The theme for the February box is Made With Love. We received a theme card and on the back it lists "Lessons from The Heart". This is a keeper!
March Theme
They also included a spoiler for the March box. I LOVE that they have given us a sneak peek for the next box!
Ribbons the Cuddle Bunny
Meet Ribbons, your baby's new best sleepy-time friend! This sweet bunny features high contrast designs, tag feet, and luxurious sherpa material designed to comfort and soothe your little one. Ribbons is made of GOTS certified organic cotton and is easy to care for.
First up we have this adorable little cuddle stuffy/blanket. Steven is going to LOVE this! Not only does he love bunnies right now, but he also likes to have a little something to sleep with. We are off to a great start!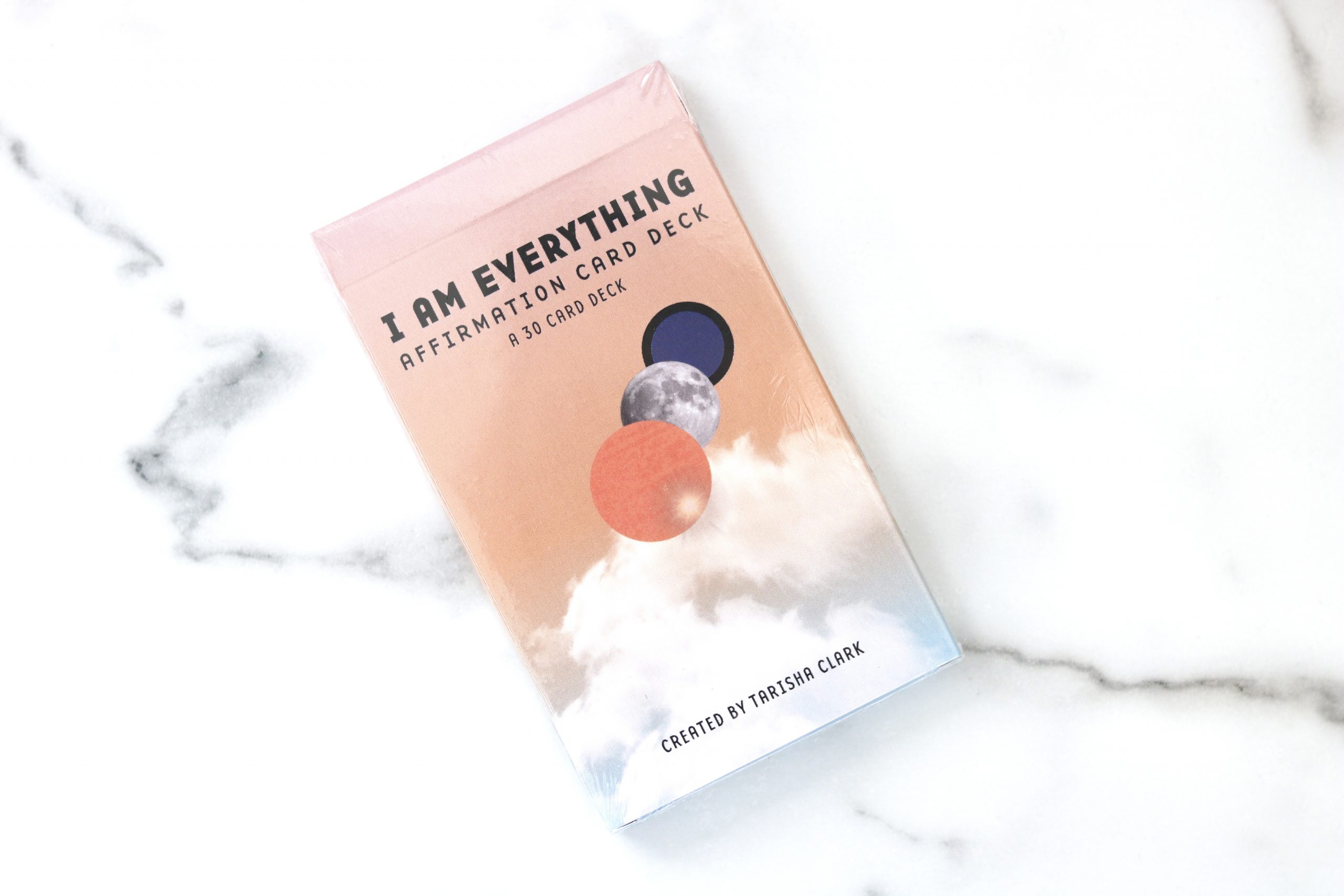 Affirmation Cards (for Mom)
It's time to tune out the noise and concentrate on what brings you joy. I Am Everything affirmation cards are a great way to remind yourself of all your wonderful qualities. To use them simply shuffle the deck, pick a card, and read it out to yourself every morning or just draw a card and read it out loud anytime you need it.
Next up we have a little gift for Mama. Each day we are to pull a card and today I pulled "I am Discerning".
It says – I love myself enough to say "no" to people and situations that don't serve my highest good. I am discerning.
Silicone Stacking Blocks
These heart-shaped stacker blocks will delight your baby's imagination. They're wonderful for teaching your child to recognize colors and sizes, as well as for boosting hand-eye coordination and encouraging brain development. Each stacking toy has six different heart shapes in various sizes and colors.
This set of silicone stackers is beyond adorable and it fits the theme perfectly. I very much appreciate when a box chooses, and sticks to, a theme. It makes the unboxing process so much more fun, and in my personal opinion it adds value to the box.
Baby Board Book
Kindness and joy are simple pleasures that are found throughout life's journey. This cute board book illustrates how to enjoy the gift of love with our friends and family through quirky illustrations adored by babies, toddlers, as well as adults!
I always appreciate receiving books because Steven and I read together at least once a day. I'm wondering if we can expect to receive a book in every box?
Bath Tub Finger Paint
Colourful fun that makes you squeaky clean! This fruit loops scented finger paint soap combines playtime and bath time into one. It's specially formulated not to stain the tub and sure to take bath time to the next level.
I think this is the item I am most excited about. I've been meaning to get some sort of bath-friendly paint for Steven and here it is. I might have to look this brand up and purchase a couple more bottles.
Bunny Teether Sensory Toy
These adorable bunny sensory teether toys are perfect for baby to play with and chew on to soothe sensitive teething gums. The ring is made our of natural beechwood which is smoother than maple and less prone to mold. It also features a cotton tie to help exercise baby's grip strength.
This might be the only item in the box that we won't get use out of but that's only because I've been very lucky when it comes to teething. Steven's teeth have never bothered him and he rarely uses toys like this. But on the other hand, it is very cute and maybe he will just want to play with it regardless.
Sani Clip
The sani clip is designed specifically for busy moms on the go. It holds a small 1 oz bottle of hand sanitizer and effortlessly attaches to your purse strap or diaper bag. It ensures that your hand sanitizer is always within reach so you'll never have to hunt through your bag again!
The cutest little Sani Clip perfect for my Bath & Body mini sanitizers. I love the pretty rainbow colors. Just looking at it is making me happy:)
Pretend Play Donuts
Make your life a little sweeter with these brightly coloured wooden donuts. Your child will love using their imagination to play pretend as they develop their cognitive abilities. These little donuts also make a delightful addition to your little one's play kitchen.
I love wooden toys and so does Steven. He also recently discovered his love for donuts so he will get a kick out of these.
Handcrafted Soap Sample Pack (for Mom)
Spread the love with Everly Sunshine's scented revitalizing soaps. These scented soaps are excellent for traveling or for keeping on hand. These soaps are proudly handcrafted in Texas with skin-loving ingredients that your body will thank you for.
And lastly we have this lovely trio of handmade soaps. I like receiving items like this because they feel extra special. Handmade soap is something I rarely purchase for myself but love having on hand.
Howdy Baby Box Review February 2022 – Final Thoughts
My very first Howdy Baby Box delivery has exceeded my expectations. I am absolutely blown away by the thoughtfulness and curation of the February box. Every detail has been thought of and the overall presentation of the box is beautiful. It is packed full of adorable items, all of which I am excited about. If this is what we can expect to see every month then Howdy Baby Box is a must-have for any new mom!
-AYOB Sarah