Howdy Baby Box Review February 2023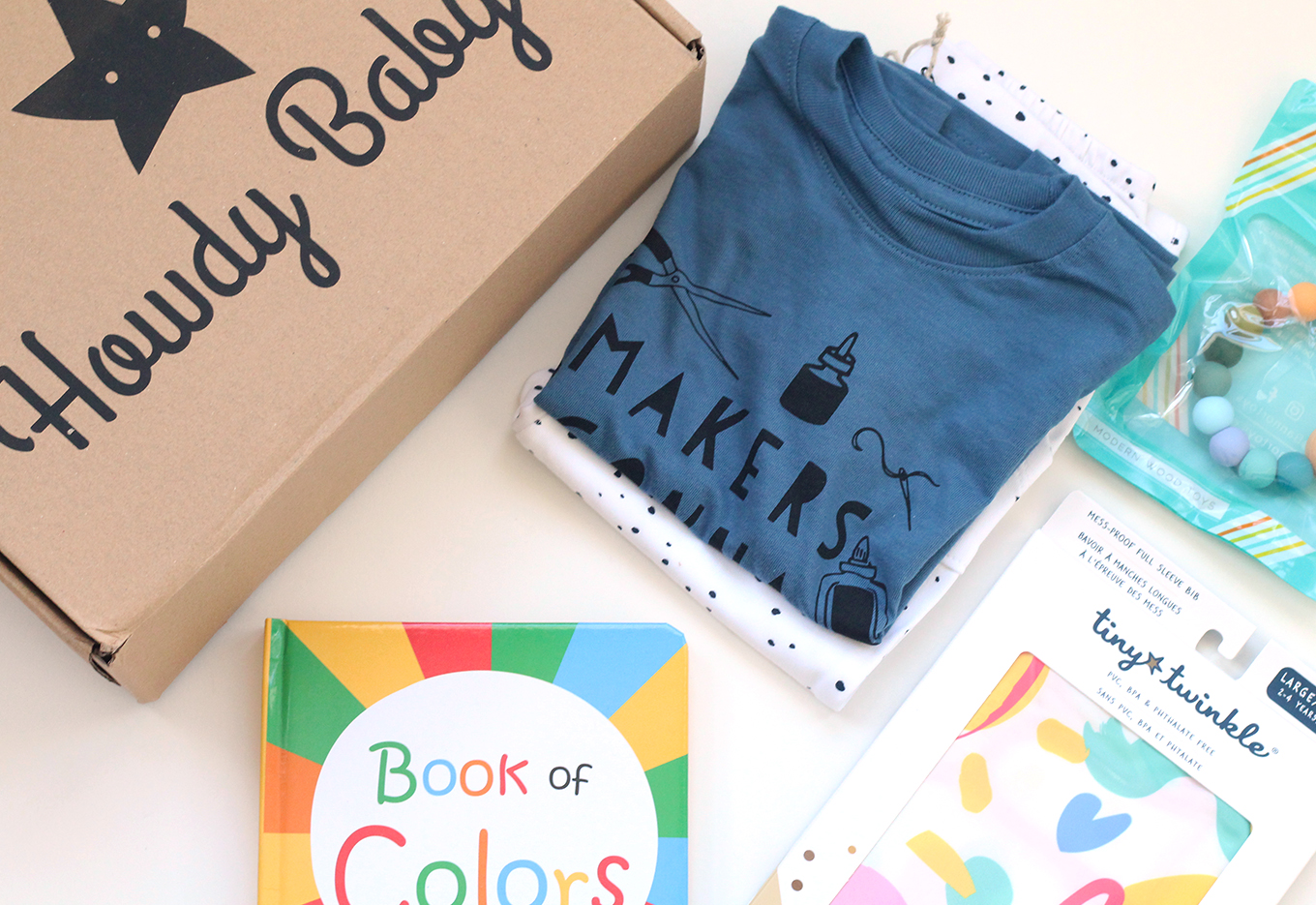 Howdy Baby Box is a monthly subscription box for Mamas and Littles ages newborn to 6 years. The box features a unique selection of family-friendly products for you and your child to explore together.
They kindly sent us this box to review.
Subscription Details
There are 2 box options to select from:
Howdy Baby Box – Ages newborn to 24 months
Howdy Kids Box – Ages 2-6 years
After choosing a box option, you can then specify your child's age and clothing size.
You can also select to receive one of the following:
Essentials Box – $40 per box + $9 shipping. Contains 4-6 premium full sized products.
Deluxe Box – $60 per box + $9 shipping. Contains 7-10 premium full sized products.
Items in the box are tailored to your child's age and developmental stage. Howdy Baby Box features products such as apparel, accessories, care products, toys, and activities. There is also always something special for mom in each box.
I receive the Howdy Baby Deluxe Box. This month's theme is "Express Yourself". Everything always beautifully packaged with little decorative elements to match the month's theme. I love these little touches!
Let's take a closer look at the items inside:
Moonlight Makers Makers Gonna Make T-Shirt
"This artsy baby tee will have your little one looking like a mini Picasso! With a soft comfortable fit, this tee is perfect for all day wear."
The clothing items in Howdy Baby Box are our favourites because of how cute they are and how good the quality is. Matty wears the clothing items received in this subscription often. As an avid crafter, I am really loving this month's design. I need one of these in an adult size please!
Viverano Organics Artsy Baby Pants
"Add some creativity to your baby's wardrobe with these playful pebble print pants! These pants are made from super soft organic cotton, so they're comfy for your little one and gentle on their delicate skin. They also have pockets for an extra touch of fun."
These are so soft and comfortable. And the pockets! Even though baby has no need for it, they are so adorable. My only complaint is that it comes in this bright white. Matty spends the day crawling all over and the pants are usually not white anymore by the end of the day LOL.
Anarchy Street Infinity Scarf (For Mom)
"Why blend in when you can stand out? This chic and ultra versatile infinity scarf is the ultimate accessory for moms who want to add a little pizzazz to their everyday look. Whether you're running errands or hosting a playdate, this scarf is the perfect way to express yourself and stand out from the crowd."
I think this is my favourite mom item from this subscription yet! It is super soft and cozy, and the design and colour is exactly what I would pick out for myself.
Itzy Ritzy Pastel Linking Ring Set
"Unleash your baby's imagination and explore the world of color with these beautiful toy links! The soft pastel colors will catch your little one's attention and help them explore their artistic side. These links are super handy and can be hooked onto car seats, strollers, and activity gyms. They're the perfect travel buddy for your little one. Plus, the subtle braid texture provides added comfort for sore gums during teething."
Matty really loves taking these apart and trying to link them together again.
Bannor Toys Bubble Baby Teether Toy
"This lovely little teether will help soothe baby's sore gums and the colorful silicone beads will also give their creativity and eyes a little workout as they play. And if your little one's gums are feeling extra sore, just pop it in the freezer for a cool and soothing sensation."
Our little guy is a little too old for teethers now, but no matter, our friends just had a brand new baby that will love this.
Tiny Twinkle Mess Proof Art Smock
"Keep your little one clean and creative with this adorable mess proof art smock! Made with durable and easy to clean material, this smock is perfect for any artistic adventure. You'll love how easy it is to clean up after their masterpiece is complete!"
This art smock also doubles as an amazing coverall bib for messy eaters! We already own several and I am happy to have another one especially in such a cute and colourful design.
Kate & Milo Book of Colors
"Get ready for a colorful adventure with this baby board book! The eye-catching illustrations will capture your little one's attention and make learning fun. Your child will love exploring and learning to identify different colors with you as you flip through the pages together. It's the perfect addition to your child's library and a great way to bond with baby as they grow and discover the world around them."
Matty loves flipping through his board books throughout the day, and the eye-catching colours and illustrations of this book makes it an instant hit with him.
Final Thoughts
Another amazing box from Howdy Baby Box! This subscription is one of the favourites of this household because everything in the box is always so carefully selected with the child's age and interests in mind. We loved everything in this box, with the Book of Colors being Matty's favourite. The clothing items are so cute and of such great quality as usual. I also loved the mom gift this month! I have been wearing that scarf often and get compliments on it. This is definitely a subscription I would recommend if you are in the market for a baby/toddler box.
Toby & Rocket – http://www.tobyandrocket.com