Howdy Baby Box Review January 2023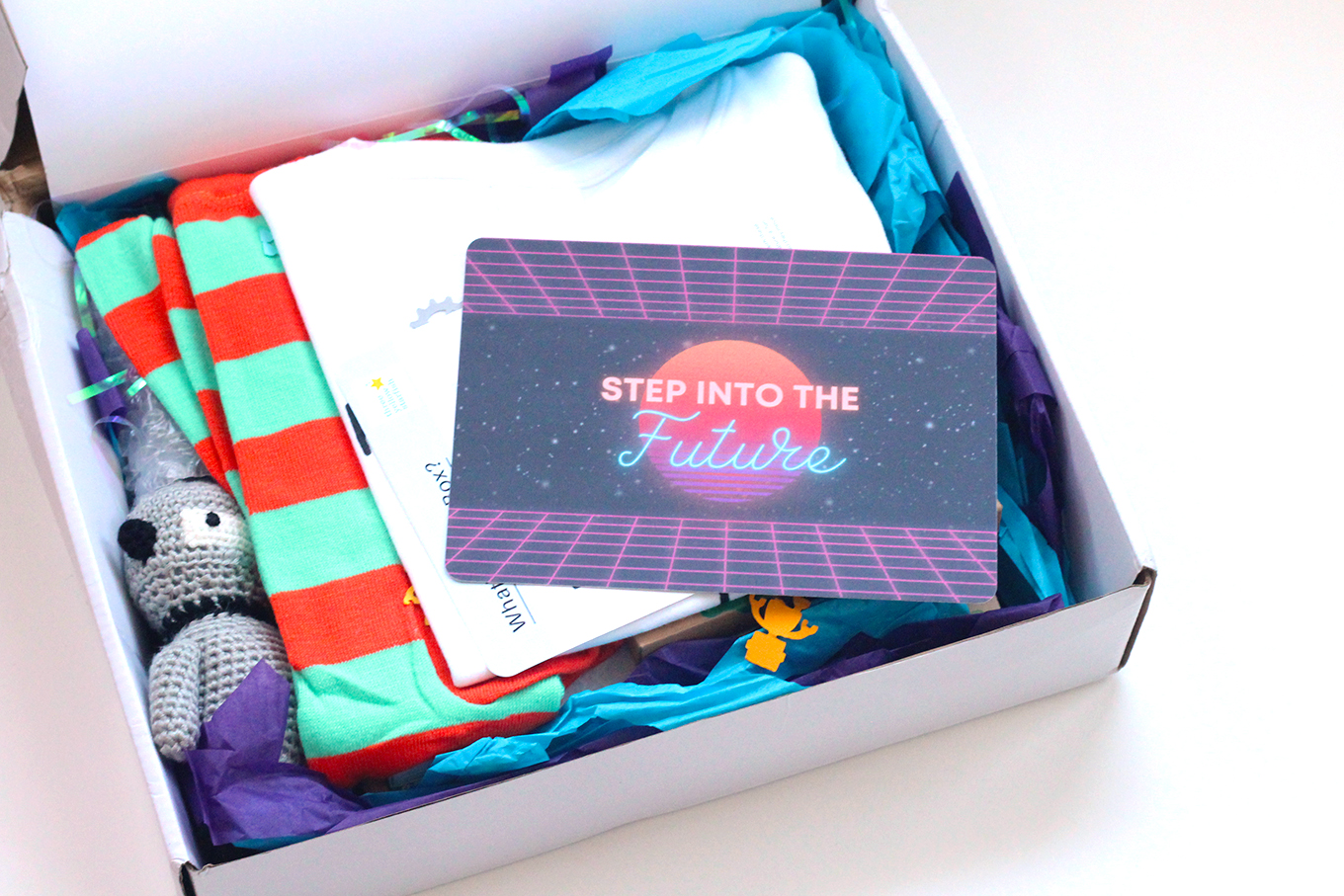 Howdy Baby Box is a monthly subscription box for Mamas and Littles ages newborn to 6 years. The box features a unique selection of family-friendly products for you and your child to explore together. They kindly sent us this box to review.
Subscription Details
There are 2 box options to select from:
Howdy Baby Box – Ages newborn to 24 months
Howdy Kids Box – Ages 2-6 years
After choosing a box option, you can then specify your child's age and clothing size.
You can also select to receive one of the following:
Essentials Box – $40 per box + $9 shipping. Contains 4-6 premium full sized products.
Deluxe Box – $60 per box + $9 shipping. Contains 7-10 premium full sized products.
Items in the box are tailored to your child's age and developmental stage. Howdy Baby Box features products such as apparel, accessories, care products, toys, and activities. There is also always something special for mom in each box.
This is a review of the Howdy Baby Deluxe Box. This subscription is a favourite in our household because Matty just loves everything in the box. Let's take a closer look at the items inside!
The theme for the January Howdy Baby Box is "Step into the Future". This month, everything came beautifully packaged in a special January new year edition white box. The white box also fits in really well with the chosen theme!
Can I point out the attention to detail, down to these cute little robot and gear paper cut outs as part of the packing material?
Northern Nail Polish 'You Grow Girl' Nail Polish (For Mom)
"Indulge in some therapeutic self-care and set yourself up for success in the future with this pretty color changing nail polish! It has a deep purple color with a hint of aqua shimmer when it's cold and turns a bright turquoise color when it's warm. This nail polish is toxin-free, pregnancy and child-safe, non-staining, easily removable, and vegan."
This sounds so cool! Really interested to see the colour-changing in action. I haven't had the time to paint my nails since baby, and this is a good reminder to take the time to do so again.
Spunky Stork Future CEO T-shirt
"Dream bigger than big! This super soft and comfortable tee is a stylish and playful way to show off your little one's ambitious side and let the world know that they're destined for big things. Featuring a hand drawn desk, with a clean and modern font, this adorable tee is perfect for all future boss babies. Designed and printed in the USA on 100% certified organic cotton."
We love the clothing items included in the Howdy Baby Box and this month is no exception! This T-shirt is so cute and the neutral colours means it goes with just about everything. We're sure to get lots of wear out of this.
Doodle Pants Robot Leggings
"Add a touch of futuristic style to your little one's wardrobe with these tech-savvy robot leggings! These adorable leggings feature a fun robot doodle on the back and they're soft and stretchy, so they move with your little one."
Something about this cute little robot print just makes me happy. Perfect for the colder days we are having now.
Cheengoo Hand-Crocheted Robot Rattle
"This lovely rattle is perfect for helping baby develop important skills for the future, such as stimulating their sense of touch and encouraging them to explore their surroundings. This cute little robot was lovingly hand-crocheted with luxuriously soft yarn made from organically grown and sustainably harvested bamboo trees."
Matty just loves shaking this little rattle and also squishing its soft round body.
Robotics for Babies Book by Chris Ferrie and Dr. Sarah Kaiser
"It's never too early to become a scientist! Set your little one on a lifelong path of learning with this expert written scientific board book. Robotics for Babies is a colorful, simple introduction to the technology behind robots and teaches complex concepts in a simple, engaging way."
Our little guy is really into board books of all kinds right now, so this book is his favourite thing in the entire box. He could spend hours flipping through the pages and showing us all the different pictures.
Lil' Labmates Interlocking Gears Montessori STEM Toy
"Get into gear and introduce your little one to the world of tomorrow with this educational Montessori toy. It's a sensory toy, a teether, a puzzle, a fidget toy, and so much more! The colorful gears interlock helping your little one develop find motor skills and improve hand-eye coordination as they play. It's the perfect way to introduce your future engineer to learning basic STEM concepts."
I really like toys like this that encourage all kinds of ways to play with them. Right now, Matty just likes to knock them together and throw them around haha. My only complaint is that we always end up stepping on them! Good thing it doesn't hurt as much as Legos.
SnoofyBee LLC Suction-Go-Bowl
"Reducing plastic waste is critical for preserving our planet and ensuring a sustainable future for coming generations. The Suction-Go-Bowl helps to reduce single-use plastic waste while also encouraging self-feeding. This silicone bowl set suctions firmly to the tabletop to keep things from getting messy and transforms into a compact take-out box that easily fits in most diaper bags."
I was just thinking of getting a suction bowl the other day, and it's just like the folks at Howdy Baby Box read my mind! Really love that this can also be a take out container so we can also bring this set to use when eating out.
Final Thoughts
We are really impressed with Howdy Baby Box as usual. It is no surprise this subscription is now one of our favourites. Everything included in the box is thoughtfully selected to be so useful or with the child's interests in mind. Our little guy's favourite is the Robotics board book, and we love the clothing items and suction bowls. I also really appreciate that there is something for mom included in each box – I can't wait to try that nail polish! If you are looking for a baby/toddler subscription, I think this is a really good one.
Toby & Rocket – http://www.tobyandrocket.com