Howdy Baby Box Review June 2022
The Howdy Baby Box is a monthly subscription box for Mommas and Littles ages newborn to 6 years old. It features a unique selection of products for the whole family to explore together every month. They kindly sent us this box for review.
Howdy Baby Box is the cutest baby subscription ever! I just absolutely love this box and we always get so much enjoyment out of the products we receive. It is currently at the top of my list when it comes to boxes I would recommend.
Subscription Details
Howdy Baby Box has 2 options to choose from…
Howdy Baby Box – Ages newborn to 24 months
Howdy Kids Box – Ages 2 to 6 years
You can then choose to receive one of the following….
Essential Box – $40 per box + $9 shipping
Deluxe Box – $60 per box + $9 shipping
What's included?
Essential Box:
4 – 6 premium full sized products
Includes a mix of products for both Momma and Little
Items are always tailored to your child's age and developmental stage
Deluxe Box:
7 – 10 premium full sized products
Includes a mix of products for both Momma and Little
Items are always tailored to your child's age and developmental stage
Let's have a closer look at the June Howdy Baby Box. I am reviewing the Deluxe Baby Box.
June Theme
"This month's mom and me subscription is one of our favorite boxes to gift! Our June TAKE ME TO THE SEA theme is all about celebrating our kids' adventurous nature. This month's box featured so many great items including a coconut soy candle & apothecary-style safety matches for mom, learning to read flashcards, eco-friendly beach toys, as well as an all-natural kids sunscreen stick for outside play! Let's dive right in and take a closer look!"
Lime In The Coconut Soy Candle (for mom) Backyard Candles: Yes…we put the lime in the coconut! Brighten the room with energizing moments of a warm summer day on the coast.
Apothecary Matches (for mom) Soy & Aroma Co.: These decorative matches are as practical as they are beautiful. You can strike them directly on the bottom of the elegant apothecary-style bottle whenever you want to light your favorite candle. Each bottle comes with 12 matches tipped in a sage green color to coordinate with this month's lime in the coconut candle.
Tropics Facial Mask (for mom) Bella & Bear: Escape with the tropical scents of mango and pineapple — no suitcase or swimsuit required! The Tropics Facial Mask whisks you away on a one-way trip to bright, smooth skin with a tropical twist.
Under The Sea Learning to Read Flashcards My Little Learner: These educational flashcards are perfect for littles who are learning how to read because they promote language development and help kids learn important concepts like colors, numbers, and reading positional words. They're double-sided and work great with dry erase markers — simply wipe and reuse!
Bathtub Submarine Pal Begin Again: Made from all-natural, plant-based rubber, this bath time pal makes a fantastic addition to bath time or water play! It's perfect for helping little ones ease into bath-time or distracting them while you shampoo! This submarine explorer helps littles strengthen their hand-eye coordination while also allowing them to engage in tactile water play.
Octopus Opposites Board Book By Stella Blackstone & Stephanie Bauer: Empty, Full — Push, Pull — Hot, Cold! Learning about opposites has never been more fun! From friendly elephants to exotic kookaburras, each creature in this vibrant board book has a pair of opposites to share.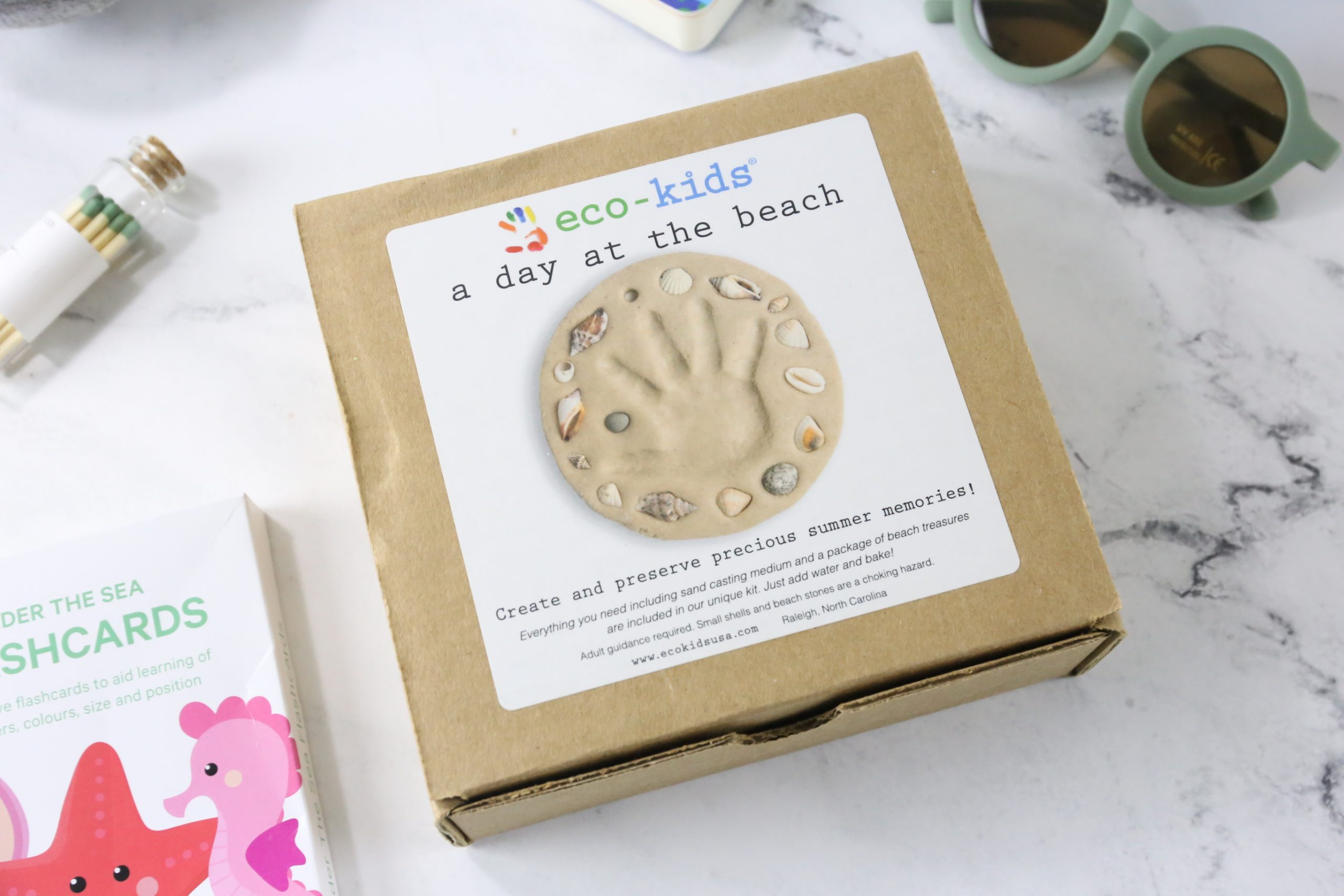 Day At The Beach Kit Eco Kids: The sun is shining, the sky is bright blue, and it's time to make a memory or two! Each kit includes sand, a casting medium, and a package of beach treasures — everything you and your child need for a fun family project. Just add water and bake!
Kids Body & Face Sunscreen Stick Thinksport: When your kids are active outdoors, they need powerful sun protection that's gentle enough for their sensitive skin. Thinksport's mineral-based SPF30 Kids Body & Face Sunscreen Stick provides on-the-go sun protection that you can rely on to keep your kids safe from the sun's damaging rays.
Little Retro Sunnies Boho & Babe: With amber-colored lenses and a groovy green hue, these round sunglasses add a fun, retro vibe to any seaside adventure! These ultra-protective sunnies feature UV400 lenses to protect against 100% of the sun's harmful rays.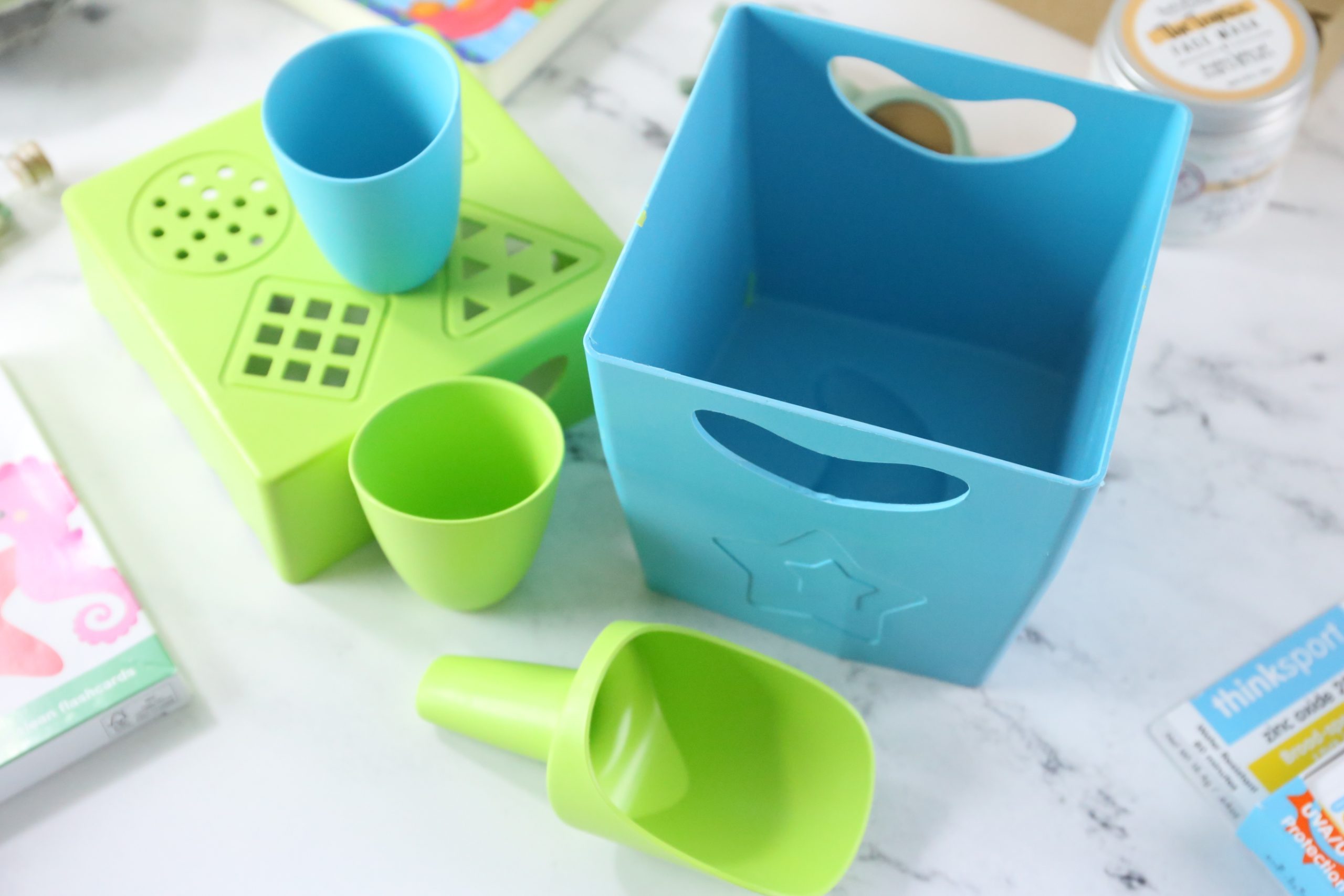 Ocean-Safe Eco-Friendly Beach Toys Zoë B Organic: Whether they're digging for buried treasure or building sandcastles, this Ocean Safe Beach Toy Set is a must-have for your little explorer! These eco-friendly beach toy gift sets have the same look, feel, and durability as standard plastic ones, but they're made with plant-based materials.
July Spoiler: Be Your Own Hero
Howdy Baby Box Review June 2022 – Final Thoughts
The June Howdy Baby Box honestly couldn't be any more perfect. We are taking a trip to the island (Parksville, BC) in the very near future and almost every item in the box will be coming with us. From the sunglasses, to the sunscreen, the beach toys, bathtub toy, book (for the car ride) and the beach kit as a way to remember our trip. I absolutely love everything and little Steven will as well.
-AYOB Sarah