Howdy Baby Box Review March 2022
The Howdy Baby Box is a monthly subscription box for Mommas and Littles ages newborn to 6 years old. It features a unique selection of products for the whole family to explore together every month. They kindly sent us this box for review.
Yes, yes, yes! My March Howdy Baby Box is here and I was SO dang excited for this one to arrive. I got to review Howdy Baby Box for the first time last month and it was love at first sight. This is the CUTEST subscription for little ones, and even though I have only received one box prior to this, it is already on my "favourites list".
Subscription Details
Howdy Baby Box has 2 options to choose from…
Howdy Baby Box – Ages newborn to 24 months
Howdy Kids Box – Ages 2 to 6 years
You can then choose to receive one of the following….
Essential Box – $40 per box + $9 shipping
Deluxe Box – $60 per box + $9 shipping
What's included?
Essential Box:
4 – 6 premium full sized products
Includes a mix of products for both Momma and Little
Items are always tailored to your child's age and developmental stage
Deluxe Box:
7 – 10 premium full sized products
Includes a mix of products for both Momma and Little
Items are always tailored to your child's age and developmental stage
Let's have a closer look at the March Howdy Baby Box. I am reviewing the Deluxe Baby Box.
March Details
Our LITTLE SEEDS monthly kids subscription box is all about celebrating the return of Spring and encouraging our little ones to explore the wonderful seasonal transformations that take place as the weather warms up. Our March box includes lots of great items including puzzle blocks and animals coloring book for kids along with sidewalk chalk (non toxic of course!) for screen free outdoor fun.
Note: Each box is tailored to your child's age and developmental stage, so each subscription box may differ slightly.
Rose & Ivy Body Scrub (for mom) – Bella & Bear
Ready to discover your inner glow? Rose & Ivy exfoliating body scrub gives your skin that invigorating clean feeling, with a delicate rose garden scent.
Here we have a little gift for Mama, a lovely body scrub. I was recently introduced to Bella & Bear products and I am already a huge fan. This Rose & Ivy scrub has a lovely scent and the colors are so pretty. I can't wait to use it!
Fun Fact: They always include a self care item for mom in the monthly kids subscription boxes because they believe it's important to make time for yourself.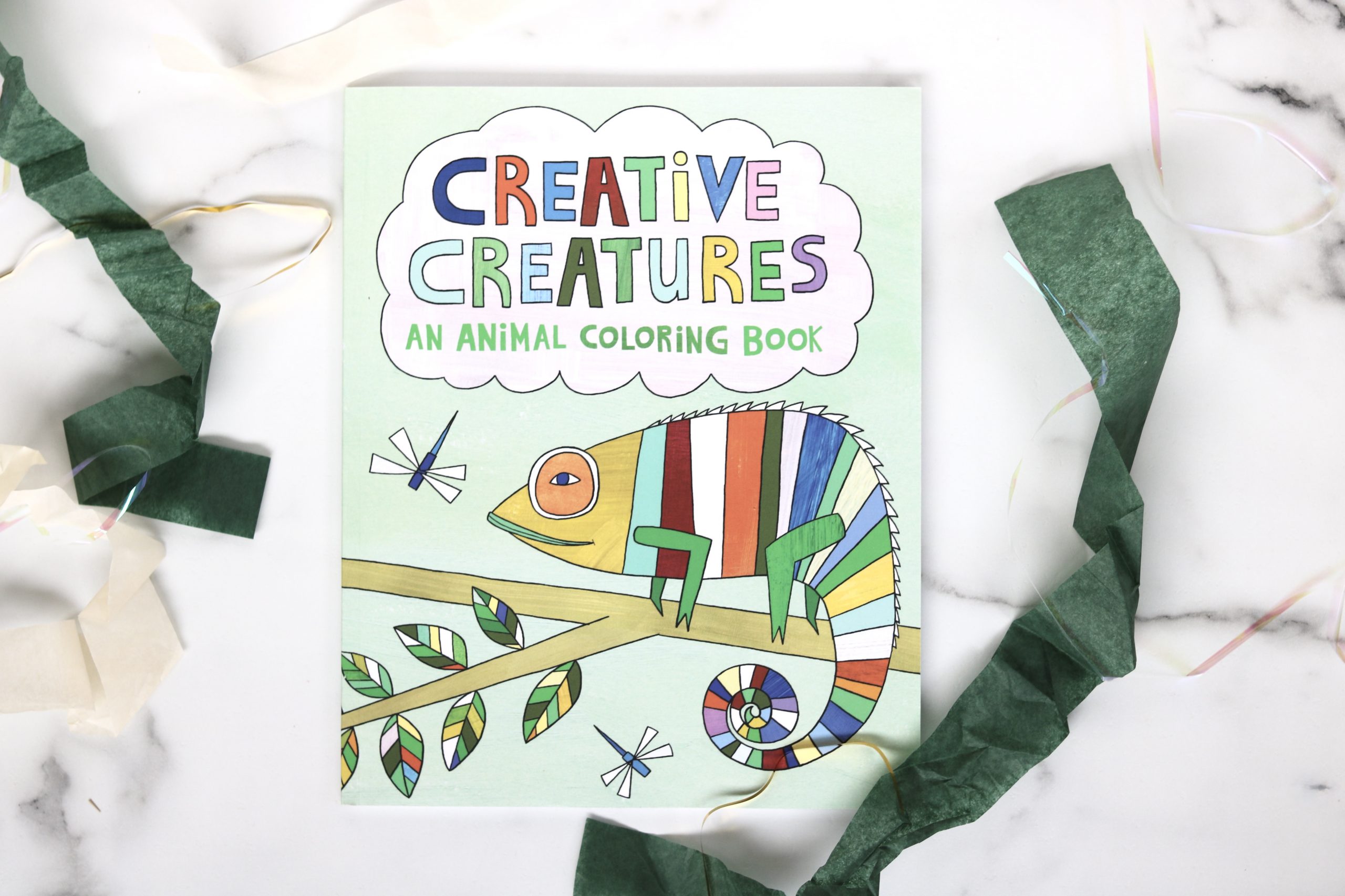 Creative Creatures – Animal Coloring Book for Kids – Free Period Press
Step inside the wild and wonderful world of the animal kingdom with the help of the Creative Creatures animals coloring book for kids! This coloring book was selected for our monthly kids subscription because you and your child will have hours of fun exploring this beautifully illustrated collection of 30 fluffy, feathery, and quirky creatures!
I love, love, love colouring and I have been meaning to get some books for Steven so I was very happy to see this in the box. Coloring is one of the activities I am most excited to do with Steven……mostly for selfish reasons. I could sit and color for hours.
Extra Large Beeswax Crayons – Eco Kids
This pack of 12 extra large beeswax crayons is expertly blended to glide on paper while providing rich color and a smooth texture. Not only are these crayons safe for children of all ages to use, but they are also renewable, eco-friendly, and beneficial for the environment.
Eeek! How fun are these crayons! They go perfectly with our new color book and they are a great size for little Steven's hands. This will be his first box of crayons. He is going to LOVE them!
Soft Crochet Mini Bee Plushie – Plum Pop Studios
Our monthly kids subscription wouldn't be complete without this adorable crochet bee! It's the perfect plush to snuggle with at night or to display as a one-of-a-kind decoration in your child's room.
Oh my……how cute is this little bee! I am so in love with it and Steven is going to love it as well. He has a little rubber bee that squeaks and he absolutely adores it! This is a bigger, softer version and I already know it is going to be a new fave.
Mini Beasts Flash Cards – My Little Learner
These Mini Beasts Flash Cards make a fun educational addition to our monthly kids subscription because they're a wonderful tool for your child's fine motor development. This set of durable double-sided flashcards encourages exploration and helps children learn new words.
Steven started talking about a month ago and he LOVES learning new words. He's a funny little guy and decided to start with big words (like Abu Dahbi) rather than small words so he is going to love these flashcards.
Fun Fact: The cards are wipeable and reusable, so your little one can draw on them and practice their pen control skills.
Spring Non Toxic Sidewalk Chalk Set – HOPSCOTCH
Springtime is a lot of fun, and so are these adorable non toxic sidewalk chalk sets! This month's kids subscription box included either a 'Hop Into Spring' or 'Extra Sprinkles' themed sidewalk chalk kit. The "Hop Into Spring" set features a fun assortment of non toxic sidewalk chalk including:
2 shimmering white bunnies
1 sparkly yellow bee
1 glimmering pink tulip
Steven and I spend A LOT of time outside and I am always trying to think of new activities for us to do together so this chalk set is much appreciate. They will be easy for him to hold and he can spend hours drawing all over the driveway, sidewalk, on rocks, etc…..
Snail Numbers Puzzle Blocks for Kids – BeginAgain
Just like a snail, with everything it needs on its back, this best-selling puzzle game has got it all! The Number Snail Puzzle is a colorful, swirly snail with numbers ranging from one to ten.
We are slowly starting to learn our numbers so this will be another fun activity for Steven and I.
Fun Fact: Each of these puzzle blocks for kids also has Roman numerals on the back.
Amicus Book of Bugs – Amicus Publishing
Dragonflies, grasshoppers, and caterpillars oh my! This charming collage-style board book teaches little ones about the insects they might spot in the garden and makes an excellent story time read for all ages.
And lastly we have this super cute book of bugs. We can learn about all the different bugs and work on a few new words at the same time.
Here's a little sneak peek for the April Howdy Baby Box – Force of Nature.
Howdy Baby Box Review March 2022 – Final Thoughts
Howdy Baby Box is such a pleasure to receive. I am so unbelievably impressed with this subscription box but I'm pretty sure I mentioned that in my last review. Every little detail has been thought of, the box itself is absolutely beautiful and the packaging is out of this world! I LOVE receiving this box and I LOVE opening it. I also very much appreciate the themes and the product curation. Howdy Baby Box is easily one of the best baby/toddler subscription boxes on the market!
-AYOB Sarah