Howdy Baby Box Review November 2022
Howdy Baby Box is a monthly subscription box for Mamas and Littles ages newborn to 6 years. The box features a unique selection of family-friendly products for you and your child to explore together. They kindly sent us this box to review.
Subscription Details
There are 2 box options to select from:
Howdy Baby Box – Ages newborn to 24 months
Howdy Kids Box – Ages 2-6 years
After choosing a box option, you can then specify your child's age and clothing size.
You can also select to receive one of the following:
Essentials Box – $40 per box + $9 shipping. Contains 4-6 premium full sized products.
Deluxe Box – $60 per box + $9 shipping. Contains 7-10 premium full sized products.
Items in the box are tailored to your child's age and developmental stage. Howdy Baby Box features products such as apparel, accessories, care products, toys, and activities. There is also always something special for mom in each box.
This is a review of the Howdy Baby Deluxe Box. This is my very first Howdy Baby Box, and I am already very impressed. My little guy absolutely loves everything in the box. Let's take a closer look at the items inside!
The theme for the November box is "Into the Woods".
Pat Pat Striped Long Sleeve T-Shirt
"Simple and stylish, this cute striped long-sleeve top will add an effortless touch to your little one's wardrobe this fall! It pairs perfectly with the bear overalls included in this month's box."
Love basic tops like this that will go with practically anything! The fabric of this is super soft and comfortable.
Pat Pat Bear Overalls
"These gender-neutral overalls are so soft and cute – your bear cub won't want to take them off! Featuring wide shoulder straps, with button front closure, you can pair them with just about any t-shirt or onesie."
This is just the cutest! We are already getting a ton of wear out of this because it is so comfortable and easy to get on and off.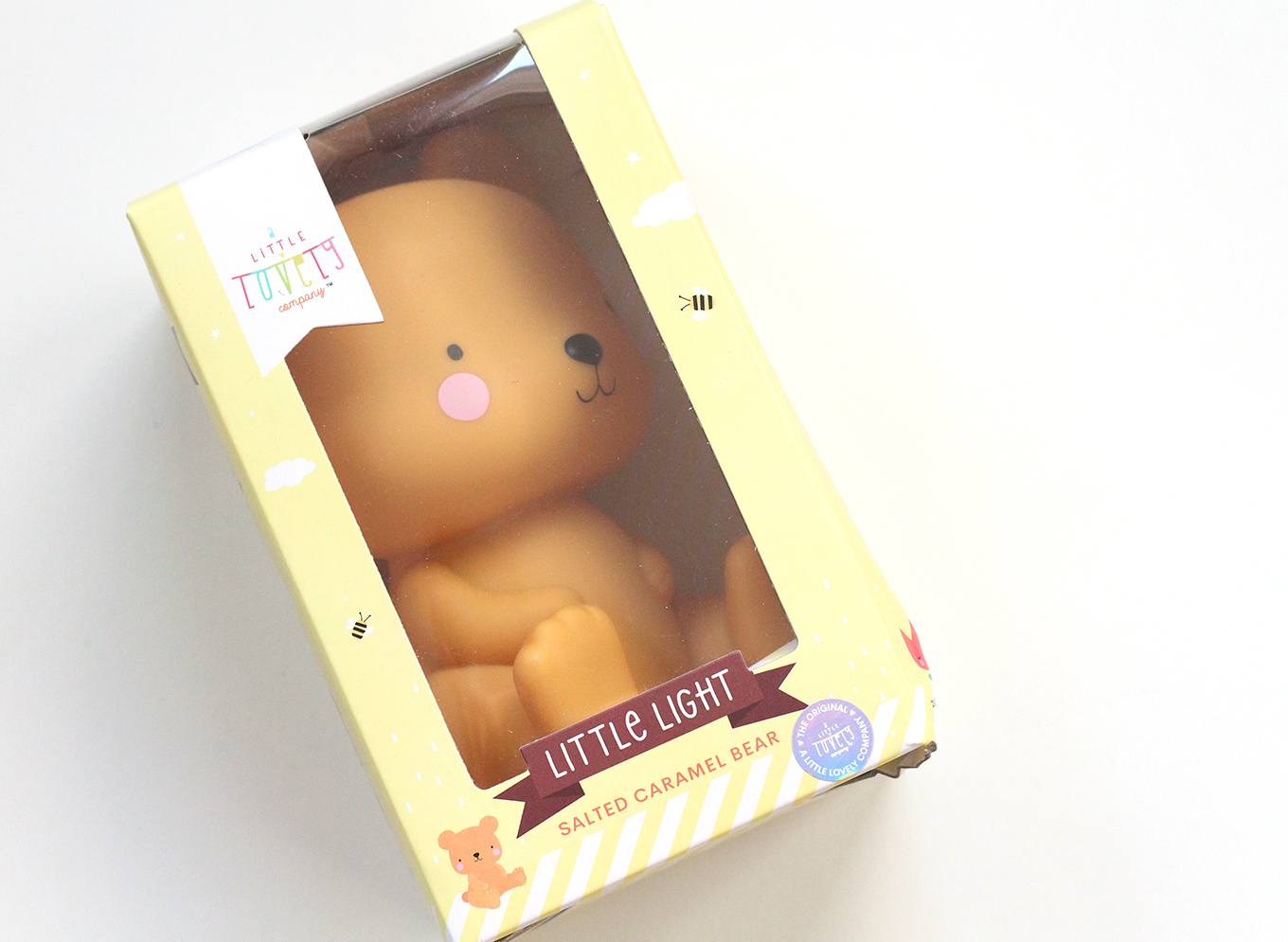 A Little Lovely Company Salted Caramel Bear Night Light
"Decorate your little one's space with this 'beary' cute Salted Caramel Bear night light! This forest friend makes the perfect nighttime companion. He's lit up by a warm LED light to create a soft and comforting glow to help little ones get to sleep."
We are just looking for a night light for little one in preparation to move him to his own room, so this is perfect timing!
Clover and Birch Wooden Deer Teether
"Oh dear, this deer is darling! This chunky wood teether is nicely weighted and easy for baby to grasp, while the finely sanded wood makes it perfect for providing gentle counter pressure to sore gums."
For reasons unknown, my little guy never took to teethers. He is, however, obsessed with waving this around and banging it against his other toys LOL.
Itzy Ritzy Fox Sweetie Pal
"A sweet pal and pacifier all in one! The Sweetie Pal lovey attaches to the Sweetie Soother pacifier and is easy for baby to grasp while keeping the pacifier in place. These adorable pals are detachable and can be used with various pacifiers or teethers."
In a household where the middle of the night pacifier hunt is a nightly event, attaching a lovey to the pacifier is a life saver to help in locating it. I love how cute this one is too!
Whispering Willow Lemongrass Hand & Cuticle Salve (For Mom)
"Our hands do so much! They help us order our lives, maintain our homes, and take care of our loved ones. This Lemongrass Hand and Cuticle Salve combines natural oils with organic beeswax to provide vitamins, nutrients, and long-lasting protection from the daily grind."
My hands are constantly so dry from all the hand washing and daily household chores. A salve like this is just perfect.
A Little Lovely Company Forest Friends Bath Book
"Explore the forest with this adorable woodland-themed bath book! This sweet bath activity book is just the right size for little hands and is filled with bright engaging illustrations of cute forest animals that little ones love."
This is easily Matty's favourite item out of the entire box. He can spend hours just flipping through and looking at all the pictures. We recently took him on a long flight, and this book kept him occupied for a large part of the flight.
The Last Hazelnut Book by Susanna Isern
"When two woodland friends have a misunderstanding over who ate the last hazelnut, they eventually find that holding a grudge is a lot less rewarding than mending their relationship. Through chic illustrations and punchy text, this funny & relatable story teaches young readers about understanding their emotions & overcoming conflict."
A great addition to our mini library! Always love adding more books to our collection of story time selections.
Final Thoughts
The November box includes woodland-themed items that are perfect for the fall season. This is our first box, and I am really impressed with the items included. I had received this box prior to going on a long vacation in December, so we had the chance to spend a lot of time with the products and really forming an opinion. Our little guy loves the Forest Friends bath book, it is the one book he never tires of flipping through even after all this time. The clothing items are really cute and functional, we got a lot of wear out of them. The care and thought in selecting each item to be included really shows, and I can't recommend Howdy Baby Box highly enough!
Toby & Rocket – http://www.tobyandrocket.com