Hushbug Book Box Review July 2022
Hushbug Book Box is a monthly subscription box featuring a newly released rom com book, a treat or snack, and 3-5 curated items that they think you'll love. They kindly sent us this box for review.
Hushbug Book Box is a wonderful book subscription box based in Canada. So far I have loved every box I have received….with this month's box being no exception. If you love a good romantic comedy…..this is the box for you!
Subscription Details
What You Get: Each Hushbug Book Box includes 1 newly released rom com book, a treat or snack, and 3-5 items curated around the book that could include self care items, home goods, stationary, etc.
They have 3 subscription options to choose from….
single box
3-month subscription
6-month subscription
Here's a closer look at what we received in the July Hushbug Book Box….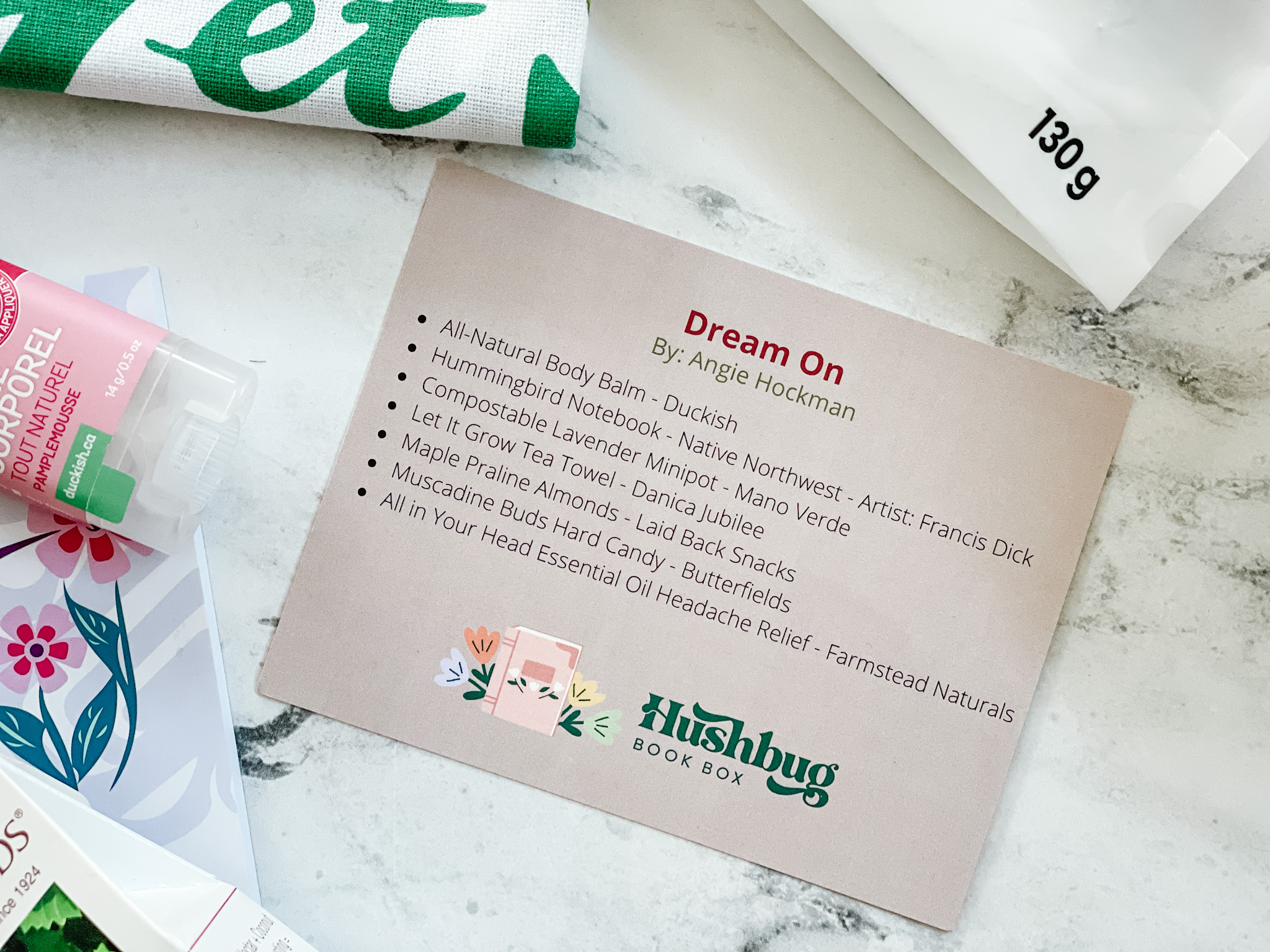 Dream On by Angie Hockman
"What would you do if your dream man turned out to be real?
When law student Cass Walker wakes up after surviving a car accident, she is flooded with memories of her boyfriend, Devin. The only problem? Devin doesn't exist. But everything she remembers about him feels so real, like the precise shade of his coffee-brown eyes; the texture of his favorite hand-me-down scarf; even the slightly crooked angle of his pinkie, broken after falling off a trampoline in third grade. She knows he's a figment of her imagination—friends, family, and doctors confirm it—but she still can't seem to get him out of her head.
So when she runs into the real Devin a year later in a Cleveland flower shop, she's completely shocked. Even more surprising is that Devin actually believes her story, and soon they embark on a real-life romance. With her dream man by her side and an upcoming summer job at a prestigious law firm, Cass's future seems perfect. But fate might have other plans…"
All-Natural Body Balm – Duckish: I love these body balm sticks from Duckish. I have received one before and use it almost daily. They are convenient, easy to use, and travel friendly.
Essential Oil Headache Relief – Farmstead Naturals: Essential oil roll-ons for headache relief are one of the products I like to have in my medicine cabinet at all times. They work so well and are a great natural alternative for pain relief.
Hummingbird Notebook – Native Northwest: I'm a sucker for stationery products so I was happy to see this in the box. It's the perfect size for my purse and the cover is so pretty!
Compostable Lavender Minipot: This is such a cute idea! We get to grow our own lavender! I have been meaning to get some sort of plant for our back deck…..this will be perfect!
Let It Grown Tea Towel – Danica Jubilee: I love seasonal decor, and even though this pretty little towel could be used year round, I think it is perfect for Summer!
Maple Praline Almonds – Laid Back Snacks: I am VERY familiar with Laid Back Snacks and have tried almost all of their snack mixes. This particular mix is one of the more popular ones on their website.
Muscadine Buds Hard Candy – Butterfields: And lastly we have a lovely little box of hard candies. I will tuck these in my desk drawer and sneak one any time I need a little work day pick-me-up.
Hushbug Book Box Review July 2022 – Final Thoughts
One of the things I love about Hushbug Book Box is the curation. They always manage to put together a wonderful selection of products and they usually follow a color scheme (I love a good color scheme). The book choice this month sounds SO cute (as per usual) and I will get use out of everything we have received.  Especially the roll-on, lavender, body balm and note book! This subscription is just so darn CUTE!
-AYOB Sarah