Hushbug Book Box Review: Meowy Christmas Edition 2022
We love a special edition around here and this one from Hushbug Book Box is super sweet. Like their December box, the Meowy Christmas edition features a newly released rom com book, a snack, and a few additional surprises, only this one is festive in the best way with a cat-theme throughout. 😻 Our own feline friend turned 21 this year and we can't imagine Christmas without him. Let's see what's inside.*
*They kindly sent us this box for review.
Cats love to get up to all sorts of mischief at Christmas so the sneaky expressions they've got on this mug and coaster set are purr-fect. I'm tempted to fill the mug with milk for our guy Benny but I feel like he'd knock it over — on purpose. 😹
And the book sounds amazing! A Cat Cafe Christmas by Codi Gary just came out in October.
"Veterinarian and animal lover Kara Ingalls needs a Christmas miracle. Opening the Meow and Furrever Cat Café to find loving homes for adorable, adoptable cats was a dream come true—but with more cats than customers, it's quickly turning into a nightmare. If Kara can't figure out some way to get the café out of the red, it won't last past the holidays.
Marketing guru Ben Reese may be annoyingly smart and frustratingly bossy, but when he hatches a plan to put the café in the "green" by Christmas, Kara realizes that she'd be a fool to turn down his help. And so what if he turns out to be an excellent problem solver and nerdy-hot—he can't even handle fostering one little kitten. She needs to keep their relationship professional and focus on saving the cafe.
But if Ben and Kara can set aside their differences—and find homes for all the cats by Christmas—they might discover that, by risking their hearts, they'll have their own purr-fect holiday . . . together."
We have a cat cafe around the corner from our new house and it's been struggling to stay afloat for some time too. I feel like I'm going to want to take every cat home as soon as I step in the door but we should make a point to get in there soon.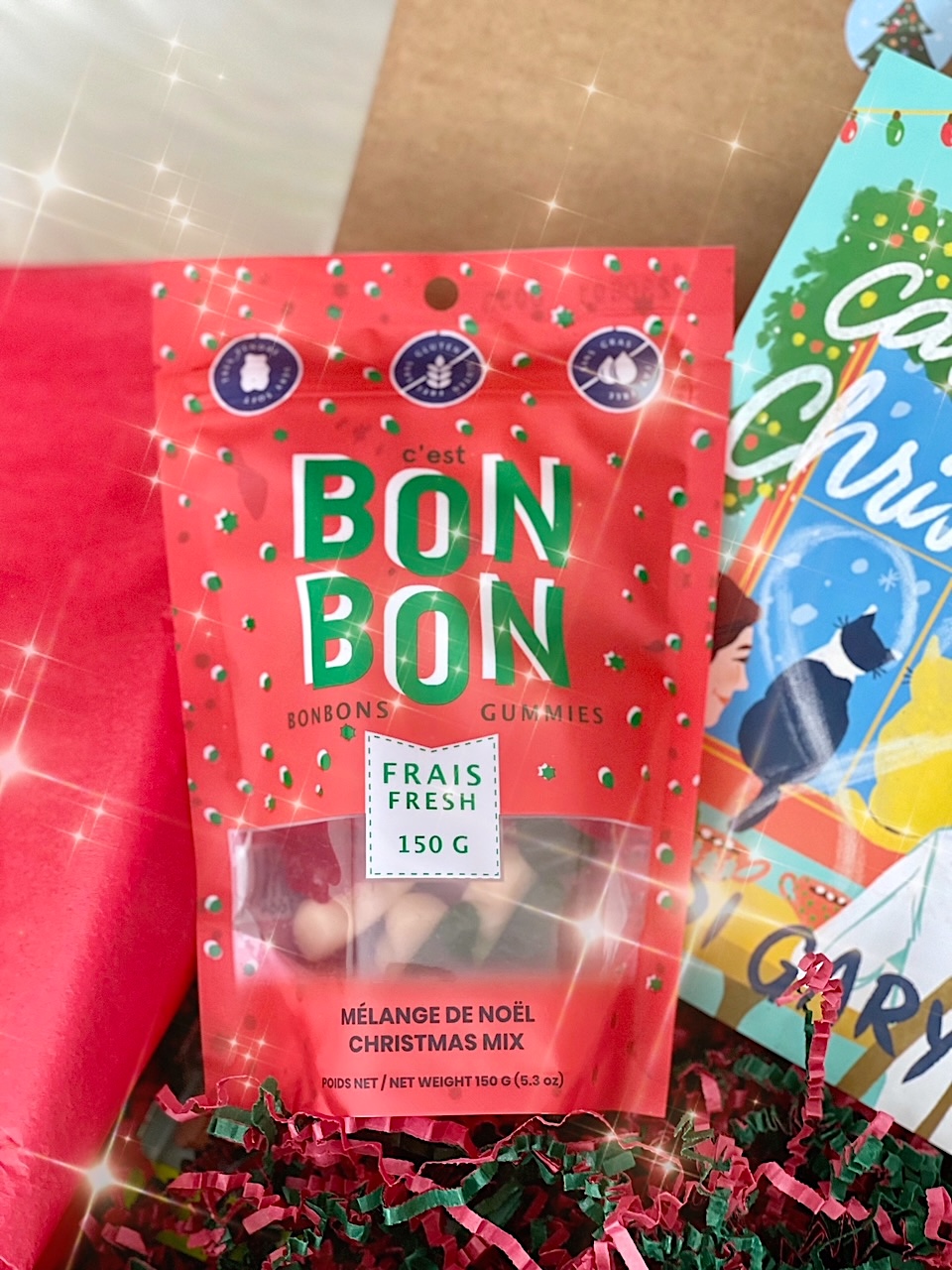 Delicious gummies, only make them festive.
They're made by a Montreal co. and so fresh and flavourful.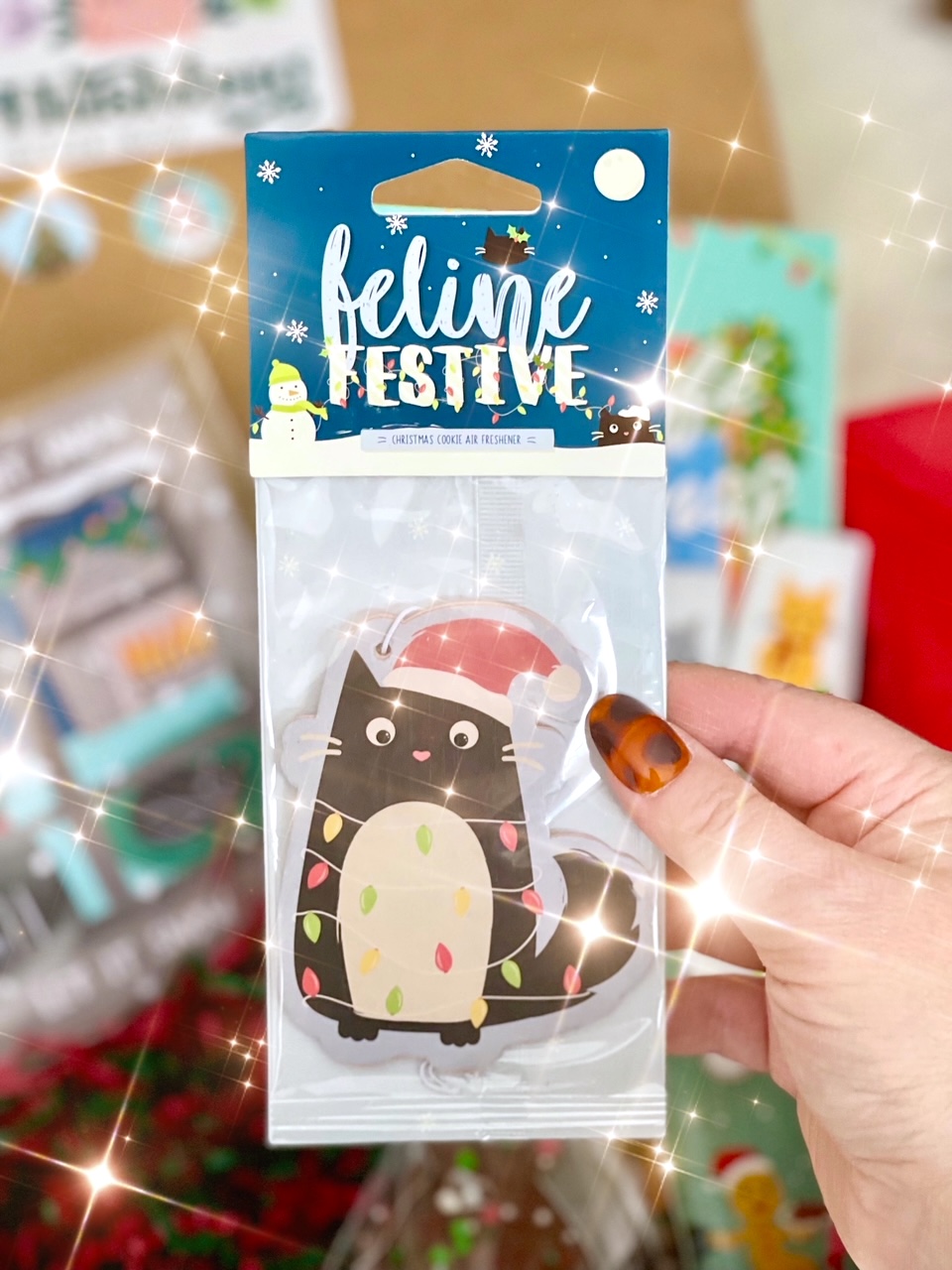 This air freshener is hanging from our rear-view mirror and smells like sugar cookies.
I didn't send a single greeting card this Christmas 😬 but I'm going to put this Let It Snow one in the mail to someone special this week. Did you have a white Christmas?
Mini spatulas (with cats!) to include your furry friends in your holiday baking. Speaking of holiday baking…
… how sweet is this cat-shaped cookie cutter?! It's filled with chocolate and topped with sprinkles. (We took care of those in two minutes flat.) One of my favourite things in the box!
Nothing says Meowy Christmas like some cozy cat socks, especially when the cats are getting into the Christmas presents and stockings and other seasonal mischief.
And to fill my festive new mug: minty hot chocolate. 😋 (Also a small Christmas ornament not shown here that I didn't see right away.)
The only thing better than one Hushbug Book Box is two Hushbug Book Boxes and the Meowy Christmas edition was such a delight! I'll have the December Hushbug Book Box for you this week too.
Hushbug Book Box ships across Canada and the US. Shipping across Canada is included in the price; shipping to the US is an additional $8.99/box. All prices in CAD.
Meowy Christmas Edition: $94.99.
Single monthly box: $84.99
3-month subscription: $79.99/box
6-month subscription: $76.99/box
Have you tried Hushbug Book Box?
Try Small Things – https://trysmallthings.com