JoahBox Review January 2020
JoahBox is a beauty subscription delivering 5-7 full size Korean beauty products to your doorstep each month. You'll see a mixture of popular brands, as well as new/indie beauty brands that are harder to get your hands on in the US. JoahBox kindly sent me their January box to review.
Subscription Details
Box Details: JoahBox curates their monthly beauty boxes with a mix of popular Korean brands like Innisfree, Etude House, Missha, Nature Republic, etc. as well as newer "indie" K-beauty brands. Korea is home to thousands of beauty brands, so JoahBox gives you the ability to discover new favorites. Boxes will contain 5-7 full-sized beauty items including a mixture of makeup, skincare, bath, body, hair, nails, and beauty tools.
JoahBox Subscription Packages:
One Time Box: $35.95
Monthly: $33/month
3 Months Prepaid Plan: $97 ($32.33/month)
6 Months Prepaid Plan: $190 ($31.67/month)
12 Months Prepaid Plan: $330 ($31.25/month)
Shipping: Free Worldwide Delivery
Here's a closer look at the items I received for the month of January…
Included in every JoahBox is a mini pamphlet detailing all of the products featured each month. You'll get in-depth descriptions and instructions (in English, of course)!
Cremorlab Thalasso Foam – $28
"This cleansing foam has a rich creamy formulation capable of creating fine and soft bubbles to erase all traces of dirt, sebum, and residual make-up. This foam from Cremorlab will leave your skin refreshingly cleansed without the tight feeling caused by dehydration from over-cleansing. Natural sea salt capsules gently exfoliates dead skin cells unveiling a smoother and softer complexion."
When I first started getting into K-Beauty several years ago, Cremorlab was one of the first brands I fell in love with! They have really gentle formulas and this cleansing foam is amazing. It leaves my face feeling fresh and clean without getting dry and tight.
Celebeau Sassy Glam Eye Glitter – $14
"This Eye Glitter from Celebeau has a smooth texture, and dynamic blend of various sized glitter. It will give you the power to create strong and bold makeup. As it is water based, it applies without any effort, tightness, creasing or fallout. Also it will last all day long. Complete an eye-catching look in seconds with that shadow/glitter combination."
JoahBox tends to be skincare heavy, but I always enjoy discovering new makeup items like this! The Sassy Glam Eye Glitter is a shimmery liquid eyeshadow. I love sheering this out for an all-over eye look, but you can also build it up for an intense glitter shadow.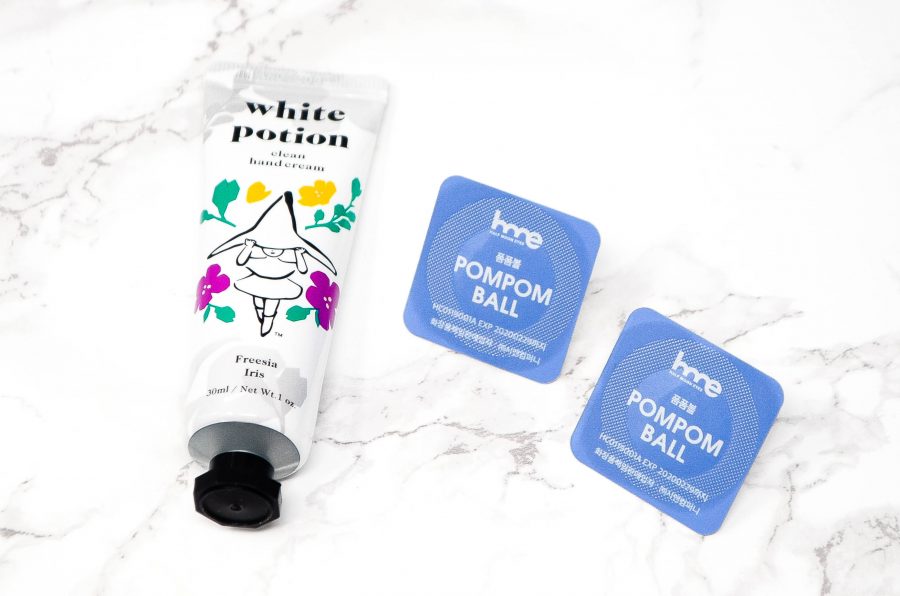 Body Holic Clean Hand Cream – $5.50
"In this JoahBox, we decided to insert a portable hand cream so you can carry it everywhere with you. Due to adenosine and niacinamide, this moisturizing hand cream has an anti-wrinkle effect. Also, there is no stick feeling to it. Enriched with oregano leaf extract, this antibacterial cream will remove the harmful substances to protect and soothe your hands."
Hand cream is a must for me whenever cold weather comes around. I like how it comes in a portable and travel-friendly size, so it's always a must-have in my purse. The texture of this is also really lightweight and sinks into your skin without leaving behind any sticky residue.
HME PomPom Ball – $5 each (2 are included this month)
"This Freeze-Dried acid ball is mixed with 20mg of collagen. The ball contains exactly 660,000ppm of Hyaluronic Acid and 260,000 ppm collagen."
The HME PomPom Ball is so innovative and cool! It's a freeze-dried ball consisting of hyaluronic acid and collagen. You can mix this with any of your other skincare products like a serum, moisturizer, or sleeping pack. It dissolves really easily and gives your skin an added benefit boost!
Gangbly Jeju Vita Aqua Mask – $2
"The Vitamin C included in this sheet mask provides many benefits like evening out your skin tone, shielding your skin from the impacts of pollution, improving hydration, and making your skin look younger longer."
The Gangbly Vita Aqua Mask is like a huge glass of water for your skin. It left my dehydrated skin feeling calm, moisturized, and revitalized. It's definitely what I needed for a midweek pick-me-up!
Aritaum Mugwort Sleeping Pack – $1.50
"This Sleeping Pack provides fresh and radiant complexion as you wake up!"
I ended up mixing the HME PomPom Ball with this sleeping mask and they worked so well together. Mugwort has antibacterial and healing properties and mixed with the added hyaluronic acid and collagen, my skin looked renewed. My skin had no redness the morning after and it looked glowy and dewy.
Ibiza Spa Extreme Moisture Serum – Multivitamins Elasticity Solution Serum – $10
"The serum will help brighten the skin and also cover traces of the years giving your skin more elasticity."
Subscribers will receive one of 3 different serum varieties all suited to treat different skin concerns. I received the Multivitamins Elasticity variety which is supposed to help build skin elasticity and brighten the complexion. It has thick consistency that absorbs easily into the skin for added moisture.
JoahBox Review January 2020 – Final Thoughts
January's JoahBox was definitely more skincare heavy, so it's great for those starting out their skincare routine or trying to branch out and discover more k-beauty items. The value this month was around $71, which is fantastic compared to the cost of the box. Not to mention shipping is free, so that's a major added bonus. My favorite items this month is the Cremorlab Thalasso Foam, Celebeau Sassy Glam Eye Glitter, and the Ibiza Spa Serum!
Mary Vu – http://thepointofvu.blogspot.com