Kinder Beauty Box Review December 2020
Kinder Beauty Box is a vegan and cruelty-free makeup, skincare, hair-care and accessories box, curated with kindness and delivered to your door each month! They kindly sent us this box for review.
Each Kinder Beauty box is packed with $75-$165 worth of carefully-curated, totally cruelty-free & vegan skincare, makeup, hair-care and/or accessories. You'll get at least two full-size products in each box, and every month they'll help you discover new brands to fall in love with!
They work to be as eco-conscious as possible with their packaging by shipping in boxes made from 100% recycled materials that are both biodegradable and compostable along with packing materials inside the box that are also made from 100% recycled materials, and even the ink used to print the logo and designs on the outside of the box is an eco-friendly soy-based ink.
A portion of all sales benefits some of their favorite animal rights and environmental causes such as ASPCA, Farm Sanctuary, Los Angeles County Animal Care Foundation and Compassion Over Killing.
Subscription Details
There are three subscription plan options for Kinder Beauty Box:
$25/month for a month-to-month subscription
$72 or $24/month for a 3 month subscription
$138 or $23/month for a 6 month subscription
Shipping is free for US customers. For international customers, there is an additional $5.95 per box fee for shipping and handling. New boxes are shipped by the 18th of each month as long as the current box hasn't sold out. If it's happened to sell out, new subscribers will be added to the list for the following month's box.
December Box Details ($113.37 total value)
One of my favorite boxes for finding new green beauty items has sent another wonderful selection this month. Just in time for the holidays they sent a box full of beauty presents that are perfect for soothing winter skin and also for creating a glam makeup look – perhaps for New Year's eve?
Here's a look at what's in this month's Kinder Beauty Box:
Box Insert
The box insert is such a pretty design and clearly indicates what's in the box along with product descriptions and retail pricing. The descriptions include a bit about the ingredients as well as benefits and how to use it. I like the size of this one and how the product imagery stands out so it's easy to follow and read.
K Voss Nyc Perfecting Potion ($28)
"Punch up your natural healthy glow with this velvety, multi-use illuminating primer. This lightweight illuminating vegan cream highlighter has a glow-infused base for a universally flattering warmed up shade. The breathable, ultra-thin formula naturally adjusts to your unique skin tone, delivering vitamin-rich moisture for a hydrated, dewy finish. Expect a perfected sheen that's never dry, never glittery, and won't clog your pores, turn cakey, or cover you up. Apply one to two squeezes directly onto the complexion or under or over foundation for an elevated glow."
I haven't been wearing much full face make-up lately so this product is probably the least useful to me in this month's box. That doesn't mean it's not a good product, but I just don't really see a need for it right now. I mean I would certainly appreciate a little flaw-reducing help right now, but it might have to wait until I feel like using more makeup in the future.
Kinder Beauty 2 Eyeshadow Brush Set ($20)
"This eyeshadow brush duo is compiled of one shader brush and one blender brush. With these two next-level brushes, you can master any look-from the perfect minimalist look to a celebratory, glittery eye look to ring in the New Year. Two is better than one!"
I don't think you can ever have enough eyeshadow brushes! Sometimes I forget to wash my brushes so it's always great to have extras. These are super soft and come in two different brush shapes for blending and shading so you can use with two different colors.
Delia Organics The Pout Lip Creme ($19.37)
"Get your pout ready, because this is a clean blend of butters for a hydrating and softening benefit to your lips-complete with a touch of peppermint for an instant cooling effect. This whipped lip creme will naturally provide nourishment to your pout with a soft texture that melts once it hits your skin. This will give you an all-day smooth wherever you go."
A good lip cream is a winter necessity so this will be fun to try. I'm very specific on what I use for lip treatments and am not sure if anything could sway me from my current products, but I'll certainly give this a go. It looks perfect for dry winter lips as it's thick and rich and smells like peppermint which is a quintessential refreshing winter scent. I love that it's made with really simple and all natural ingredients too.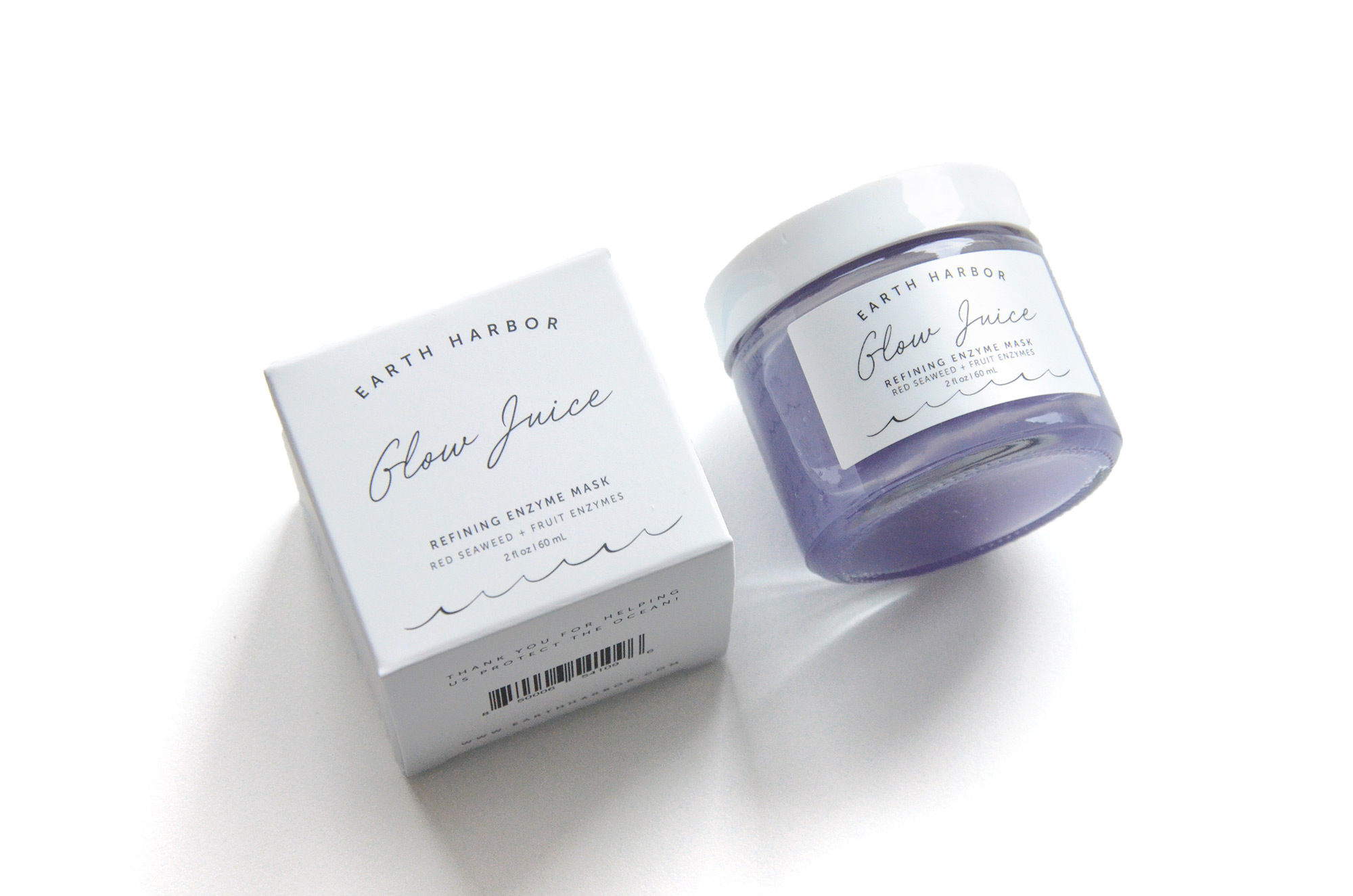 Earth Harbor: Glow Juice Refining Enzyme Mask ($40)
"A purple paradise, this powerful fast-acting gel mask naturally resurfaces, cools, and firms your skin with red seaweed, fruit enzymes, white willow bark, and aloe leaf juice to reveal greater clarity, the look of improved skin texture and tone, and a more youthful glow-all without irritating your skin. Glow Juice doubles as a leave-on spot treatment. This is the product for you if you're looking to calm, soothe, and rebalance your skin."
I'm so excited about this item! I've received a handful of other Earth Harbor products from subscription boxes, but never this mask and I've always had my eye on trying it. It's a unique mask in that it's more like an aloe/jelly texture that smells bright and citrus-y. It's a quick mask that you only leave on 3 or so minutes too. That couldn't be more easy and it sounds so refreshing. Plus, look at that pretty purple color! So fun!
Iby Beauty Single Eyeshadow (Fire & Ice Or Headliner) ($6)
"Attention busy people: This is the product you've been waiting for! It's ideal for when you just want that one perfect shade of eyeshadow. IBY Beauty's single shade eyeshadows are ideal for spicing up your collection for your everyday needs. The compact size is comfortable for fouch-ups during the day and perfect for your travel bag."
I love this eyeshadow color! Out of the two options I received the Headliner color which is a kind of a rose gold plum color. It's perfect for brown eyes and also a perfect warming color for winter. I'm always drawn to colors like this for eyeshadows so I'm sure I'll get a lot of use out of it.
Kinder Beauty Box Review December 2020 – Final Thoughts
Kinder Beauty Box is always a fun box to receive, but is extra fun at Christmas as it's like a little present to yourself full of beauty treats! I never know what to expect and that keeps it fresh and interesting. I love the mix of items this month and can't wait to play with the eyeshadow and the perfectly paired eye shadow brushes. I'm also really excited to try the enzyme mask – my skin definitely needs it. It was also a bonus to get a little Weleda Awakening Serum sample pack. The rest of the items are great too, although I might get a little less use out of them. Overall a fun and delightful box to end the year with!
The Botanic Gal – http://www.botanicgal.com