Kinder Beauty Box Review May 2021
Kinder Beauty Box is a vegan and cruelty-free makeup, skincare, hair-care and accessories box, curated with kindness and delivered to your door each month! They kindly sent us this box for review.
Each Kinder Beauty Box is packed with $75-$165 worth of carefully-curated, totally cruelty-free & vegan skincare, makeup, hair-care and/or accessories. You'll get at least two full-size products in each box, and every month they'll help you discover new brands to fall in love with!
They work to be as eco-conscious as possible with their packaging by shipping in boxes made from 100% recycled materials that are both biodegradable and compostable along with packing materials inside the box that are also made from 100% recycled materials, and even the ink used to print the logo and designs on the outside of the box is an eco-friendly soy-based ink.
A portion of all sales benefits some of their favorite animal rights and environmental causes such as ASPCA, Farm Sanctuary, Los Angeles County Animal Care Foundation and Compassion Over Killing.
Subscription Details
There are three subscription plan options for this Kinder Beauty Box:
$25/month for a month-to-month subscription
$24/month or $72 prepaid for a 3 month subscription (includes a free bonus box w/ $75 value)
$23/month or $138 prepaid for a 6 month subscription (includes a free bonus box w/ $75 value)
Shipping is free for US customers. For international customers, there is an additional $5.95 per box fee for shipping and handling. New boxes are shipped by the 18th of each month as long as the current box hasn't sold out. If it's happened to sell out, new subscribers will be added to the list for the following month's box.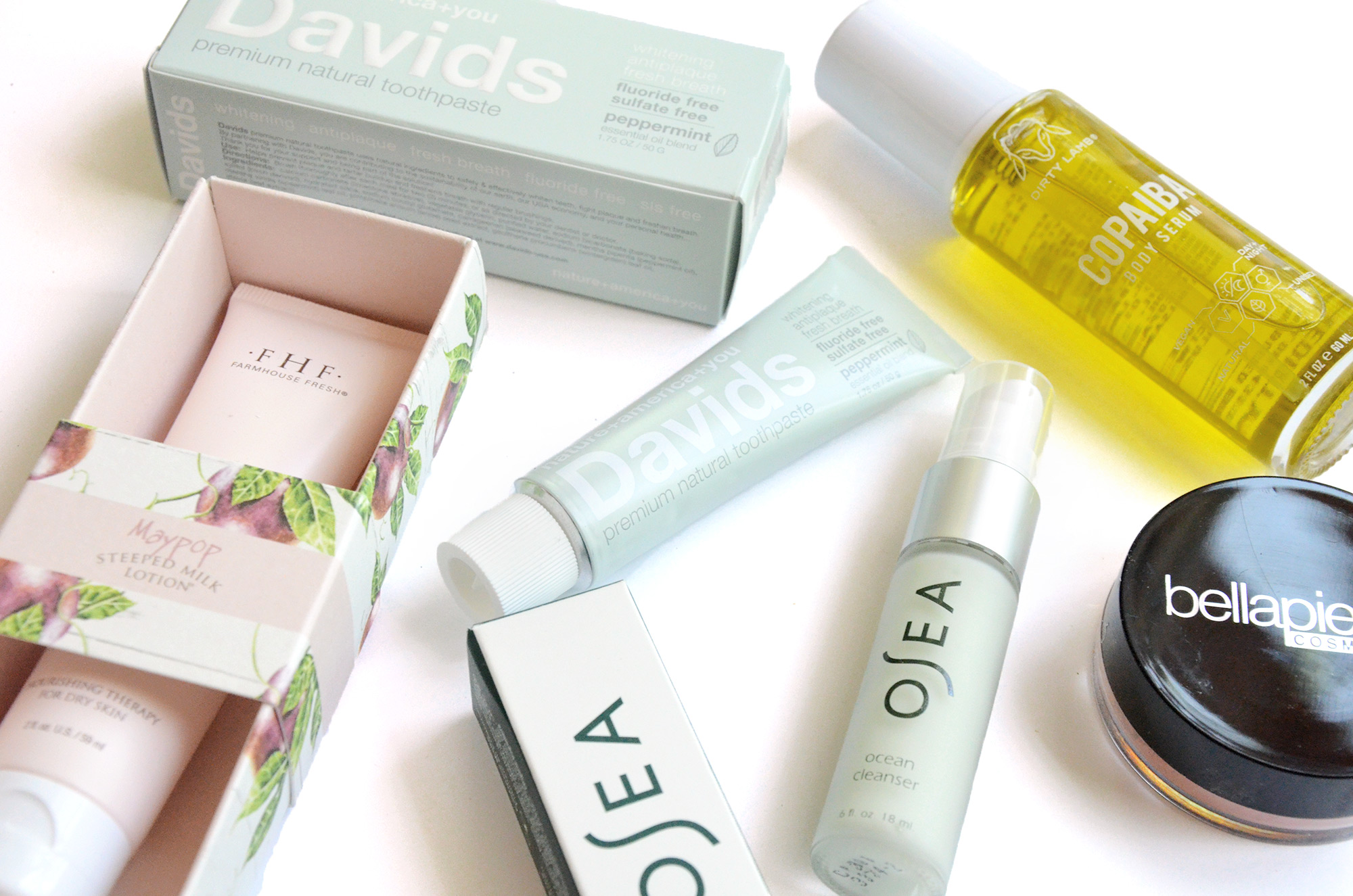 May Box Details ($70.98 total value)
"As the weather heats up, the Refresh Collection has your go-to products to keep you feeling fresh all-season long. Get your day started with an all-natural peppermint toothpaste, then wake up your gorgeous skin with one of our favorite face cleansers. Check out the rest of this specially curated box!"
Here's a look at what's in this month's Kinder Beauty Box:
Box Insert
To cut back on paper use and give subscriber's even more in their box, their product information cards have gone digital! I really enjoyed the product cards they sent before, but I love even more that they are trying to up their eco-consciousness. The digital version is super easy to find and follow and includes all the same info. Plus, the website is really nicely designed too and includes a quick video rundown of the month's items. Find it here: kinderbeauty.com/mybox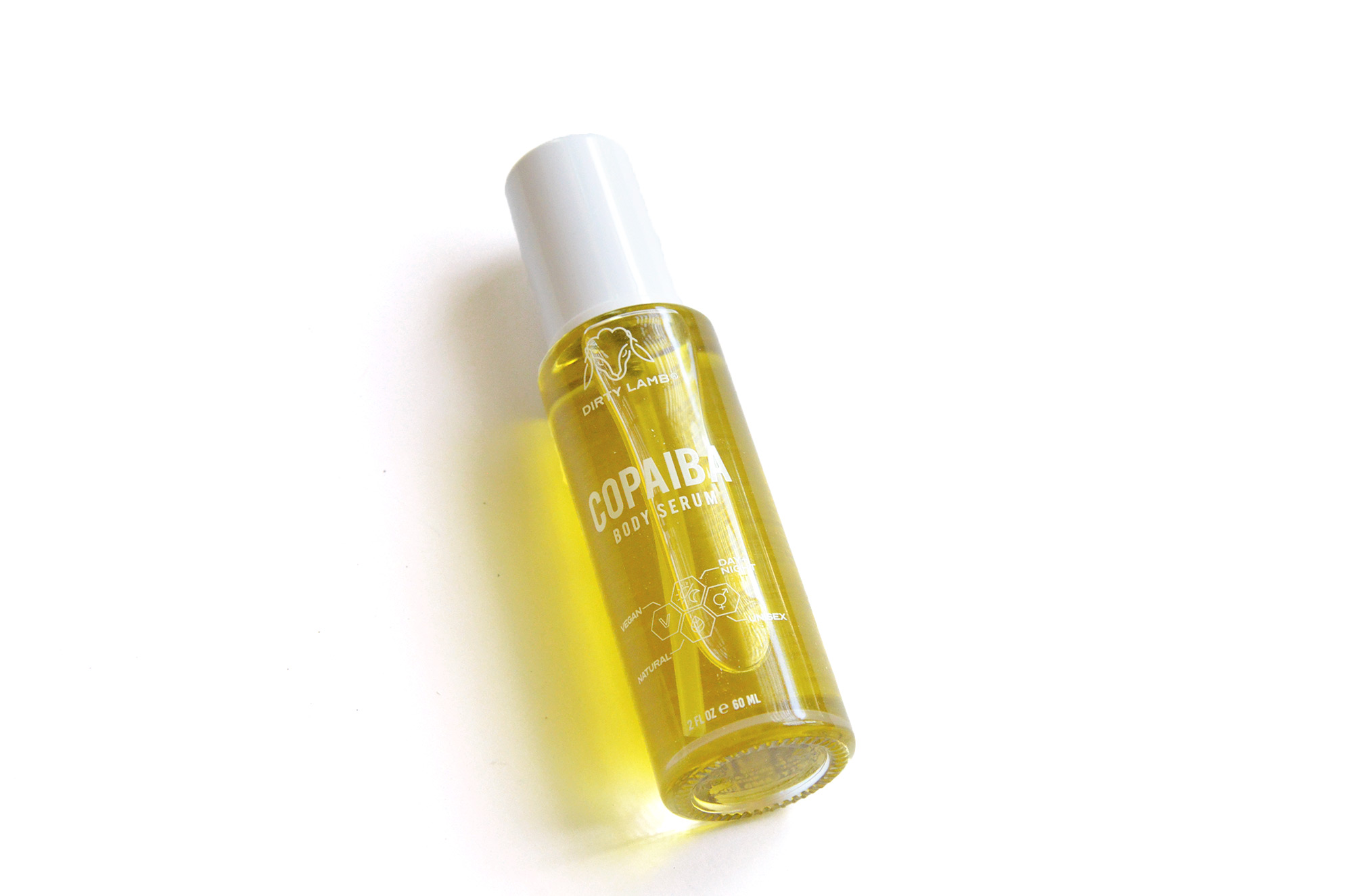 Dirty Lamb: Copaiba Body Serum ($48)
"During a time of year when you are outside enjoying the gorgeous spring weather, the extra sun exposure is bound to leave your skin thirsty. Dirty Lamb's Copaiba Body Serum is made from pure copaiba oil that is steam-distilled from the resin of the copaiba tree. The oil itself promotes wound-healing and pain-relief and is nutrient-dense with antioxidants, vitamins, and omega fatty acids."
Well this smells amazing! I love body oils and this one is a fast favorite. It's smells almost like a lilac tree, or just some other lovely abundantly floral plant – very spring-y! It's made with of course copaiba oil, but also lavender, rosemary, orange and clary sage oils. It's lightweight and feels nice on skin. I really like that it's made to soothe and take care of skin. I'll be using this all summer long for sure!
Osea: Travel Size Ocean Cleanser ($18)
"Embrace the warmer seasons with scents and ingredients from the ocean with Osea's mineral-rich Ocean Cleanser. Ingredients such as seaweed, jojoba, and sesame oil help hydrate your skin in a formula that also clarifies, exfoliates, and balances. Pro-tip: Use this as a shave gel for your face and body, too!"
I love anything from Osea (and I also love anything with ocean in the name) so I'm sure this cleanser will be fantastic. I appreciate how it's made with such wonderful, simple and organic ingredients and is meant to cleanse and gently exfoliate while also balance and refresh skin. It smells SO good – a little like lime with a cool herbal undertone. It takes me to the beach in my mind for sure. Can't wait to try this one out.
Farmhouse Fresh: Maypop Steeped Coconut Milk Lotion for Hands ($15)
"Treat your skin to a dermatologist-approved hand cream lightly scented with notes of passion fruit and coconut milk. This formula of vitamin B5, safflower oil, hyaluronic acid, and tremella mushroom extract is calming, hydrating, and quick-to-absorb so you don't grease every door knob you touch."
I've not heard of this brand before, but the packaging is truly lovely! This lotion smells nice and fruity, just like passion fruit and I love the lightweight texture. I'm always in need of a hand moisturizer for chronic dry skin so this will be very useful.
David's: Peppermint Natural Toothpaste 1.75oz ($4.95)
"Fight plaque and freshen your breath naturally with this deluxe travel-size peppermint toothpaste by David's. Their EWG-verified peppermint toothpaste is infused with premium natural peppermint oil flavoring and is packaged in a sustainable metal tube to help reduce the plastic in your personal care routine."
One of my fave toothpastes! I'm so happy to find this item in this month's box. It's a toothpaste I purchase on repeat so I'm glad to have more of it for when I run out next. I love the little travel size that would be good for vacationing – can't wait to get back to that!
Bellapierre Cosmetics: Mineral Blush in Desert Rose ($20)
"Makeup-lovers with sensitive and oily-prone skin have always been advised that mineral makeup may be their best bet to avoid irritating their skin. However, it's also a minimalist and simple option for any skin type. This Bellapierre Mineral Blush in Desert Rose is a beautiful neutral pink with a hint of a blue undertone that is buildable and flattering on many skin tones."
This is such a pretty blush color! I'm partial to coral-colored cosmetics so this is right up my alley. Plus, coral is such a perfect summer sun-kissed color. I don't often use loose powdered blushes, but I will definitely be giving this one a try since the color is so great.
Kinder Beauty Box Review May 2021 – Final Thoughts
I love, love, love this month's Kinder Beauty Box and it's "Refresh" theme! It might be my favorite to date! Everything included is something I'm excited about trying out and will be perfectly refreshing for the summer season. I really like that a few familiar brands and products popped up, but also that a few new ones were introduced too. I can hardly pick a favorite because everything is so awesome, but I'd probably say I'm most excited about the body oil. That scent is just so good, I can't stop smelling it. Overall this box was top notch!
The Botanic Gal – http://www.botanicgal.com