Kinder Beauty Box Review November 2020
Kinder Beauty is a vegan and cruelty-free makeup, skincare, hair-care and accessories box, curated with kindness and delivered to your door each month! They kindly sent us this box for review.
Each Kinder Beauty Box is packed with $75-$165 worth of carefully-curated, totally cruelty-free & vegan skincare, makeup, hair-care and/or accessories. You'll get at least two full-size products in each box, and every month they'll help you discover new brands to fall in love with!
They work to be as eco-conscious as possible with their packaging by shipping in boxes made from 100% recycled materials that are both biodegradable and compostable along with packing materials inside the box that are also made from 100% recycled materials, and even the ink used to print the logo and designs on the outside of the box is an eco-friendly soy-based ink.
A portion of all sales benefits some of their favorite animal rights and environmental causes such as ASPCA, Farm Sanctuary, Los Angeles County Animal Care Foundation and Compassion Over Killing.
Subscription Details
There are three subscription plan options for Kinder Beauty Box:
There are three subscription plan options for Kinder Beauty Box:
$25/month for a month-to-month subscription
$72 or $24/month for a 3 month subscription
$138 or $23/month for a 6 month subscription
Shipping is free for US customers. For international customers, there is an additional $5.95 per box fee for shipping and handling. New boxes are shipped by the 18th of each month as long as the current box hasn't sold out. If it's happened to sell out, new subscribers will be added to the list for the following month's box.
Here's a look at what's in November's Kinder Beauty Box ($70.98 total value):
Box Insert
The Kinder Beauty Box insert is such a pretty design (that changes each month, this one is wintery and floral) and clearly indicates what's in the box along with product descriptions and retail pricing. The descriptions include a bit about the ingredients as well as benefits and how to use it. I like the size of this one and how the product imagery stands out so it's easy to follow and read.
Au Naturale The Anywhere Creme Multistick (Daiquiri) ($35)
"The Anywhere Creme Multistick infuses cheeks, lips, and lids with purely pigmented color. It's made to wear anywhere, so you're free to play! There are no rules, so explore the potential of the versatile multistick formulation. Apply directly from the tin with clean fingers or with a cruelty-free brush of your choice to wherever you think your face could use a touch of natural color."
This multi-stick type of product is so versatile and wonderful. I love that it can be used for anything, cutting down the need for multiple products. It's made with all-natural, organic ingredients and has a lovely scent – light lavender. The color of this one is so nice – it's like the perfect winter berry color. Bright, but a bit on the cooler side, and has just a hint of shimmer. Perfect for everyday or, if layered on, great for night too. An added bonus, I also really appreciate that the packaging is plastic free!
Four Sigmatic Super Food Face Mask ($4)
"Beautify from the outside in with a face mask you can eat. Purify with Four Sigmatic Superfood Face Mask. This face mask is made with real (super) food ingredients and is so pure you can eat it. Use every 2-3 days as a clarifying face mask. Treat your skin to the Everyday Magic® of vegan and cruelty-free edible skincare with no fillers, plastics, water or non-food ingredients."
I love trying new face masks so this is perfect! I knew this brand made super food beverages, but had no clue they made skincare too so this is fun to find out. It's made with simple, organic adaptogenic, and whole food ingredients (so it's actually edible too!). This is a single mask pouch, but is nice to be able to try out to see if you'd want the full size.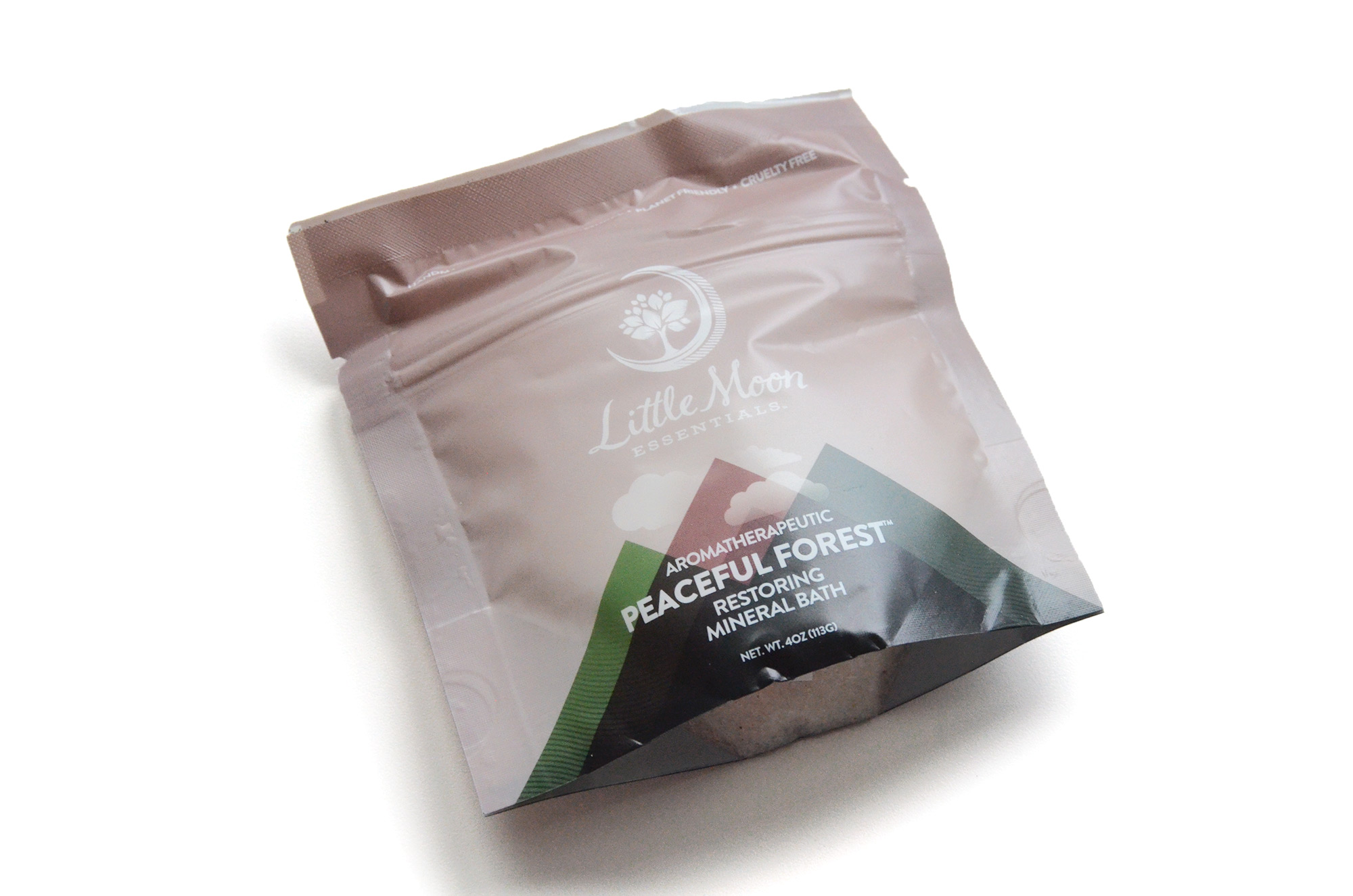 Little Moon Essentials Peaceful Forest – Mineral Bath Salt ($5.50)
"Whether you trudge through a concrete jungle every day, or reside just a little further from the peace and serenity of the woods than you would like, enjoying a good long soak in the essential oils of Peaceful ForestTM mineral bath will help renew your sense of wonder and ease your mind. Better than a good long hike through the pines, Peaceful ForestTM mineral bath will leave you energized and invigorated every time."
Baths are my favorite and this company makes lovely bath salts so I'm excited to try this one out. The aroma sounds so grounding and perfect for winter. It's made with spruce oil, fir oil, cinnamon oil, and cardamom oil. I don't think there could be a better winter blend!
Nourish Mantra Ratrani Moroccan Lava Clay Cleanser ($18)
"A blend of clays and skin-refining ingredients whipped into a buttery-soft base, this cleanser is part indulgence and part fun. The formulation, enriched with Moroccan Lava (Rhassoul) Clay, French Red Clay, and Activated Charcoal absorbs excess oils and removes pollution particles, deep-seated impurities, and dead skin cells—giving you clean, fresh, and flawless skin. Licorice Extracts and Vitamin E help nourish the skin deeply, leaving your face toned and velvety-smooth. Crafted with a distinctively soft and fluffy texture, this cleanser is definitely an exciting addition to your daily skincare routine."
Clay cleansers are unique and fun to try out. I like that they kind of mix the benefits of masking with cleansing – almost a two in one product. I suppose you could leave it on skin for a few minutes before rinsing to increase the detoxing benefits.
Elikya Beauty Black Liquid Eyeliner ($12.50)
"This next-level natural liquid eyeliner is applied in a single gesture for an intense matte look that you will quickly become obsessed with. The 100% natural castor oil-based liner allows you to effortlessly draw a precise line for a truly perfect result that's bound to impress. Elikya Beauty's gorgeous eyeliners are ultra-pigmented to achieve several looks, and we are pretty sure your new hobby will be discovering all that is possible with your favorite new cosmetic."
I'm a huge liquid eyeliner fan and if/when I wear eyeliner it's the only kind I wear so this is perfect for me. It has a nice, long and thin brush applicator that makes it easy to swipe on eyes for a sleek line. It dries matte and seems to hold on skin (tested on my hand). I'll be curious to see how it wears on the eye. I'm sure I'll get a lot of use out of this one.
Kinder Beauty Box Review November 2020 – Final Thoughts
This was another really fun Kinder Beauty Box! I always love their variety in selection of type of items and how nearly everything is new to me too. They always send items from different categories like skincare, makeup and body care so that you don't get overloaded with one particular type of product. This month's items feel a hint wintery and cozy, like the grounding bath salts and healing face mask along with the cool and crisp cosmetics included. I can't wait to try everything out and even if there's nowhere to wear a holiday glam makeup look too, it will be fun to experiment and get artistic with a new look.
The Botanic Gal – http://www.botanicgal.com