Kinder Beauty Box Review October 2019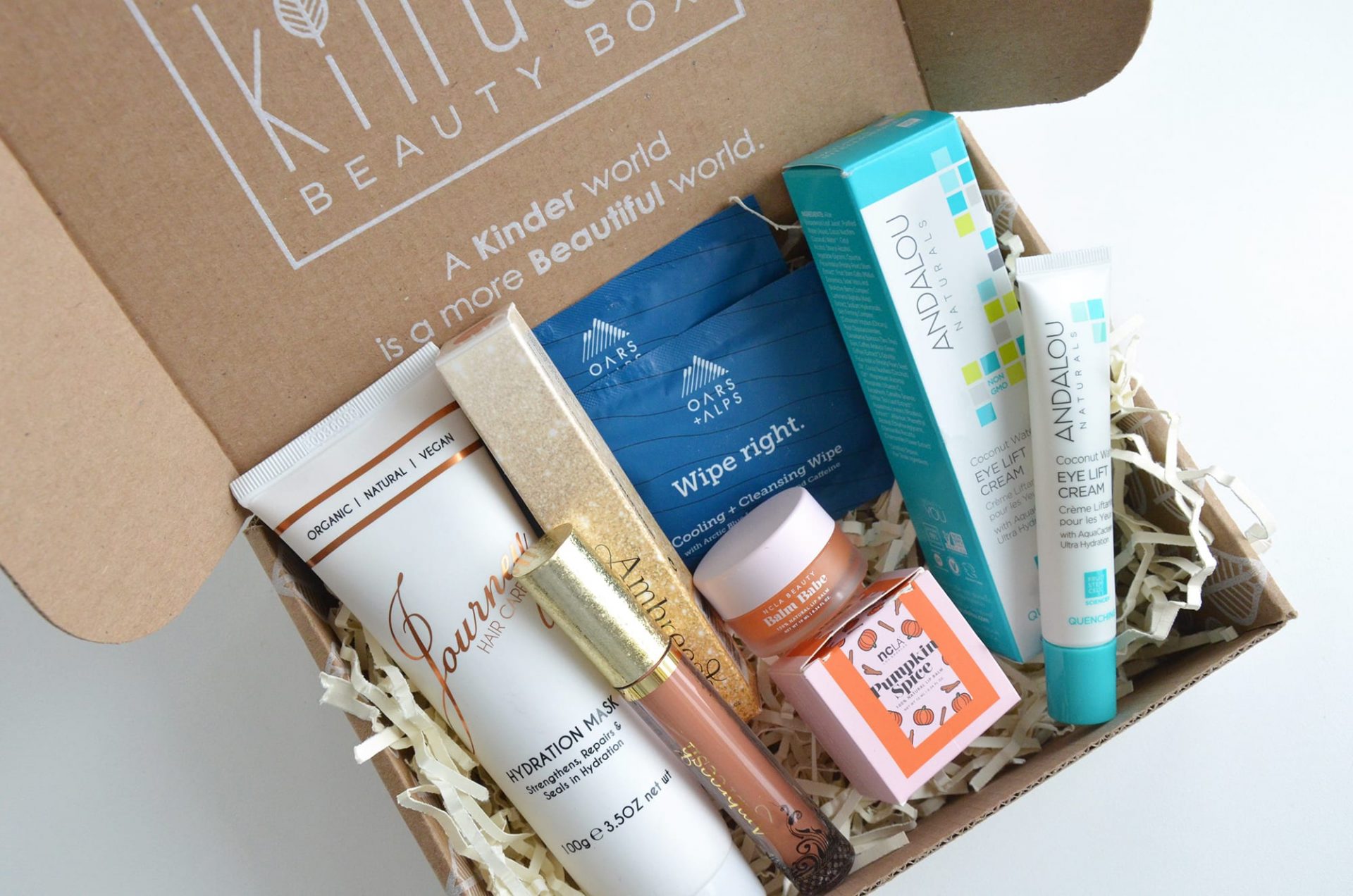 Kinder Beauty Box is a vegan and cruelty-free makeup, skincare, hair-care and accessories box, curated with kindness and delivered to your door each month! They kindly sent us this box for review.
Each Kinder Beauty Box is packed with $75-$165 worth of carefully-curated, totally cruelty-free & vegan skincare, makeup, hair-care and/or accessories. You'll get at least two full-size products in each box, and every month they'll help you discover new brands to fall in love with!
They work to be as eco-conscious as possible with their packaging by shipping in boxes made from 100% recycled materials that are both biodegradable and compostable along with packing materials inside the box that are also made from 100% recycled materials, and even the ink used to print the logo and designs on the outside of the box is an eco-friendly soy-based ink.
A portion of all sales benefits some of their favorite animal rights and environmental causes such as ASPCA, Farm Sanctuary, Los Angeles County Animal Care Foundation and Compassion Over Killing.
Subscription Details
There are three subscription plan options for Kinder Beauty Box:
$24/month for a month-to-month subscription
$66 or $22/month for a 3 month subscription
$239.40 or $19.95/moth for a 12 month subscription
Shipping is free for US customers. For international customers, there is an additional $5.95 per box fee for shipping and handling. New boxes are shipped by the 18th of each month as long as the current box hasn't sold out. If it's happened to sell out, new subscribers will be added to the list for the following month's box.
October Box Details ($86.99 total value)
Fall is in full swing now and this month's box is bringing it with items that will help you prep for winter, but enjoy all the fall-ness while it's here too. From warm jewel tones to dry hair helpers to perks for tired eyes, this month's box has you covered like a cozy fall jacket.
Here's a look at what's in this month's box:
Box Insert
I really like how this box insert is designed. It's not only large and easy to read but it's designed nicely and is eye catching. I especially appreciate the large item images so it's easy to find the info on each one. I like how it's a similar layout each month but the color and pattern change to match the season too.
Oars + Alps Cooling + Cleansing Wipes ($5)
"Sweat and long commutes. Dirt and all-nighters. Oars + Alps' Cooling + Cleansing Wipes keep your face and body fresh wherever the day takes you. Gym, office, oars or alps."
These would definitely be convenient to toss in a gym or yoga bag. I haven't opened them yet but in the packaging they feel substantial and like they could be used for the whole body if needed (not in place of a shower though I wouldn't think). The brand's marketing is kind of masculine so I'm guessing these smell a bit more neutral. The ingredients list some citrus oils so they likely smell fresh. It says one side of the wipe is exfoliating and the other side contains caffeine for a cooling boost. I try not to use single use wipes to reduce waste so I'm not sure if I'd purchase after trying these samples or not.
Journey Hair Care Hydration Mask ($27)
"The Hydration Treatment works deep into the cuticle of the hair- repairing dry, damaged and brittle hair from the inside out for long term results! Journey is created in the beautiful hills of Byron Bay and was created so women all around the world can experience healthy, long and strong hair! Journey is packed with hydrating and healing ingredients such as aloe vera, shea butter and honeysuckle!."
My hair is in serious need of moisture as the temperatures start to fall so I'm hoping the hair mask can help me out. It's made with some super hydrating ingredients like aloe, macadamia nut oil, cocoa butter and shea butter. It smells really nice, kind of nutty, and is a medium consistency cream, not too thick. The instructions say to apply to towel dried hair for about 30 minutes once a week. I've only ever tried masks that take less time and can be done in the shower so the longer time to set might be my only small downside with this one. The logistics can be hard to figure out haha. Anyway, I'm still really excited to try this and hope it can soften and hydrate my hair.
Andalou Naturals Coconut Water Eye Lift Cream ($19.99)
"This delicate eye cream instantly hydrates for plumping and lifting effect, as skin-friendly enzymes, vitamin C and coconut water electrolytes brighten and smooth appearance. AquaCacteen, derived from prickly pear cactus, nourishes and soothes as water-binding nutrients provide lasting hydration for a lifted, firmer appearance and renewed vitality. Ecocert certified."
I'm always on the hunt for an eye cream that will help de-puff and reduce dark circles so I'm intrigued to try this one out. I like that it's light in texture and consistency. It absorbs into skin really well and feels hydrating. It doesn't leave a greasy feeling at all and is actually more of a matte feeling. It doesn't have a scent that I can detect either. Hoping this one works!
NCLA Lip Balm in Pumpkin Spice ($16)
"A clean, natural and vegan lip balm that intensely soothes and nourishes lips. Formulated with shea butter, cocoa butter, avocado butter and coconut oil, Balm Babe leaves lips smooth and hydrated. In the scent of the season, this pumpkin spice lip balm tastes as good as it feels."
I'm a pretty festive person and I love when things match the season or holidays that are coming up so the lip balm is a fun treat. It's made with all natural ingredients, including the scent and flavor that comes from maple syrup and chocolate extract and makes it smell like a subtle pumpkin pie. It's a nice light consistency that leaves a hint of gloss on the lips. This will be a fun one to use this fall.
Ambreesh Liquid Lipstick in Champagne Nights ($19)
"(Re)-Introducing 24 karat lips from Ambreesh Cosmetics: A water-proof, transfer-proof, all day wear formula, that has an unbelievable lightweight feel. This collection comes in a range of beautiful bolds, must-have mauves and neutral nudes."
Each box contains one of two color options of this lipstick. There was a deep red color and a neutral nude color. I got the latter called Champagne Nights. It's a really pretty peachy, nude color that's perfect for fall. This one is not shimmery and appears to apply a bit matte. It says it's waterproof and won't budge and while I haven't tested it on my lips, I swatched it on my hand and it was really tough to wash off so I'd believe it. It smells nice, kind of like vanilla, but a bit like cocoa too. I'm not 100% sure about all the ingredients it's made of but it is paraben free, cruelty free and vegan. I like the color but I'm not sure how much I'll use it.
Kinder Beauty Box Review October 2019 – Final Thoughts
I really like this month's Kinder Beauty Box contents! I'd say two items stand out the most: the Journey Hair Mask and the NCLA Pumpkin Spice Lip Balm. Probably because I'm already feeling parched from the colder weather moving in and these two will definitely help that problem out. This month's box is a great value with 4 full sized products and none that I've tried before either. I like the fall hints and look forward to see what winter prep will come in next month's Kinder Beauty Box!
The Botanic Gal – http://www.botanicgal.com