Laurel & Reed Review – June 2023
Take the first step to an all-natural beauty routine with a Laurel & Reed subscription! Laurel & Reed is the luxury beauty, wellness and lifestyle subscription box that features non-toxic, all-natural and cruelty-free full-size products carefully curated to help you live a more green and gorgeous life! They kindly sent us this box for review.
Every month they will delight your doorstep with an assortment of all-natural, non-toxic and cruelty-free beauty that truly works! You will receive a mix of 3+ full-sized top-shelf products with a minimum total value of $125+. Each box comes beautifully gift wrapped in their signature white box and black satin ribbon with the option to personalized a gift message on the included tag.
Laurel & Reed believes in the integrity of the products they bring to our clients through their subscription and promises to showcase beautiful products that are not loaded with toxins and chemicals. They've committed to continue to contribute to the clean beauty movement by delivering discoveries that go beyond the mass market beauty products of the past and are excited to be able to create an experience for our subscribers that allows for them to discover new healthy products that you will fall in love with!  Their goal is to inspire you in your search for gorgeous healthy skin, and bring you clean products that truly work!
Subscription Details
Laurel & Reed is a monthly subscription providing several subscription options at different costs:
One time purchase: $59.95/box
Month-to-Month: $54.95/box
3 Month Pre-paid: $47.95/box or $143.85 billed every 3 months
6 Month Pre-paid: $45.95/box or $275.70 billed every 6 months
Annual Pre-paid: $43.95/box or $527.40 billed annually
Each subscription box will ship on the 15th – 20th of the month, or immediately when you order if current box is still available. Shipping costs are as follows: $6.95 Shipping to US, $14.95 shipping to Canada, or $23.95 for international shipping. The subscription will auto-renew every 25 days from purchase date. There are no contracts, no commitments, and you can cancel anytime.
June Box Details ($263 total value)
"Naked & Thriving believes that healthy skin is the best thing you can wear at every age, and it all begins with the most pristine and effective plant botanicals that nature has to offer. This is why they work with sustainable farms that grow pure, organic ingredients to give your skin just what it needs–and nothing it doesn't. They formulate their products without synthetic chemicals, fragrances, parabens, phthalates, or over 2,000 other harmful chemicals."
Here's a look at what's in the box:
NAKED & THRIVING Illuminate BC+ Brightening Face Serum ($72)
"This serum is designed to visibly brighten and even skin while targeting the appearance of dark spots, fine lines, and wrinkles. Bakuchiol, nature's answer to harsh retinol, has been used for centuries in Eastern medicine and is praised as a potent, nourishing antioxidant. Recent scientific studies have shown that it is as effective as retinol at targeting signs of aging. Bakuchiol has demonstrated the ability to reduce the appearance of dark spots, fine lines, and wrinkles without irritating skin the way retinol does. We combined this super ingredient with other powerful botanicals to support the appearance of a bright and even skin tone. These super ingredients include Vitamin C, Gooseberry, Mulberry, Kakadu Plum, Baobab Seed, Licorice Root, and Ferulic Acid."
Skin brightening serums are always a welcome product to receive and this one sounds really lovely. I like the non-retinol alternative being included as one of the ingredients as I've been reading lots about how it can help brighten and tone skin. I've been wanting to commit to using one, we'll see if this one might be a good fit!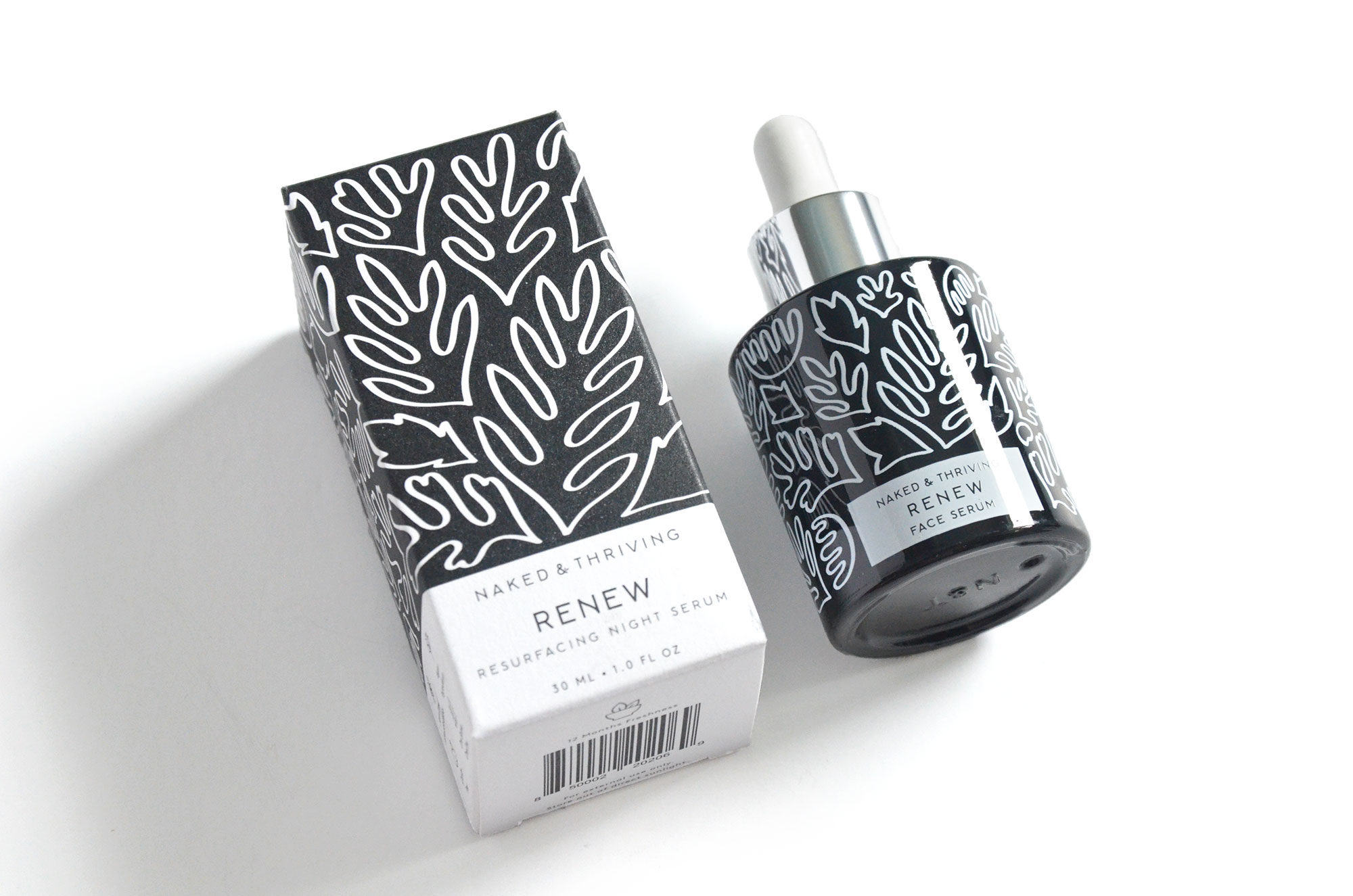 NAKED & THRIVING Renew Resurfacing Night Serum ($68)
"Corrects & Enhances by aiding exfoliation to help clear away dull surface cells, and supports hydration for a refreshed appearance. Renew combines alpha hydroxy acids and glycolic acids with hyaluronic acid and ferulic acids. This serums is designed to promote hydrated skin that appears clear, and plump to reveal a visibly smooth and radiant complexion."
Since the body as a whole does a lot of renewing and rejuvenating overnight, this serum sounds like it would be really beneficial for skin as it works that process overnight too. It's exfoliating and hydrating properties should leave skin feeling fresh and awake by morning.
NAKED & THRIVING Prevent Anti-Aging Face Oil ($65)
"Prevent Anti-Aging Face Oil combines essential fatty acids, vitamins and potent antioxidants. This oil is designed to help combat the appearance of fine lines and wrinkles, while supporting moisturized skin that looks and feels healthy. Prevent provides a nourishing barrier over the skin, harnessing organic botanicals to help defend against daily aggressors without clogging pores. This fortifying face oil nourishes skin for a radiant appearance, is gentle enough for most skin types, and is bottled in sustainable glass packaging."
I'm definitely at an age where anti-aging products can be helpful, but really this sounds like it might be nice for all different ages. I love that it claims to be gentle making it useful for any skin type. This seems like it would be a great daily face oil.
NAKED & THRIVING Nourish Active Barrier Cream ($58)
"Nourish Active Barrier Cream blends powerful antioxidants found in white tea extract and squalane with plant-based actives derived from the Orobanche rapum plant. In clinical studies, these plant-based actives have shown the ability to reinforce skin barrier components as well as protect skin stem cells and skin microflora. This lightweight, daily cream was formulated to help nourish skin with essential nutrients and antioxidants while also supporting a visibly healthy barrier that's ready to face the day."
I'm most excited to try out this product as my esthetician has told me several times my skin barrier could use some repair help. It sounds like the ingredients are overall super nourishing, even though a few of the ingredients are unique and ones I've not heard of before. I like that it says it's lightweight since super heavy creams don't always feel the best in the summer months. This also seems like it will pair well with the other items included to maximize skin repair. I can't wait to try it out to see if it agrees with my skin!
Final Thoughts
What a fun brand that was chosen this month! I have never heard of them or their products and really appreciate being introduced to them. It's fun that there are four products included too, as usually they only send 3 on average. It's nice that they sent several different kinds of face serums/oils too so that different skin types or skin needs can benefit from the contents. I really only use skincare at nighttime, so it all almost feels like too many products for me, but I can appreciate having choices for whatever my skin needs each day. Overall, I love the brand's commitment to souring organic and pure ingredients, formulating each product with conscious ingredients you can trust and that are good for the earth too. They seem like beautiful products that I can't wait to try out!
The Botanic Gal – http://www.botanicgal.com