LD Accessory Box Review December 2019
The LD Accessory Box subscriber gets 5 to 6 hand selected fashionable items shipped monthly to keep your wardrobe effortlessly refreshed. They kindly sent us this box for review.
Subscription Details
One Time Box – $35
Pay Monthly – $30
3 Month Pre-Pay – $90
6 Month Pre-Pay – $180
12 Month Pre-Pay – $360
Each LD Accessory Box is packed with a surprise variety of women's apparel and accessories that may include anything from scarves, gloves, belts, halts, tops, bottoms, hosiery, handbags, wallets, sunglasses, makeup and jewelry. *Free shipping within the US, fee for international shipping.

Inside the Box
This December 2019 LD Accessory Box was my very first from Luxury Divas, and I was absolutely blown away by the amount of value inside. The box felt very chic and clean, the branded tissue paper was even sealed with a gold sticker. The included inserts shared about each product and its available options; this box is connected to a whole online store of clothing to browse! The December 2019 box had an amazing value of $126! Here's what was inside…
Double Leaf Sterling Silver Plated Earrings
These earrings were the first thing I grabbed for on top of all the goodies in this box. I love a pretty pair of dangle earrings! The style was modern and classy, and I love that they could go with so many different outfits. The quality seemed just right! They were definitely for flair but in no way felt cheap. Love!
Cable Knit Slouchy Beanie Cap
This hat screams cute!! I love how long this knit hat is, giving it the perfect amount of slouch. I received the color Ivory, which I thought went perfect with my hair! The knit beanie is also available in five other colors, so if your friends get jealous they can go grab one too in a color of their own! The knit it a nice quality and comfortable fabric.
Black Fleece Lined Leggings
Oh how I've been needing some new black leggings! Don't we all? What a perfect addition to this box, an accessory every girl needs. The material was nice enough that they could be worn under a dress like tights, but it was also thick enough to wear them alone as pants. And the fleece lining is so soft, and a perfect feature for the cold.
Katy Perry Covergirl Matte Lipstick
You had me at Katy Perry. I'm not sure how they picked such a perfect color for me, but the shade they chose was exactly my style! It was a perfect neutral, with a pop of coral-ish pink. You could pair this color with most any look. It was very smooth and hydrating, with a nice demi-matte finish.
Gray Timeless Plaid Poncho
Ponchos have to be the best winter accessory. They are more comfortable than a big bulky coat, can be thrown over most any outfit, they scream fashion, but it feels like you are wrapped up in your favorite blanket. I was excited about the color choice I received, it is also available in beige and ivory. And I must say, the fringe is so cute!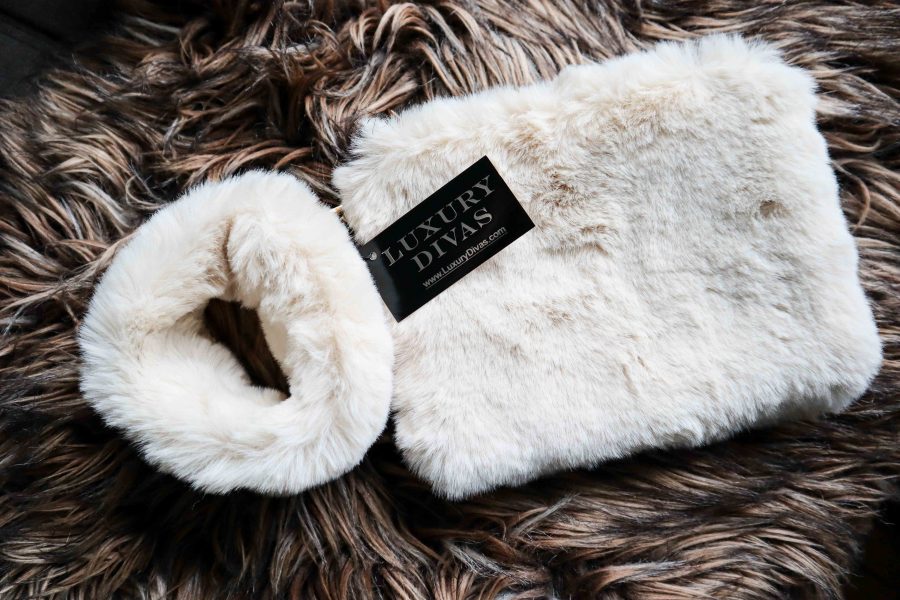 Plush Faux Fur Cuff Wristlet
I was crazy excited when I saw this fun surprise in my box! Seriously, how fun is this little fur purse!? It is neutral enough in color to not be too loud, but the fur and the wristlet feature is so luxuriously fun to dress up with! The wristlet piece is optional as well, so you can also use it as a clutch. I cannot wait to wear this purse out this weekend. It's the perfect touch of flair!
LD Accessory Box Review December 2019 – Final Thoughts
I cannot get over the amazing value in LD Accessory Box. I'm a little nervous to say this out loud, but I would pay much more than $30 for this box! The stylist that put this box together was really great at finding the balance between keeping it neutral enough for the items to go with multiple styles, yet it all had a little fun and flair to keep the fashion fun and interesting. I was very impressed with the items I received, there was nothing I didn't like – I'm excited to feel a little extra this month!
YouTube Unboxing Link: https://youtu.be/wX513PItmVM
Jamie – https://www.sparkleandgrow.com