Let's Go Eco Review Fall 2021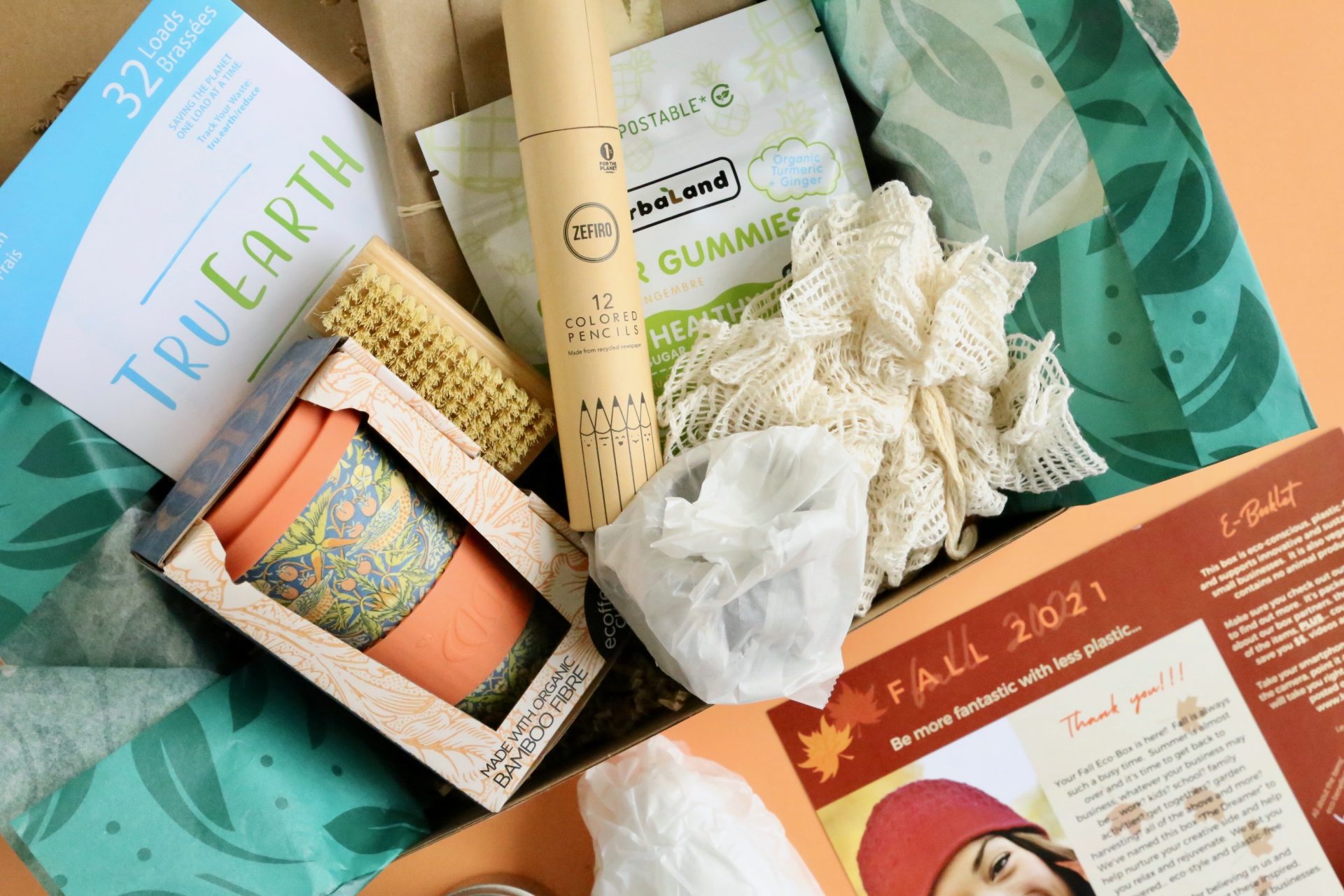 Let's Go Eco is the ultimate eco-friendly, natural, sustainable and PLASTIC-FREE subscription box. Boxes are filled with the latest eco-conscious brands and trends in home, fashion, health and wellness and are specially curated to help people live a more low waste, more eco-conscious lifestyle. They kindly sent us this box for review.
If you are in the market for an eco-friendly subscription box, this is one of my faves. Let's Go Eco is a Canadian based subscription box and I truly look forward to receiving it each and every season. They source wonderful products, work with great brands and I always end up discovering something I never knew I needed.
Subscription Details
Let's Go Eco Boxes arrive 4 times a year packed full of eco-awesome items like low waste swaps, quality reusables and plastic-free, all natural, handcrafted items from small Canadian businesses.
Each box has at least 7 items and offers 35% or more off regular retail prices.
Plastic-free including the packaging using the most environmentally-friendly options available.  Labels are compostable with adhesive made from sugar cane, tissue and stickers printed using soy-based ink and boxes made from 100% recycled paper.
Here's a peek at the items we received in the Fall Let's Go Eco box…..
Reusable Travel Cup made from Bamboo Fiber – Ecoffee Cup
Each year over 300 billion single-use cups are made worldwide, about 1.5 billion in Canada, and less than 2% will ever be recycled. Despite appearances, almost all big businesses' disposable coffee cups are lined in plastic (yes, that includes those innocent-looking Tim Horton's cups). Choose to reuse. Each time you choose to re-use, even just once a week, you will be helping in the fight against single-use waste. Imagine the massive difference we could make if everyone did the same. If 2 million people chose to re-use just once a week, we would stop 104,000,000 single-use cups going to landfill each year.
These beautiful cups are made from a composite of natural, organic bamboo fiber, corn starch and a plant-based resin. The sleeve and lid are made from silicone made from sand and no petroleum products. They are not only pretty, they are naturally antibacterial and have no weird plastic-taste. Size: 14 oz
Reusable coffee cups are a favorite to receive. I don't know about you, but I can never have too many. This one is unlike any I currently own. The pattern and colors are just so darn pretty, and there's definitely a Fall vibe going on. I will use this often.
Nékwentsut Rose + Nettle + Mint Tea – Sḵwálwen Botanicals
This tea is hand foraged and is handcrafted in small batches. Nékwentsut (neck-went-suit) translates to 'warm oneself' in the Squamish language. Made with nettle, mint and rosehip. Nettle has been used traditionally in Squamish culture for its natural benefits to the body. Rosehips are packed full of vitamin C, and mint offers a soothing quality while supporting digestion. 
Sḵwálwen is an Indigenous wellness led by Leah Joseph (ancestral name Styawat, MBA and PhD Candidate in Ethnobotany). Their line of skincare and wellness products are crafted to honour cultural knowledge, Indigenous plant science and self-care. Skwalwen (squall-win), translates to "heart" or "essence of being" in the Squamish language. Incorporating sustainably harvested and sourced botanicals, they unite ancestral traditions with modern beauty rituals, empowering people to connect to themselves and the natural world. Crafted in the Canadian Pacific Northwest on the unceded Territories of the Skwxẃumesh (Squamish) First Nation.
I actually just said in another review that no Fall box would be complete without tea, and wouldn't you know…..here's a lovely tin of mint tea. The perfect treat for those cozy Fall evenings after I put baby Steven to bed. And it goes perfectly with my new cup!
Stainless Steel Tea Infuser
Meant to pair with your Nékwentsut Rose + Nettle + Mint Tea, this infuser is one of the latest designs styled to brew the perfect cup of tea. It is easy to use, easy to wash, avoids the use of tea bags that are usually made from plastic and is designed to brew a superior cup of tea.
Three items that complement each other perfectly! A new reusable cup, mint tea and a tea infuser. This little trio of items is making my heart happy.
Healthy Vegan Gummies – Herbaland
Delicious and nutritious!! Perfect for snacking on the go or at home. Made from fruit pectin and low in sugar with added super foods like ginger, apple cider and vitamin C. Sustainably packaged in 100% compostable pouches. In your box you'll get one flavour at random, either Lemon Vitamin C, Apple Cider Vinegar or Pineapple Ginger. 
Herbaland takes sustainably seriously and it's one of their core values. This means finding zero-waste packaging solutions, choosing energy efficient production and acquiring ethically sourced ingredients. The secret to their delicious and nutritious gummies is the quality of the ingredients. They are dedicated to finding the highest quality, most sustainable plant-based ingredients in the world. Whenever possible, they opt for fair trade and organically-farmed ingredients.
This is so exciting!! I actually just started following Herbaland on Instagram the other day because I am so in love with their products. These yummy little gummies are plant-based which is ah-mazing! And they also have a really great selection of vitamins and supplements.
I love that this snack version includes superfoods. Maybe I can have a handful of these with my tea at night?!
Plastic-free Laundry Strips – TruEarth
TruEarth laundry strips give you an amazing clean plus its packaging uses ZERO plastic, and is so light weight that it reduces transportation fuel consumption and global-warming carbon emissions by a whopping 94% compared to today's leading-brand liquid and powder detergent.
Each laundry strip packs ultra-concentrated, hypoallergenic, eco-friendly cleaning power into a tiny, pre-measured strip of liquid less laundry detergent that you just toss in the wash. Its low-suds formula works in all types of washing machines, including high-efficiency (HE). Clean, green, and simple! Make your laundry washing easier, healthier, more economical, and much kinder to our planet.
I am a HUGE fan of TruEarth Laundry Strips. These are currently the only thing I will use to wash baby Steven's clothes. The formula is scent-free, gentle and does a great job washing his clothes. I also LOVE the minimal packaging. This little pack takes up less room than the giant tubs I used to get from Costco.
Artisan Crafted Notebook and Bookmark – Michelle Ryan Fine Art
Every box includes a lovely notebook, bookmark and tag that were hand-bound, hand-dyed, hand-wrapped and eco-printed using naturally derived, non-toxic pigments. The paper is 100% recycled kraft paper and the bookmark tag is 100% cotton eco-dyed using eucalyptus pigments.
Michelle is a one-woman small Canadian business owner. She gets her inspiration for her art supplies and projects by natural landscapes and the beauty of Cape Breton Island. After experiencing some health issues, she discovered how toxic the printing industry can be and decided to be different. She takes a 100% natural approach and only uses all natural, non-toxic paints, dyes and pigments. She powers her print shop and studio with 100% green energy Bullfrog Power and makes monthly donations to TreeEra (a Canadian tree planting organization) to offset her carbon footprint and help replenish our forests and everchanging landscape.
You all know how much I love my notebooks. And in fact, I'm hoping to have a place to display/organize them in my new office. This one is absolutely beautiful and I love that it is made from 100% recycled kraft paper.
Recycled Pencil Crayons – Zefiro Low Waste Shop
We love these recycled colored pencils and they pair perfectly with the sustainable notebook and bookmark. Roughly 82,000 trees are cutdown each year to make pencils but not these…they're made from 100% recycled materials.
Carley founded Zefiro, Chicago's first zero waste store with the mission is offer everyday items to anyone who wants to reduce and reuse. She focuses on offering products that are free of unnecessary packaging and/or plastic-free, everyday reusable swaps and are non-toxic plus safe for both us and the planet. Zefiro is a 1% for the Plant partner and donates 1% of annual sales to environmental causes.
Eeek! I was like a little kid when I pulled these pencil crayons out of the box. It's like an adult version of back-to-school shopping. A new notebook AND pencil crayons. #bestdayever
Ocean Goddess Bubble Bath – Sealuxe
Rich and luxurious this limited edition, all natural, hand crafted, small batch bubble bath will calm and nurture your inner Ocean Goddess. Delicately scented with notes of vanilla and lavender with a hint of rosemary. 
Natural beauty brand Sealuxe is inspired by the wisdom of the waves. They pour, blend, stir and sift healthy ingredients infused with the Pacific Ocean's natural bounty into their products. As a child, Tanya, the founder of Sealuxe, discovered her passion for the ocean. Her summers were spent beachcombing – exploring low tide as the ocean retreated each day to unveil an endless and ever-changing world of excitement and intrigue. Her journey has led to the creation of Sealuxe and a potent product line rich with the elements of thalassotherapy: seaweed, salt and Canadian glacial marine clay. 
Directions: For a luxurious and bubbly soak, pour into bath as it fills. For greater bubbles, pour directly under faucet. Size: 118 ml/4 oz
Here we have a gorgeous little bottle of bubble bath and since bath time is on my list of things to start incorporating into my "me-time" it arrived at the perfect time. It has a lovely soft scent and it will look pretty on display in our bathroom.
Organic bath/shower pouf
This bath sponge will leave your skin glowing and feeling refreshed. A natural alternative to plastic shower poufs, it lathers well, gently exfoliates and is great for all ages. Ramie is a highly sustainable fiber is an alternative to synthetic fabrics. Although having been used for over 6,000 years, ramie fabric has recently gained popularity in the fashion industry as a sustainable eco fiber. Ramie is also known as China grass, grass linen, rhea and grass cloth it is also noted for its length and toughness. It is naturally resistant to mold, mildew and bacteria and grows without any pesticides, herbicides and chemicals. 
Directions: After using your ramie pouf, always rinse it and hang it to dry. Wash regularly.
To go with my new bubble bath we have also received a bath pouf, and how beautiful is it?! This is a natural alternative to plastic shower poufs and that makes me so happy. And….it will look so much prettier hanging in my shower than that red plastic ones I used to get from the dollar store.
Natural Fiber Nail Brush
These nail brushes are made from bamboo, sisal and are completely plastic free. Sisal, with the botanical name agave sisalana, is a species of agave native to southern Mexico. Both bamboo and sisal grow quickly and readily without irrigation or pesticides and are highly renewable and sustainable materials. This nail brush is 100% biodegradable too.
Oh my goodness…..this reminds me of my Mom and I absolutely LOVE it! We had one similar when I was growing up and it's actually kind of funny that I've never purchased one for myself. Especially now that baby Steven is here. Perfect for cleaning those little fingers and nails:)
Let's Go Eco Review Fall 2021 – Final Thoughts
I have to be totally honest, at first glance I was kind of thinking….hmmm….I'm not sure how I feel about the Fall Let's Go Eco box. It didn't have the instant appeal that the previous two boxes had. But….after going through the items and seeing how intentional each and every one is, I can say with certainty that they NAILED IT! We received a lovely mixture of eco-friendly items that all complement each other. The reusable cup, tea and infuser create a wonderful morning (or evening) ritual. The bubble bath, bath pouf and nail brush are perfect for my bath routine, and the notebook and pencil crayons are a lovely little back-to-school gift for us adults. I LOVE the thought and energy that went into the Fall curation and truly appreciate every item we received!
-AYOB Sarah