Let's Go Eco Review Winter 2020
Let's Go Eco is the ultimate eco-friendly, natural, sustainable and PLASTIC-FREE subscription box. Boxes are filled with the latest eco-conscious brands and trends in home, fashion, health and wellness and are specially curated to help people live a more low waste, more eco-conscious lifestyle. They kindly sent us this box for review.
Spoiler alert – I am in LOVE with the Winter Let's Go Eco box. I might as well just tell you now rather than wait until the end of the review. I saw full spoilers prior to receiving my box and it was love at first sight. I can't wait to share this one with you!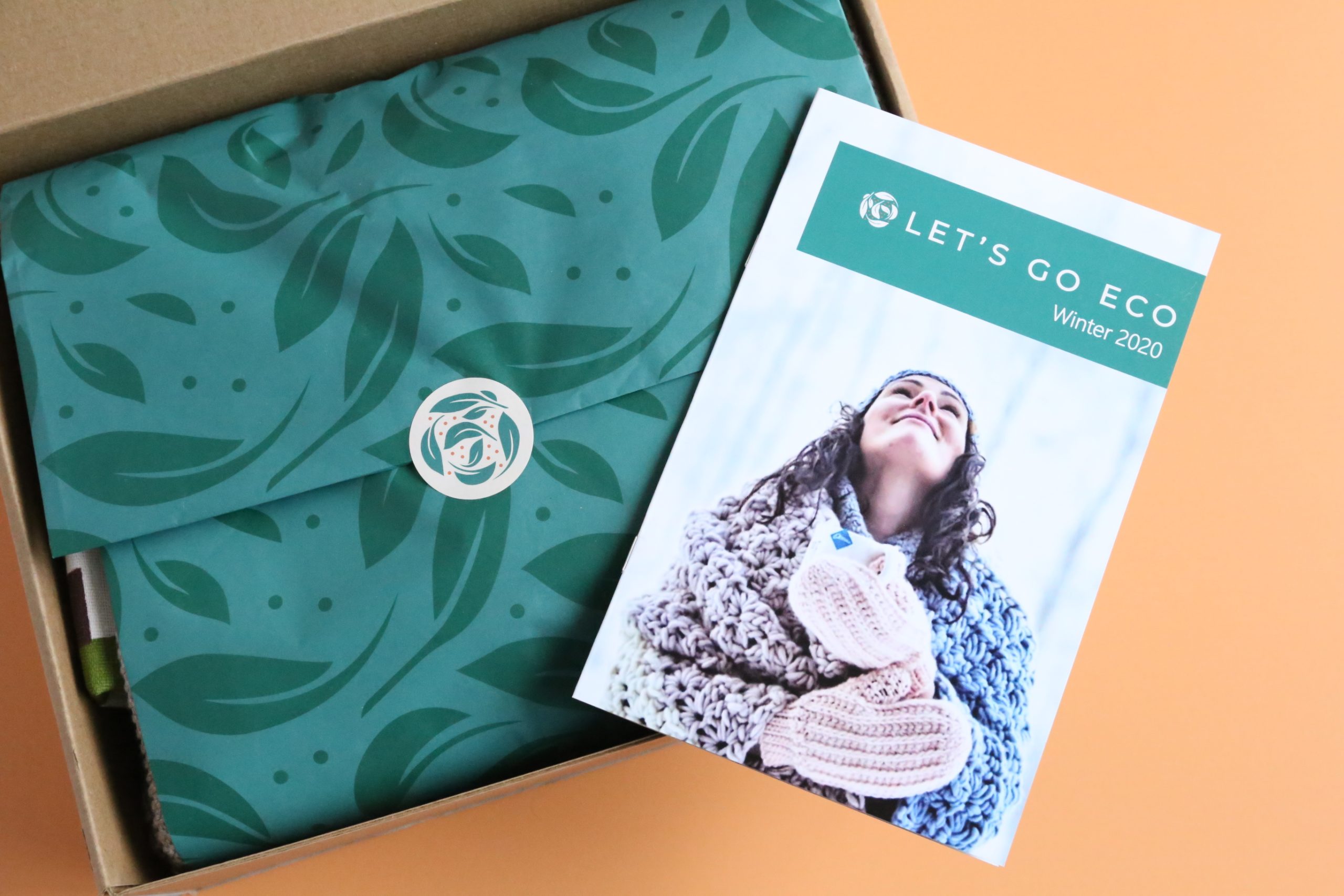 Subscription Details
Let's Go Eco Boxes arrive 4 times a year packed full of eco-awesome items like low waste swaps, quality reusables and plastic-free, all natural, handcrafted items from small Canadian businesses.
Each box has at least 7 items and offers 35% or more off regular retail prices.
Includes free shipping in Canada.
Plastic-free including the packaging using the most environmentally-friendly options available.  Labels are compostable with adhesive made from sugar cane, tissue and stickers printed using soy-based ink and boxes made from 100% recycled paper.
Here's a peek at the items we received in the Winter Let's Go Eco box…..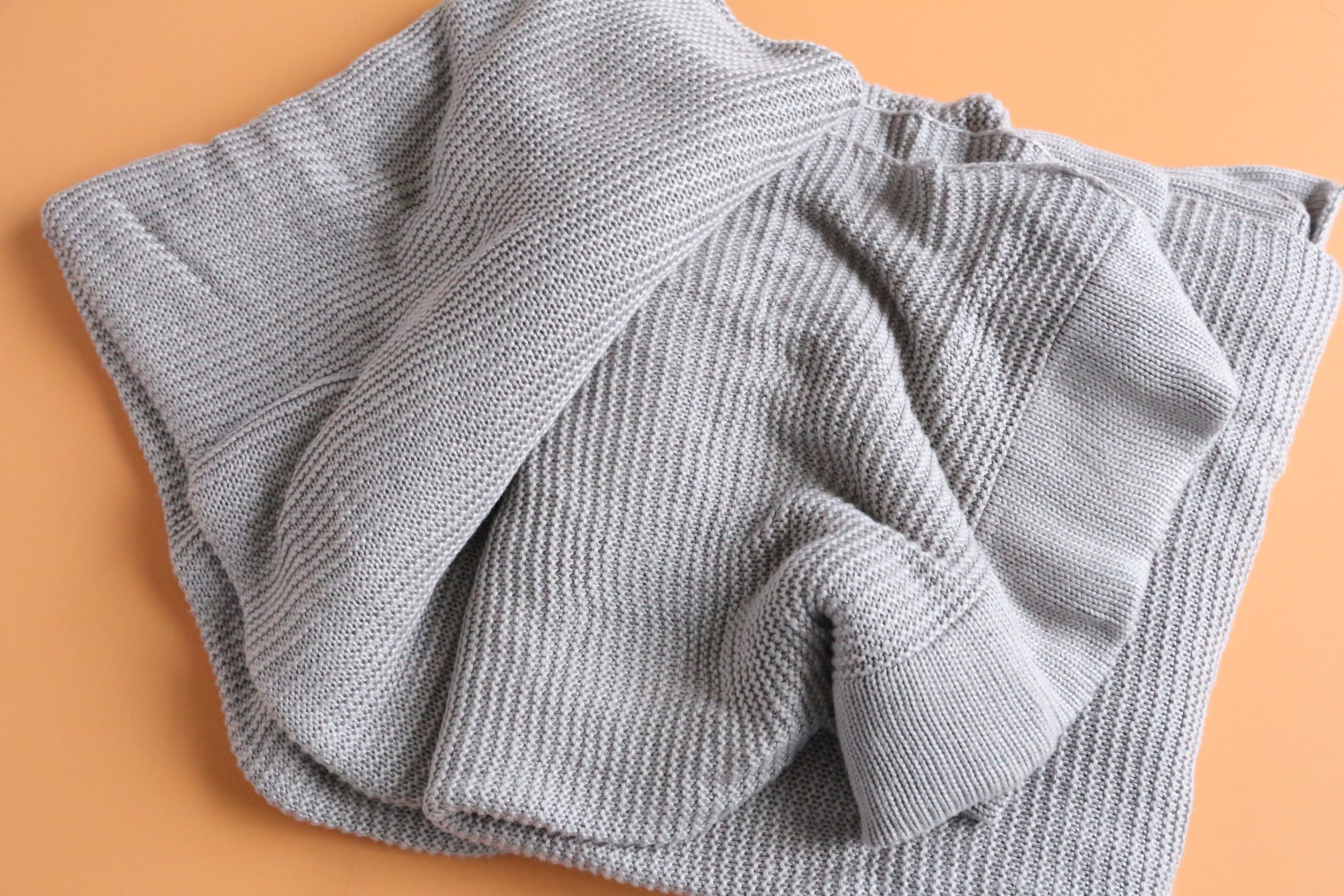 Luxurious 100% Bamboo Blanket
We were obsessed with finding a super sustainable blanket and search endlessly to find this super soft 100% bamboo blanket. This blanket is exceptionally high quality and worth $120 (more than the cost of the entire box). Bamboo is one of the fastest growing and most renewable resources on the planet. It requires very little water to grow and no pesticides. The resulting material is luxurious and softer than cotton. This blanket is also certified Oeko-Tex® Standard 100 (meaning the manufacturing process is independently monitored and tested for over 100 harmful substances across all stages of production to ensure it is non toxic). 
This blanket is absolutely amazing! First of all, make note of the value, it more than covers the cost of the box. In addition to that it is a great size, very soft, and one of my favorite colors. I love everything about this blanket!
Fair Trade Whipped Shea Butter by Mamaa Trade
Made from pure, unrefined shea butter and has many health, eco and ethical benefits. Deeply moisturizing, exceptional quality, sustainably sourced and fairly traded. 
Shea is a sustainable crop that grows without irrigation and pesticides. Producing shea oil provides extra income to the widows of Kongo village in Northern Ghana who produce all of Mamaa Trade's shea butter. Mamaa Trade is a Canadian, women lead, business founded by Johanna. Johanna has years of experience in development work in international organisations and non-profit organizations. The aim of her business is to market sustainable and quality products from women's cooperatives to support them and improve their quality of life. 
A simple product, only containing one ingredient, and I love it! My skin has been very dry as of late so I am very happy to see this in the box. Baby Steven has dry skin as well so I might even use this on him.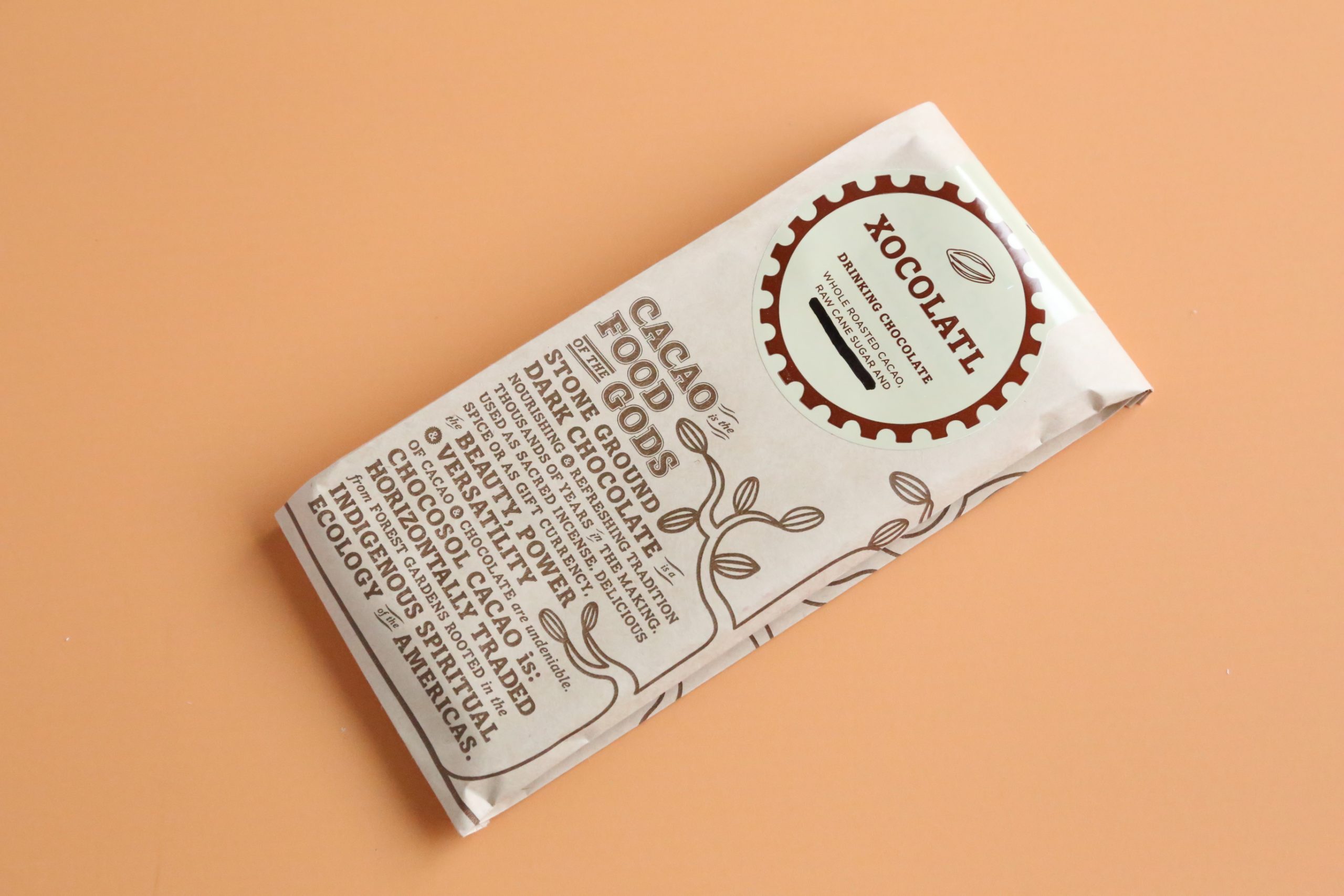 Mexican Drinking Chocolate by Chocosol Traders
This traditional Mexican drinking chocolate is fair trade, organic, vegan and packaged plastic-free. Xocolatl literally means "bitter water" and was integral to ancient Mesoamerica. The cacao is sourced direct-trade from Indigenous communities in the Lacondon Jungle of Chiapas and the Oaxacan mountains of Southern Mexico. 
Chocosol takes the raw cacao beans and roasts, winnows and grinds them into chocolate in their production kitchen in Toronto using traditional volcanic stone-wheels. This traditional method means the chocolate retains more nutritional benefits (antioxidants, iron, magnesium, and more). 
Such a fun item and perfect for a Winter box! At first glance I thought it was a chocolate bar but it's actually drinking chocolate. You simply bring 8oz of water to a boil, add 6 squares of chocolate and stir continuously until chocolate is melted and blended into the water. I might even try adding a small piece to my morning coffee. How good would that be?!
Small Farm Grown Gourmet Popcorn by Provisions Food Company
Provisions' Rose Gold Popcorn is a fun and healthy treat for when we're stuck at home during the cold winter months. These all natural, rose-coloured kernels become bright white when popped. This popcorn is grown on a family farm is non-GMO, all natural, vegan and free from preservatives, fat and gluten. 
Provisions' founder and visionary Lori is also a trained chef and cookbook author. She started Provisions to channel her passion for the vineyards, farms and orchards of Niagara, Ontario. 
I have been stalking Provisions Food Company on Instagram for a little while now and specifically had my eye on this popcorn….and their popcorn seasoning. I just might have to place an order.
All Natural Soy Gingerbread Candle by Surf's Up
Winter means candle season! Most candles are made from petroleum, a fossil fuel that is especially toxic when burned. This yummy gingerbread scented candle is made from natural soy, is petroleum free and non-toxic. Soy also burns longer then petroleum. This 4 oz candle has approximately 20 hours of burn time.
I'm a sucker for holiday scented candles. I will never get sick of receiving them in my Winter boxes. This one smells wonderful and I love the jar/lid. Now I just need to decide if I want to burn it now or save it for next year.
Sola Wood Flower "Bows"
Every holiday season, it is estimated that Canadians toss 540,000 tons of wrapping paper and gift bags. A lot of this is wrapping and packaging is made from plastic, is not biodegradable or even recyclable. 
You can use these beautiful wood flowers instead of generic plastic bows. They are handmade from a drought resistance plant called sola (also known as tapioca or cassava), all natural and biodegradable. Sola is a highly sustainable crop that grows without the need for irrigation or pesticides. Each box contains 3-4 depending on size.
Oh my goodness! How pretty are these flowers?! And such a great idea to use them as bows. They go perfectly with the reusable gift bags and are making me very excited to wrap gifts. I received my box a little late but I am totally fine with that as I will tuck these little gems away for next year.
Reusable Gift Bags
Cut back on holiday waste and use these 100% cotton gift bags. The festive tree design is also versatile enough for other uses (e.g., produce bag). Natural, biodegradable and plastic-free. 2 in each box.
I love, love, love that they included reusable gift bags in the Winter box, and I'm not even sad that I received the box after Christmas. I still LOVE these bags and am very excited to tuck them away in my Christmas wrapping storage box. I want a few more of these…..and a few more of the flowers.
Plastic-free Organic Tea by Oteas
Oteas is deeply driven to eliminate plastic waste and offer a truly zero waste tea of the highest quality. Oteas kindly contributed two organic, hand blended, plastic-free tea bags for you to try. Great taste with less waste. 2 tea bags in each box.
Lastly we have two tea samples which round out the box nicely. I have been drinking tea almost every afternoon for the last couple months and am happy to have two new flavours to try.
Let's Go Eco Review Winter 2020 – Final Thoughts
I can't even express in words how much I LOVE the Winter Let's Go Eco box! It is absolute perfection. If I were to put a box together for myself this is exactly what it would look like. A cozy blanket, festive candle, environmentally friendly gift wrap, natural skincare, popcorn (my absolute fave), chocolate and tea. All my favorite things wrapped up beautifully in a pretty brown box. The word obsessed comes to mind:)
-AYOB Sarah