Lit Love Book Box Review April 2022
Lit Love Book Box is a monthly book subscription box for people who love to read! They are the first box in Canada that lets YOU choose the book. Every month they offer a variety of genres and a surprise option too. Along with your novel, you will receive self-care, home decor and snacks for an immersive reading experience. They kindly sent us this box for review.
I have a brand new Canadian Book Box to share with you today and I am SO excited about it! Lit Love Book Box has only been shipping since February of this year, and so far I am loving what I see.
I love that they have different book options each month, this is a feature that really makes them stand out from the rest.
Subscription Details
Lit Love Book Box subscribers will receive a newly released fiction novel vetted by bibliophiles with great taste and an eye for the extraordinary, carefully curated self-care and home decor items to enhance your reading experience and gourmet snacks to munch on during those long reading sessions.
You can purchase a single box for $85 or sign up for a monthly subscription for $80 per month.
Here's a closer look at the April Lit Love Book Box…
The Book of Cold Cases
In 1977, Claire Lake, Oregon, was shaken by the Lady Killer Murders: Two men, seemingly randomly, were murdered with the same gun, with strange notes left behind. Beth Greer was the perfect suspect–a rich, eccentric twenty-three-year-old woman, seen fleeing one of the crimes. But she was acquitted, and she retreated to the isolation of her mansion.
Oregon, 2017. Shea Collins is a receptionist, but by night, she runs a true crime website, the Book of Cold Cases–a passion fueled by the attempted abduction she escaped as a child. When she meets Beth by chance, Shea asks her for an interview. To Shea's surprise, Beth says yes.
They meet regularly at Beth's mansion, though Shea is never comfortable there. Items move when she's not looking, and she could swear she's seen a girl outside the window. The allure of learning the truth about the case from the smart, charming Beth is too much to resist, but even as they grow closer, Shea senses something isn't right. Is she making friends with a manipulative murderer, or are there other dangers lurking in the darkness of the Greer house?
Lowcountry Kettle Potato Chips: Chips are my weakness! There, I said it! It used to be chocolate, but the last little while I crave salty more than sweet. I especially love Kettle Chips and have always appreciated the simple flavours like original, or in this case, sea salt.
Fraser Valley Gourmet Caramel Crunch: The package says "one bite and you are hooked" and I totally believe it. Just looking at the photo on the bag makes my mouth water. I will save these for a craving emergency, or a day when I can really take the time to sit down and savour each bite.
Old Soul Soap Company Peppermint Twist: Oh my goodness! I need 5 more bars of this soap ASAP! I can't even tell you how good it smells. It's very similar to Bath & Body Twisted Peppermint but the ingredient list is ten times better!
Duckish Body Balm: This handy little body balm will moisturize dry skin and is so easy to apply. This is a travel friendly product. I might end up putting it in my travel bag or purse.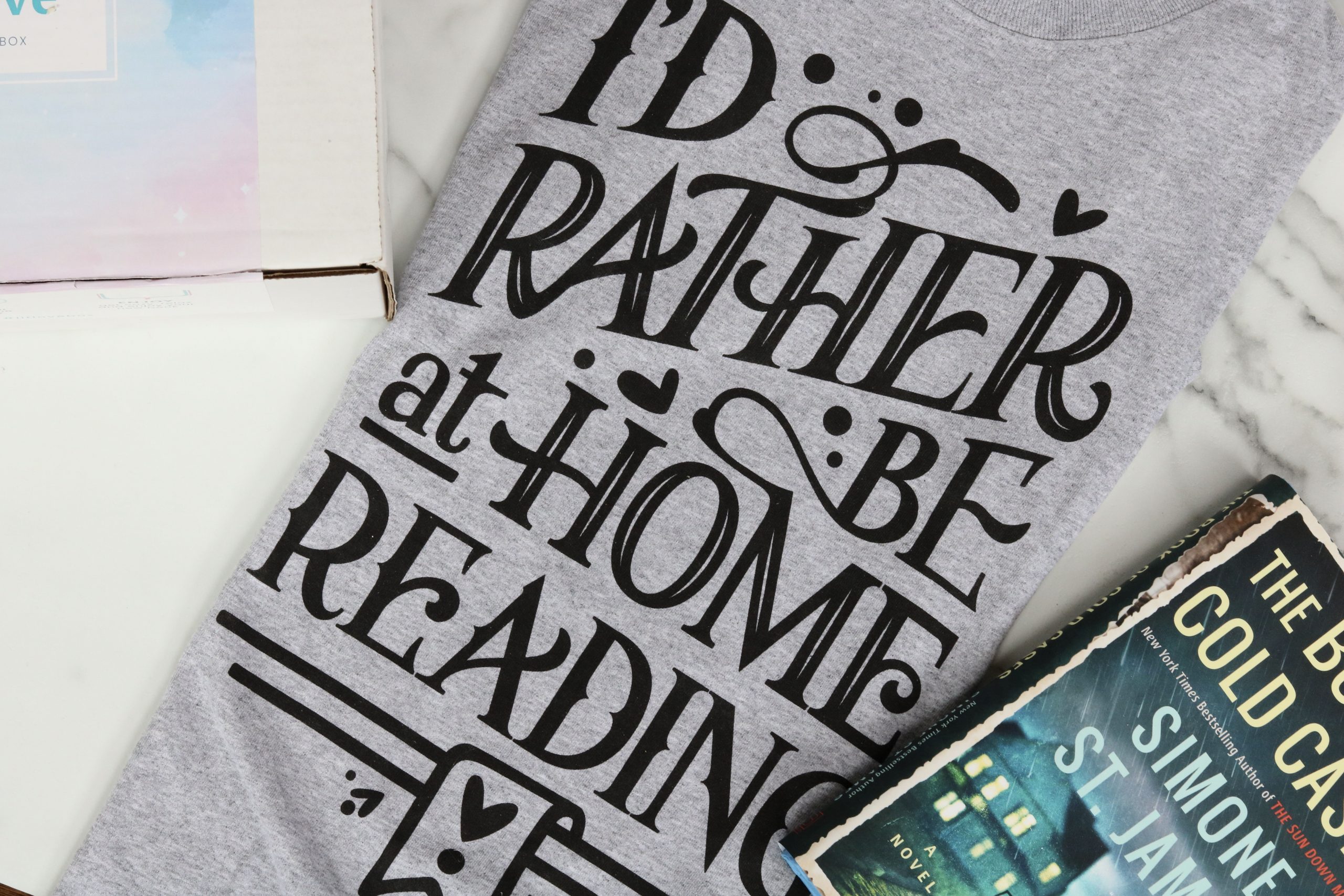 I'd Rather Be At Home Reading T-Shirt: And my favourite item in the box…..next to the peppermint soap…..is this super cute tee! I am so in love with it and can't wait to wear it. How cute would this be with your favourite jeans, oversized grandpa cardigan and white sneakers?!
Lit Love Book Box Review April 2022 – Final Thoughts
First of all, let's talk about my book choice for April. For my first box I decided to let Lit Love Book Box surprise me with the book and I think they did a great job. I love a good thriller and this one sounds so good. I also happen to be obsessed with the Podcast Crime Junkies so the fact that the main character has a True Crime Website makes me so excited to read this. Other than that, Lit Love Book Box NAILED it with the box curation. The t-shirt alone makes the box worth it, lol. I love it THAT much. But with that being said I am also slightly obsessed with the soap and I LOVE the snack choices. I have a feeling I just found a new fave……
-AYOB Sarah