Lit Love Book Box Review August 2022
Lit Love Book Box is a monthly book subscription box for people who love to read! They are the first box in Canada that lets YOU choose the book. Every month they offer a variety of genres and a surprise option too. Along with your novel, you will receive self-care, home decor and snacks for an immersive reading experience. They kindly sent us this box for review.
Lit Love Book Box is currently at the top of my list when it comes to book subscriptions. They are still fairly new, they have only been shipping since February of this year, and so far they are doing an amazing job! Actually, I feel like they just keep getting better and better each month.
Subscription Details
Lit Love Book Box subscribers will receive a newly released fiction novel vetted by bibliophiles with great taste and an eye for the extraordinary, carefully curated self-care and home decor items to enhance your reading experience and gourmet snacks to munch on during those long reading sessions.
You can purchase a single box for $85 or sign up for a monthly subscription for $80 per month.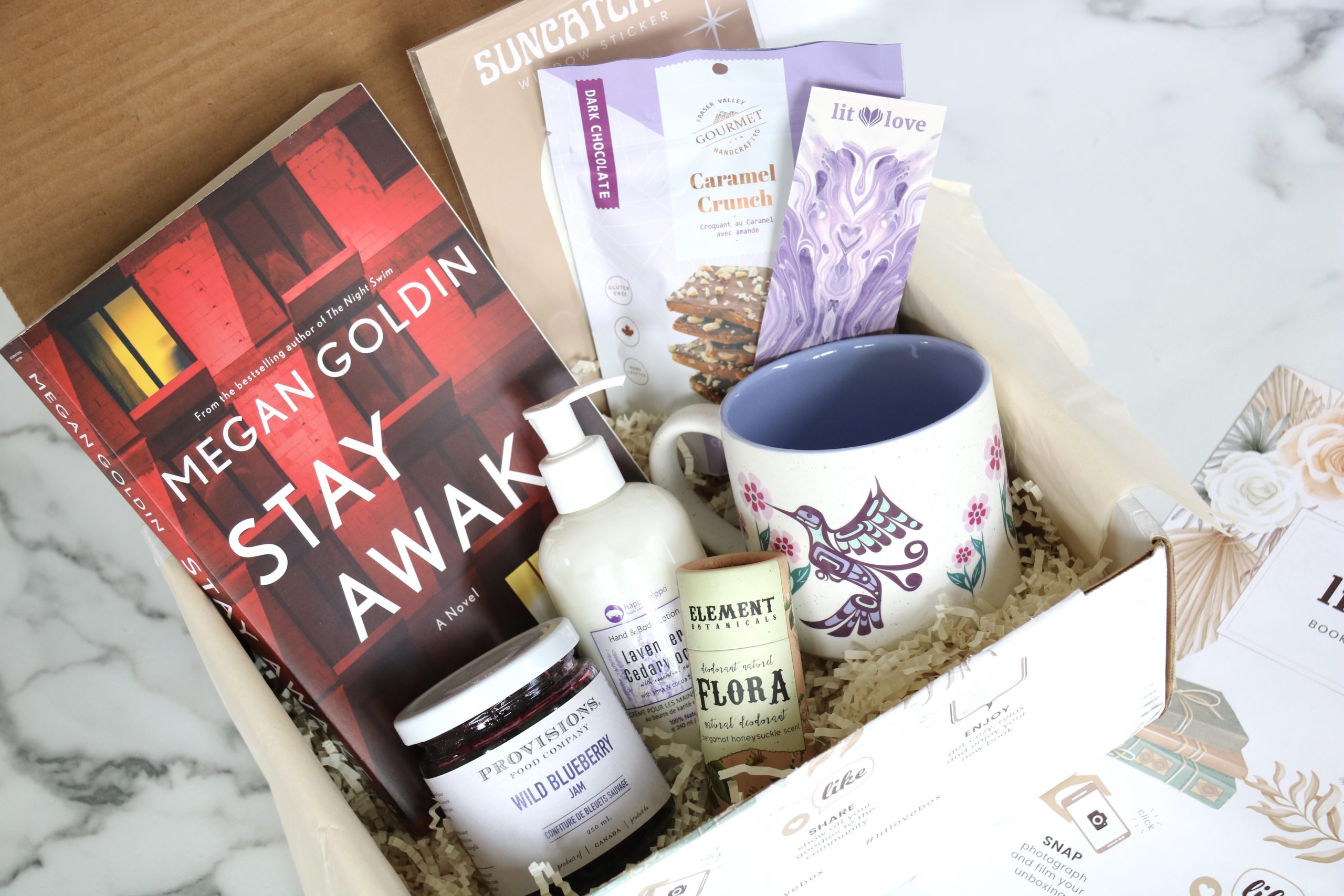 Here's a closer look at the August Lit Love Book Box…
Stay Awake: Megan Goldin
"Liv Reese wakes up in the back of a taxi with no idea where she is or how she got there. When she's dropped off at the door of her brownstone, a stranger answers―a stranger who now lives in her apartment and forces her out in the cold. She reaches for her phone to call for help, only to discover it's missing, and in its place is a bloodstained knife. That's when she sees that her hands are covered in black pen, scribbled messages like graffiti on her skin: STAY AWAKE.
Two years ago, Liv was living with her best friend, dating a new man, and thriving as a successful writer for a trendy magazine. Now, she's lost and disoriented in a New York City that looks nothing like what she remembers. Catching a glimpse of the local news, she's horrified to see reports of a crime scene where the victim's blood has been used to scrawl a message across a window, the same message that's inked on her hands. What did she do last night? And why does she remember nothing from the past two years? Liv finds herself on the run for a crime she doesn't remember committing as she tries to piece together the fragments of her life. But there's someone who does know exactly what she did, and they'll do anything to make her forget―permanently."
Hummingbird Mug: I have said this before and I will say it again, EVERY book box should include a coffee mug…ha! This is one of my favourite things to receive, and bonus points for this one being so dang pretty.
Flora Deodorant: This is another product I like to receive because I am always on the hunt for natural deodorant. I love testing out different brands. This one is bergamot honeysuckle scent and I love the plastic-free packaging.
Wild Blueberry Jam: I love anything from Provisions Food Company….in fact, they should have their own subscription! And I happen to love jam because one of my favourite simple pleasures is a slow Sunday morning, big cup of coffee and sourdough bread with peanut butter and jam:)
Caramel Crunch: I have tried this Caramel Crunch before and let me tell you….it is SO addicting! The perfect afternoon treat while curled up in your favourite chair reading a new thriller. Even better with a cup of coffee in your new mug……and best enjoyed on a rainy day:)
Sun Catcher Decal: This little window decal is so cute. It says "Here Comes the Sun" and it will transform light into a rainbow. I will definitely put this on the window in my office!
Lavender Cedarwood Lotion: And lastly we have this lovely hand and body lotion from Happy Hippo. This is a product I am always happy to receive because I use lotion daily. The lavender scent is very pretty and makes for a very calming after-bath ritual.
Lit Love Book Box Review August 2022 – Final Thoughts
This is what I call a "perfect box". The August Lit Love Book Box is absolutely my favourite delivery for the month of August. I think they have done a wonderful job, from the gorgeous packaging, to the book choice and…..the color theme. Everything looks so pretty together and the overall feel of the box is very calming. I will get use out of every product we received with my favourite item being the mug…..of course. If you aren't yet a subscriber, this is one you definitely need to check out!
-AYOB Sarah