Lit Love Book Box Review May 2023
Lit Love Book Box is a monthly Canadian book box that allows you to choose from a selection of newly released books and pairs your pick with snacks, self-care, and other fun finds. Today I'm sharing May's Indulge Box that's packed with all sorts of lovely items but if you're just as happy with a book, a bevvie and a snack they've got a smaller Coffee Box and now a Tea Box too. August's boxes are going quickly and I don't want you to miss out so let's get into it. Right this way! ⬇️
Lit Love Book Box options run the gamut from romcoms to thrillers and everything in between so really there's something for everyone (six in all each month). For me it was Adelaide (romance/contemporary literary fiction) by debut author Genevieve Wheeler. I've had it in my sights since Becca Freeman first raved about it a few months ago on her Bad on Paper podcast.
"For twenty-six-year-old Adelaide Williams, an American living in dreamy London, meeting Rory Hughes was like a lightning bolt out of the blue: this charming Englishman was The One she wasn't even looking for.
Is it enough?
Does he respond to texts? Honor his commitments? Make advance plans? Sometimes, rarely, and no, not at all. But when he shines his light on her, the world makes sense, and Adelaide is convinced that, in his heart, he's fallen just as deeply as she has. Then, when Rory is rocked by an unexpected tragedy, Adelaide does everything in her power to hold him together—even if it means losing herself in the process.
When love asks too much of us, how do we find the strength to put ourselves first?
With unflinching honesty and heart, this relatable debut from a fresh new voice explores grief and mental health while capturing the timeless nature of what it's like to be young and in love—with your friends, with your city, and with a person who cannot, will not, love you back."
Lit Love called Adelaide an emotional rollercoaster and a story of unrequited love that's almost too real to be fiction. (Trigger warning: talk of mental illness/suicide.) "Don't go in expecting a romcom," warned Lit Love. "It is deep, dark, and mostly heartbreaking." I've been on a thriller kick (a long kick!) so I haven't gotten to it yet but I feel like it's going to wreck me in the best way. By all accounts it's a book you won't soon forget.
Let's see what else we've got. First up: a book plate signed by the author (lovely!) and a bookmark, which feels much more civilized to use than the rando flotsam and jetsam I often reach for. (One day I'll get myself organized!)
Few things go better with a great book than a hot beverage, especially when you can drink it from a super cute mug. Oh happy happy happy day! The sunny spring/summer colours and playful stripes on this one are A VIBE.
May's Lit Love Box also included an assortment of teas which was perfect for me (not a coffee fan). That said, I would have happily shared coffee with my hubby.
The salted butterscotch shortbread cookies were TO DIE FOR and a goodly amount of them too. 😋😋
And sometimes you want something sweet, other times you need a salty fix. Luckily Lit Love included snacks to satisfy both cravings. The buttery herb & garlic pretzels were another hit. 😋😋 Lots of these too.
The last two items I passed along to folks who will enjoy them more than me. First a black cherry room & body mist I gave to a friend for her niece. I love a great mist and almost anything cherry but it was a bit too sweet for my taste.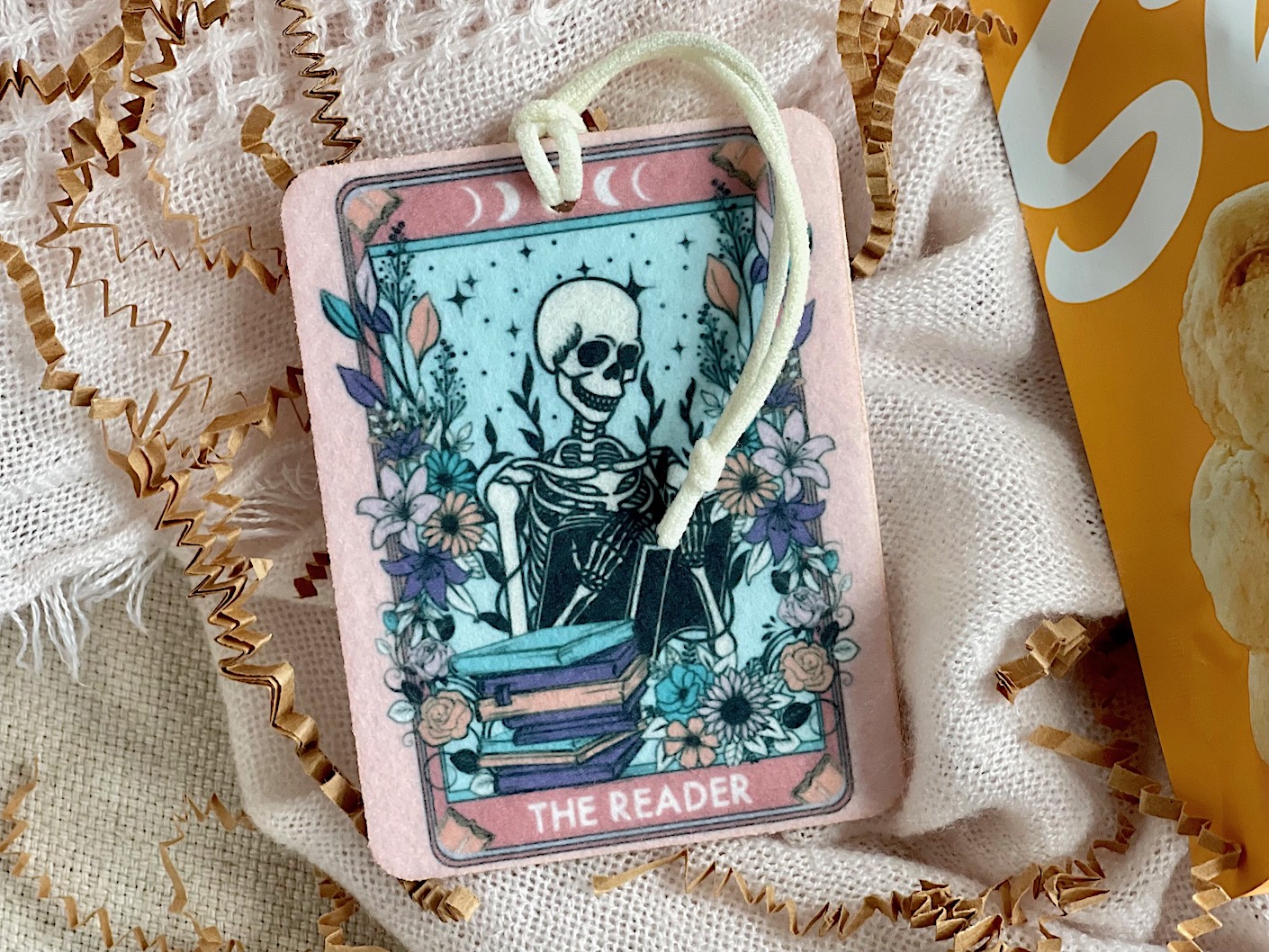 And a bookish air freshener that I used as a gift-topper for a friend. She was delighted so to me that makes it a win. 😁
Seeing those cookies and pretzels again here is making me hungry. 🤤🤤 I'm thrilled (THRILLED!) Lit Love Book Box included Adelaide in its May picks and just having a copy to look forward to makes me happy. And the mug and the tea are just perfect to go with. I feel so pampered! Please tell me if you've tried it. Can't wait to hear what you think!
Try Small Things – https://trysmallthings.com