Love Goodly Review October/November 2022
Love Goodly is a bi-monthly subscription box delivering vegan, nontoxic, and cruelty-free beauty, skincare, and lifestyle. They kindly sent us this box for review.
Subscription Details
Each Love Goodly box has 4-5 mostly or all full-sized products with a possibility of 1 deluxe/travel-sized product — any sample size will be an extra bonus for you!!
The box primarily focuses on a mix of beauty and skincare products, but some boxes may contain a lifestyle mix of items such as a healthy snack or sweet treat, eco style accessories, jewelry, wellness items, etc. There is also a chance a box will focus on more skincare versus beauty and vice versa, or even shine the spotlight on a product variety from one amazing vegan, nontoxic, and cruelty free brand.
Here's a closer look at the October/November Love Goodly….
Flower Mill – Botanical Rich Serum ($72.00)
"A luxurious lightweight, silky smooth, Vitamin C-rich face serum to help achieve a healthy glow. Formulated with a proprietary blend of oils that help even out skin tone and targets dullness, dark spots, and discoloration. Also nourishes skin and helps defend your complexion against damage caused by daily environmental factors."
"Has a floral (namely neroli and rose) scent with notes of citrus. Suitable for all skin types. After cleansing your face or using any water-based skincare products, warm a few drops (a little goes a long way!) between your palms and apply to your face, neck, and chest. Suitable for daily use in the AM and PM. Also works well as a face primer under your makeup!"
I recently started to use face oils as a primer under makeup and I'm loving the results. For years I just thought using oil on my oily/combination skin would just make my skin more oily, but that's not true!
Silly Yogi – Celestial Zodiac Printed Soft Scarf ($8.99)
"You will receive either White or Turquoise. Complete your outfit with this super-soft, lightweight scarf! Features a beautiful celestial and zodiac-inspired print. Light enough to wear any time of the year and can easily be layered with other accessories during colder months. You can also use the scarf as a headband or as a purse or weekender bag accessory!"
"Made in India with 100% rayon. Around 52-inches in length by 24-inches in width. One-size. Hand wash in cold water (no bleach), do not tumble dry. Due to the nature of this product, color variation may differ from what is pictured."
I have just recently gotten into astrology and realized that I am VERY much my sign (🦀) and I absolutely love this very beautiful blue zodiac scarf. I'll probably use it to dab away all my tears, given how emotional my sign can be.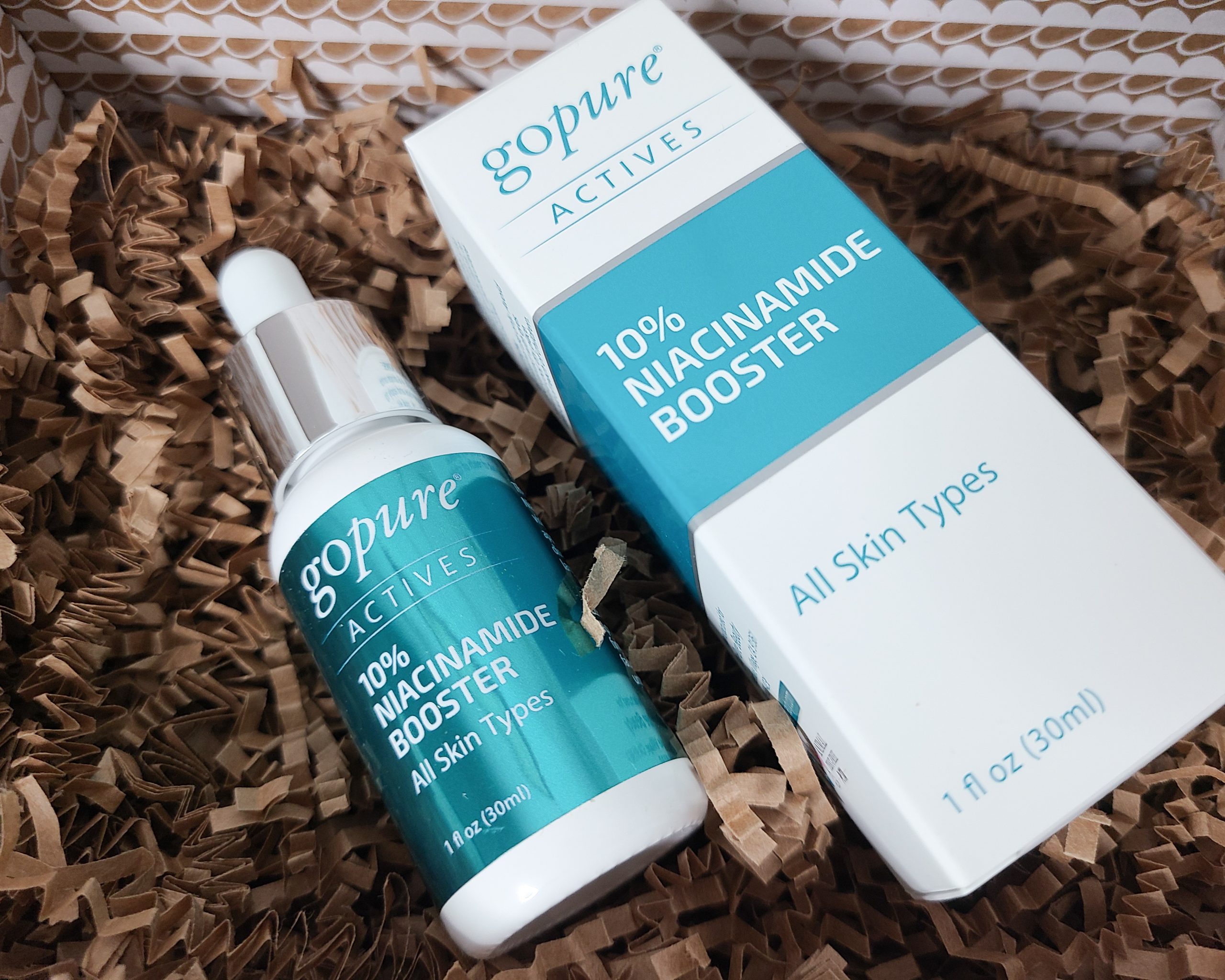 goPure – 10% Niacinamide Booster ($29.00)
"Packed with naturally potent extracts, this soothing niacinamide booster serum works to help reduce the look of uneven skin tone, improve the appearance of large pores, reduce fine lines, wrinkles, and acne, and give skin a surge of moisture for a more supple, hydrate appearance. Our team (and hundreds of goPure's happy customers) has experienced no flushing or redness; in fact, with consistent use, this serum booster can help reduce redness!"
"Niacinamide is an excellent booster and this particular product is perfectly formulated to pair well with other active ingredients and antioxidants; so it fits flawlessly into your existing skincare routine. Suitable for all skin types, even for those with sensitive and/or acne-prone skin! Can be used twice a day, AM and PM, after cleansing; if using during the day. don't forget to follow up with a face moisturizer and SPF 30+."
I absolutely love that this product has no fillers or toxic chemicals inside, it's nice to know that you're putting something pure on your skin at the end of the day – we're exposed to so many toxins and pollutants already!
ESAS Beauty – No. 1 Original Kolonya Hand Cleanser ($8.00)
"Your 4-in-1, rinse-free hand cleanser, hydrating serum, antioxidant boost, and refreshing all in ONE product! Formulated with 70% organic alcohol which is proven to kill harmful bacteria and viruses, and also rich in antioxidants and plant-based hyaluronic acid to cleanse your hands without overdrying your skin."
"Inspired by the 200 year old noble Turkish ritual of welcoming guests by cleansing their hands as they entered the home, No. 1 Original captures the comforting and nostalgic feeling of this ancient ritual. Has notes of citrus, aromatic sage, and mint with a touch of floralcy for the ultimate freshness. Specially formulated for those with sensitive skin, this rinse-free cleanser is suitable for everyone – including children and pets!"
My toddler touches EVERYTHING and while we wash our hands often, I wish I had something more to kill germs on the go, aside from putting harsh products that contain alcohol on his skin. So this hand cleanser, in such a beautiful glass sprayer might Iadd, will be absolutely perfect for us!
Love Goodly Review October/November 2022 – Final Thoughts
Love Goodly is such a beautiful little subscription. I appreciate that they focus on clean beauty and skincare products, with a few little extra items. I also appreciate that they partner with a charity with each box; this month's charity being Uncle Neil's Home. Located in New Jersey, USA, they are dedicated to rescuing farmed animals while educating and advocating for a compassionate, vegan and cruelty-free lifestyle to make our world a kinder place for all. How cool is that?! I just love this box!
Kylie Smith – http://www.instagram.com/kyliesmithable