Miss Musclebox Review December 2019
Miss Musclebox is a monthly subscription box tailored for women. Every month is themed differently and comes with an array of gym apparel, healthy treats, fitness accessories and custom workouts designed by qualified trainers. Besides the usual goodies Miss Musclebox is big on motivation and inspiration. They want you to open your box each month get the motivation you need to smash your fitness goals. They kindly sent us this box for review.
Subscription Details
Your Miss Musclebox will include 7+ items including an array of gym apparel, healthy treats, fitness accessories and custom workouts designed by qualified trainers.
$22.99/month + $7 shipping in the US, international shipping price varies
Miss Musclebox donates $1 from every box to Paradise 4 Kids
Inside the Box
Miss Musclebox was so much fun and motivating. I love that when I first opened the box, right on top was a beautiful fold out brochure filled with fresh exercise moves that anyone can do, with great tips for different levels of intensity. I'm someone who needs those little tidbits of workout ideas or I'll just go hop on a treadmill, do some stretching and go home – I know you ladies feel me there! Plus the items inside, from nutrition to gym fashion, is a great monthly reminder to feel fabulous and get motivated! Here's what I received in the December 2019 Miss Musclebox…
Musclenation Scrunchie Duo
Scrunchies are back and oh so popular again! I received the cutest designs from Musclenation, in corduroy pink and a silky soft animal print. I love a good scrunchy because they hold my hair back tight, but not too tight – so if you have somewhere to go after the gym they won't leave a dent in your hair. These were a really fun find to see in my box this month!
Cloud10 Marshmallow Crispie Treats
These are delicious protein treats, perfect for that fuel 30 minutes before a workout. Great protein, low sugar and it doesn't feel like your standard protein bar. If you are someone having a hard time cutting out sweets, this is a great alternative!
SinFit High Protien Crunch Bar
This bar is huge! I will definitely be able to get a couple servings out of it! I know why the brand is called SinFit too, this chocolate is to die for! I am absolutely a chocolate girl, and the caramel inside was also a delicious touch! I love that this box has all of this great workout fuel to get you motivated, healthy treats are a great way to keep moving and feel good too.
Hypr Wear Track Shorts
These shorts are so comfortable!! Mine came in a great army green color, which is very in style right now – so it is cool to see the box is up with fashion trends! Having new workout apparel is a great way to feel good about getting to the gym. Everyone wants to look great and feel good when it's time to workout, so having quality fashion that you can be comfortable in is a huge plus! The shorts are very light weight and movable.
I also noticed these shorts came in a cute bag that reads "I'm Here: Let's Workout" – I love the motivation! It seemed like a disposable bag, but a really high quality disposable bag that could definitely be used a few times to throw your dirty gym clothes in after you workout. The bag had a couple of breathe holes in it as well so your clothes don't get gross.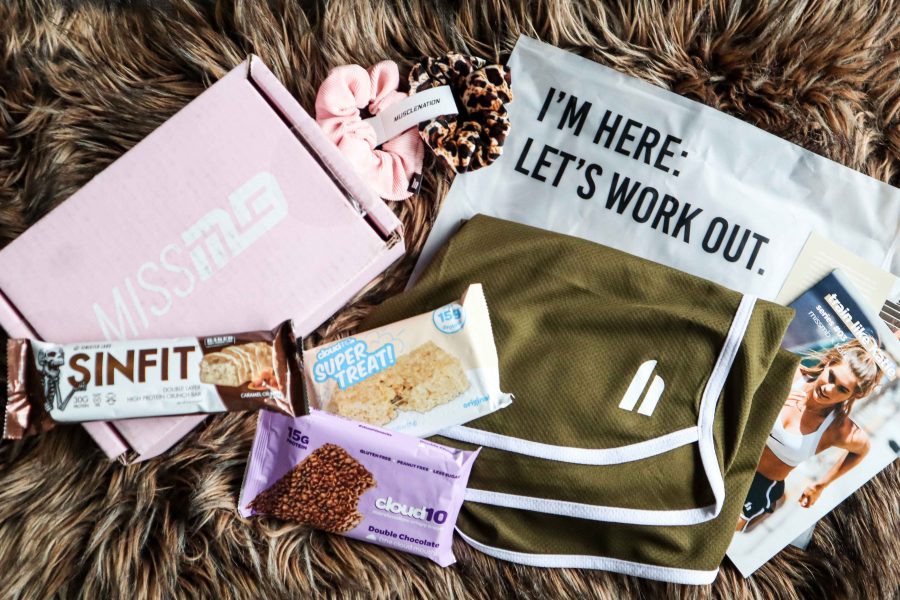 Miss Musclebox December 2019 – Final Thoughts
A monthly reminder each month to get to the gym and feel fabulous is what Miss Musclebox is all about! Motivation is key when you are trying to workout, and I love that everything in this box screamed inspiration. I am excited to feel comfortable and fashionable as the new year arrives, so I can stay happy about all of my fitness goals! I also appreciate that this box is great for fitness enthusiasts of all levels, from beginner to expert you'll find sweet confidence and motivation!
YouTube Review & Unboxing Link: https://youtu.be/QdGSdz47neI
Jamie – https://www.sparkleandgrow.com
Miss Musclebox is a monthly subscription box tailored for women. Every month you will receive unique bodybuilding and fitness products.
Learn More about Miss Musclebox »