Miss To Mrs Box Review June 2020
Miss To Mrs Box is a monthly subscription for any bride-to-be's wedding planning journey. Each box has a theme that is aligned to your journey from Engagement to Honeymoon.
What You Get: Miss To Mrs Subscribers will receive 7-8 exclusive, full-sized, bridal themed products valued over $100!
All brides-to-be who subscribe to a 6+ box plan will start with the "Let's Plan This" themed bridal box. The next themes of your boxes will be tailored to your wedding date to ensure you get the most useful items and tips at the best time in your planning journey. All subscriptions will end with a Honeymoon themed box.
*They kindly sent us this "Let's Plan This!" themed box to review*
All boxes are $35 US and they ship worldwide from either Ontario, Canada or NY, USA for only $6.95
I was happy to review this Miss To Mrs Box as my partner and I eventually need to plan our wedding. Receiving this box made things feel more "real" as if it was a gentle push to "start" the planning for our wedding.
The Miss To Mrs Box was delivered in a white plastic mailer with "Miss to Mrs" logos printed all over it. Inside the mailer was a beautiful pink box with a gold embossed logo and inside there was some tissue paper with the Miss To Mrs Box logo printed in gold.
The product card reads:
"Congratulations, You're Engaged! This box has a little bit of everything that's designed to help you along every step of the wedding planning journey."
Let's take a look inside:
11 Things Every Maid Of Honor Should Do
The first thing I found inside was this Maid of Honor tip card which describes 11 things every Maid of Honor should do. Some of the things suggested were: planning the bachelorette party, helping to pick your dress, planning the wedding shower, helping with the schedule, keeping the ring safe, and witnessing the marriage license. I don't know if I would expect my MOH to do all of the above, but some of the things are good suggestions to consider regardless.
Wedding Hacks
This Wedding Hacks sheet suggests some ways to cut costs on your big day.
18K Gold Plated Necklace
"Congratulations! This beautiful diamond-shaped necklace is the perfect fashion accessory for a soon-to-be Mrs."
This necklace came wrapped in a soft suede case tied with a white ribbon bow. Inside there was a card with "Congratulations to the future MRS" with the gold diamond necklace hanging on it. I love gold jewelry and this diamond piece is simple and could be worn with any outfit. It also is adjustable in length but I found it to be quite short even on the last hook.
"I Said Yes!" Tumbler
"Exclusive just for our Brides! This tumbler is super stylish to take with you everywhere you go and for those ring selfies you'll be sharing."
I sure love my coffee and this tumbler is a fun way to share the news about being engaged and having coffee, while on-the-go.
Wedding Day Countdown Calendar
"Instagram worthy way to count down to your big day! Snap a photo and tag @misstomrsbox for your chance to be featured!"
This calendar is a great way to count down to the big day. I'm glad there's a reminder of "You got this!" as it is a little intimidating to think about all of the planning ahead of me.
"Future Mrs." Planner
"Wedding planning journey will have hundreds of TODOs. Use this beautiful custom-designed Miss to Mrs planner to help you stay on track."
This wedding planner is super classy in light pink with rose gold accents. It will come in handy to keep my thoughts and ideas all in one place.
Inside the cover, there is a place to write your name and wedding date and the pages list the date, top priorities, appointments, and calls/emails that are needed to be made as well as a lot of space for notes.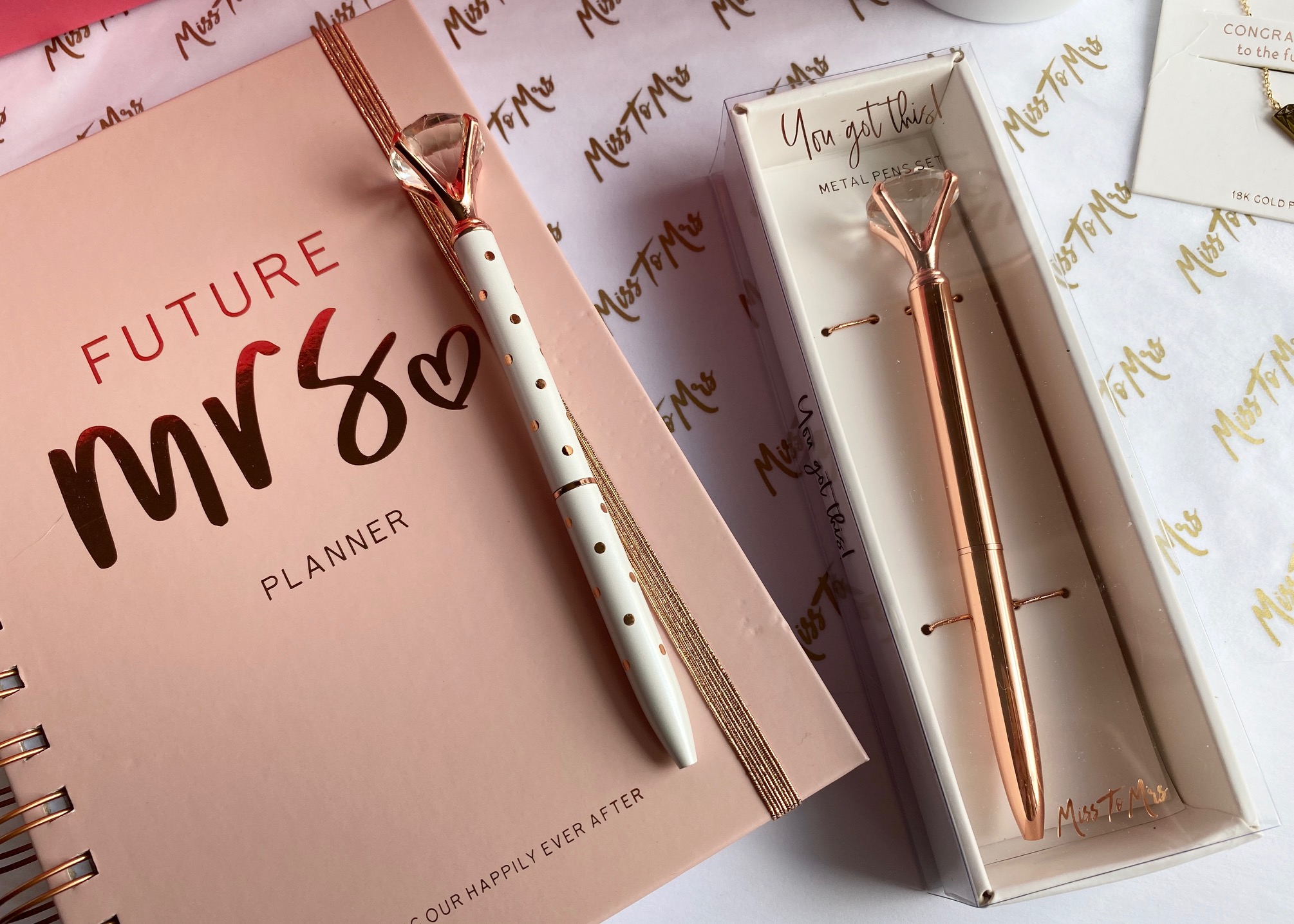 Diamond Top Pens
"No wedding journey is complete without these Instagram-worthy diamond-top pens. *Note* These are not real diamonds, although we wish they were."
These pens are super elegant and fun to use. I love the rose gold one and the diamonds on top are a nice, yet subtle, reminder that "I'm getting married!"
Giant "LOVE" Balloon + 6ft Tassels Kit
"This oversized balloon and 6ft tassels kit is perfect for any celebration you might have from Engagement to Honeymoon."
This is such a pretty party decoration that could be used at many celebrations including an engagement party, bridal shower, stagette, or baby shower. You could even decorate the dessert table or use it as a photo booth backdrop. I love the rose gold foil with white, blush, and pink tassels.
"All That Sparkles" Jewelry Wipes
"Simple solution to keeping your jewelry sparkling wherever life takes you! Clean your engagement ring, diamonds, gold/silver, and other jewelry on the go."
These wipes will come in super handy for many jewelry pieces in my life. I used one to clean a tarnished silver ring and it came out so shiny – almost brand-new!
This "Let's Plan This!" Miss To Mrs Box had seven full-size products and two bonus tips cards. Though there is not a retail value provided for each item in the box, I am sure together they are valued at more than $35. I adore the gold diamond necklace, rose gold love balloon decoration, and the "I said Yes!" tumbler. This box would be great for any bride-to-be as there's such a nice mix of wedding planning items to help with planning for the big day!
Hayley Savanna – https://www.instagram.com/hayleysavanna/