Nourish Beauty Box Review August 2019
Nourish Beauty Box is a monthly, cruelty-free, ingredient-conscious subscription box for beauty enthusiasts! They believe in making conscious choices, of being mindful of what's put in and on our bodies. Living well starts with loving yourself, and what better way to cultivate personal compassion than a consistent box of bliss filled with beautifully crafted, organic, cruelty-free products. They kindly sent us this box for review.
August Box Details
Clear, youthful skin, luscious, healthy and plump lips are the signs of a good skin care routine. We curated products for you to gently care for your sun-kissed skin and help create a subtle, but effective look with natural, earth-inspired makeup.
I agree that the items in this month's Nourish Beauty Box are perfect for sun-kissed skin. If your summer glow leaves minimal need for makeup there's a mascara or highlighter to give a simple pop to your look. Or if the summer sun has parched your skin there's lip oil or cleanser to hydrate and nourish. Not only are the items good for the current season, but they match the beauty of it too.
Here's a look at what was in this month's Nourish Beauty Box ($80.50 Total Value):
Nourish Naturals Highlighter Duo in "Glow" ($12.50)
The formula is developed with finely milled mica that glides smoothly onto your skin, illuminating your complexion.
This product is intended to be used as a highlighter and it would be great for that use but I also think it would be great to use as an eyeshadow. Many highlighters I've used have a cream consistency but this one is a powder, that's what makes it versatile. The colors are buildable and have the perfect amount of shimmer, not at all too much. These could be used separately or blended together too.
Lauryn's Garden Lip Glaze ($15)
Apply this rose flower-infused lip glaze to dry lips before applying lipstick to nourish and heal chapped skin.
Such a pretty lip glaze with the floating rose petals! Because the base of this glaze is castor oil it's thicker so the rose petals are able to be suspended. Castor oil is full of minerals and fatty acids that nourish the skin and help keep it hydrated. It smells like a sweet and earthy mint because it's made with bergamot and peppermint essential oils. The glass bottle it's in is so pretty and also convenient because it has a roller ball top for easy application.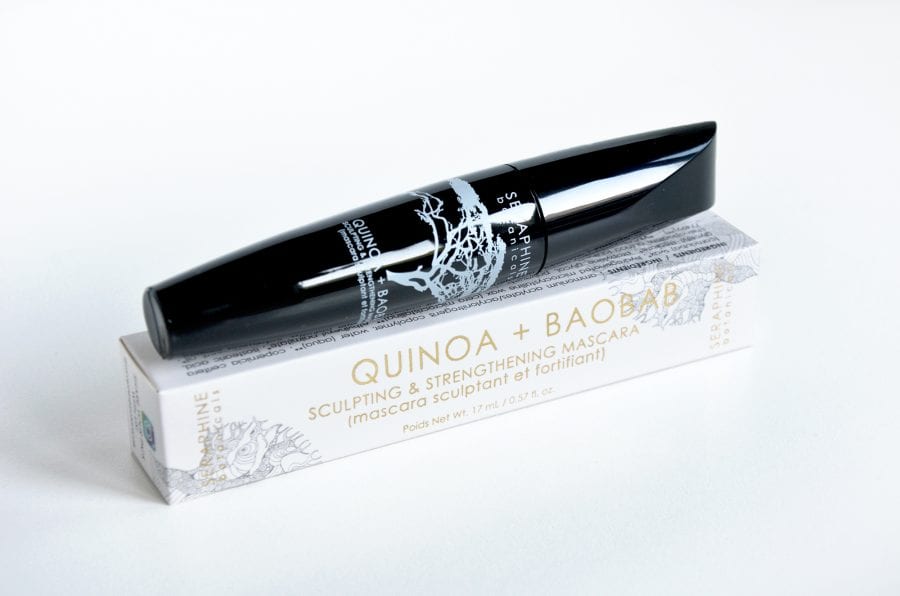 Seraphine Botanicals Quinoa + Baobab Macara ($24)
A rich, black mascara that is formulated to boost lash thickness, length and curl with a blend of plant waxes, copolymers and lash conditioners.
I'm always on the hunt for the best mascara so this is a fun item to receive. It's made with baobab seed oil and quinoa seed extract that are intended to help repair follicles and strengthen strands. It has a nice, thick, traditional wand that's tapered and is good for getting to all the separate lashes. It's also a big tube so I'm guessing it would last a long time.
Peony Cosmetics Black Currant Glow Cleanser ($29)
A gentle cleansing cream base made with potent, skin-loving botanicals and plant extracts mixed with aloe vera juice and black clay powder to remove even the most stubborn makeup residue.
This cleanser is intriguing. It looks almost like a mask with it's color and texture but is to be used as a cleanser instead. It's a cream cleanser made with black currant seed oil which is high in antioxidants. It helps nourish and heal skin while improving the elasticity. It's also made with black clay which helps remove makeup and draw out impurities from the skin. So great skin benefits, but I don't love that this product has added fragrance. It really seems unnecessary and it's not my favorite scent – maybe raspberry or some other kind of berry? The only other downside is that it's a pretty small bottle so I would think this would be more of an occasional use face wash otherwise it might run out quickly.
Nourish Beauty Box Review August 2019 – Final Thoughts
The products in Nourish Beauty Box are always so beautiful and fun to photograph. Of course they are great to use too, but are also just so pretty to look at. I especially love the lip oil and highlighter from this month. The colors and flowers just feel like summer and will be very fun to use. They are also the products I think I will get the most use out of, even though I'm looking forward to trying the others too. I like how this box doesn't always have a glaring theme but the items always reflect the season's need.
The Botanic Gal – http://www.botanicgal.com