Nourish Beauty Box Review July 2021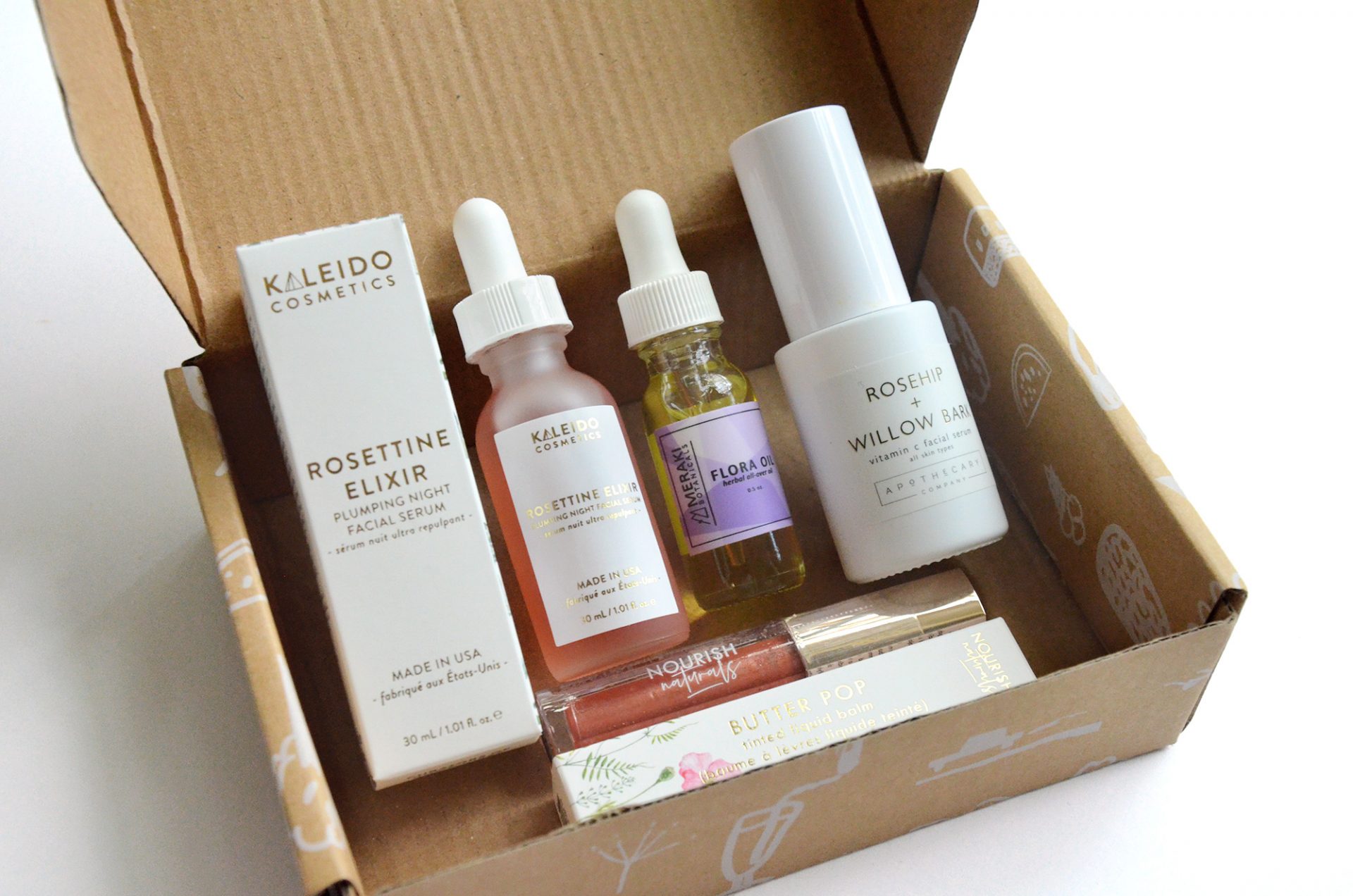 Nourish Beauty Box is a monthly, cruelty-free, ingredient-conscious subscription box for beauty enthusiasts! They believe in making conscious choices, of being mindful of what's put in and on our bodies. Living well starts with loving yourself, and what better way to cultivate personal compassion than a consistent box of bliss filled with beautifully crafted, organic, cruelty-free products. They kindly sent us this box for review.
Each monthly Nourish Beauty Box contains 4-5 full size earth activated, ingredient-conscious beauty products that are 100% cruelty-free, gluten-free and vegan. Boxes have free shipping and are shipped so subscribers received around the 15th of the month. There are 3 subscription options:
Monthly: $29.95/month
3 Month: $86.95 prepaid, or $28.98/month
6 Month: $159.90 prepaid, or $26.65/month
July Box Details
"We have been a fan of Jennifer and her growing brand of handcrafted beauty products for a long time. This month we have the pleasure of finally being able to introduce her organic concoctions and her brand Meraki Botanicals to you! Read on to find out more about her amazing startup journey: nourishbeautybox.com/blogs/article"
Each month I have so much fun reading about the featured brands on the Nourish Beauty Box blog. I actually just learned of this brand recently and am really glad to now be able to try it out. I appreciate learning about how thoughtful they are about the creation of their products. It really shows in the products themselves. Read on below for my first impressions!
Here's a look at what was in this month'sNourish Beauty Box ($114 Total Value):
Nourish Naturals Butter Pop In "Auburn" ($16)
"A tinted liquid balm, made with biomimetic jojoba oil and castor seed oil to help nourish and hydrate lips."
The perfect copper tone for summer lips! It's a shimmery, rosy orange color that would complement a bronzed look well. Admittedly I haven't been wearing a lot of lip gloss lately, so I'm not sure how much I'll wear this one. I enjoy having this color to add to my collection though.
Apothecary Company Rosehip + Willow Bark Vitamin C Facial Serum ($39)
"A luxurious blend of powerful antioxidants, vitamin c and nourishing rosehip seed oil to soothe and brighten all skin types."
I've spotted this brand before and had been curious to try it so I'm glad something from them showed up in this month's box. I love it when that happens! This sounds like a wonderful face serum for helping to brighten and giving skin some radiance. I don't often use vitamin C serums but I am curious to give this one a try. It's made with all natural ingredients that sound nourishing for skin.
Meraki Botanicals Flora Oil ($18)
"Rich in vitamin a, vitamin e & essential fatty acids to reduce inflammation & scars, fight free radicals, protect & strengthen skin barrier and stimulate hair growth. – Or – Flora mist calms skin and hydrates hair with aloe vera, lavender, rose and neroli hydrosols. It helps to replenish water, soothe irritations and balance your natural sebum."
Another brand that I recently ran across and had put on my list of things to try! There were two options of products to receive from this brand and I got the Flora Oil. Both products sound beyond lovely, but I definitely like the one I got. It's an all-over oil so you can use for skin, body, cuticle, hair, in your bath etc. It smells really good, like floral with a calming herbal undertone. I was just looking for a calming oil with lavender in it so this is perfect for my needs. I think I'll use it most as a hair and body oil.
Kaleido Cosmetics Rosettine Elixir ($42)
"An efficacious serum made with a rich combination of grapeseed, soybean, sweet almond and apricot oils that provides intense hydration to help plump skin up and reduce the appearance of fine lines, all while you sleep."
This sounds like a fun product! I don't specifically use anything only at night right now, but I am always looking for ways of increasing hydration so this will be worth trying out. It's actually a bit more watery of a consistency than I thought it might be, but that probably means it will feel light on the skin. It smells nice, kind of fruity and floral, but I can't put my finger on what it is exactly.
Nourish Beauty Box Review July 2021 – Final Thoughts
Nourish Beauty Box is always a fun one to open up! I love that they have been including more and more unique brands each month and that one that arrived for July was one I had been eyeing before. I appreciate that even though they included two facial products, they each have a different use, one for day and one for night, so if you want to try both out you don't feel overburdened by products to use. Since I wasn't really looking for a new facial product, I'm most excited about the Meraki Floral Oil, but everything was fun and summery. A bronzed lip gloss, a brightening face serum, a lightweight and fruity overnight serum and the bright floral oil. Love summer and love this box!
The Botanic Gal – http://www.botanicgal.com