Nourish Beauty Box Review June 2020
Nourish Beauty Box is a monthly, cruelty-free, ingredient-conscious subscription box for beauty enthusiasts! They believe in making conscious choices, of being mindful of what's put in and on our bodies. Living well starts with loving yourself, and what better way to cultivate personal compassion than a consistent box of bliss filled with beautifully crafted, organic, cruelty-free products. They kindly sent us this box for review.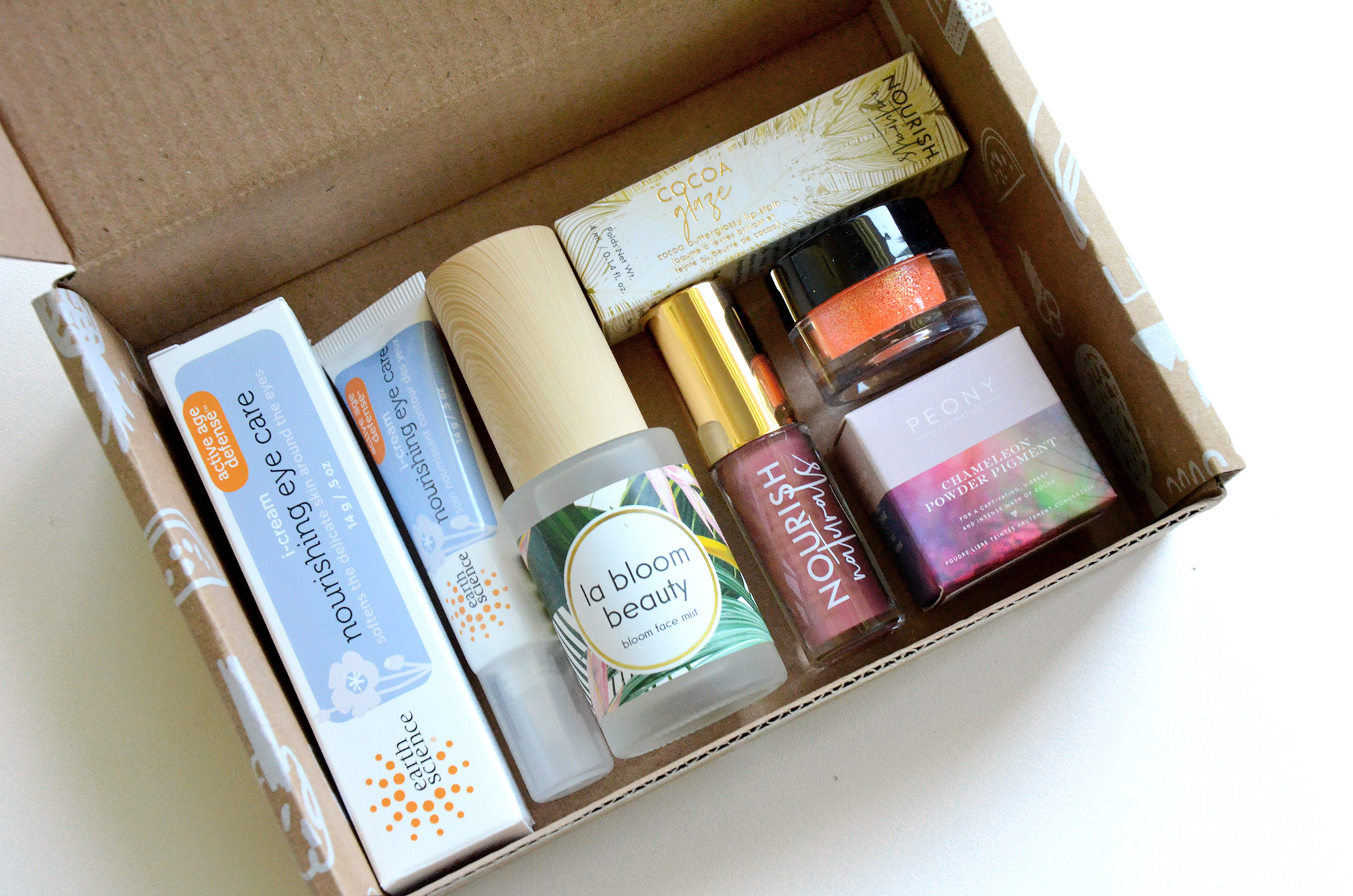 Each Nourish Beauty Box contains 4-5 full size earth activated, ingredient-conscious beauty products that are 100% cruelty-free, gluten-free and vegan. Boxes have free shipping and are shipped so subscribers received around the 15th of the month. There are 3 subscription options:
Monthly: $29.95/month
3 Month: $86.95 prepaid, or $28.98/month
6 Month: $159.90 prepaid, or $26.65/month
June Box Details
"We're thrilled to introduce Earth Science Beauty, a clean beauty brand that focuses on groundbreaking formulations, unique botanical ingredients and accessible price points. Find out more about what they had to say about their brand ethos: nourishbeautybox.com/blogs/article."
One thing I always really like about Nourish Beauty Box is that there is a new featured brand each month. It's almost always one that I haven't tried before and is always a fun and useful product from their line. I really like that they put blog posts together about the highlighted brand too as it's nice to know more about the makers and their passion for their products. Be sure to check the link above for this month's highlighted brand!
Here's a look at what was in this month's Nourish Beauty Box ($69.99 Total Value):
Nourish Naturals Cocoa Glaze In "Midsummer" ($16)
"Helps to heal chapped lips with its 100% vegan base of rich plant oils, cocoa & shea butters and vitamin E while delivering intense hydration and soft, subtle color."
Another month, another lippie to add to my collection! If you haven't seen my reviews before, then for as many of the most recent boxes I can remember I've received one of these lipglosses from their house line. It's fun to collect and anticipate what color will come. I feel like I've gotten a color similar to this before, but it's a really pretty color. It's kind of like natural lip color but a bit darker and has some gloss to it (no shimmer in this one). I don't love the added fragrance (as I've mentioned before), but it's a nice formula that's not sticky and moisturizes while wearing.
Peony Cosmetics Chameleon Powder Pigment ($18)
"Consists of a gorgeous spectrum of highly pigmented, super blendable pigments in a kaleidoscope of striking colors."
Such a fun, bright pop of color perfect for the summer months! This is essentially a glitter pot that you could add to eyes, lips or cheeks for a bit of sparkly iridescent glow. It looks orange in the pot, but really just adds more warmth to the shimmer when applied. To be honest it's been years since I've worn glitter so I'm not sure how much use I'll get out of this one, but it's still a fun idea and might come in handy sometime.
La Bloom Beauty Bloom Facial Mist ($21)
"A refreshing and hydrating face mist made with aloe vera, rose, sweet orange and eucalyptus oils that will give you the perfect mid-day pick me up!"
This sounds like such a nice toner. It smells so refreshing! The perfect blend of aloe and floral – a calming and soothing scent. It feels light, yet hydrating on skin. It can be used as a toner, a makeup setter or a refresher spray. It reminds me of breezy summer evenings, so maybe a cool down spray after a day in the sun too!
Earth Science I-Cream Nourishing Eye Care ($14.99)
"Brightens, restores and renews the delicate skin around the eyes with its deeply hydrating, vitamin-rich emulsion formulated with evening primrose oil, vitamin e and coenzyme q10."
I've heard of Earth Science Beauty before, but have never tried it out so it's fun to find one of their items in this month's box as the highlighted brand. It's a little bit of a thicker cream so a little goes a long way and it did take little bit of effort to ensure it was all rubbed in, but seems to dry matte once fully applied. It might have a faint scent, but not over powering. I'm always on the lookout for an eye cream that can help diminish dark circles so I'm excited to try this one out.
Nourish Beauty Box Review June 2020 – Final Thoughts
This month's Nourish Beauty Box was a bright and refreshing collection of items! That lippie and orange-hued shimmer powder would help complete a minimal sun kissed look while the eye cream and face mist help set the base while hydrating and perking up tired skin. I like how the contents can all work together and when packaged up, look so festively summer! Summer is my favorite season so these summer-feel boxes are always my favorite to receive. Hoping that the warm vibes continue into July's Nourish Beauty Box – can't wait to see!
The Botanic Gal – http://www.botanicgal.com