Nourish Beauty Box Review March 2021
Nourish Beauty Box is a monthly, cruelty-free, ingredient-conscious subscription box for beauty enthusiasts! They believe in making conscious choices, of being mindful of what's put in and on our bodies. Living well starts with loving yourself, and what better way to cultivate personal compassion than a consistent box of bliss filled with beautifully crafted, organic, cruelty-free products. They kindly sent us this box for review.
Each monthly Nourish Beauty Box contains 4-5 full size earth activated, ingredient-conscious beauty products that are 100% cruelty-free, gluten-free and vegan. Boxes have free shipping and are shipped so subscribers received around the 15th of the month. There are 3 subscription options:
Monthly: $29.95/month
3 Month: $86.95 prepaid, or $28.98/month
6 Month: $159.90 prepaid, or $26.65/month
March Box Details
"Working with Heather Ciprani, the passionate founder behind Flower & Bone Supply has been such a rewarding experience. Her love for concocting beautiful botanical infusions with the best nature has to offer us is truly inspiring. Discover Heather's journey to creating her brand here: nourishbeautybox.com/blogs/article"
As usual, I love the featured brand this month and that an interview style article is included so you can learn more about it. It gives a more in depth look at the brand and product that is included that what's on the insert card so it's helpful and fun. This one includes tons of thoughtful information and makes me excited to try their product. Of course, this month's Nourish Beauty Box includes 3 other great products too – see my thoughts below!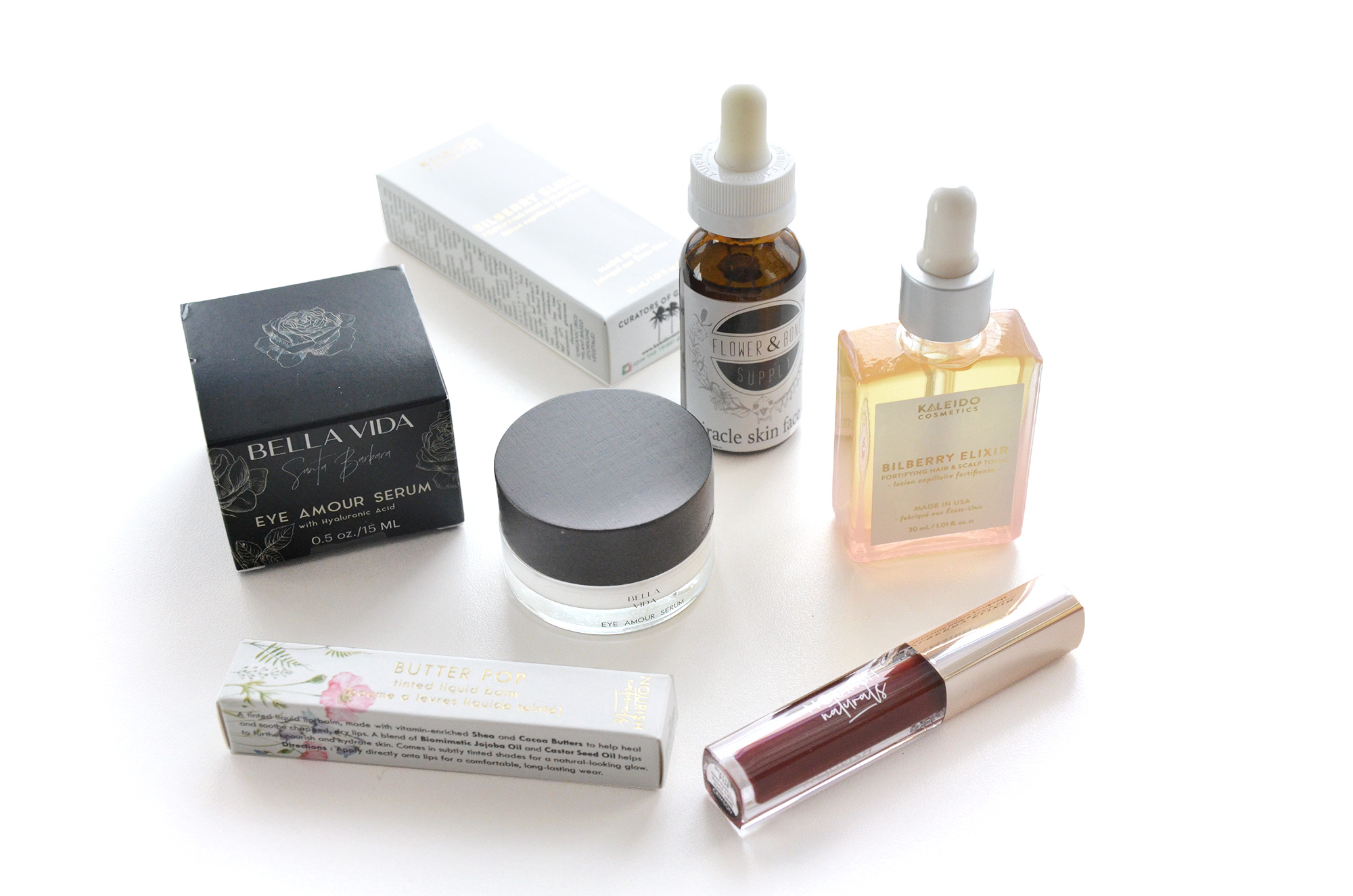 Here's a look at what was in this month's Nourish Beauty Box ($125.99 Total Value):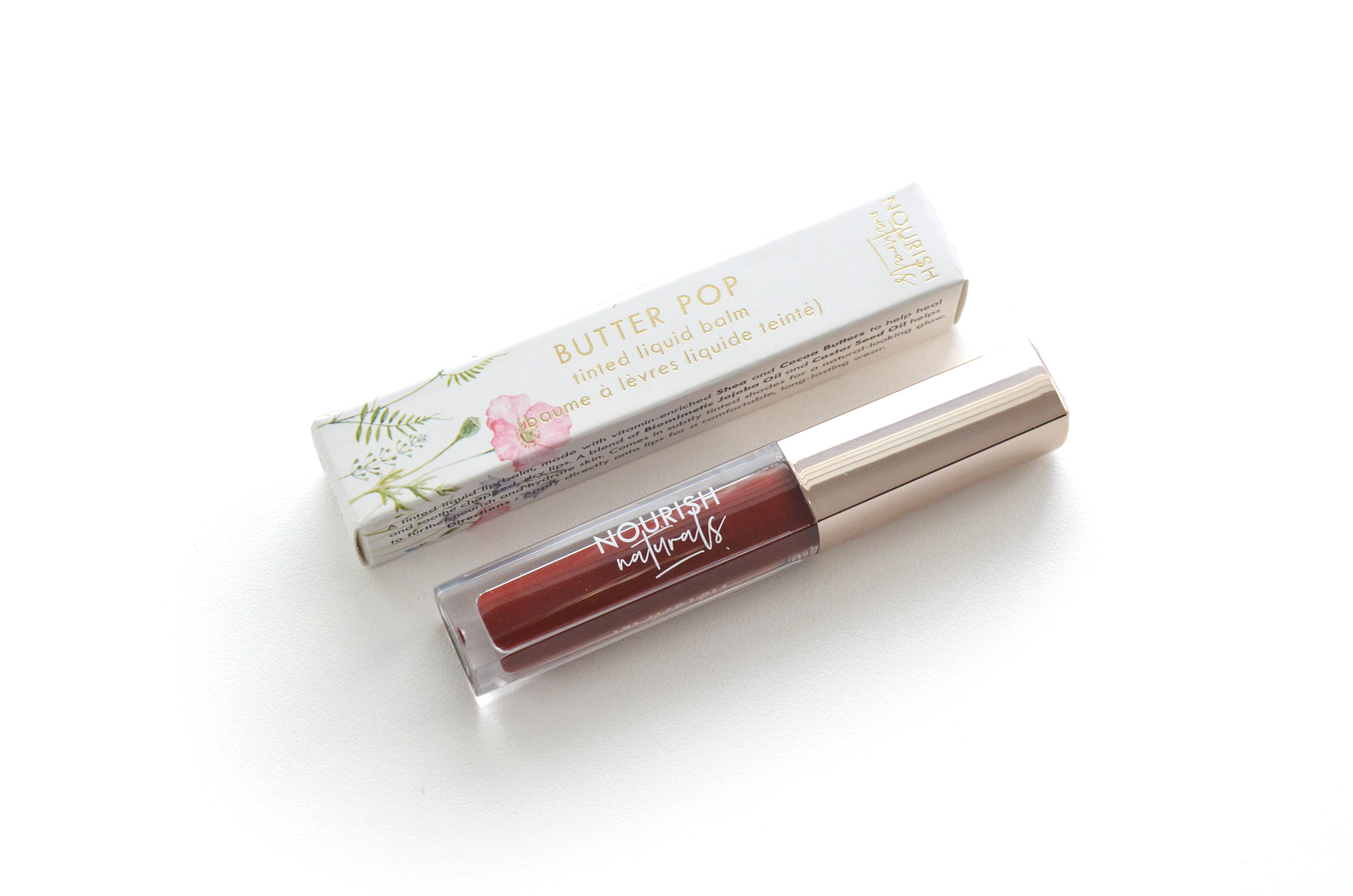 Nourish Naturals Butter Pop In "Crimson" ($16)
"A tinted liquid lip balm made with vitamin-enriched shea & cocoa butters to help heal and soothe chapped, dry lips. Blended into the wondrous mixture are biomimetic jojoba & castor seed oils to help further nourish and hydrate skin."
What a pretty red! This classic berry red color looks a bit bolder in the bottle than it does on skin. It's more of a gloss so it's a bit more sheer and berry colored when applied. Still a perfect bold pop of color to complement any outfit.
Bella Vida Santa Barbara Eye Amour Serum ($59.99)
"Reduces visible fine lines around the eye area overnight. A lush blend of organic evening primrose, aloe vera, vitamin e and rich botanicals oils with hyaluronic acid intensely hydrates, soothes, repairs and renews the cells of fragile skin around the eye area."
I'm always looking for an effective eye cream so I appreciate when they are included in boxes. This one sounds nourishing and soothing and is made with simple and organic ingredients. It's lightweight, yet feels rich and is meant to be worn as an overnight treatment. It smells nice too, like a light floral with a hint of sweetness. Look forward to testing this one out!
Flower & Bone Supply Miracle Skin Facial Oil ($18)
"Feeds your skin with beneficial antioxidants, fatty acids, vitamins and plant compounds. The special blend of natural oils helps to soothe & even out skin tone, balance and protect."
This is the featured brand's product for this month! There were actually 2 products subscribers could receive – either the Constant Gardener or Miracle Skin Facial Oil, which is the one I received. This face oils sounds really delightful I and love that it's made with such thoughtful, simple and nourishing ingredients. However, while I'm intrigued to try it, I do actually have a ton of facial oils already and would have been curious to try the other product option. The Constant Gardener is a vaginal health product – super interesting and not something that you usually get in a sub box. Regardless, both products sound great and I can't wait to check out the rest of their line!
Kaleido Cosmetics Bilberry Elixir ($32)
"Strengthens and adds a natural shine to your tresses with bilberry, nettle, lemon balm and horsetail extracts which are known to encourage hair growth, as well as witch hazel, peppermint and sugarcane extracts to promote blood flow for a healthier scalp."
This is such a pretty product! I mean, look at that color gradient – so beautiful I hardly want to use it! This product is a fun one as it's for the hair and helps strengthen it and promote scalp health. It smells amazing – like bright, sweet, grapefruit. It immediately made me think of summer. I love trying hair products and I'm sure I'll love this one too.
Nourish Beauty Box Review March 2021 – Final Thoughts
I love the variety of items in this month's Nourish Beauty Box! And the variety was especially great if you received the Constant Gardener product too. It's so nice when all the products included don't have the same use so you can actually try everything out and don't feel overwhelmed. There hasn't been a hair product for a little bit in this box, so it's fun to try one out, especially when it's so pretty and smells so good! I of course, also think the face oil and eye cream will be just what my skin craves. Lastly, the lippie is great to add to my ever growing collection.
The Botanic Gal – http://www.botanicgal.com