Nourish Beauty Box Review March 2022
Nourish Beauty Box is a monthly, cruelty-free, ingredient-conscious subscription box for beauty enthusiasts! They believe in making conscious choices, of being mindful of what's put in and on our bodies. Living well starts with loving yourself, and what better way to cultivate personal compassion than a consistent box of bliss filled with beautifully crafted, organic, cruelty-free products. They kindly sent us this box for review.
Each monthly Nourish Beauty Box contains 4-5 full size earth activated, ingredient-conscious beauty products that are 100% cruelty-free, gluten-free and vegan. Boxes have free shipping and are shipped so subscribers received around the 15th of the month. There are 3 subscription options:
Monthly: $29.95/month
3 Month: $86.95 prepaid, or $28.98/month
6 Month: $159.90 prepaid, or $26.65/month
March Box Details
"As the seasons verge on changing, so too should our skin and hair regimen. In this month's curation, we have put together 4 plant-powered products that revitalize and protect as we transition into Spring, starting with a nourishing, Shea Butter and Jojoba based night cream from Suntribe, an organic brand based in Sweden. We have also included a nail and cuticle serum with potent essential oils as well as a scalp treatment formulated with Black Cumin Oil to nourish hair, reduce scalp irritation and bring your tresses back to life!"
I love the theme of transitioning to spring with these interesting beauty items! I read the monthly interview from the folks at Subtribe and it certainly made me even more interested in this month's box contents. I really enjoy the addition of the brand highlight interviews as it gives so much more detail about the brand and their mission making their product even more fun to try.
Here's a look at what was in this month's Nourish Beauty Box ($98 Total Value):
Nourish Naturals' Creamy Vegan Stain in "Syrup"  ($22)
"A lip & cheek cream enriched with Shea & Kokum Butter as well as Marshmallow Root Extract for focused hydration as well as to provide blendable, buildable color."
This lip stain is a pretty rosy color with a cooler tone to it. It definitely reminds me of spring florals. I like that this is a dual purpose product to help maximize the product usage.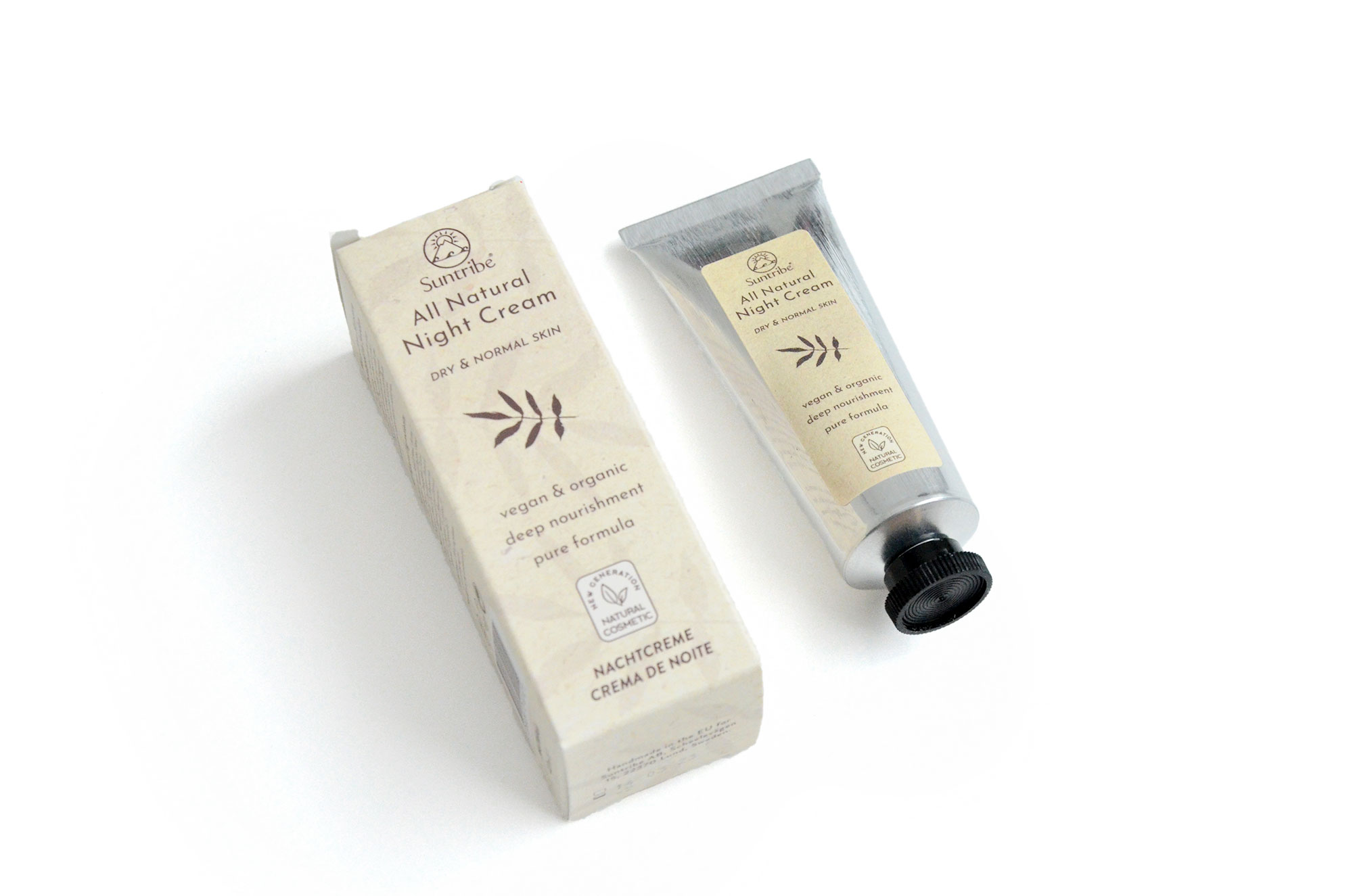 Suntribe's All Natural Night Cream  ($15)
"Formulated to recharge, revitalize and intensively hydrate your skin overnight with Shea Butter, Jojoba, Almond, Cranberry & Rosemary oils."
This is the product from the highlighted company this month. The night cream sounds very nourishing and lovely for skin. It's a rich and thick cream with a light rosemary-like scent that's really nice. It almost seems more perfect for winter, but skin can use nourishment any time I suppose. I love the minimal plastic packaging they use as a bonus.
Way Of Will's Strengthening Nail And Cuticle Serum  ($24)
"Contains pure-grade lavender, geranium & ylang-ylang essential oils, a powerful, effective blend to keep nails & cuticles smooth, strong, and radiant."
My nails could certainly use this after becoming a bit dry this past winter. It smells really nice and calming. The application is easy with it's dropper to apply to nails and rub in. This would be great to add to a bedtime routine for optimal nail health.
Tropicgyal Natural's Scalp Treatment  ($37)
"Helps problematic scalp issues such as dandruff, oily or dryness of the skin as well as help promote hair growth with its rich blend of Black Cumin, Tamanu, Cranberry & Tea Tree oils.."
I'm intrigued by this one! I like how it's made with all natural ingredients and says it helps promote hair growth. I've always wanted to try an oil like this but never figured out when a good time to apply it was so I'm determined to try this one and figure out a solution. Maybe at night with a hair wrap. I hope it helps with hair growth and dryness.
Nourish Beauty Box Review March 2022 – Final Thoughts
I always enjoy Nourish Beauty Box and it's products. They send along interesting items and I appreciate the new brand highlight they have each month. I've never tried anything from Suntribe before and am happy to discover their brand. I like how each item this month, including the nourishing night cream from Suntribe, nods to rejuvenation just like the spring season often does. I can't wait to try everything out this month!
The Botanic Gal – http://www.botanicgal.com