Nourish Beauty Box Review November 2018
Nourish Beauty Box is a monthly, cruelty-free, ingredient-conscious subscription box for beauty enthusiasts!. They believe in making conscious choices, of being mindful of what's put in and on our bodies. Living well starts with loving yourself, and what better way to cultivate personal compassion than a consistent box of bliss filled with beautifully crafted, organic, cruelty-free products. They kindly sent us this box for review.
November Box Details
The November Nourish Beauty Box theme is intended to prep you and your skin for winter and those chilling temps that have shown up all of the sudden (wasn't it just summer?!).
Want to boost your skin's moisture reserves, feel relaxed, balanced and beautiful? We've got you covered! This month is all about taking care of yourself from top to toe. Grab this curation if you are in need of a little fix-me-up and we'll help you step away from the hustle and bustle.
Whether I like it or not, winter is here to stay (in the midwest anyway) and that means parched skin is here too. It's easy to forget to take care of yourself and your skin when in hibernation mode but it's just as important, if not more important to care for yourself during these cold months. The items in this month's box not only help you care for your skin and keep it revived, but also help you care for tired muscles and help you look glam when you feel motivated to brave the snow.
Here's a look at what was in this month's box: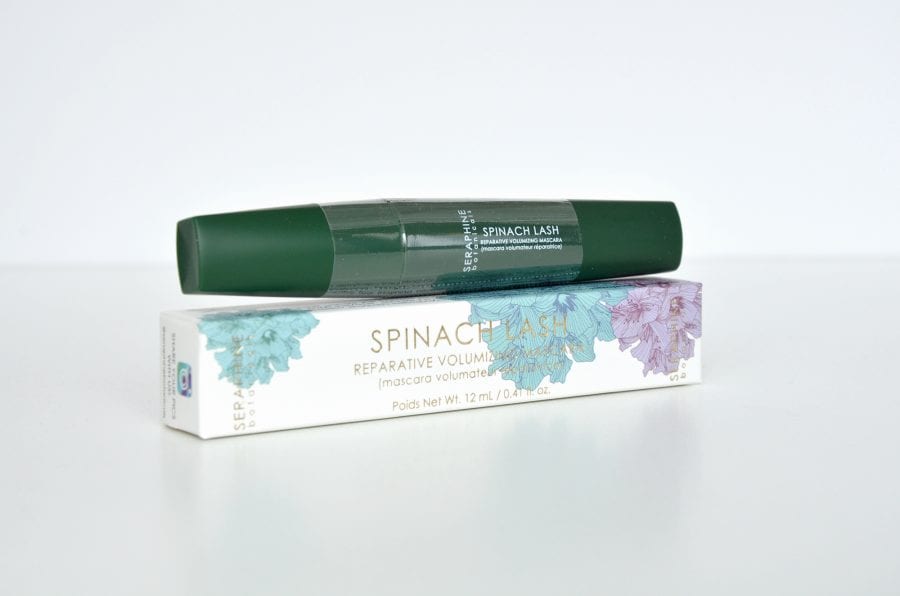 Seraphine Botanicals Spinach Lash ($24)
Watch out for Seraphine Botanicals as this wonderful, vegan and cruelty-free brand reveals two beautifully crafted items in November. You are going to love their reparative mascara Spinach Lash that's not only going to make your lashes seductively dark and curvy, its botanical extract will also ensure your lashes are well taken care of.
Mascara is one of my can't-live-withouts and I rarely go a day without it so this should be a fun product to test out. It's said to be strengthening and volumizing – two keys factors I always look for in a mascara. This product is called spinach lash, but don't worry you're not going to have green lashes after using, the color is jet black. The spinach in the formulation is spinach leaf extract and is intended to help repair and nourish lashes long-term. If you're particular about the type of mascara brush you use this one is the traditional brush type, not the comb type.
Seraphine Botanicals Contour Brush ($22)
The second surprise is their 100% vegan Contour Brush that is silky yet dense and firm when pressed onto the skin. It is perfect for contouring your jaw lines or to blend cream and powder products effortlessly onto your skin.
This brush is so nice! Just like it states above, it's silky soft to be gentle on skin yet it's also dense and firm which makes makeup application easier. It feels like great quality that will really last a long time without wearing out.
Peony Cosmetics Magnesium Oil ($14)
Peony Cosmetics gives as the wow factor this November with their Magnesium Oil. The beauty community all over the world is raving about how magnesium is so essential for a relaxed and balanced body and mind and now you'll get to experience first-hand, just how beneficial this product is. Made with pharmaceutical-grade magnesium flakes and skin-loving essential oils to soothe aching muscles, help you relax and create the calm we all need for a good night's sleep.
I've been reading about magnesium oil and how it can benefit sore muscles and reduce muscle cramping. I've always known that by taking magnesium in a vitamin form you can do the same thing but I've been intrigued by the topical application especially since it touts helping one get a more peaceful night of sleep. I could see this being especially beneficial if you are someone who gets leg cramps in their sleep. This particular product is incredibly easy to apply as it comes in a spray bottle so you just have to spritz on problem areas and let absorb. It's made with magnesium and rose water that help to calm muscles and replenish skin. It has an earthy, yet pleasant scent from the addition of ylang ylang, patchouli, petitgrain, lavender and peppermint essential oils. This mixture helps promote blood circulation and calm nerves.
Quinta Essentia Organic Rupini Face Moisturizer – Geranium Sage ($?)
The fourth item I received in my monthly box is a face moisturizer from Quinta Essentia Organic. On the Nourish Beauty Box website it lists that the fourth item that should have been included is the Alma Botanicals Pure Plants Extracts Hydrating Oil. So I'm not sure if they ran out of that product but I didn't receive it to review. Anyway, the item I did receive intrigues me none-the-less and will be a good one to try out. It's made with nearly all certified organic ingredients including nourishing avocado, sunflower, coconut and almond oils. It has a light and refreshing scent thanks to the essential oil blend of geranium and sage. It feels light on the skin, absorbs quickly and doesn't leave any greasy residue.
Nourish Beauty Box Review November 2018 – Final Thoughts
I was surprised that this month's box didn't have a signature nail polish color included. I wasn't disappointed, as I haven't been painting my nails lately, but still surprised since all the previous boxes I've received have had one. Maybe it will be back next month? That said, I do like that a makeup tool (the brush) seemed to replace the nail polish this time as it's a practical item anyone can use. I'm especially intrigued by the magnesium spray and can really use a face moisturizer right now. Altogether, another interesting round-up of products that I look forward to trying out!
The Botanic Gal – http://www.botanicgal.com