Nourish Beauty Box Review November 2019
Nourish Beauty Box is a monthly, cruelty-free, ingredient-conscious subscription box for beauty enthusiasts! They believe in making conscious choices, of being mindful of what's put in and on our bodies. Living well starts with loving yourself, and what better way to cultivate personal compassion than a consistent box of bliss filled with beautifully crafted, organic, cruelty-free products. They kindly sent us this box for review.
November Box Details
"It's that time of the year when nature is fully prepared for its winter slumber. However, a harsher climate does not necessarily mean chapped, dehydrated skins. We dedicate our November curation to glowing, nourished complexions by including a moisturizing facial mist, a glow serum and more!"
My skin totally gets parched and sad when winter temps creep in. I'm always on the lookout for better ways to keep it hydrated and glowing even when it's dull and chilly outside so the contents of the November Nourish Beauty Box will be fun to play with! There are a few great products for creating a hydrated base foundation and a few products that will add a pop of glow on top.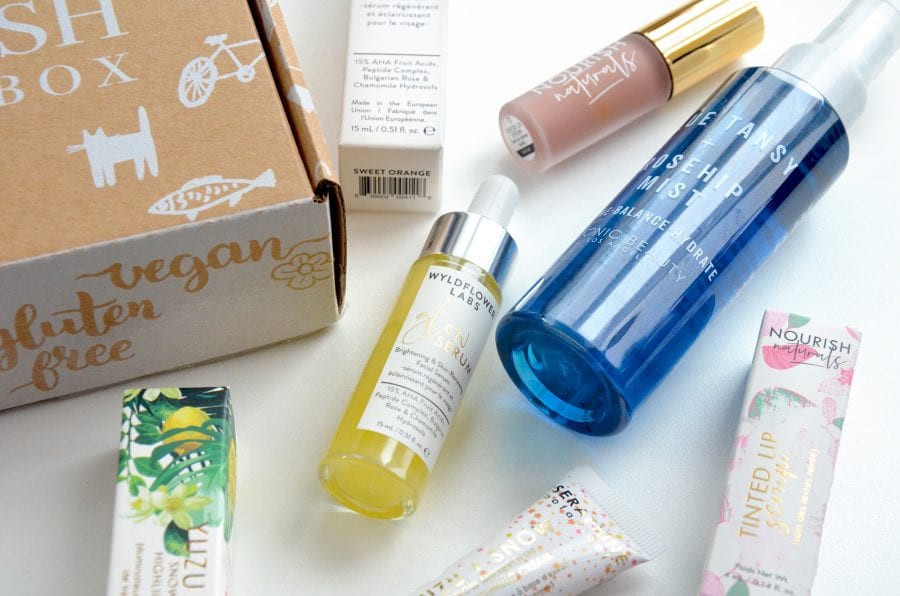 Here's a look at what was in this month's Nourish Beauty Box ($87.99 Total Value):
Nourish Naturals' Tinted Lip Serum in "Avatar" ($16)
"Enriched with a potent blend of jojoba, sunflower & safflower oils as well as hydrating shea butter, this serum provides a sheer, tinted coverage and plenty of moisture for your lips."
This lipgloss is a really pretty color! It's the perfect winter neutral with a slight frosty berry undertone. It doesn't have any shimmer, but has a nice medium gloss to it. It's scented which I'm not a big fan of and even if I was, the scent isn't that appealing to me- it's a little too sweet smelling. Aside from that it's a nice lipgloss. I've received a lip gloss in the past couple of boxes so it's not as exciting as some of the other items, but since it's a nice color and is said to hydrate lips (need that in the winter for sure) I might wear more than I think.
Seraphine Botanicals' Yuzu+Snow Snow Mushroom Highlighting Cream ($24)
"Dot this highlighting formula infused with snow mushrooms & hyaluronic acid onto cheekbones to keep your skin hydrated and impart an ethereal dew."
This is a fun product and I like the winter tie-in with "snow" in the name. I've never heard of snow mushrooms but apparently it helps with hydration. Before I opened this I had the feeling this was going to be a white toned highlight cream but was surprised to find that it's actually a creamy, orange, coral color. It has subtle shimmer with a few slightly bigger flecks throughout. At first swipe across skin it might look a little intense, and if you like it that way by all means keep it that way, but you can also tone it down to a neutral and more shear shimmer by blending it in. It blends really well and doesn't leave the skin feeling greasy. I don't know if I'd wear this every day, but it would be good for glamming up a look.
Wyldflower Labs' Glow Serum ($29.99)
"Made with Bulgarian rose & roman chamomile hydrofoils & surface exfoliating 15% AHA fruit acids, this serum is able to restore a youthful glow to your complexion. Use it before bedtime."
I like the sounds of this serum and what it can do to exfoliate and give skin some glow. It's a serum with a gel-like consistency that absorbs well into skin. Bulgarian rose and roman chamomile calm skin, 15% AHA fruit acids help exfoliate surface skin, carrot seed oil and green algae help smooth fine lines and hydrate, and shea butter, strawberry seed oil and orange seed oil deliver antioxidants that help refine pores and plump skin. Due to the orange seed oil it smells a hint citrusy, but it isn't too strong. It's meant to be used at night so it can work it's magic while you're sleeping. I'm really curious to give this one a try.
Iconic Beauty's Blue Tansy + Rosehip Mist ($18)
"Helps to reduce the appearance of redness while restoring balance & hydration for a healthy, clear complexion. Mist onto face after cleansing to tone skin."
Wow, this mist is really pretty! I wish that bright blue color was all just from the blue tansy ingredient though. It appears there is color added to get it this bright. Not necessary in my opinion. I like what the mist says it will do for skin though. Blue tansy helps to calm skin and it's normally found in facial serums or oils so it's fun to have it in a mist product. You can apply before moisturizer to help the moisturizer absorb better or you can apply it to bare skin.
Nourish Beauty Box Review November 2019 – Final Thoughts
The item I'm most intrigued by in this month's Nourish Beauty Box is the Glow Serum. Not only does my skin need serious help in the hydration department in the winter because it gets so dry, but it also gets dull and could use some glow. I think the highlighter will be fun to use for a night of dressing up and the lipgloss is definitely a great neutral for every day wear. I think the items all look really pretty together in this month's box. The colors are definitely giving off that crisp, yet bright, winter vibe.
The Botanic Gal – http://www.botanicgal.com