Nourish Beauty Box Review October 2019
Nourish Beauty Box is a monthly, cruelty-free, ingredient-conscious subscription box for beauty enthusiasts! They believe in making conscious choices, of being mindful of what's put in and on our bodies. Living well starts with loving yourself, and what better way to cultivate personal compassion than a consistent box of bliss filled with beautifully crafted, organic, cruelty-free products. They kindly sent us this box for review.
October Box Details
"Winter is coming, but there is no need to worry for your skin. This October we've packed your box with antioxidant-rich and hydrating formulations that help prep your sensitive skin for those cold winter days ahead!"
I'm not looking forward to winter at all but I am looking forward to trying out this month's Nourish Beauty Box contents as usual! There are several fun items to test this month that will help get skin prepared for the cool and dry month's ahead.
Here's a look at what was in this month's box ($98.99 Total Value):
Nourish Naturals Safflower Shimmer in "Passion" ($16)
"Crystalline particles are suspended in a tinted safflower and jojoba oil base to create a light and succulent lip color."
This is the second safflower shimmer lip gloss that I've received from this box. It is a different color this time around but it wasn't long ago that I got the first one so it's not as thrilling to find this month. I'm not much of a super shimmery lip gloss person either so I'm not sure if I'll use this one. It is a pretty color though if you do use them. I'd say it's a deep pinky coral color and gives lips a pop. It doesn't feel too sticky on the lips and seems hydrating. It does have a pretty strong fragrance like berries too.
Seraphine Botanicals Sakura + Sage Vegan Eyeshadow and Blush Palette ($24.99)
"A talc-free makeup palette for the eyes and cheeks. Infused with herbal oils and extracts to impart skin with a silky glowing finish."
Such a fun item to find in this month's box! I've never received a palette before in a subscription box so it feels like a treat to get multiple products in one. The variety of colors in this palette are so pretty and fun. There is a good mix of neutrals and bold accents. The two blushes are both warm with coral tones, one is just a bit more orange-y. The eyeshadows range from copper and pink neutrals with light shimmer to a dark brown with no shimmer and a silver with ultra shimmer. All around, a very versatile item! I also like that the palette isn't made out of plastic so it's more eco-friendly packaging.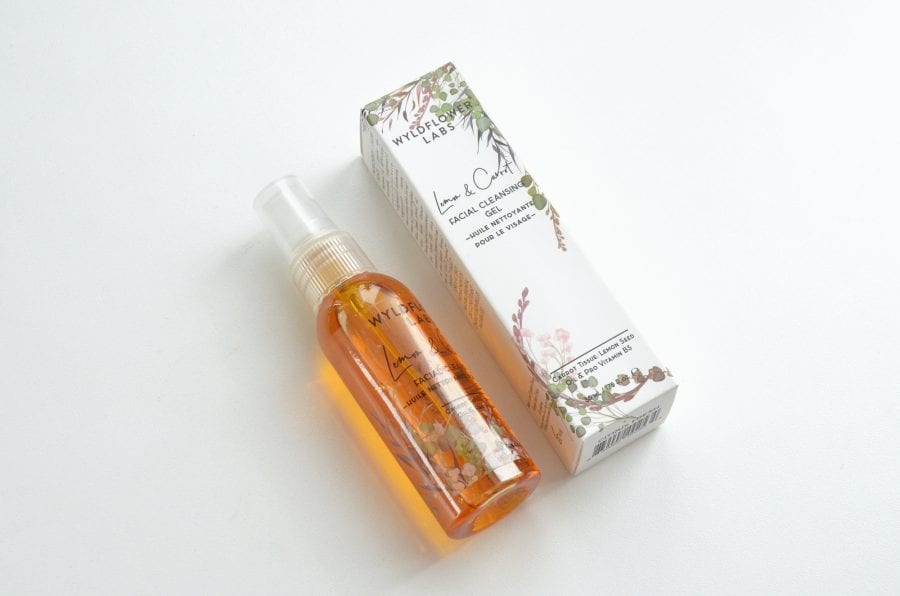 Wyldflower Labs Lemon and Carrot Facial Cleansing Oil ($42)
"The natural formula unites antioxidant rich plant oils to provide a soap free cleansing experience that washes away stubborn dirt and makeup residue with lukewarm water."
I've just recently tried oil cleansing and have been really getting into it. It's fun to receive another one to add to my collection to try out. This one is made with skin-purifying oils such as lemon seed, clementine and lemon peel that also give it a hint of citrus scent. Carrot, soy and sweet almond carrier oils provide moisture and help skin glow. Oil cleansing can sound a bit weird but actually oil dissolves oil so it will help carry away the unwanted gunk on skin while maintaining needed hydration.
Dr. Botanicals Pomegranate Superfood Regenerating Sleeping Mask ($16)
"Using plant-powered, clean ingredients such as shea butter, pomegranate extract and geranium oil to treat skin with antioxidants and skin-conditioning fruit acid overnight."
I actually just received this item in another beauty box I get so it wasn't as exciting to find this a second time around but still an interesting product none the less especially since I've never tried an overnight mask before. In looking at the directions they suggest storing it in the fridge to maintain freshness. I think that applying a cool mask right before bed sounds relaxing and so refreshing so I'd for sure follow those instructions. It will be nice to have two of this product if it turns out I like it!
Nourish Beauty Box Review October 2019 – Final Thoughts
I like the contents of this month's Nourish Beauty Box, but 2 items stand out the most! The palette is definitely the star of the show, not only for it's size but for it's value in including multiple items in one. Plus the colors are some of my faves. Bronzes and coppers are for sure warm colors, and some might argue better for summer, but I prefer carrying the summer feeling throughout the cold and dreary seasons so it's perfect timing for me. I also like the cleansing oil since my skin will need all the hydration it can get this winter and oil cleansers have become a recent fave. A consistency good selection from this box again this month!
The Botanic Gal – http://www.botanicgal.com