Nourish Beauty Box Review October 2021
Nourish Beauty Box is a monthly, cruelty-free, ingredient-conscious subscription box for beauty enthusiasts! They believe in making conscious choices, of being mindful of what's put in and on our bodies. Living well starts with loving yourself, and what better way to cultivate personal compassion than a consistent box of bliss filled with beautifully crafted, organic, cruelty-free products. They kindly sent us this box for review.
Each monthly Nourish Beauty Box contains 4-5 full size earth activated, ingredient-conscious beauty products that are 100% cruelty-free, gluten-free and vegan. Boxes have free shipping and are shipped so subscribers received around the 15th of the month. There are 3 subscription options:
Monthly: $29.95/month
3 Month: $86.95 prepaid, or $28.98/month
6 Month: $159.90 prepaid, or $26.65/month
October Box Details
"BEHIND THE BRAND: Monica Nawrocki, the passionate founder behind Plant Based Beauty tells us all about how and why she started her organic superfood brand and the challenges she faced whilst doing so. Read on to learn more about her amazing journey! : READ IT AT : nourishbeautybox.com/blogs/article."
I've run across this brand several times, but didn't know much about the brand except that it's based in Chicago where I'm from. This interview article is a fun way to learn more about the business and the founder. I always enjoy this extra added benefit from this box.
Here's a look at what was in this month's Nourish Beauty Box ($145 Total Value):
Nourish Naturals Creamy Vegan Stain in "Apricot" ($16)
"A multipurpose, long-wearing lip and cheek cream made with shea & kokum butter and marshmallow root extract to impart a natural, healthy-looking flush without any shimmer or stickiness."
I love the color of this lip/cheek stain. It's the perfect peachy color and will and a nice glow to skin. I tend to think of this as a summery color, but since summer is my favorite and it's come to an end, I love anything that makes me think of it and feel it longer.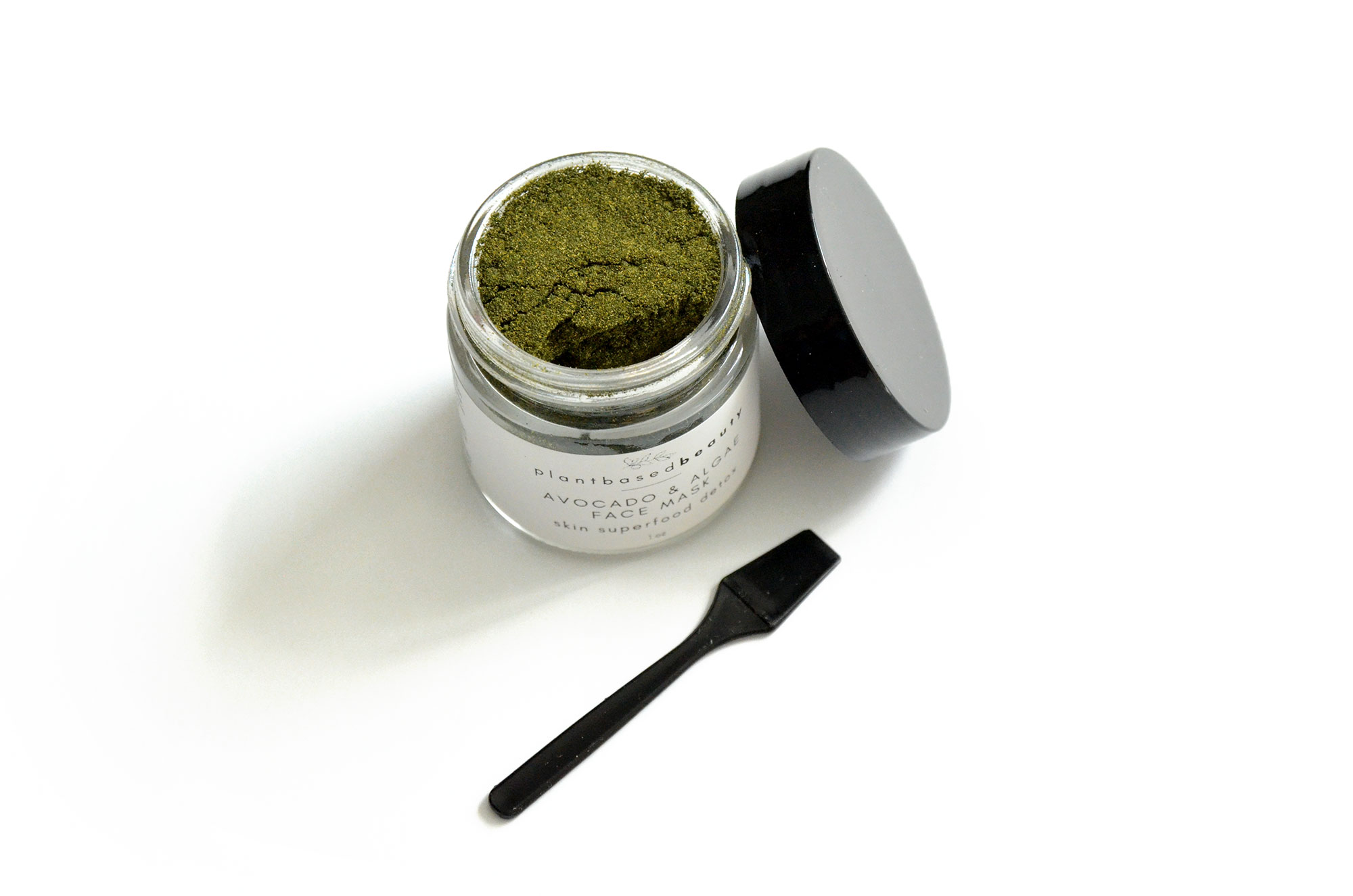 Plant Based Beauty Avocado + Algae Face Mask ($22)
"Brightens, softens and hydrates with avocado, spirulina & moringa powder. simply mix with water or your favorite hydrosol to create a paste, apply to face & rinse off to reveal glowing skin."
This is such a nice and gentle, nourishing face mask. It's not made with any clays so it's great for anyone who tends to feel dryness from that ingredient. I love the bright green color and it's leafy aroma. It will feel like a smoothie for the face I'm sure!
Purfect Anti-Aging Rose Eye Serum ($65)
"A potent eye serum made with 14 organic pure seed oils such as black cumin. camellia, rosehip & raspberry to help firm & brighten the delicate skin under the eye."
I love testing out new eye serums so this will be fun. I like how this one is made with pure organic ingredients that are meant specifically to tend to the delicate eye skin. I also really like how it has a roller ball application so it will feel extra soothing to the eyes upon application.
Love Song Beauty Invisible Dry Shampoo Gel ($36)
"Flawlessly refreshes roots without any powdery residue and is made with wakame & green tea extracts to cleanse, protect and rebalance.."
Yay! I actually just bought their other product, the leave-in serum, but was also so curious about this product so I'm excited to find it in this month's box. It's such a unique product that's not like any other dry shampoos. It's a gel like consistency that drys and says it magically refreshes hair. It smells nice, a little fruity and sweet and would be nice aroma for your hair. Can't wait to test this one out!
Nourish Beauty Box Review October 2021 – Final Thoughts
This month's Nourish Beauty Box was great! I liked everything included, but was especially jazzed to find a product I kind of regretted not buying recently. I guess I didn't buy the dry shampoo gel for a reason, it was going to show up in this box! Everything else is great too of course. Face masks are one of my favorite things to find in sub boxes, my eyes can always use perking up, and peachy-hued summer vibe cosmetics are totally my jam. I like how much of a variety of items there were this time and, while I like getting face serums/cleansers/moisturizers, it was a nice change of pace to get products that tend to other things this time.
The Botanic Gal – http://www.botanicgal.com