Nourish Beauty Box Review September 2021
Nourish Beauty Box is a monthly, cruelty-free, ingredient-conscious subscription box for beauty enthusiasts! They believe in making conscious choices, of being mindful of what's put in and on our bodies. Living well starts with loving yourself, and what better way to cultivate personal compassion than a consistent box of bliss filled with beautifully crafted, organic, cruelty-free products. They kindly sent us this box for review.
Each monthly Nourish Beauty Box contains 4-5 full size earth activated, ingredient-conscious beauty products that are 100% cruelty-free, gluten-free and vegan. Boxes have free shipping and are shipped so subscribers received around the 15th of the month. There are 3 subscription options:
Monthly: $29.95/month
3 Month: $86.95 prepaid, or $28.98/month
6 Month: $159.90 prepaid, or $26.65/month
September Box Details
"We last worked with Christine and her amazing brand 28 Litsea back in February 2021 when her Wild Citrus Body Oil sold out almost immediately. This month, we're incorporating her Red Ginger Body Oil in our box and have taken a deeper delve into her brand and business to see what makes it tick. Read on to find out more: nourishbeautybox.com/blogs/article"
I'm so excited to see 28 Litsea back in this month's Nourish Beauty Box. I have always eyed their products and was super jazzed to try their body oil back in February (it's also amazing). Now I'm excited to try another and to read more about their brand. Definitely be sure check out the brand interview, I always learn so much!
Here's a look at what was in this month's Nourish Beauty Box ($162.99 Total Value):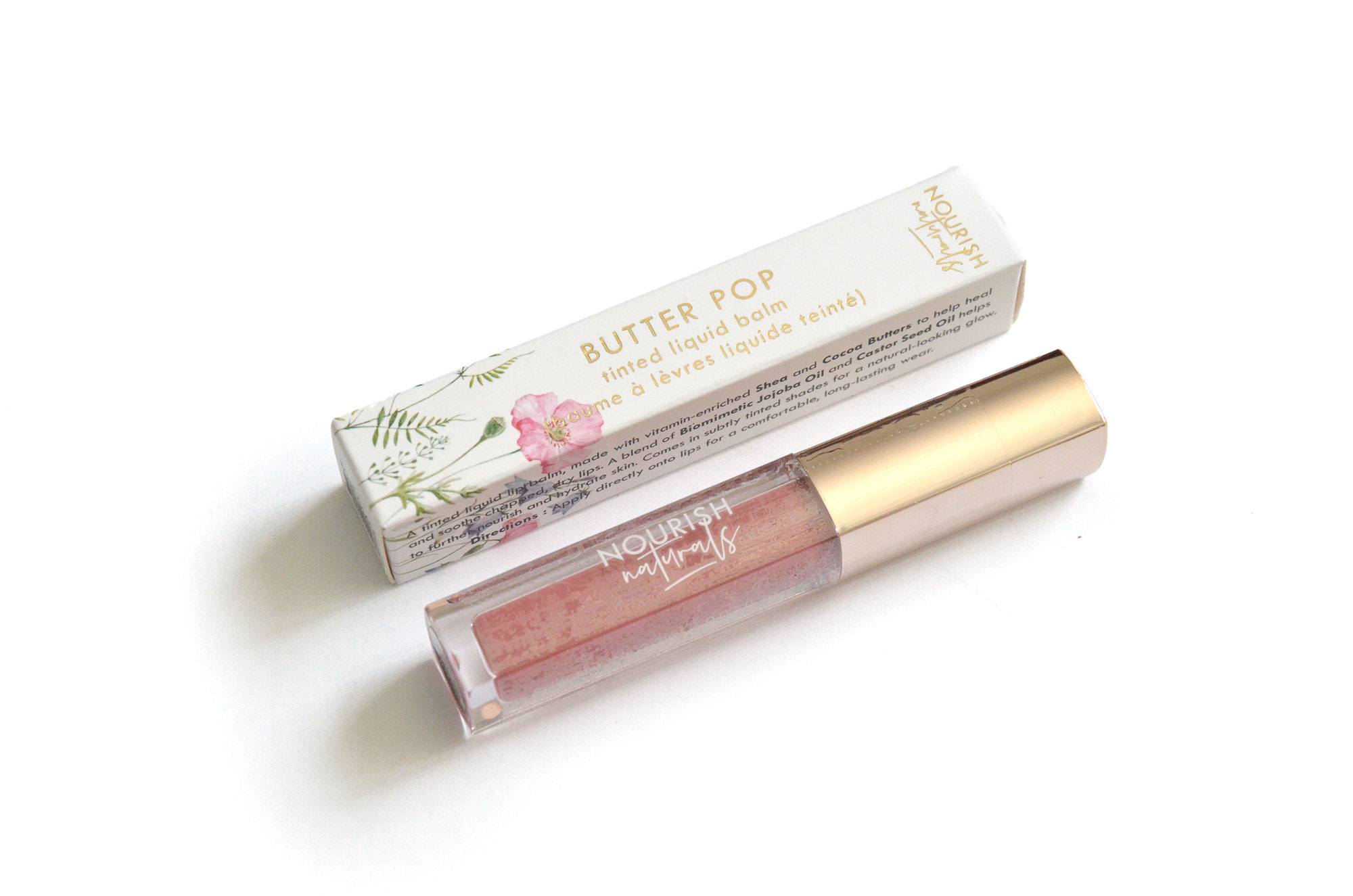 Nourish Naturals BUTTER POP IN "ROSE GLACE" ($16)
"A TINTED LIQUID BALM MADE WITH JOJOBA OIL AS WELL AS SHEA & COCOA BUTTERS TO HELP HEAL AND SOOTHE CHAPPED, DRY LIPS."
The perfect neutral mauve/pink lip color. I like that this one isn't shimmery or glittery making it great for daytime wear. The color seems like it would be near a natural lip color, but help to enhance it just enough. I think this one could be especially useful and a good one to add to my collection.
MALAYA ORGANICS REJUVENATING FACE SERUM ($65)
"AN EXTRAORDINARY BLEND OF 26 ACTIVE BOTANICAL INGREDIENTS IN A LIGHTWEIGHT, DEEPLY HYDRATING, VITAMIN-RICH FORMULA TO REPLENISH SKIN'S MOISTURE LEVELS AND RESTORE ELASTICITY."
What a lovely face oil! This truly feels and smells so luxurious. It's nice and light on the skin and it scent is just so good. It's floral and fruity and I can't stop smelling it! It would make for such an amazing cap to a skin care experience. I like that this serum is good for all skin types and aims to nourish and restore skin's luster. It's so much more useful when it's a universal product like that, especially when it comes to serums. I haven't been switching up my serum routine too much, but I'm really intrigued by this one and can't wait to test it out.
BELLA VIDA SANTA BARBARA PINEAPPLE PARADISO GLOW MASK ($59.99)
"GENTLY EXFOLIATES, REDUCES OIL, FIGHTS ACNE AND HYDRATES YOUR SKIN WITH PINEAPPLE & PAPAYA ENZYMES AND JOJOBA SEED OIL."
Oh yay! I've tried and reviewed Bella Vida Santa Barbara products before so what a fun surprise to find this mask is my Nourish box! I love that this mask helps with gently exfoliating while nourishing skin too. It smells like a tropical vacation – just like a pina colada, yum! It's bright scent and brightening nature make it the perfect summer mask, or the perfect mask to "take you away" as the weather gets chilly.
28 LITSEA RED GINGER BODY OIL ($22)
"A BLEND OF NOURISHING OILS OF MEADOW FOAM, BAOBAB AND SQUALANE TO QUICKLY MOISTURIZE AND REJUVENATE THE SKIN."
Another brand I love trying products from! I'm so glad a body oil was chosen as it's a universal product that most anyone can use. And most everyone will want to use this one because it smells so good and feels so nice on skin! I was so intrigued by the "Red Ginger" name as I wasn't exactly sure what to expect that to mean for the scent profile. It turns out it's a really nice, light, and pleasant herbal scent, not spicy like I tend to think of a ginger scent smelling like. It's the perfect everyday body oil.
Nourish Beauty Box Review September 2021 – Final Thoughts
What a great Nourish Beauty Box this month! The value is amazing and the brands included are awesome too. Two of the brands I've seen before in this box, but I don't mind at all because they are both great and their products are always wonderful. Everything is just such a treat this month and I can't stop smelling everything – the scents in this box are too good! I know I've said that several times, but really a good smelling product is hard to beat. Aromas really enhance self care experiences so much. I'm so glad to see this box continue to expand the brands and products that are included- they are definitely keeping it fresh and interesting!
The Botanic Gal – http://www.botanicgal.com