Petit Vour Review December 2019
Petit Vour is a luxury-curated, cruelty-free beauty box. A play on words, Petit Vour is named after the elegant and assorted French pastries, petit fours, swapping the "F" to a "V" for Vegan. This box, much like testing out petit fours, is meant to be a delightful way to conveniently and affordably discover covetable, clean, and cruelty-free beauty. They kindly sent us this box for review.
Each month you'll receive 4 products (always valued over $50) of cruelty-free, non-toxic and plant-based beauty. Items include anything from makeup and hair care to body and skincare – all curated to match your beauty profile. This means that not everyone will receive the same box contents in a given month and the contents you receive will match your needs and wants!
As an added bonus, you can get $4 back each month in store credit for reviewing your box on their site. Just review the items in your beauty box & earn up to 400 PV Points ($4) each month. Save or spend them; your points are "free money" at petitvour.com.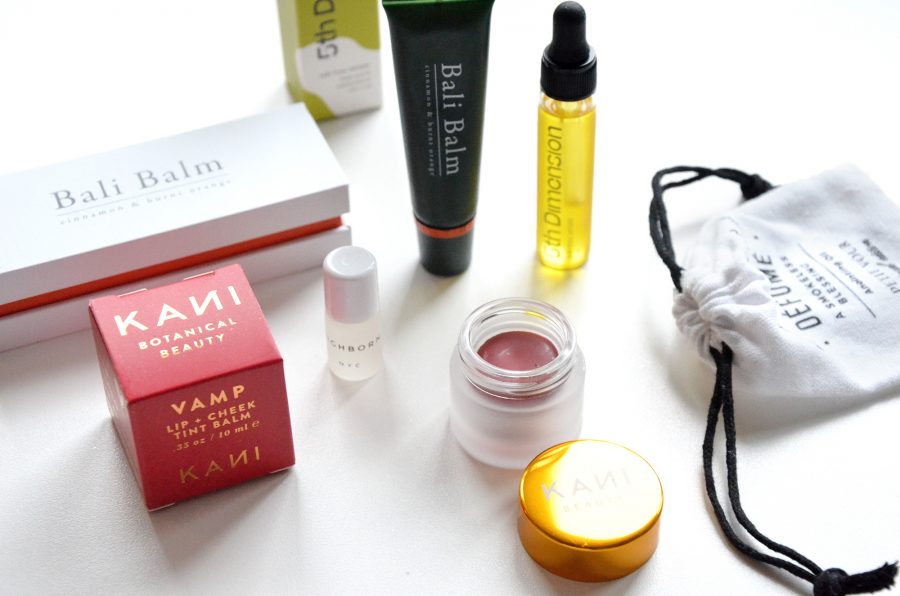 Subscription Details
There are two subscription plan options for Petit Vour:
Month-to-Month Subscription: $18/month (US), $23/month (CAD), $25/month (Worldwide)
Yearly Subscription $180 or $15/box (US), $240 or $20/box (CAD), $264 or $22/box (Worldwide)
Shipping is included in the cost of the chosen subscription so there are no hidden fees. Each month boxes ship in batches between the 10th-20th of the month. If there's a waiting list, the starting month for your subscription will be displayed on the sign-up button.
December Box Details ($70 total value)
"With the holiday season in full swing, we wanted to focus this month's collection on a refreshment of the body and mind. This season, treat yourself to an assortment of high-performance, organic products: Deeply moisturize dry lips with a rich lip balm, soften and soothe your complexion with an antioxidant-rich hemp and rose serum, play up your look with a versatile lip and cheek tint, and bring clarity to your mind with a dynamic smokeless blessing, deepening your self-care ritual."
The holiday season is the perfect time to think about a refresh with the year winding down and starting new again too. The holidays are often so busy it leaves little time to worry about yourself, but as soon as the new year hits it's like there's all the time in the world so this month's Petit Vour box contents come at the perfect timing!
Here's a look at what's in this month's Petit Vour box: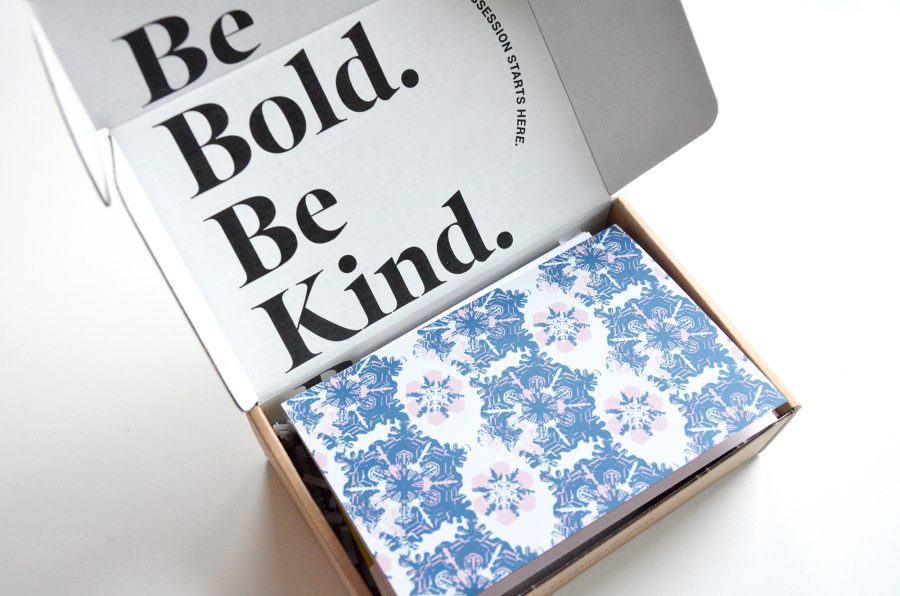 Box Insert
As usual this box insert is like a little piece of art. It's so pretty and wintery and festive for the season. The information is consistent and helpful in understanding the contents. It's simple and easy to follow and makes the box feel even more luxurious.
KANI BOTANICALS Lip + Cheek Tint ($28)
"Created with nourishing organic ingredients, this unique formula combines hydration and protection with rich mineral colors for a beautiful, natural finish on both lips and cheeks."
This lip and cheek tint's color is perfection! It is the perfect red for both applications. It's a middle red that hints toward the cool and deeper side. It says to apply sparingly and I can confirm, as a little of this product goes a long way. It has a creamier texture than I was expecting but it's not greasy or overly glossy looking on skin. This could be applied lightly for day looks and more generously for evening. I've been eyeing this brand for a long time but have never tried any of their products. I think this one will become a staple in my routine.
BALI BALM Natural Lip Balm ($26)
"This rich, intensive formula contains plant oils high in antioxidants and antibacterial properties that absorb quickly and lock in moisture without leaving a waxy film on your lips."
This is the most nicely packaged lip balm I've ever seen. It looks so luxurious, like a little box of truffles. The scent (cinnamon and burnt orange) is so delicious- a bit spicy sweet and a bit citrus, with a warm buttery undertone. The texture is thick, rich and ultra-moisturizing. My lips need lots of hydration in the winter so I'll be using this one a lot.
5TH DIMENSION Sub Rosa Serum ($9)
"Refresh and replenish your skin's complexion with a blend of highly-concentrated antioxidant and omega fatty acid oils infused with rose petals. Apply a few drops to hydrate, soften, regulate oil production, and soothe inflammation."
The scent of this serum is reason enough to try it! I don't exactly know how to describe it but it's a bit floral and a bit woodsy and is very grounding and calming. It absorbs nicely into skin and would be a treat for a bedtime routine. Especially since skin is calmed and regenerated overnight and this serum assists with both. It's made with simple and organic ingredients including hemp seed oil, rosehip seed oil, rose, and the essential oils of clary sage and frankincense. I've never heard of this brand before but I'm glad to be introduced to it!
HIGHBORN Défumé Anointing Oil ($7)
"This ritual rollerball will cleanse and clear your mind. Infused with palo santo and sustainably sourced organic essential oils, reiki-charged crystals and high vibes, this "smokeless blessing" oil will help deepen your self care regimen."
This is like palo santo in a bottle and I love the smell of palo santo so this is a fun find. The scent is earthy with a sharpness to it kind of like mint. It's perfect for use like a perfume or better yet for incorporating into a meditation routine to help set the tone and ground you. A tiny black tourmaline stone was included in the pouch for protection energies and the oil itself has a clear quartz stone in it to amplify energies of goodness and clarity. I love anything that will get me to stop and clear my mind for a bit, especially after the holiday hustle so this is perfect!
Petit Vour Review December 2019 – Final Thoughts
I love this collection of goods! But really, when don't I love the collection of goods from Petit Vour?! It's not only pretty to look at but I'm looking forward to trying each and every item too. I just love how they surprise me with items from brands I've been eyeing and introduce me to new brands as well. The two full size items in this month's box are so generous and the other two items are large enough to get extended use out of making this one a really great value. I like how there is a subtle theme of refreshing to these items and that couldn't have come at a more perfect time with the switch of the calendar and the decade. These items are perfect for a little bit of change and experimentation.
The Botanic Gal – http://www.botanicgal.com
Explore.
Save.
Enjoy!
Sign up for a free account on A Year of Boxes to receive exclusive offers, be added to our monthly mailing list, and much more! We are always adding features to improve the experience for our users, from their valuable feedback!
Join Today!