Petit Vour Review January 2020
Petit Vour is a luxury-curated, cruelty-free beauty box. A play on words, Petit Vour is named after the elegant and assorted French pastries, petit fours, swapping the "F" to a "V" for Vegan. This box, much like testing out petit fours, is meant to be a delightful way to conveniently and affordably discover covetable, clean, and cruelty-free beauty. They kindly sent us this box for review.
Each month you'll receive 4 products (always valued over $50) of cruelty-free, non-toxic and plant-based beauty. Items include anything from makeup and hair care to body and skincare – all curated to match your beauty profile. This means that not everyone will receive the same box contents in a given month and the contents you receive will match your needs and wants!
As an added bonus, you can get $4 back each month in store credit for reviewing your box on their site. Just review the items in your beauty box & earn up to 400 PV Points ($4) each month. Save or spend them; your points are "free money" at petitvour.com.
Subscription Details
There are two subscription plan options for Petit Vour:
Month-to-Month Subscription: $18/month (US), $23/month (CAD), $25/month (Worldwide)
Yearly Subscription $180 or $15/box (US), $240 or $20/box (CAD), $264 or $22/box (Worldwide)
Shipping is included in the cost of the chosen subscription so there are no hidden fees. Each month boxes ship in batches between the 10th-20th of the month. If there's a waiting list, the starting month for your subscription will be displayed on the sign-up button.
January Box Details ($65 total value)
"With the New Year comes a new beginning and what better way to celebrate than by honoring the most thrilling ethical launches? We wanted to focus this month's clean, vegan curation on the heroes that have been ruling our bathroom cabinets. Treat yourself to a luxurious 3-in-1
mascara formulated with nourishing plant waxes, a bee-free balm to soften wintry hands and lips, a lustrous crystal-infused eyeshadow to enhance the eyes, and a cleansing milk made with skin-friendly plant probiotics. We hope these extraordinary finds make your day a little brighter and your transition to cruelty-free a little smoother and a lot more fun!)."
Such a fresh feeling selection of products for the new year this month! I love that the items highlight some great recent product launches. That made opening this an extra awesome surprise because it includes brands I've been wanting to try but haven't yet like Fitglow and Aether. These two products will help create a beautiful winter eye look while the other two items will help soothe and nourish winter skin.
Here's a look at what's in this month's Petit Vour box:
FITGLOW BEAUTY Good Lash + Mascara ($28)
"A multitasking mascara that amplifies lash length and volume! Plant protein and botanical extracts nourish lashes and promote growth, helping lashes grow thicker, denser and fuller."
I'm super particular about my mascara but this one had been on my list to try as I've seen some great reviews about it! For me, a mascara's gotta create volume, thicken lashes, be super black and have a classic wand style – this one checks all the boxes! It's also made with super clean, non-toxic ingredients which makes it even better. This product is actually a 3-in-1 product, so not just a mascara, but also a lash serum and conditioner. It helps promote lash health and growth while also enhancing your look. Mascara is one of my daily must-haves so I'm sure I'll be getting a lot of use out of this one.
MOA The Green Fairy Hand & Lip Balm ($18)
"Save dry hands and lips with this salvation balm. This non-greasy formula includes castor oil, shea and cocoa butter, and candelilla wax to moisturize and nourish skin, leaving it silky smooth with a hint of peppermint."
My hands are so dry from the cold winter temps right now so this product couldn't have come at a better time. I always slather my hands at night with extra thick balms and moisturizers so this one will fit right in to my line up. It will be great for those super dry patches and pesky cracks that show up. It's a balm that can be used on hands or lips and is truly great for either. It smells so good and has a mystical-like scent, it's very intriguing. It's called "Absinthe" and has actual absinthe extract in it along with grapefruit, lemon, peppermint, fennel, and anise oils so it's herbal and fruity with a hint of black licorice – much like absinthe itself. I'll be using this one a lot as the winter months drag on.
AETHER BEAUTY Eyeshadow Single ($16)
"Enhance your natural beauty with the power of crystals. Pigments of topaz, amethyst, and other crystals illuminate the eyes, while coconut oil and shea butter create a smooth, buttery texture for one-swipe application."
I am so excited about this item! I've been eyeing this brand for awhile now because they have the prettiest looking palettes I've ever seen. To get to try a single out before making the full palette purchase is awesome. I think there were a couple of different color options that could have shown up but I got a color called Amethyst. It's a really beautiful deeper, warm, metallic purple color – like an amethyst stone really! Which makes sense because there is actual amethyst stone powder in the ingredient list. So cool! That means this eyeshadow carries the stone essence with it too so the wearer can harness it's protective healing powers. I love purple hued eyeshadows and always feel like they work well with my brown eyes so I'm excited to give this one a try!
ANDALOU NATURALS Apricot Probiotic Cleansing Milk ($3)
"Vegan probiotics gently remove makeup and impurities, rinsing away dull surface cells and balancing skin. Apricot and borage oils rejuvenate dehydrated skin for a fresh, glowy complexion."
I've recently got this item in another subscription box, but even so this seems like a really nice cleanser and you can never have too much of a good thing! It's a gentle cleanser good for all skin-types to help heal, hydrate and replenish skin. I like getting this sized cleanser in subscription boxes because they are perfect for travel and easy to pop in your make-up bag. It smells really nice and fresh. It's scent is a bit fruity and a bit sweet from the added orange oil. This would be a great morning cleanser to refresh you after a good sleep.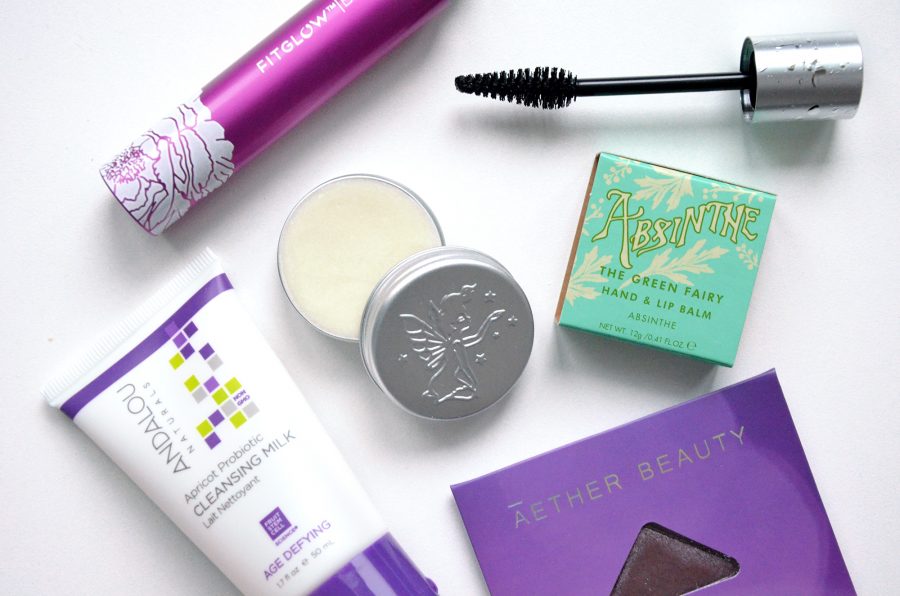 Petit Vour Review January 2020 – Final Thoughts
I feel like I always gush about Petit Vour, but it's because it's always so good! This month is no exception as it included two brands I really wanted to try out and two other items that I really needed right now too. I'm definitely most excited to try out a new eye look with the mascara and eyeshadow but I'm sure my skin will thank me after using the face wash and balm too. I especially like how there's a mix of skincare and makeup this month as it keeps things fresh. These items so thoughtfully look pretty together and give it that extra luxurious feel and the selection in Petit Vour just keeps getting better and better. I can't wait to see what next month has in store!
The Botanic Gal – http://www.botanicgal.com
Explore.
Save.
Enjoy!
Sign up for a free account on A Year of Boxes to receive exclusive offers, be added to our monthly mailing list, and much more! We are always adding features to improve the experience for our users, from their valuable feedback!
Join Today!