Petit Vour Review October 2019
Petit Vour is a luxury-curated, cruelty-free beauty box. A play on words, Petit Vour is named after the elegant and assorted French pastries, petit fours, swapping the "F" to a "V" for Vegan. This box, much like testing out petit fours, is meant to be a delightful way to conveniently and affordably discover covetable, clean, and cruelty-free beauty.
Each month you'll receive 4 products (always valued over $50) of cruelty-free, non-toxic and plant-based beauty. Items include anything from makeup and hair care to body and skincare – all curated to match your beauty profile. This means that not everyone will receive the same box contents in a given month and the contents you receive will match your needs and wants!
As an added bonus, you can get $4 back each month in store credit for reviewing your box on their site. Just review the items in your beauty box & earn up to 400 PV Points ($4) each month. Save or spend them; your points are "free money" at petitvour.com.
Subscription Details
There are two subscription plan options for Petit Vour:
Month-to-Month Subscription: $18/month (US), $23/month (CAD), $25/month (Worldwide)
Yearly Subscription $180 or $15/box (US), $240 or $20/box (CAD), $264 or $22/box (Worldwide)
Shipping is included in the cost of the chosen subscription so there are no hidden fees. Each month boxes ship in batches between the 10th-20th of the month. If there's a waiting list, the starting month for your subscription will be displayed on the sign-up button.
October Box Details ($70 total value)
"It's a spooky season- and nothing is scarier than dry, dull skin! Now that the leaves and temperatures are falling we're focused on providing your skin with the nutrients it needs to stay hydrated, toned and luminous. This month, treat your skin to a replenishing assortment of facial skin care: a creamy highlighter stick for an on-the-go-glow, a restorative essential oil-infused cleanser, a balancing toning mist, and a vitamin C-rich brightening moisturizer."
I love the nod to Halloween season in the box description this month. There sure is nothing scarier than dry skin (well except winter itself)! It's fun to make a connection to the holiday without the theme of the box being overly halloween-y. And it will be fun to try out these skincare and makeup items too!
Here's a look at what's in this month's Petit Vour box: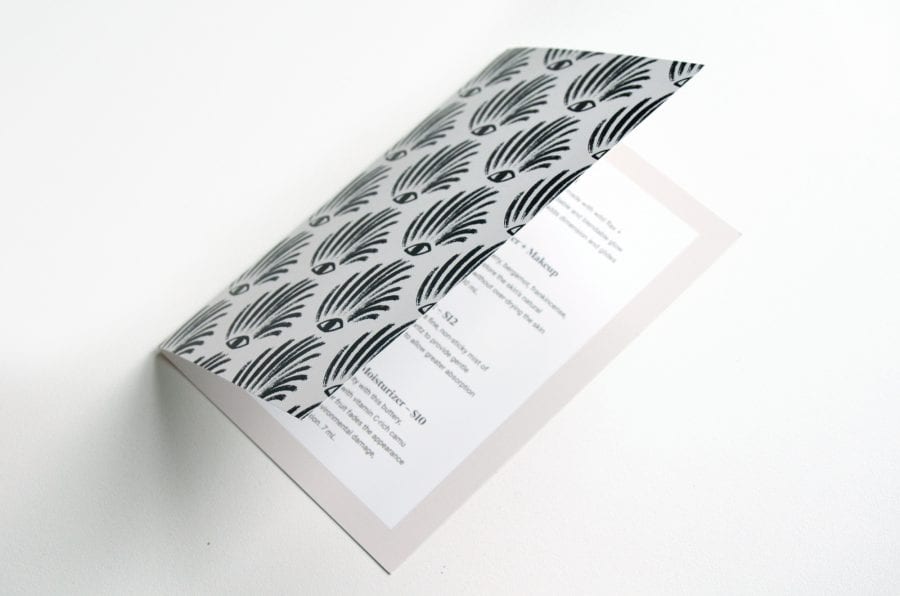 Box Insert
This is the prettiest box insert I've received from any box yet. I have to note that I'm a graphic designer so simple and well set typography really catch my eye, not to mention the art on the front of the card! It's so beautiful! I like how the art stands alone on the cover so you could actually frame it or something if you fancy. I also appreciate how the information inside is laid out. It's very easy to follow and read.
KVoss Shine on a Stick ($28)
"This creamy highlighter stick made with wild flax + cupuacu butter creates a buildable and blendable glow with an iridescent finish that adds dimension and glides on easily."
This is a really pretty highlighter! I love how it's a peachy orange color too – another nod to the halloween holiday. The color is warm and blends in to add a hint of a coral color to wherever it's applied. It's definitely not a shimmery highlighter (so no big sparkles), it's perfectly iridescent adding to skin's natural glow. It's not at all sticky, yet the formula is creamy enough for easy application. The ingredients are great on this one and it's super easy to apply in stick form. I like this product and will use it a lot.
Province Apothecary Moisturizing Cleanser + Makeup Remover ($20)
"Calming and hydrating raspberry, bergamot, frankincense, and lavender essential oils restore the skin's natural radiance by gently cleansing without over-drying the skin or destroying it's natural pH."
I've been intrigued by oil cleansers lately so I'm excited to have another one to try. Using oil to cleanse your face might sound scary but it actually helps dissolve unwanted oils while maintaining the natural oils skin thrives on. This particular cleanser is gentle and intended for daily use and is made with hydrating oils like jojoba, avocado and raspberry seed oil. Avocado oil is high in antioxidants, Vitamins A, D, and E and Omega-3 fatty acids which deeply nourish skin. Oil cleansing is especially great for the colder months when skin tends to dry out so this is perfect timing to receive.
Akar Skin Balancing Toning Mist ($12)
"Achieve true balance with this fine, non-sticky mist of rose and orange blossom. Spritz to provide gentle hydration, neutralize pH, and to allow greater absorption of nutrients."
I liked this product immediately based on the packaging- the red is very eye-catching! After looking at the ingredients and smelling the aroma I liked it even more. Which leads me to believe I'll enjoy using it too! This toning mist is meant to help balance skin and maintain it's pH level so nutrients can absorb better and environmental toxins stay out. It smells so lovely since it's made with organic rose and neroli flower waters. Rose water is an antioxidant source and neroli water is an anti-inflammatory agent. Those ingredients along with white willow bark (an exfoliator) and saffron cell extract (for skin cell repair) keep skin healthy and bright.
Luxe Botanicals Camu Britening Moisturizer ($10)
"Revitalize the skin's luminosity with this buttery, moisturizing cream infused with vitamin C-rich camu camu. The Amazonian super fruit fades the appearance of dark spots and repairs environmental damage revealing a glowing complexion."
Another great item for bright and glowing skin. This moisturizer is intended for those with lackluster, dull and sun-damaged skin. It's a rich, yet not too thick, creamy hydrator that absorbs into skin well and doesn't leave it sticky feeling. Camu Camu is the star ingredient that's high in vitamin C and antioxidants to help repair skin and get it glowing. It smells so wonderful, but is really light. It's a bit of an earthy aroma that has a sweet undertone. I'm going to say it smells like morning dew in a forest on a sunny day- so very fresh if that makes more sense!
Petit Vour Review October 2019 – Final Thoughts
This is my very first time receiving and reviewing Petit Vour box even though I've had my (heart) eyes on it for a very long time. I love, love, love everything about it! From the packaging to the insert card to of course the items included, it's all so thoughtfully put together. Even the colors of everything this month catch my eye just right, so it's very aesthetically pleasing. I especially like how the box is kind of tiny and it fits the items just right too. It feels similarly luxurious to box of chocolates. Not all items are full sized and I think that's fun, it's the perfect way to try out several little things all at once. I cannot wait to see what next month's Petit Vour box includes!
The Botanic Gal – http://www.botanicgal.com