Revive Organics Review November 2018
Revive Superfoods ( formerly Revive Organics) is Canada's first subscription smoothie service that delivers ready-to-blend, organic smoothies right to your door. Their single-portion smoothies are expertly crafted with their nutritionists to provide delicious, nutrient-rich smoothies that can be prepared in as little as 30 seconds to fuel your busy lifestyle. Leave the recipe development, food-prep, and portioning to our smoothie masterminds and #justblend!
Eeek!! It's here! My very first Revive Superfoods ( formerly Revive Organics) box is here! I've been waiting for a subscription box like this to be available in Canada and here it is. There's a similar one that is based in the US and ever since I saw that one I have been waiting for the chance to get my hands on one.
Coupon Code: Use code COL90510 for 50% OFF your first Revive Organics box! – CLICK HERE
Subscription Details
How Revive Superfoods ( formerly Revive Organics) Works:
Choose your plan – You can choose to receive six, nine, twelve, or 24 cups each week or 24 cups once a month.
Build Your Box – This is the fun part! Select the smoothie flavours that speak to you and add them to your order.
Checkout and wait for your delivery –They'll deliver your order (for free!) on the day of the week specified at checkout. Once you receive your smoothies, #justblend!
Your first box comes with this awesome stainless steel straw. It's absolutely perfect because the smoothie containers are also meant to be used as cups. Simply remove the top, fill with milk of your choice, pour contents into blender, blend until smooth, pour the smoothie back into the cup, put the lid back on, and put the straw through the straw hole in the top. Seriously, how perfect is that!! It's one of the reasons I was so excited to review this subscription. They make everything so easy and convenient…….and portable.
Revive Superfoods ( formerly Revive Organics) currently has 10 smoothies to choose from. They seem to have something for everyone. For example, I'm a huge fan of green smoothies and chocolate smoothies. They have a few different green smoothies in the current product line and a few that include cacao.
Here's a closer look at the smoothies we received in our November box, we received every flavour except Punch of Fruit as it is out of stock.
Açai Twist
Açai, bananas, blueberries, cherries, raspberries, beets, and hemp hearts.
Turn back time with this antioxidant rich smoothie! Fresh and fruity Açai, blueberries, cherries, and raspberries are antioxidant-rich superfoods that reverse the effect of aging and protect the body from harmful pathogens. We also snuck some beets in for detoxification, but you wouldn't know if we didn't tell! To add to this smoothie's beautifying properties, we added omega-3 rich hemp hearts which enourage skin cell turnover.
Blue Cacao
Cacao, blueberries, kale, avocado, banana, dates, cashews, and maca.
Want to enjoy dessert without any of the guilt? This chocolate blueberry smoothie tastes like a sweet treat, but is really just a superfood blend in disguise. Antioxidant-rich blueberries team up with our star-ingredient, energy enhancing maca, to lift your mood, strengthen bones, and fight the bad guys. We've also added calcium-rich kale, heart-healthy avocado, and magnesium rich cacao to really pack a nutritional punch!
Grass is Greener
Kale, cucumber, pineapple, lime, mango, and camu camu.
This one goes out to all the green smoothie lovers out there. This smoothie is like drinking a delicious multivitamin. It has beautiful, green, calcium-rich kale for strong bones and refreshing cucumber. We've also added enzyme-rich pineapple and lime juice to support good digestion. To sweeten the deal, organic mango and vitamin C-rich camu camu rise up, working hard to keep the flu at bay.
Pink Dragon
Dragonfruit, lychee, strawberry, beets, flax seeds.
Excite your taste buds with this exotic smoothie! If you have never tasted lychee or dragon fruit, this is your chance to delight in this fruity and floral combo. Together with nutritious beets, these beautiful fruits support strong immunity due to their heavy antioxidant content while giving dull skin a healthy, vibrant glow.
Strawberry Zen
Strawberries, goji berry, peach, raspberries, bananas, chia seeds, gluten-free oats, and zucchini.
This fruity breakfast classic is everything you need to jump-start your day. It is full of antioxidant-rich strawberries and raspberries and supercharged with protein-dense goji berries to keep you going all day.
Matcha Maker
Banana, cucumbers, green apple, hemp, kale, lemon, matcha, parsley, pineapple, spinach.
Start your day with a bounce in your step! Our combination of energy boosting matcha and protein-packed hemp seeds provide a sustainable energy source to keep you going all day long. This delicious blend is filled with dark leafy greens for detoxification and refreshing cucumber. The greens are balanced with a touch of banana for a soft note of sweetness.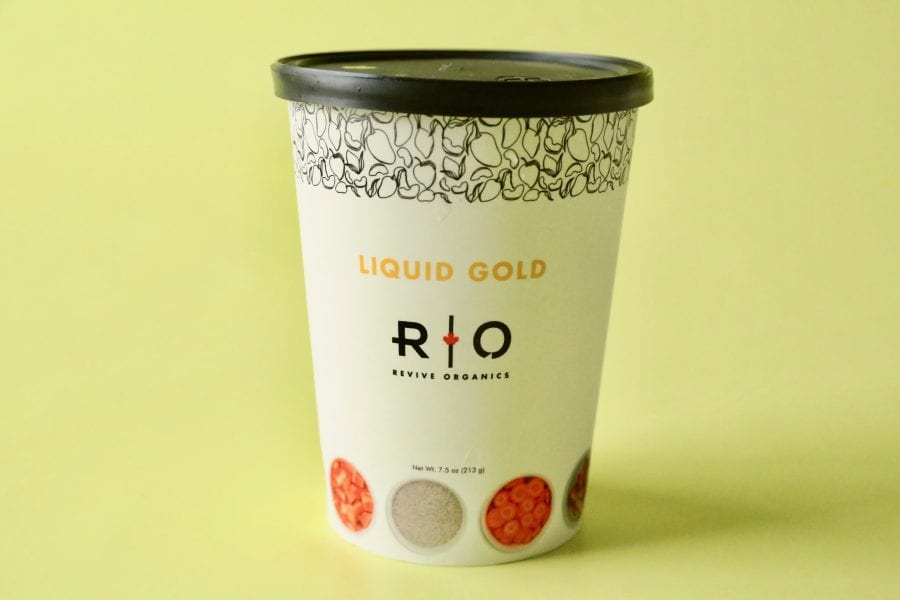 Liquid Gold
Carrot, coconut oil, ginger, mango, papaya, pineapple, turmeric, white chia seeds.
This sweet and spicy smoothie is an anti-inflammatory powerhouse that is sure to have you feeling your best. The ginger and turmeric in this concoction are powerful anti-inflammatory agents that naturally fight conditions such as acne, arthritis, asthma, and joint pain. Juicy mangoes add a tropical twist to this smoothie while carrots rich in vitamin-A work to keep your eyes and heart healthy. Meanwhile, enzyme-rich pineapple and papaya help ease digestion.
Hint of Mint
Banana, cacao, cashew, chlorella, golden flax seed, macadamia nut, mint oil, spinach, vanilla bean, zucchini.
Something magical happens when you combine the flavours of chocolate and mint. This smoothie is packed with detoxifying ingredients like chlorella, spinach, mint, and raw cacao that will help battle free-radicals and detoxify your body. This smoothie has just the right amount of sweetness from bananas and a delicious nutty creaminess thanks to macadamia nuts.
Morning Mocha
Almond, banana, cacao, cauliflower, ceylon cinnamon, cold brew coffee, MCT oil, pink himalayan sea salt.
Are you a frap lover? Why not supercharge your frap with healthy fats? Healthy fat from almonds, cacao, and MTC oil give you a sustainable energy boost. They make this cold brew coffee based smoothie the perfect morning pick-me-up. This smoothie designed for coffee lovers also contains cauliflower for creaminess (we promise you can't taste it) and banana for a sweet touch.
Oh my goodness……I don't know about you but after reading the description for each smoothie I officially want my freezer stocked with them at all times!!
I'm a huge smoothie fan and always have been. I love the idea of blending up a mixture of superfoods. But, I'm not going to lie, making smoothies can be time-consuming and expensive. You need to have a variety on ingredients on hand at all times and then when you feel like a smoothie you have to round them all up and portion them out. Revive Organics makes the process so much easier and will also save me money in the long run.
Revive Organics Review November 2018 – Final Thoughts
I am beyond excited to have discovered Revive Superfoods ( formerly Revive Organics) and after receiving my first box I know that, just like OatBox and Chef's Plate, it is going to become a staple in our house. I am a HUGE fan of convenience subscription boxes and Revive Organics is convenience at it's finest. Your box gets delivered to your door, it comes packed with ready-to-make smoothies, each smoothie comes in a cup perfect for drinking out of and they provide you with a straw so you can take your smoothie with you anywhere. Revive Organics gets a big ol' A+ from this girl. The only thing that could possibly make this box better is the addition of seasonal smoothie flavours. I have my fingers crossed…….
XOXO