Ruby Crate Review Fall 2021
My 14-year-old is blasé about a lot of things but she couldn't hide her excitement when the latest Ruby Crate arrived. (Suffice it to say she didn't appreciate it when I said, "Is that a smile I see? Oh I think somebody's happyyyyyyy!" and proceeded to do the mashed potato, hee hee.) Ruby Crate is a quarterly lifestyle box for teen and tween girls created last year by an Ontario mother and her teen daughter who didn't see anything like it on the market. Each one is stuffed with a variety of on-trend products — think beauty, style, stationery and decor — and like the Spring and Grad Crates we were lucky enough to review before it, Fall's is (to quote the inimitable Christina Aguilera) 🎵what a girl wants, what a girl needs. 🎵*
* They kindly sent us this box for review.
Ruby Crate ships four times a year (March, June, September and December). One-year subscriptions are available or you can purchase each box individually and you can double the treasures in each box to share the surprise with a sibling, BFF, or whoever you like.
They also have a birthday crate that can be shipped any time, 'tho they do suggest ordering at least two weeks of the date you'd like it delivered.
Pricing (CAD; taxes and shipping additional):
Year-long Ruby Crate — $219.80
Year-long Double Ruby Crate — $439.60
Single Ruby Crate (Winter 2021) — $59.95
Double Ruby Crate (Winter 2021) — $109.90
Birthday Ruby Crate — $64.95
Ruby Crate currently ships across Canada and the US.
Let's get to the Fall edition! (The one we have is for teens. Ruby Crate curates a separate one for tweens.)
Each Ruby Crate opens with a card personalized to the recipient as well as a handwritten greeting card (not shown) from founders Heidi and Sienna. Such a nice touch!
Postcards
First up is a pack of eight postcards to send, frame, hang or stick on a cork board. The designs are so fun! I want my own set!
Do we love or do we love?!
Pumpkin Spice Cupcakes Recipe
Next, a perfect recipe for fall: Pumpkin Spice Cupcakes with Cream Cheese Frosting by Rosie's Kitchen Co. Lily has already made these on her own a couple of times and they are delish! Very moist and light and a great treat for school lunches. Lily brought an extra one to school last week for a friend's birthday.
Rude's Puff the Magic Powder
Both of us really like the super soft brush applicator on Rude's Puff the Magic Powder Mineral Setting Powder. Translucent, vegan and cruelty free, it's said to give makeup an airbrush-like finish without a white cast.
Rude Eyebrow Gel Mascara
And for keeping those brows nice and tidy, Rude Eyebrow Gel Mascara. This one is clear but they also make it in a couple of shades of brown. Defines and grooms easy peasy.
Snifty Pencil Set
And colourful pencils with fun sayings! We love! This Snifty Pencil Set in Oh Hello Week, Let's Do This includes one for every day of the week like You Say Thursday, I Say Friday Eve and On Sundays We Wear Pajamas. Sharpened and ready to use or share.
Pipstickers by Pipsticks
A sheet of puffy Pipstickers by Pipsticks. 😍😍 The science lab theme is so well done! Stickers include a microscope, beakers, a magnet, a notepad, a clock and more.
Brilliant Body Polish & Dry Shampoo
Coco Flamingo's Brilliant Body Polish with Coconut Oil is a gentle exfoliator that smells like the tropics (ahhh!) and nice to use when you want to take an extra couple of minutes to pamper yourself. And I can see Lily tossing the travel-sized Colab Original Dry Shampoo in her bag to refresh her hair after gym class or give it some body or just use in between washes.
Hot Sox Bubble Tea Socks
Sock Footage donates one pair of socks to shelters and other people in need for every pair of socks sold, making these Hot Sox Bubble Tea Socks extra special.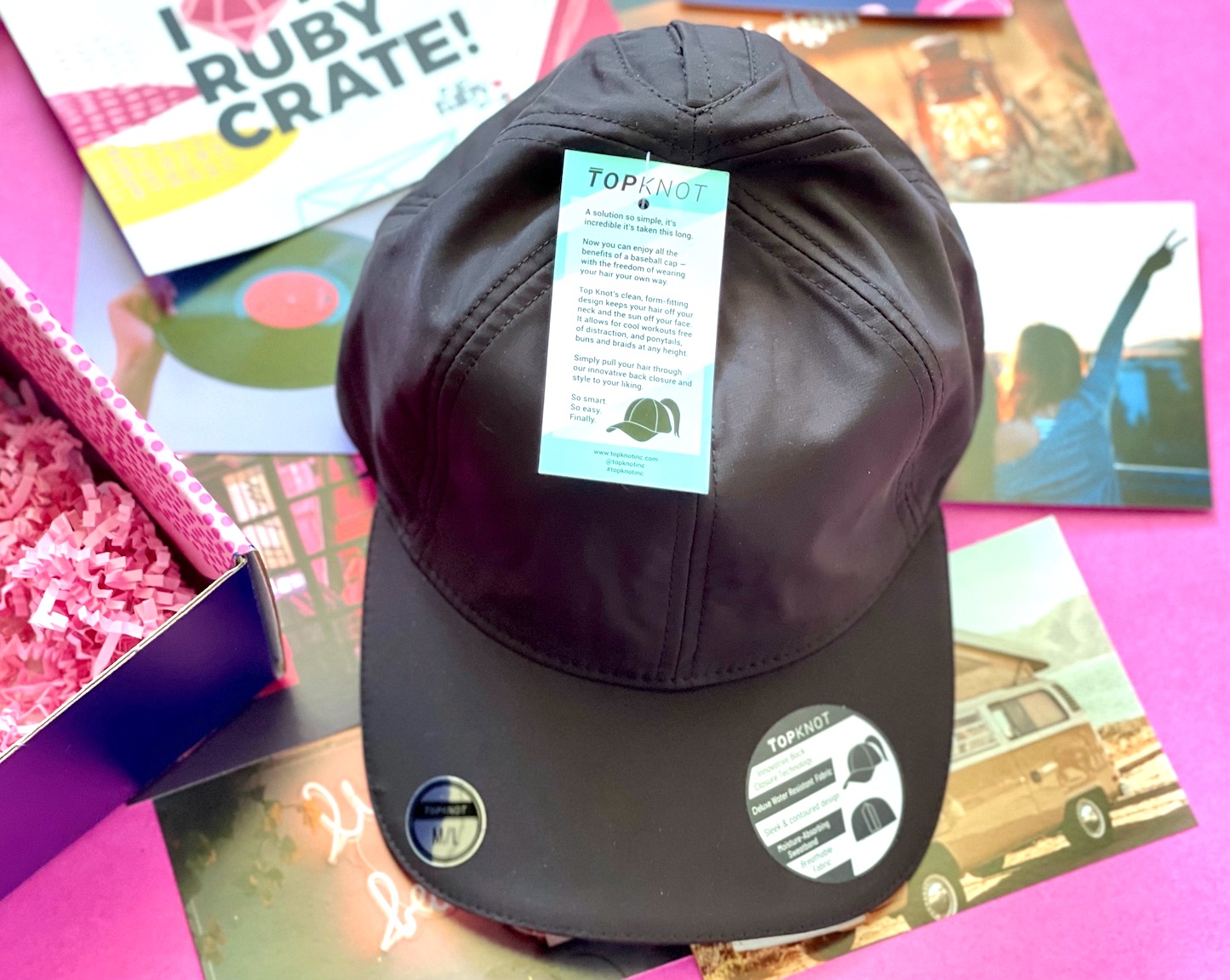 Top Knot Baseball Cap
This Top Knot Baseball Cap has a magnetic back closure to accommodate a high ponytail or a low one, however high you want to wear it. It's also water resistant with breathable fabric and a moisture-absorbing sweatband. Did I mention it's super comfortable? I want one too!
Letter Board by ArtMinds
And finally a Letter Board by ArtMinds with 164 characters. The small size (8″ x 8″) is great for hanging in your locker or just about anywhere. A+ on this fun and fully customizable decor! What would your teen put on hers?
Being a teen (or a tween!) isn't easy so it's been so nice to see mine light up over her Ruby Crate — a box that "gets her" with the kinds of things she likes and new products to try. For a parent or aunt/uncle/friend/anyone with a teen or tween in their life it's a great gift idea that takes the stress out of shopping.
Try Small Things – https://trysmallthings.com