Ruby Crate Review: Fall Teen Crate 2022
In some ways it feels early to be thinking about Christmas gifts but if you're already casting about for fun ideas for the tween, teen and older girls on your list, Ruby Crate might be the answer. It's a quarterly box of bath and beauty products, decor and accessories that ships from Ontario across Canada and the US. The co. makes a tween edition, a teen edition, and a stand-alone box, Campus Crate. Winter boxes are available to order now and ship in December, just in time to get them under the tree. Here's a look at the Fall Teen Crate to give you an idea what you can expect. (I'll have the Fall Campus Crate for you this week.) *
* They kindly sent us this box for review.
Ruby Crate ships four times a year (March, June, September and December). One-year subscriptions are available or you can purchase each box individually. They also sell double crates with two of every item in each box so your girlie can share.
Pricing (CAD; taxes and shipping additional):
Year-long Ruby Crate — $239.80
Year-long Double Ruby Crate — $459.60
Single Ruby Crate (Fall 2022) — $64.95
Double Ruby Crate (Fall 2022) — $114.90
Grad Ruby Crate — $74.95
Birthday Ruby Crate — $69.95
Campus Crate — $74.95
This first trio of products is perfect for my teen — and for me!
Pencil Case: "Keep organized with this handy pencil case that doubles as a phone holder too! Kick off back to school in style."
Ring Light: "Take your selfie game to the next level with this ring light that attaches easily to your device. Time for your close up!"
String Lights: "Have fun decorating your space with these cute mini clips and lights. Pin up your favourite memos or treasured photos."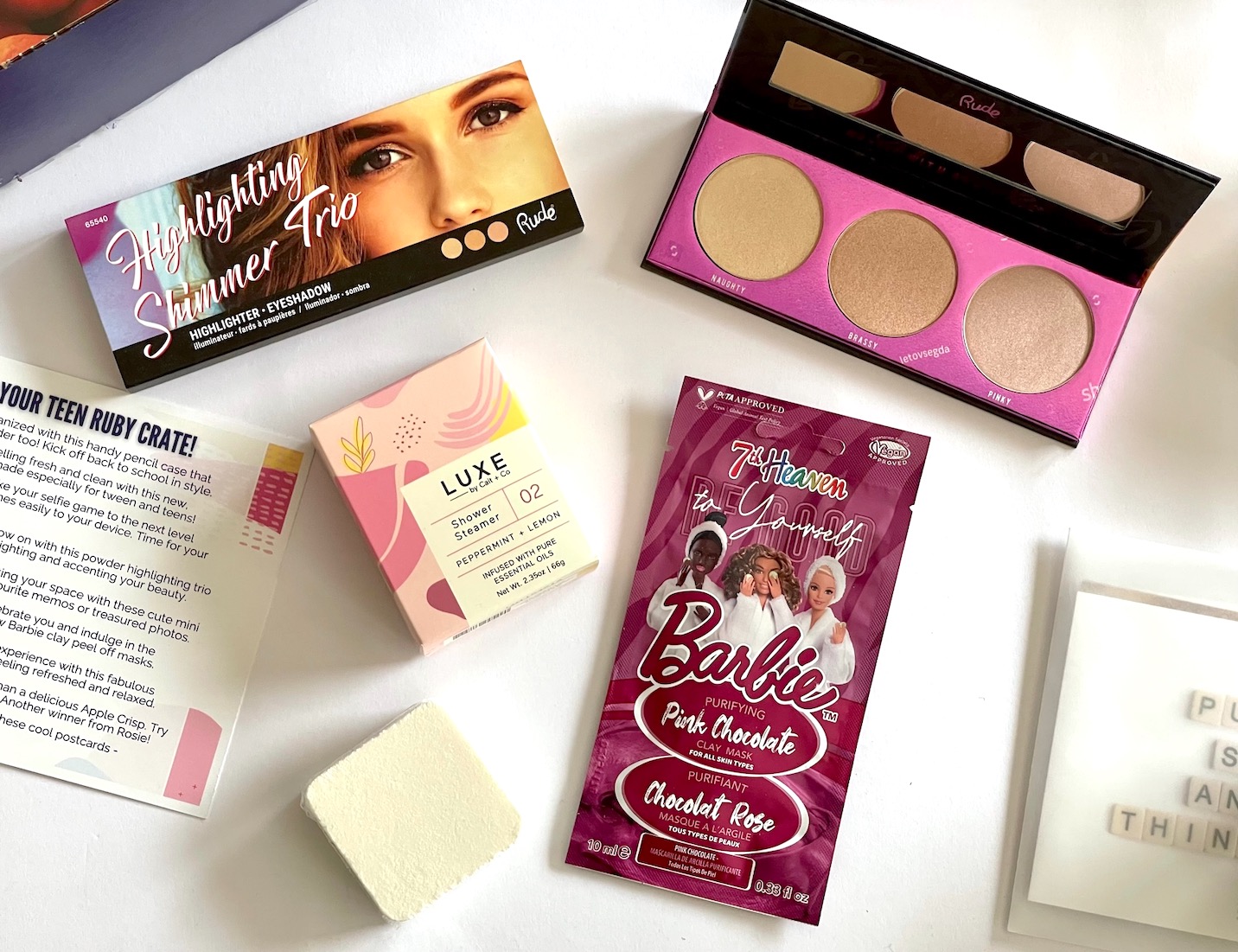 Shimmer Trio: "Get your glow on with this powder highlighting trio that is perfect for intense highlighting and accenting your beauty."
Shower Steamer: "Elevate your shower experience with this fabulous shower steamer that will leave you feeling refreshed and relaxed."
Mask: "It's time to celebrate you and indulge in the ultimate in self care with these new Barbie clay peel off masks."
Have you tried a shower steamer? They're like bath bombs for your shower. You put one on the floor of your shower and it envelops you in the most refreshing scent as the water hits it and it starts to dissolve. This peppermint and lemon one is heavenly! Made our bathroom smell fantastic for hours after.
And the mask is wonderful. Goes on like a thick cream and washes off to reveal smooth, super soft skin. Smells a bit like chocolate frosting.
Postcards: Decorate your space with these cool postcards — create your own unique look!
Ruby Crate includes a set of eight seasonal postcards in every box and they're one of our favourite items for decorating and for mailing.
Deodorant: "Stay smelling fresh and clean with this new, natural deodorant that is made especially for tweens and teens!"
Subscribers got one of a couple of different scents. We're not crazy about our honeysuckle variety so we didn't try it but I love the idea — the more natural products, the better! We'll find someone who will love it.
Recipe: "Nothing says fall like a delicious Apple Crisp. Try out this easy to make, delicious recipe. Another winner from Rosie!"
Ruby Crate includes a recipe in every box that girls can make on their own or with some help. We're huge apple crisp fans so we doubled the recipe. Maybe the most delicious crisp we've ever made! Definitely a keeper.
It's hard to find a gift that's one size fits all (especially for tweens and teens!) but I love how Ruby Crate includes a variety of items many girls are sure to love — or share! Some nice self-care with the bath and beauty products, some trendy but totally useful accessories and some decor to personalize the spaces they call their own. A Ruby Crate subscription is a gift that keeps giving throughout the year and a single-box a budget-friendly, commitment-free way to see if it's a great fit for your girl.
Have you gifted Ruby Crate or received one for your girl? I'd love to hear more!
Try Small Things – https://trysmallthings.com