Ruby Crate Review Spring 2022: The Teen Crate
Having a teenager is like living in a haunted house: every now and then you'll see a figure in the corner of your eye, hear moaning, and then a door slams.
— Arlynn Lake
For a second I was like "oh maybe I shouldn't joke" but then I snapped out of it. Having a teenager is no picnic — I need all the laughs I can get! Even if my teen might read this post and give me a hard time. (I don't think she's read the blog in ages but now that I've said that she'll see this for sure. 😬) At this point she'd prefer I don't mention her at all — which I understand for the most part, she's carving out her own identity and wants to manage what's shared about her online — but today we're talking about a box for her so it makes sense to let you know she lit up when she saw it. Ruby Crate is a a quarterly Canadian lifestyle box for girls. They have one box for tweens, another for teens, plus a new stand-alone box for older girls, Campus Crate. The Spring box for teens is the fifth one we've received and it's so, so good! I feel like they really understand their subscribers. Let's have a look. *
* They kindly sent us this box for review.
Ruby Crate ships four times a year (March, June, September and December). One-year subscriptions are available or you can purchase each box individually and you can double the treasures in each box to share the surprise with a sibling, BFF, or whoever you like.
They also have a birthday crate that can be shipped any time, 'tho they do suggest ordering at least two weeks of the date you'd like it delivered.
Pricing (CAD; taxes and shipping additional):
Year-long Ruby Crate — $239.80
Year-long Double Ruby Crate — $459.60
Single Ruby Crate (Spring 2021) — $64.95
Double Ruby Crate (Spring 2021) — $114.90
Birthday Ruby Crate — $69.95
Campus Crate — $74.95
Ruby Crate currently ships across Canada and the US. The Spring boxes and Campus Crates are shipping now.
New for Spring are product cards. Each one has a welcome message on one side and a list of the contents on the other. I really like how they've included each brand's Instagram handle for easy reference. I've quoted from it in italics below.
My Kitsch Tea Tree + Mint Clarifying Shampoo Bar: "Indulge with bottle-free beauty with this environmentally friendly skincare product. So easy to use." (My Kitsch products varied by box.)
Evio Beauty Cream Multi-Stick Colour: "For eyes, cheeks, lips or anywhere you want! There are no rules here except — in a world where you can be anything, be kind."
Love and Repeat LA Claw Clip: "Have fun with these oh-so-chic hair clips that complete your hairstyle for every occasion."
With my teen's generation more climate-aware than any other, I expect we'll be seeing more and more bottle-free beauty products on the market. The shampoo bar has great reviews and the tea tree and mint smells really good. The cream multi-stick looks darker than it goes on, making it so versatile. It's also super easy to use — no brushes needed, just your fingers. And the claw clip is fantastic! Just like the ones my teen and I use regularly.
Rosie's Kitchen Co Smoothie Recipe: "Kick off your healthy routine with this yummy smoothie. Easy to make, and so delicious."
Ruby Crate also included 7th Heaven's rose gold easy peel-off balance and nourish mask.
I get on smoothie kicks in the warmer months and this recipe from a Ruby Crate favourite sounds so good. And the 7th Heaven mask smells fantastic and it's so satisfying to peel off. And there's easily enough product for three or four applications.
Sparkle Being Wristlet: "Look stylish and on trend with this beaded wristlet keychain. A great way to keep coins and cards handy."
Ruby Crate also tucked in a custom notepad, a beaded pen from 1 Wave Designs branded with Ruby Crate's colours and two rolls of Pipsticks washi tape (the tape is an extra product Ruby Crate included especially for my teen). All of which sparked much joy over here. And we love the colour coordination.
Que Collapsible Water Bottle: "Handy for travel and when you are on the go. Keep hydrated in style."
Kinsey Fit Resistance Bands: "These premium bands will add an extra boost to your workout. Keep fit and have fun."
The water bottle is a big hit (have you seen how large they can get when you stretch them out?) but I'm not sure if my teen will get much use out of the resistance bands. We have a spin bike at home that she uses regularly but she hasn't tried these yet. But maybe in time? Do you have teens who use resistance bands?
Ruby Crate Postcards: "Decorate your space with these cool postcards — create your own unique look!"
Ruby Crate tucks a set of eight cards in every box and they're one of our favourite items. (I want my own set!) We love the on-trend images and designs. Super fun to send to friends or keep.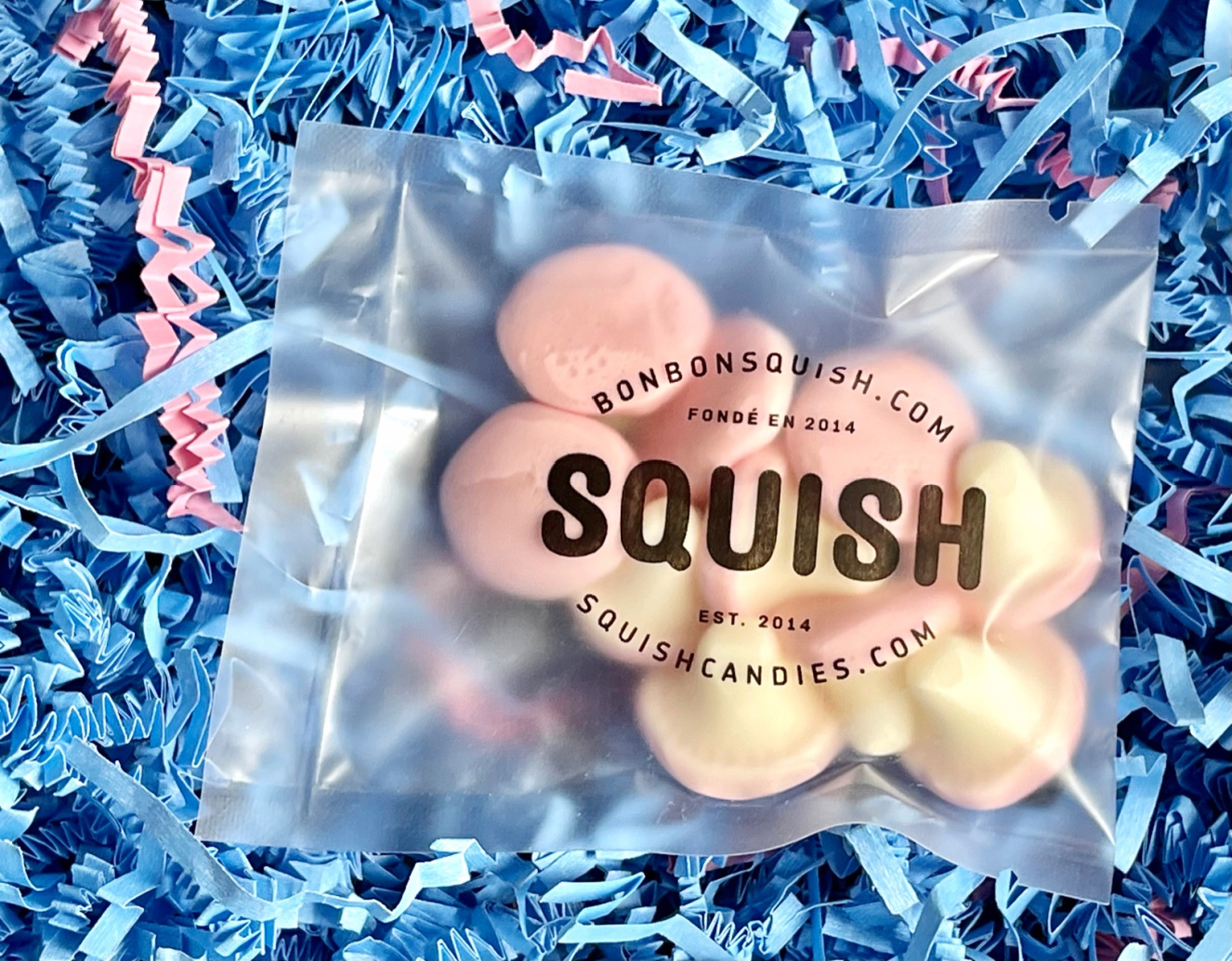 We love Squish around here and these magic mushroom gummies are no exception. Adorable, chewy pillows of fruity gummy goodness. I should have taken them out of the package so you could see how cute they are.
If you're looking for a gift for the girls in your life, Ruby Crate would be wonderful for a birthday, graduation or just thinking of you. Especially if you have a hard time shopping for your girl — I know my teen's tastes change seemingly from day to day and Ruby Crate makes it easy. I love how you can order by subscription or by the box to suit your budget or the occasion or just to try. I think many girls would be delighted to receive a double crate to unbox with a friend. Such a fun experience to share!
Try Small Things – https://trysmallthings.com